The Legendary Potato Soup
A Tribute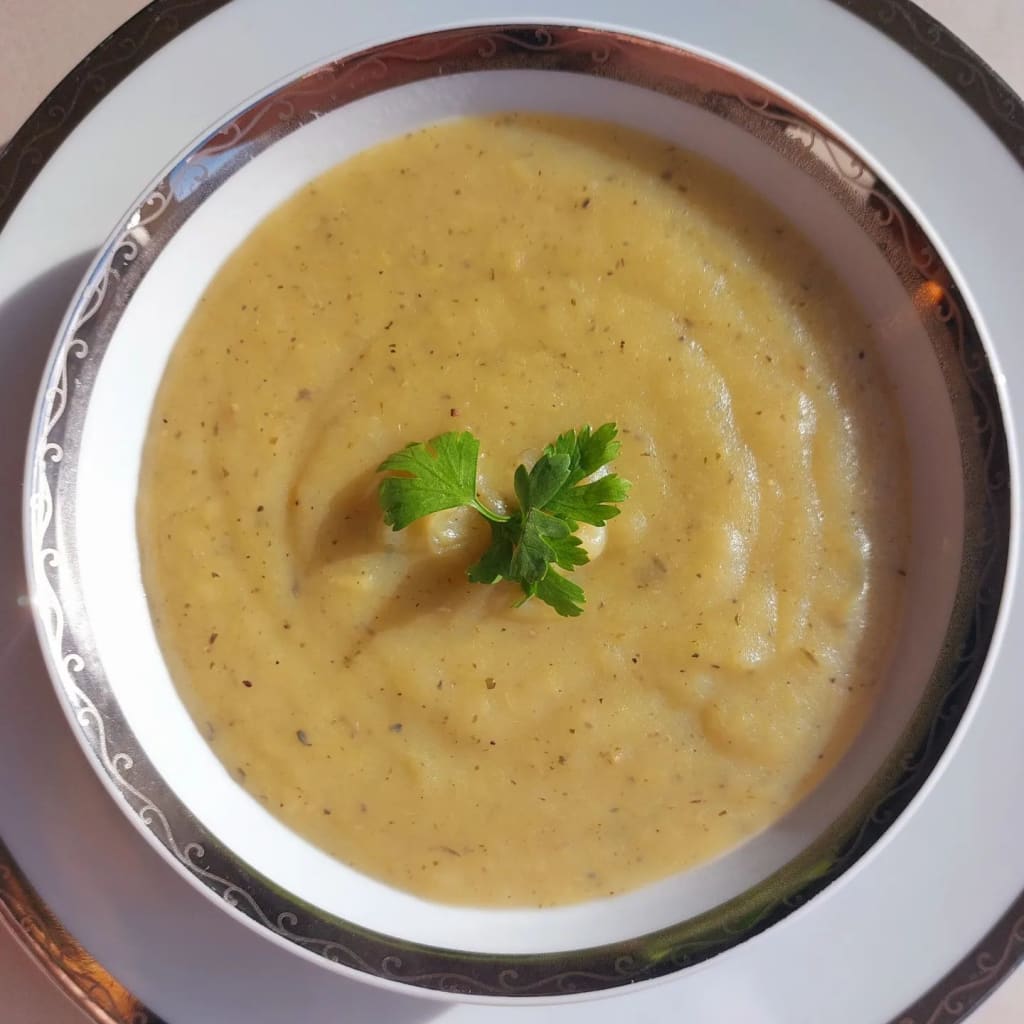 A Bowl of Legendary Potato Soup Tribute
Like many great legends, our soup starts with the humblest of beginnings: A scrappy bag of potatoes (already seeding) and a long-forgotten onion. The year was 1993, the location was Mad Manchester and little did we four house-sharing students realise that these past-their-best ingredients were set to become the foodstuffs of alchemic legend.
We had been on a night out and had danced until the wee small hours of the next day. During the night, I had dropped around two dress sizes and built myself a hunger the size of a drained tanker. I could have easily eaten my own arm. Unfortunately, I needed that. Ravenous, we attempted to "copper up" to buy some grub, but we soon realised that between us, we had the fiscal salience of the square root of F*&% All. Who needed food anyway, hey? It was all about the music and the people and the dancing and the... yeah, we were starving. We had spent what money we had getting to the club, getting in and getting back home again. Somehow, our eighteen-year-old brains forgot that somewhere along the line, we would have to eat.
Sat, in our student living room of mismatched charity shop armchairs, we admittedly felt a little foolish as Nicola swung the bag of sprouting spuds in front of us, saying, "Well... there's these."
Yeah. We did not hold out much hope.
Even when she said, "You know, I reckon I can make something from them."
None of us were in any way convinced.
Still, we indulged her. Silly Beggars can't be choosers now, can they?!
She disappeared into our box-shaped, couldn't-swing-a cat-in, falling-apart-at-the-seams kitchen and emerged about ten minutes later, saying, "It's simmering, should be ready in half an hour."
We nodded, unhopeful and bemused, and started calculating how long a person could survive on water and thin air.
Half an hour later, Nicola re-entered the confines of our sparse kitchen and emerged holding a tray laden with bowls of piping hot soup and the look of a Cheshire Cat that had made its own cream.
She presented each of us with our own bowl full.
I wrapped my hands around mine and cradled it like it held an elixir, mesmerised by its peppy and earthy fragrance. I dipped my spoon and salivated as the velvety goodness clung to it like a light and dewy cloud. As I lapped it up, with no word of a lie, I felt like I had received a hug from the inside out.
It was ambrosia for the soul.
Magnificently moreish.
Heaven in a bowl.
Exhausted and thoroughly satiated, I drifted off to sleep that night like a contented angel.
How had something so comforting and delicious been made from a bag of past-it spuds?
Truthfully, we will never really know because Nicola did not write down how she did it. We talk about it, think about it, muse over it, and laugh about it, but we have never recreated it exactly as we remember it. That Potato Soup, or "Pomme Potage", has become our food legend and lives on in the hearts of our shared and cherished memories.
The Recipe: Legendary Potato Soup ~ A Tribute:
A good knob of butter

A roughly chopped medium-sized brown onion

Half a kilo of peeled and diced floury potatoes (Maris Piper or King Edward work well)

Half a Kilo of chopped leeks - the white parts only.

A litre of Vegetable Stock - the store cupboard cubed stuff, rehydrated, is fine (plus it keeps well).

A good sprinkle of celery salt (half a teaspoon)

Black Pepper (to taste)

Single, pouring cream - to finish (about half to two-thirds of a cup/ 140ml)
Method:
Soften the chopped onion and leek in the butter over a low heat. Take your time with this; you do not want to burn the edges. It should all be soft and translucent. Add the chopped potato and celery salt and pour over the stock. Simmer until the potato is soft and breaks easily under a fork. Add pepper (probably around a teaspoon, but you will need to taste to check). Blend with a hand blender and then stir in the cream while the soup is warm.
Even if you aren't heading out to party like a new millennium is being birthed, don't worry; I can attest that this beautiful soup is perfect after a long autumnal walk in the sunshine... or the rain... or the snow...
I hope you enjoy this as much as we do.
(also.... no... it is not leek and potato soup - it is Pomme Potage... Shhhhhh, just believe and let the memory live on!)
With love,
CJ xx
Reader insights
Outstanding
Excellent work. Looking forward to reading more!
Top insights
Expert insights and opinions

Arguments were carefully researched and presented

Heartfelt and relatable

The story invoked strong personal emotions
Add your insights