The Deviant Baker: Quick, Healthy Weeknight Pizza
Incident Six: Spinach Mushroom Balsamic White Pizza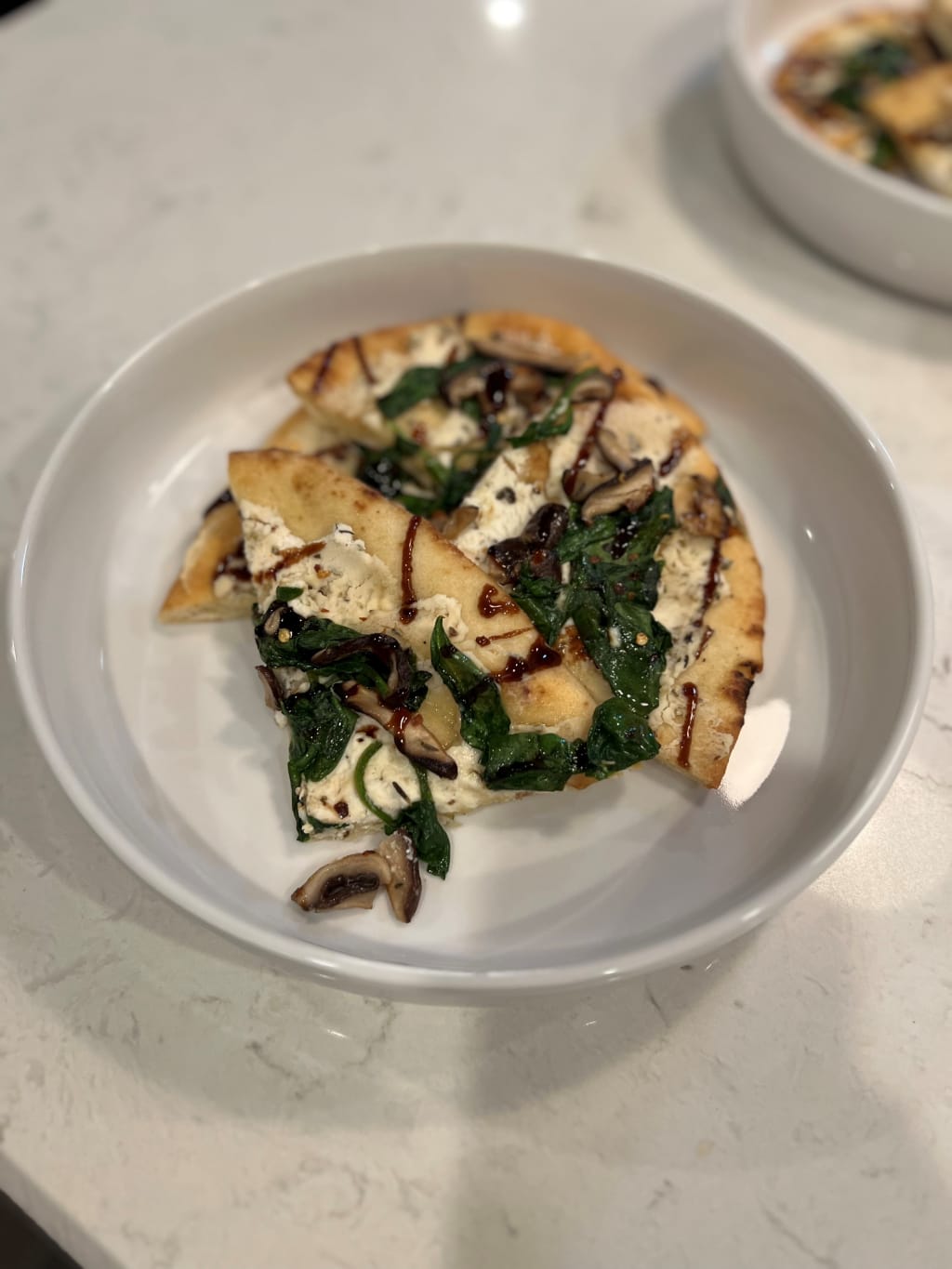 Spinach Mushroom Balsamic White Pizza
If you like to improvise, experiment, or find it difficult to follow a recipe—the Deviant Baker is the place for you, where deviating is creating.
It is a Monday night, and you may be thinking, "What am I going to make for dinner?" You want something quick and healthy, but you also want it to taste good. Meet Spinach Mushroom Balsamic White Pizza.
Recently I had to stop eating dairy for health reasons. I replaced my creamer with oat creamer and subbed dairy ice cream for cashew, but naturally, I wanted tacos and pizza after being advised to stop eating dairy (the deviant in me always wins). Ergo I set out to discover how to make the best dairy-free tacos and pizza. I found a delicious dairy-free sour cream made by Forager Project, which paired perfectly with tacos. I also tried Daiya's Mexican 4 Cheeze Shreds, but I was not a fan of the flavor or texture of this product. Despite not liking the cheese alternative, I felt I had conquered dairy-free tacos. Next up was pizza. I found a recipe for Mushroom Spinach White Pizza by My Eclectic Bites and was inspired to make my own quick, dairy-free version.
This pizza can be made in approximately 30 minutes and combines creamy vegan ricotta with savory herbs and a punch of balsamic glaze to satisfy you any night of the week. It is so delicious and easy that it has become a weekly staple in our household.
Spinach Mushroom Balsamic White Pizza
This recipe is vegetarian and dairy friendly but can be made vegan and 100% dairy free by substituting the naan bread for homemade dough or another alternative.
Here are the ingredients you will need:
Bakery:
Dairy Alternative(s):
Produce:
4-8 oz mushrooms (I prefer shitake, baby bella, or a blend)
5 oz baby spinach
Seasonings:
1/2 teaspoon salt (plus additional as desired)
1/2 teaspoon Italian seasoning
1/2 teaspoon dried basil
1/4 teaspoon dried thyme
1/2 teaspoon garlic powder
Red pepper flakes
Other:
Instructions (and deviations):
1. Preheat the oven to 350 degrees Fahrenheit.
2. Cook mushrooms in a skillet on medium-high for 2-3 minutes. Add butter and thyme and cook on medium-low for 3-5 minutes or until mushrooms are soft. Remove mushrooms from skillet and set aside.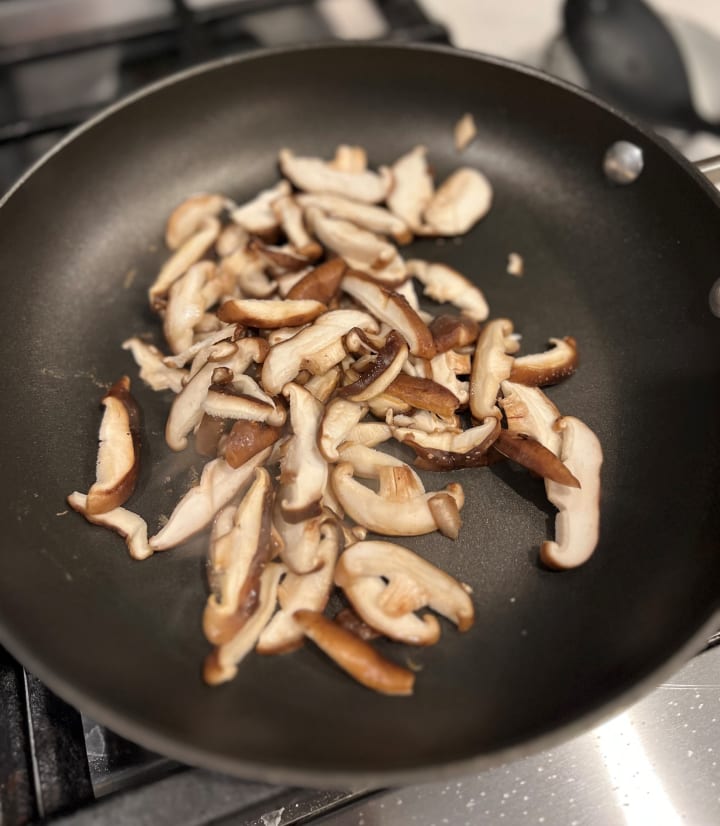 3. In the same skillet, add one tablespoon of olive oil, spinach, garlic powder, and a pinch of salt (if desired). Cook spinach on medium-low heat until wilted. Note: to evenly wilt the spinach, gently flip the leaves.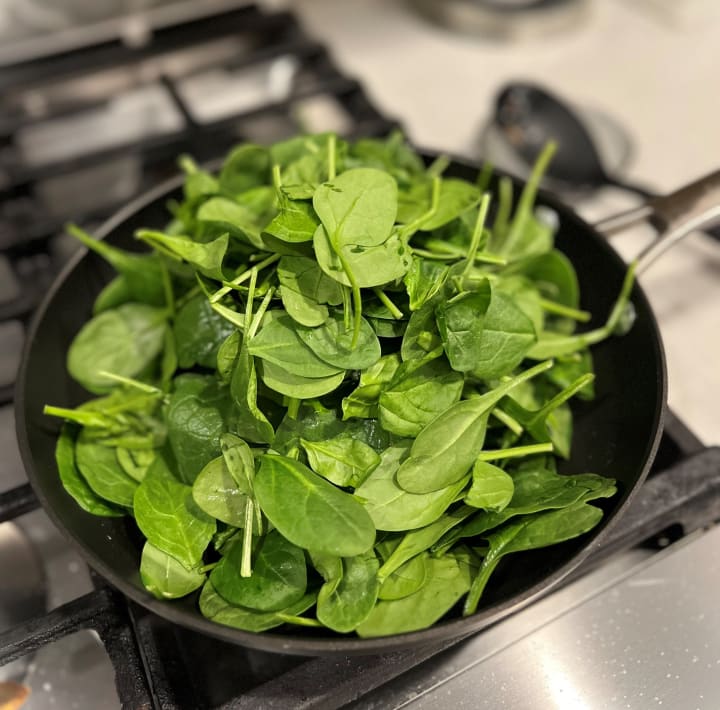 4. In a small bowl, mix the ricotta, salt, Italian seasoning, and basil until combined. Note: I mix everything in the ricotta container to save time and eliminate washing a bowl.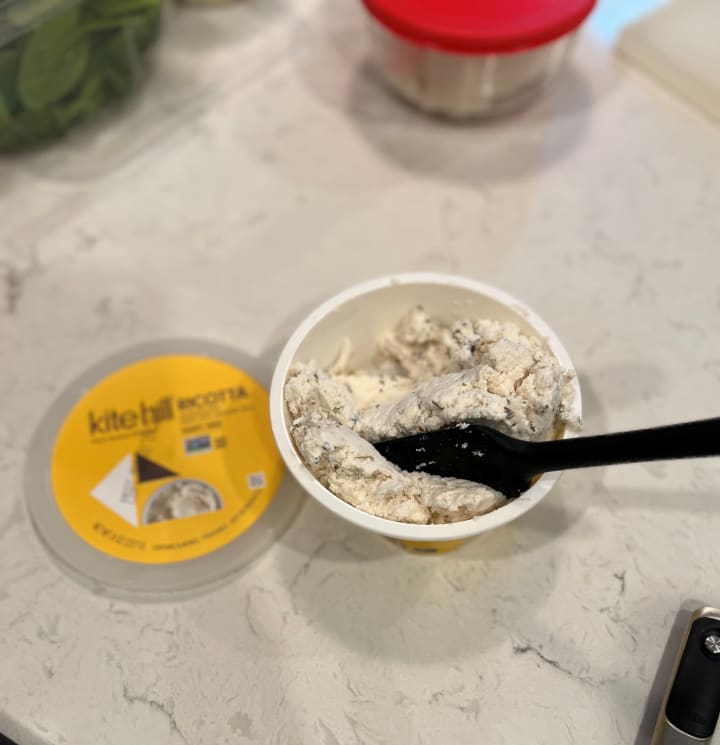 5. Place naan bread on a baking sheet and spread a thin layer of the ricotta mixture. Add spinach, mushrooms, and red pepper flakes (if desired). Place in oven and cook for approximately 15 minutes or until slightly brown.
6. Remove the pizza from the oven and drizzle with balsamic glaze and olive oil.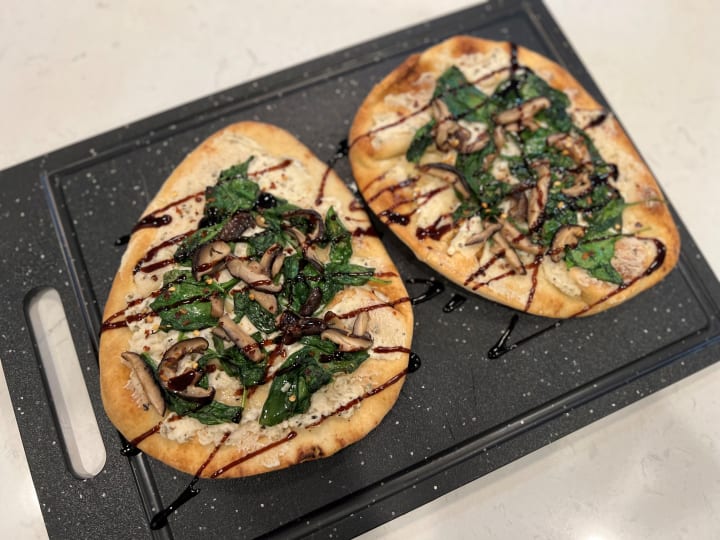 7. Devour.
These pizzas taste great right out of the oven or reheated the next day. For best results, do not pour balsamic glaze or olive oil on the pizza until the pizza has been cooked or reheated and is ready to eat.
Until the next standard deviation,
The Deviant Baker
For another easy dinner recipe from the Deviant Baker, check out The Deviant Baker: The Easiest Salmon That's So Good You May Think It's a Little Fishy.
About the Creator
I want to leave kindness in my footsteps and tiny seeds of hope in your brain.
Write your own story here.
Reader insights
Be the first to share your insights about this piece.
Add your insights