Super Cute Kitchen Gadgets Under $20
These cute kitchen gadgets under $20 will wow guests and let you serve grub up in style.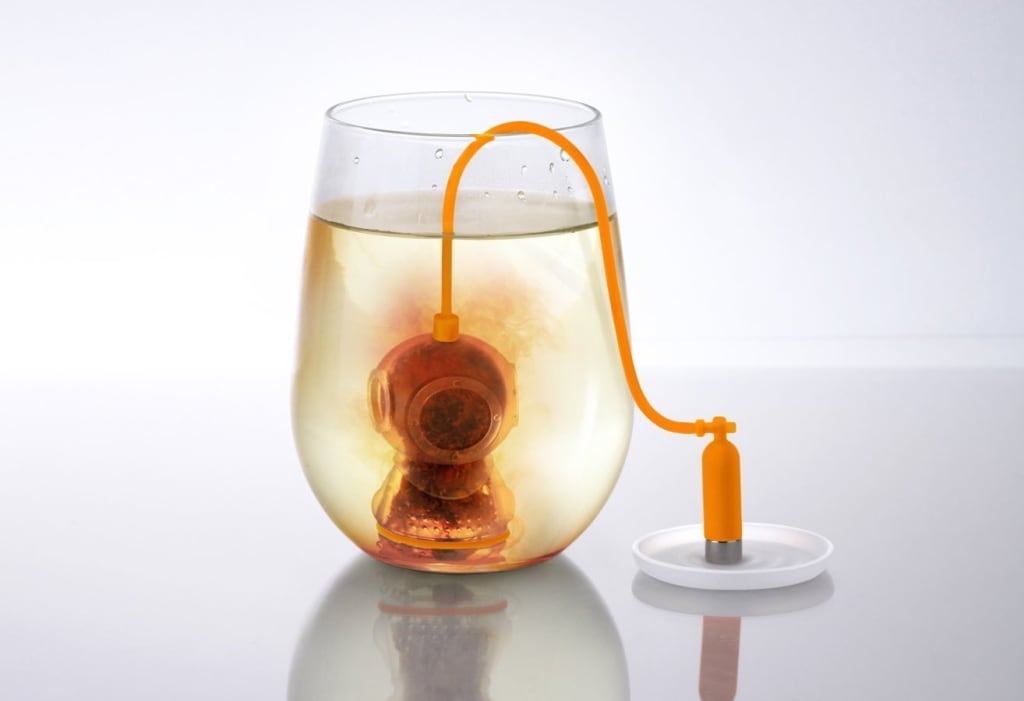 For many people, your kitchen is the place where you get to entertain guests and show off your own unique home decorating flair. Looking at home remodeling pricing, though, makes it clear that adding style to your kitchen isn't always cheap. (Seriously—$300 cabinets?!)
When most people think of kitchen gadgets, they think of high-end blenders or very plain pot stirrers. Gadgets, for the longest time, weren't really about being cute. They were more about functionality than anything else.
Thankfully, budget-conscious individuals who love to see a little splash of cuteness in the kitchen can do so without having to spend an arm and a leg. These adorable kitchen gadgets under $20 add style and function to your home.
Narwhals, narwhals, swimming in the ocean, causing a commotion...cause they are so awesome!
Now, you can bring the awesomeness of narwhals to your own home with this awesome toothpick dispenser. Load up the toothpicks into this friendly feller and let your guests "ooh" and "ahh" at how adorable he is.
Boiled eggs served in cute little egg cups are an essential part of a healthy English breakfast, and egg holders don't have to be boring! This adorable little egg cup holder will be your knight in shining armor when it comes to protecting your eggs from breaking. This egg holder comes with a small spoon, a removable helmet, and plenty of style, too.
We're going to point out that this is an egg-cellent choice of housewarming gift for the LARPer in your circle of friends.
Fred & Friends, if you haven't noticed, is a company that really knows how to bring out the kawaii side of things in the kitchen. Almost all of their kitchen gadgets under $20 pack a huge amount of cuteness in every inch.
These un-bearably cute Bear Hands oven mitts keep your hands safe from hot plates while looking ferociously cuddly. Insulated cotton and silicone grippy pads make this a winner for the somewhat clumsy baker in your life.
Most of us have had dishes where we want to keep the spoon nearby for a gentle stir—and that's exactly what this witchy wonder can offer up. Few kitchen gadgets under $20 will keep steam releasing from your stews like Agatha will.
All you need to do is place Agatha near the pot that's bubbling, and you won't have to worry about toil and trouble anymore. This holder is made of durable silicone and is an adorable gift for anyone who enjoys a little magic in the kitchen.
Fred & Friends made a pretty epic set of construction-themed kitchen gadgets under $20, and much like their pizza slicer, this saw doesn't require you to be OSHA-certified to use it. Don't worry, it won't hurt your cutting board, either.
Though it might not be a real saw, per se, it's still sharp as ever and is a heavily serrated knife capable of chopping up lettuce in a flash. This is one tool kitchen wizards will wonder how they lived without.
A clean microwave is a happy microwave, but for most people, keeping a microwave clean isn't always easy. If you love the taste of food from a fresh microwave, this is one of the most useful kitchen gadgets under $20 you can get.
Just add vinegar and water into the Angry Mama, and give her some time in the microwave. The steam pours out of her head and cleans your microwave in a pinch.
Construction workers can tell you that having a circular saw is a great way to make sure you get all the right cuts and do it all efficiently. This Circular Saw Pizza Wheel won't exactly go through plywood, but it'll slice up pizza in a safe (but cute) manner.
Fred & Friends, do you ever not make adorable kitchen gadgets under $20?
If seeing human-shaped kitchen gadgets under $20 isn't really your thing, then you might want to check out this cute volcano. Just like the Angry Mama, it's made of silicone and works by steaming away the grit and grime inside your microwave.
This particular cleaner happens to be really fun to watch in action. Fans of science class volcanoes will love the way this cool volcano erupts.
Ice tongs are hard to make cute, but Fred & Friends definitely managed to do it. These have cute silicone mittens that grip ice and make people smile at the end of them. They come with the durability that you'd expect from this classic novelty company, and remain one of the most party-friendly kitchen gadgets under $20.
Loading up the dishwasher is a total breeze...until you realize you've been mixing dirty dishes alongside clean ones. This cool magnet allows you to remember whether the plates you have inside the wash are actually dirty, or were just recently rinsed through.
Fewer dishwasher mistakes means a lot less problems for you—and that's a great thing!
Tapped is one of the most unique wine aerators on the market—and not just because of its steampunk, plumber-esque design, either. This is one of the cutest kitchen gadgets under $20 that works as both a wine aerator and a wine stopper—a great way to keep wine fresh after opening!.
With a twist of the knob, you can get freshly poured wine...or prevent wine from spilling. Nifty!
Platypuses are creatures so strange, no one believed that they were real when they were first discovered. However, after live specimens were brought back, it became clear that they were legit creatures. On a similar note, these tea infusers are too cute to believe, aren't they?
Each gift set comes with a male and female platypus-themed tea infuser that hangs right off the cup. Add loose leaf tea into the critter's belly and use the bill to hang the strainer off the teacup's rim.
This is one of the only kitchen gadgets under $20 to have a lifetime guarantee. If your platypus strainer doesn't fare well, tell the company and they'll replace it for free.
Our (apparently) favorite company adds to the whimsy again, this time with a silicone deep sea dive that works as a tea infuser. This cute silicone guy gets loaded up with tea leaves of your choice and then gets dipped into a cup of hot water.
When you're done brewing, grab his "oxygen tank" and pull him up for air. This infuser is easy to clean and remains incredibly durable—as do all silicone tools, really.
Passing the salt and pepper is always such an annoying issue, isn't it? With these shakers, you never have to awkwardly reach across the table again. These wind-up robots will do the passing for you. Just wind them up and let them march their way across the table.
This is particularly useful if you have a lazy roommate, or if you just like cute kitchen gadgets under $20 that make you feel like a mad scientist.
Eggs are man's best friend—if you're on a keto diet, anyway. This cute silicone puppy-shaped egg mold will allow you to make an omelette that's shaped just like a happy puppy. That's a great new way to start the day, no matter who you are.
Note: No puppies were hurt in the making of this egg mold.
A little dash of color and a lot of cuteness make this surprisingly comfortable and grippy fruit and veggie peeler a must-have for anyone who wants to add a little kitchen flair to their lives.
Boston Warehouse isn't monkeying around with this gadget's quality. It's made out of stainless steel and swivels to for easier peeling on bumpy surfaces. The monkey lover in your life will go bananas for it.
Silicone tea infusers are some of the most popular kitchen gadgets under $20 to give as gifts—and also one of the easiest choices for people who really want to add a little bit of surrealism to their kitchen gizmo collection.
This pink elephant doesn't require lots of alcohol to see. He just chills out and infuses tea for you.
It seems like the groups that are behind designing cute kitchen gadgets under $20 are really going ape over monkey-themed designs. This monkey silicone pot holder "bites down" on sizzling hot pans, pots, and platters without ever causing your hands to be burned.
High quality silicone means that you never have to worry about it being hard to clean, and that you also get excellently gripping power that will help you ensure that your casseroles stay safe.
Cymbal monkeys are fun, right? Of course they are! These salad tongs actually make "ting ting" noise when you clap them together. It's a little creepy in some lighting, but overall, it's a great kitchen tool to have.
We really gotta stop going gorillas over all these monkey products, though.
SUCK UK is all about adding a little humor to cooking, which is why one of the cutest kitchen gadgets under $20 you can wear comes from them. This apron has all the measurements that you need to know when working in the kitchen—and has them in a way that makes it possible for the wearer to read them.
It might not be the best fashion statement out there, but it's definitely one of the most useful. People who never quite learned all the best kitchen hacks for beginners need to grab one of these before their next cookoff.
Muffin tops sound cute, but really, dieters will tell you that they're not. That being said, these baking cups are absolutely adorable. They act just like regular baking cups, are made of heat-resistant silicone, and pop out of trays in a jiffy, making them an awesome accessory that every baker needs in their kitchen.
These denim-looking silicone cups are ideal for people who want to be reminded to have just one cupcake—or for punny folks who dig wordplay.
Egg whites are a great dieting tool and are always useful in dishes. Getting an egg separator that actually works, though, isn't easy. PELEG Design made one of the cutest kitchen gadgets under $20 to make egg yolk separation easier than ever to do.
Let the piggy "oink" up the yolk. Then, when you separate the yolk, squeeze his belly to release the yolk into another location. Suction makes it work, and silicone makes this tool a good egg.
Love having wine accessories that look chic, are easy to clean, and also serve a purpose? This seven-piece set is one of the best kitchen gadgets under $20 for your need. Six super-stretchy origami cranes make it easy to discern whose glass belongs to who, while a matching silicone crane works as an airtight wine stopper.
Silicone means you get to enjoy stretchy goodness and durability galore. Umbra, you did good with this set.
Machine-washable straws? For real? It's more likely than you think, especially if you're talking about this pair of quirky kitchen gadgets under $20. This kit comes with two silicone straws that have equally squee-worthy rubber duckie floaties on the tops of them.
Umbra makes some seriously interesting accessories, and that includes a number of kitchen gadgets under $20 that will have people looking twice. This cute "wishbone fish" soap dish looks great in bathrooms and kitchens, and thankfully, doesn't smell.
Crust cutting is a major thing that parents hate doing, but have to do because kids can be very fickle eaters. Fred & Friends made a nice set of crust cutters that involve everything from cute puzzle pieces to smiley faces. All of them are made of colorful silicone and are incredibly easy to use.