Spice for the Right Price
Knowing Your Ingredients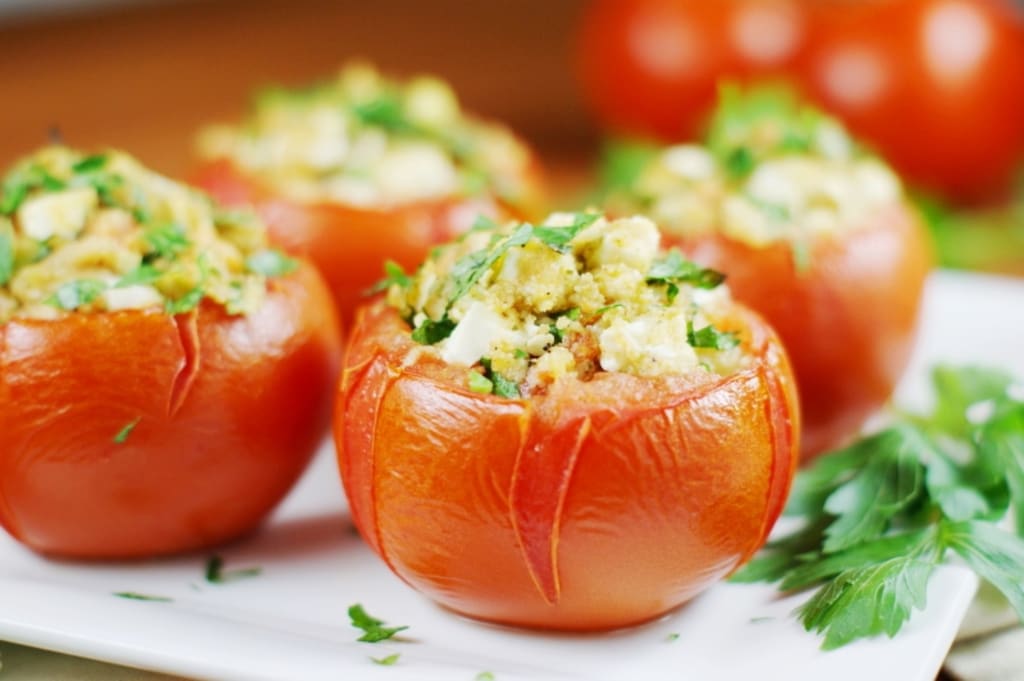 How many times have you looked at a recipe online or even in a cookbook and thought, "I would really like to make this but I don't want to spend a lot on ingredients, I wonder how much they are?" This article will show you a recipe that is one of my favorites at home plus I will also list the price of the ingredients that you can find at your local Walmart.
Feta Stuffed Tomatoes
4 Large Tomatoes $1.50/lb
4 ounces crumbled feta cheese $3.98
1/4 Cup fine, dry breadcrumbs $1.08
2 tablespoons chopped green onions $1.34/bundle
2 tablespoons chopped fresh parsley $2.59/bundle
2 tablespoons of olive oil $8.74/25.5 Fl oz
Cut four large tomatoes in half horizontally. Scoop out pulp from each tomato half, leaving shells intact; discard seeds and coarsely chop pulp. Stir together pulp; four ounces crumbled feta cheese; one-fourth cup fine, dry breadcrumbs; two tablespoons chopped green onions; two tablespoons chopped fresh parsley; and two tablespoons olive oil in a medium bowl. Spoon mixture evenly into tomato shells, and place in a 13 x 9-inch baking dish. Bake at 350° for 15 minutes. Garnish with Italian parsley sprigs, if desired.
And what goes better with those tomatoes than your main entree? This next recipe is for steak and a chimichurri sauce that goes over the steak. I will also be listing price for these ingredients.
1 ribeye steak $6.48
Salt $0.84/26 oz
Pepper $1.98/1.5 oz
Lay your steak out 20 minutes before cooking. Heat a cast iron pan on medium to high heat. Coat your pan in olive oil. Rub the salt and pepper on both sides of your steak. Once pan is nice and hot, put steak in the pan (you should hear it start to sizzle), three to five minutes for medium-rare, five to seven minutes for medium, or eight to ten minutes for medium-well. After you have cooked your steak to your liking, let it rest on your cutting board for ten minutes. After ten minutes, slice and serve.
For the Chimichurri Sauce:
1/4 cup chopped parsley $2.59/bundle
3 tablespoons white wine vinegar $1.93/16 fl oz
4 garlic cloves $1.48
2 tablespoons oregano leaves $2.20/1.37 oz
Salt and Pepper
1/2 cup of olive oil $8.74/25.5 Fl oz
In a food processor, combine the parsley, vinegar, garlic, and oregano. Process until smooth; season with salt and pepper. Transfer the sauce to a bowl and pour the olive oil over the mixture. Let stand for at least 20 minutes.
Mashed Potatoes:
4 Potatoes
Butter
Evaporated Milk
Salt
Take a pot, fill it halfway with cold water, salt the water, then put over high heat. Peel four potatoes, dice them, then put them in the water. Let the potatoes boil until fork tender. Drain the water, put potatoes in a bowl. You can use a potato masher, hand blender, or a kitchen aid mixer. Add butter, salt, and evaporated milk until potatoes are smooth. Serve up!
This meal can be prepared within an hour or a little over. It is perfect for the cook who is exploring flavors and looking to broaden their horizons. I also usually make mashed potatoes to go with this meal. But you can choose whatever starch fits you and your family. Another tip is you don't have to pan fry your steak, you are more than welcome to grill your steak. I prefer using the pan because I can control my temperature if the steak is cooking too fast or if it's cooking uneven but everybody has there preference. The chimichurri sauce also pairs well with salmon and chicken. You can use these flavors to explore especially if you are just starting out with food. This is also a healthy meal choice if you are looking to eat healthy in the new year. I hope these recipes help you and make you feel full!