Polly Want a Cracker?
Simple Homemade Munchies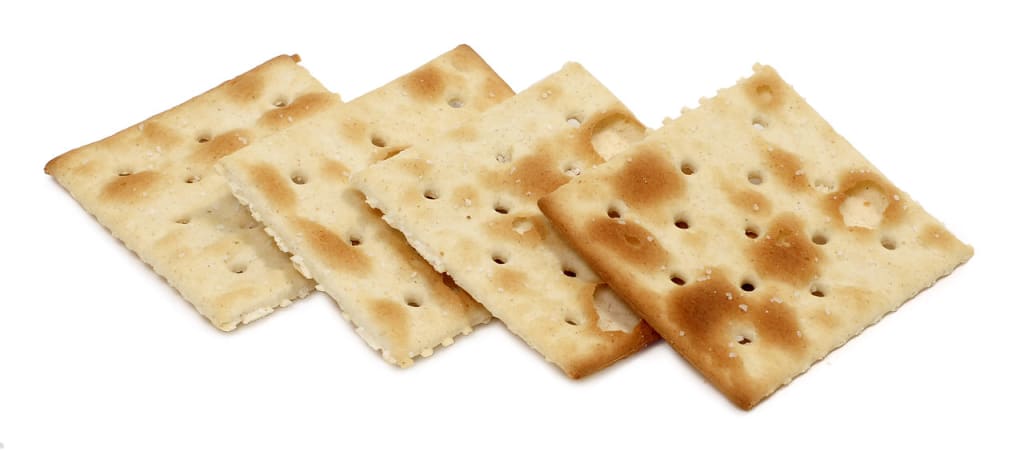 Have you ever made snack crackers at home? Most people don't. There are so many savory varieties on the market; it seems faster and easier to pick up a box of munchies at the market than to go to the trouble of baking up a batch yourself.
A Gourmet Treat
Once you make and bake them yourself, you will be addicted. An attractively decorated container of homemade gourmet crackers are the perfect hostess gift, make attractive appetizers for a chic dinner party, or go perfectly with a glass of fine wine. Cheese crackers are a wonderful accompaniment to a full-bodied red wine. A crisp and flavorful white wine pairs well with herb or fruit flavored crackers.
Enjoy crispy homemade crackers with salads, soups, as a base for spectacular appetizers, or stand alone munchies. Homemade crackers are a lot less expensive to make than to buy, are low in calories, are simple and easy to craft, and there is no end to the different varieties you can create. The only limit is your imagination.
If your family shows evidence of food sensitivities or nut allergies, no worry. You control the ingredients; quickly whip up a batch of gluten-free, nut-free, soy-free, tasty treats the whole family will enjoy.
Making crackers at home is so simple you will wonder why you haven't been doing it before. Crackers made from scratch have only organic ingredients, no trans-fats, chemicals, artificial flavorings, or preservatives, and you are not paying for a lot of expensive cardboard packaging.
Crackers require no yeast, kneading, or waiting for the dough to rise.
Basic Cracker Recipe
6-cups all-purpose, enriched white flour, or a combination of flours of your choice
4-teaspoons sugar
4-teaspoons sea salt
8-tablespoons extra-virgin olive oil
1 to 2-cups liquid – water, vegetable, beef or chicken bullion or apple juice for fruit flavored biscuits.
Recipe may be cut in half for a small batch. The basic recipe is enough for a family or a porch party.
Creative Flour Variations
Substitute corn meal, oat flour, flax meal, almond meal, coconut flour, rice, or all bran flour for an equal amount of all-purpose flour.
Sugar Substitutes
Replace white sugar with equal amounts of honey, raw or brown sugar.
Flavored Oils
Substitute sesame, coconut, walnut, truffle, chili, or herb-flavored vegetable oils for equal amounts of olive oil, or use two tablespoons of unsalted room-temperature butter with two tablespoons of oil.
Seeds Add Texture And Flavor
Experiment with your combination of favorite flavors. Favorites include poppy, caraway, sesame, sunflower, flax, coarse ground pepper, and chia seeds.
Herbs Add Pungent Flavor
Try adding with rosemary, parsley, basil, thyme, chopped chives, red pepper flakes, cardamom, mint, garlic or onion powder, or paprika.
Add Cheese
Add freshly grated cheese of your choice for a unique flavor twist and added crunch. Choose aged cheddar, Parmesan or Romano, and season with oregano and fresh parsley. Add one cup grated cheese to the basic recipe. Reduce liquid, using only enough to blend workable dough.
Go Nuts
Add finely chopped almonds, pecans, walnuts, cashews, hazelnuts, filberts, or pistachios.
Flavor With Fruit
Add your finely chopped dried fruits such as apricot, fig, date, raisin, cranberry, or berries. Fig and Rosemary are a happy pairing or try apricot and almond. For a burst of flavor, add the zest of a lemon to poppy seed crackers
Crackers are so simple to prepare; you don't even need an electric mixer. Blend dry ingredients together in a large mixing bowl, add water a bit at a time, until the dough reaches a firm, workable consistency, stir until smooth with a wooden spoon. More or less water is required dependent on the type of flour used. Roll out on a floured cutting board to desired thickness. Most cracker variations should be rolled out very thin. For a firmer biscuit, roll thicker. Cut in squares, or if you want to get fancy, use small cookie cutters.
Place crackers on a cookie sheet and bake at 325 degrees Fahrenheit for 6 to 10 minutes or until golden brown.
Store in an airtight container in the refrigerator. Stored crackers can be warmed in the microwave before serving. Crackers retain freshness well, but it is likely that a batch will be devoured by all; straight out of the oven.