No Fail Seed Bread
gluten free, dairy free, delicious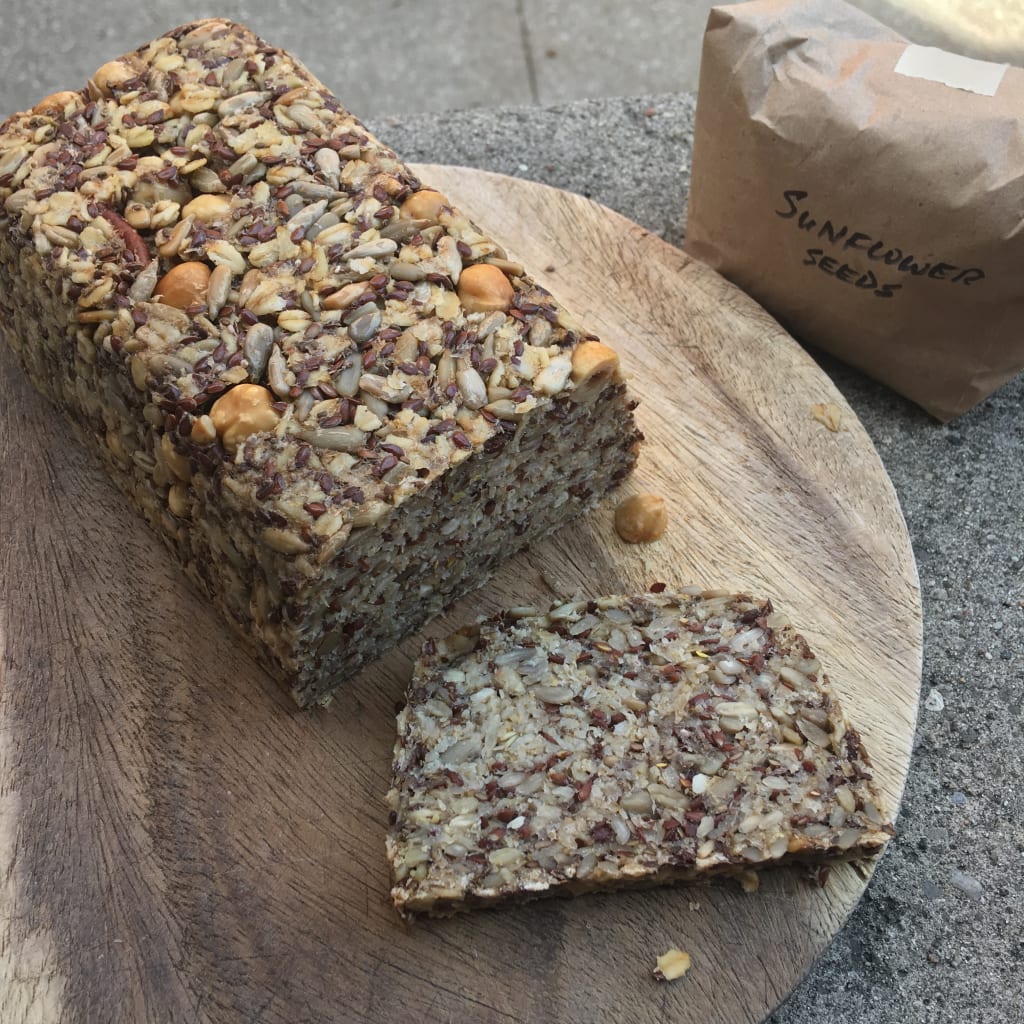 Never Fail Seed Bread
Most commercial gluten free breads lack taste, texture and nutrition as well as containing dairy products and thickeners. This bread ticks all the good boxes and is purely satisfying!! It is gluten free, dairy and additive free and works every time. It is my little black dress of bread. I bake one a week, slice it when cool and then freeze it. Toasting not only brings it to temperature, but a second toast will enhance the subtle nutty oils. It goes beautifully with avocado, almond or any nut butter, an egg, strong cheese or just butter.
I really got into this bread when healing my daughter from an eating disorder/Anorexia. She still eats a piece every day. It has all of the calories from healthy oils that are not only nourishing to the body, but healing to the brain as well. It also tasted really good.
If you needed another reason to love this bread, during COVID - 19 lockdowns and food insecurity, all of the ingredients can be purchased in bulk from places like Amazon or from your local store. I found it very reassuring during this time to stock up on things like nuts and seeds, beans and rice and oats. I could purchase them all from our local health food purveyor, and I knew they would keep for a long time if necessary. No extra freezer or fridge space necessary. I've got 3 kids and one with and an ED. with the initial panic, this bread is an important part of any food pantry. It can be paired with a lovely, strong cheese and some red wine as well as avocado and a soft cooked egg for a totally satisfying and delicious power breakfast. It's like burning clean energy.
NO FAIL SEED BREAD
Grease an 8 x 4.5" glass baking pan, then line it with parchment paper
1 cup sunflower seeds
1/2 cup flax seeds, ground
1/2 cup hazelnuts or almonds (or whatever nuts you want)
1 1/2 cups old fashioned rolled oats (gluten free if celiac)
2 Tablespoons chia seeds
4 Tablespoons psyllium husks (3 Tablespoons if using powder)
1 tsp. fine grain sea salt
1 Tablespoon maple syrup or honey
3 Tablespoons melted coconut oil
1 1/2 cups of water
note: I always choose organic if possible
Combine all of the ingredients in a bowl and stir to combine. Gently melt your oil and add it to the water and syrup in a measuring cup. Add the wet to the dry ingredients and mix very well. Let sit for a minute or two and then mix again. You will notice the water getting absorbed by the psyllium. At this point, start packing the mixture into the prepared pan. Push it down with a spatula in about 3 stages so that the entire contents are packed tightly. You can leave it out on the counter for 2 hours or longer. (I've gone as little as 1/2 hour and didn't notice any difference)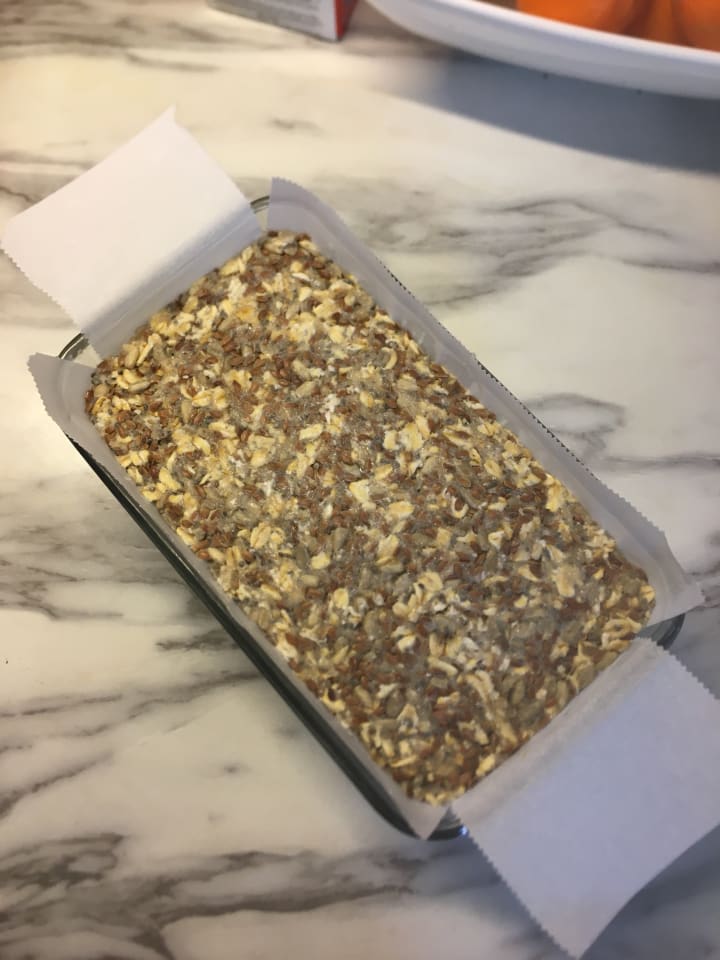 About 20" before you are ready to bake, preheat your oven to 350F. Bake the bread for 30 - 35". Then, carefully take the bread out of the pan and put it back in the oven upside down directly on the rack and bake for another 20 minutes or so. It is really up to you.
Remove from the oven and let cool before slicing and storing.
As I said, this bread has become a staple in our home, but it is also a very useful tool. I estimated the calorie breakdown as follows:
9 slices = 318 calories per slice
10 slices = 286 calories per slice
11 slices = 260 calories per slice
12 slices = 239 calories per slice
Hooray - you did it! Stay tuned for more functional and helpful food ideas. Good food is all a part of great taste, a strong immune system, a healthy brain and body and hopefully kindness to the earth. I will also be talking about my experience with Anorexia, as there is so much to know if it has happened to you. All the best.
Adapted slightly from Sarah Britton of My New Roots.