No-Bake Pumpkin Spice Cheesecake
Pumpkin spice season is upon us! You're gonna love this cheesecake.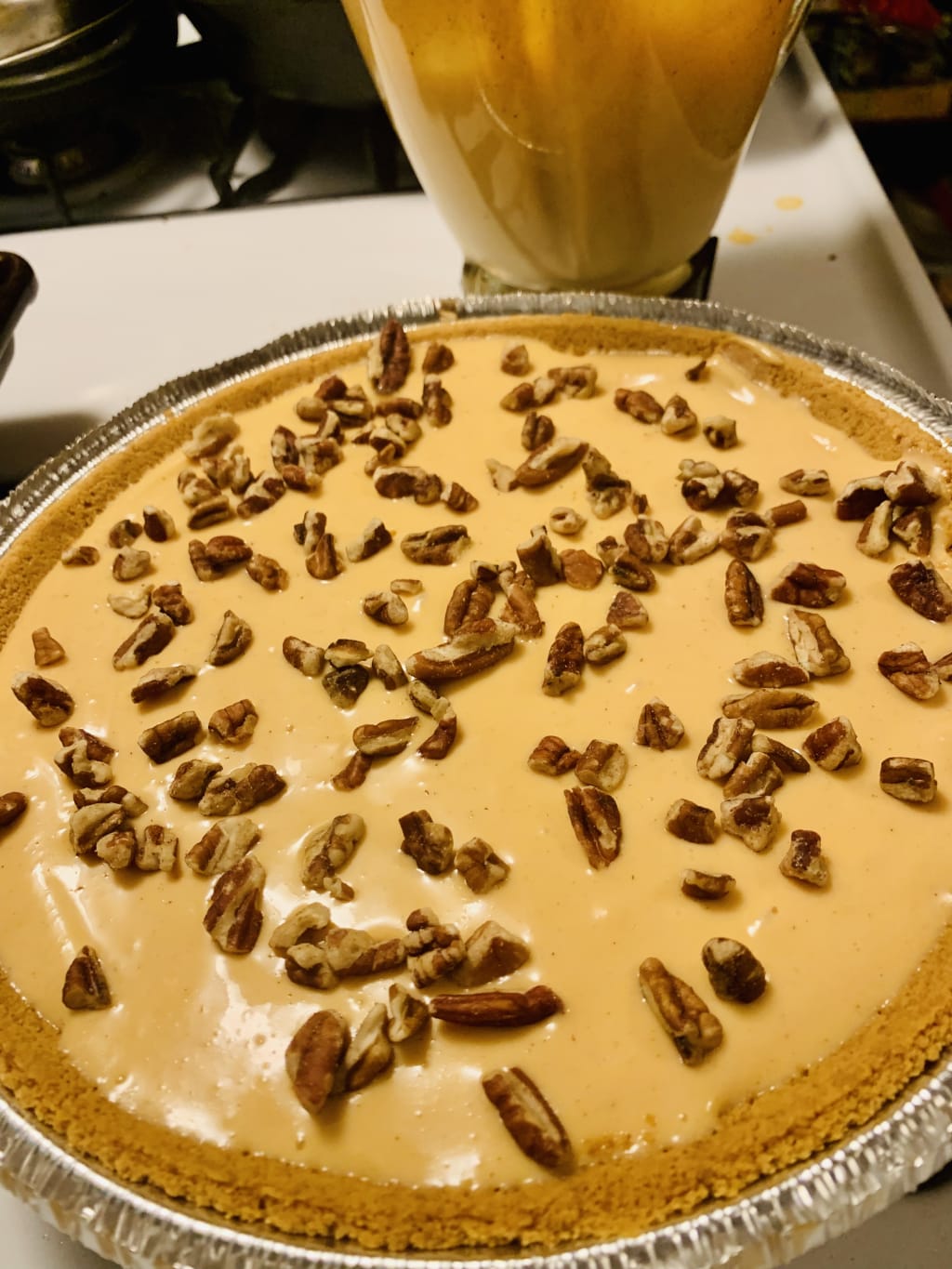 Fall Favorite
Fall has arrived and so has the pumpkin spice! Check out this super easy five-ingredient no-bake cheesecake recipe that you will be sure to love and crave for many seasons to come. I have this as an added goodie during Fall every year. It never lasts very long in my refrigerator.
Ingredients:
Gram cracker, ginger snaps, or vanilla wafer crust. You can make it yourself or use store-bought. (You will need to make the ginger snap or vanilla wafer crust yourself. See below for the crust recipe.)
1 can condensed sweetened milk
8 oz Pumpkin spice cream cheese
1/4 cup powdered sugar
1/4 cup Lemon juice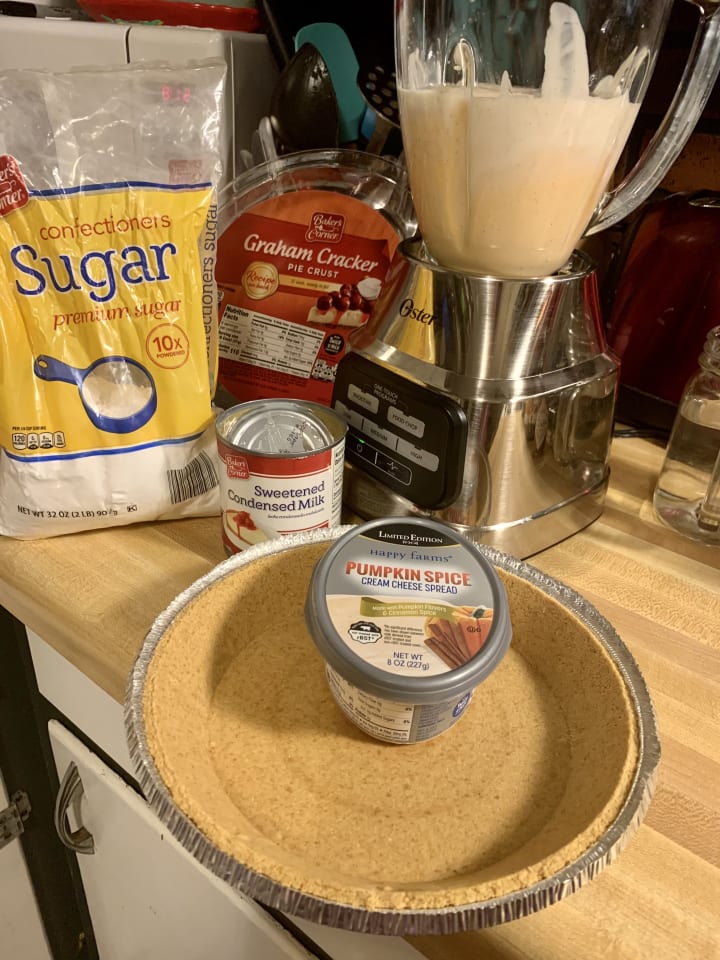 Instructions:
Set out your pumpkin spice cream cheese a few hours in advance so that it can get to room temperature. This is important to make sure the filling sets correctly later on.
Prepare your crust. Don't forget to bake it for at least 10 minutes before you put the filling in, allowing it to cool. Home-made or store-bought, this prevents your crust from becoming soggy.
Using a blender, mixer, or your whisk thoroughly combine the lemon juice, evaporated milk, powdered sugar, pumpkin spice cream cheese. If using a blender, remember liquids first!
Once thoroughly mixed with no lumps and is smooth, pour into the prepared crust.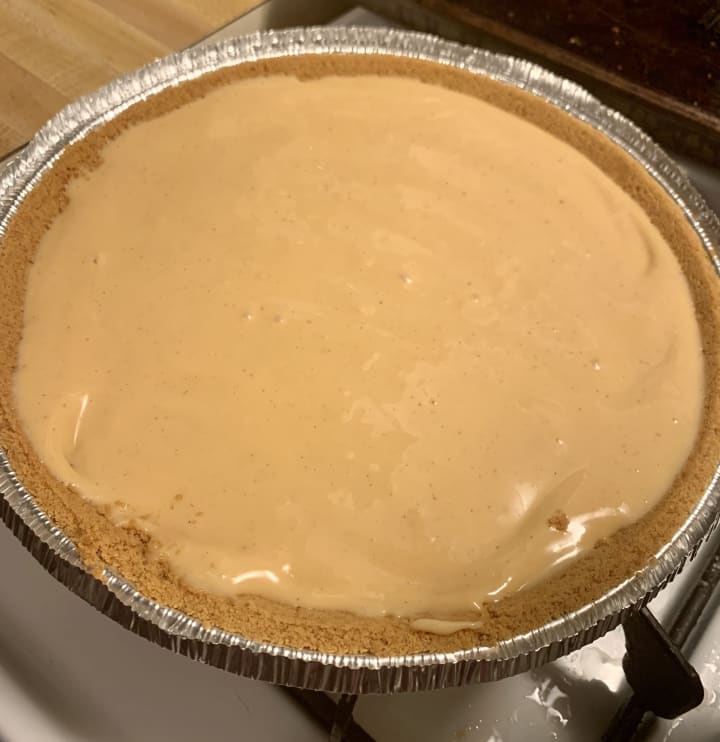 You can add garnishes such as nuts, chocolate shavings, or candy corn.
Allow the cheesecake to chill in the refrigerator for at least 4-6 hours before serving. I find it sets best if left 12-24 hours.
TIPS:
Add Vanilla and Cinnamon for more flavor.
Add Pumpkin Spice for more of a pumpkin kick.
If you hand-make your crust, I find it easier to cut if you dip the pan in some warm water before serving. This loosens up the cold butter, allowing you a smooth cut.
Hide this cheesecake so that you can have a slice before the family gets ahold of it.
You can use this recipe with ANY flavor of cream cheese; strawberry, salted caramel, plain, etc.
Crust Recipe:
2 cups graham crackers, reg, or cinnamon. You can also use vanilla wafers or gingersnaps in place of graham crackers. (you can use more if you like a thick crust or depending on your pie pan size.)
6 tablespoons and 1 teaspoon of butter. (Use more if you are using more crust.)
1/4 cup brown sugar (you can also use cane or powdered sugar.)
A pie pan
A bowl and fork
Instructions:
Crush crackers, wafers, or gingersnaps into tiny crumbs. I find placing them in a gallon-size freezer bag and using a cup to crush them works quite well. Just do your thing.
Melt butter.
Pour crumbs into a bowl and slowly mix in the butter using a fork.
Place mixture into pie pan.
Using the fork, gently squish the mixture against the pie pan. Start in the middle and work your way out. You have finished once all the mixture is tapped against the pie pan and looks like a crust.
Bake your crust on 350 for about 10-12 minutes.
Allow cooling for 10-15 minutes before adding any filling. This will prevent the crust from becoming soggy.
---
And that's that folks. The easiest pumpkin spice cheesecake recipe that I have come across. I love that it is a no-bake cheesecake, making preparation half the time and my results are guaranteed. I know you will love it!
recipe
Strong Educated Independent Woman. Mom, Wife, Sister, Aunt, Neice, Tree Hugging Hippy, Animal Lover, Environmental Activist, Gardener, Artist, Writer, Spreader of Joy.
Receive stories by LittleTree Oppy in

your feed