My Review on 3 Meal Kit Delivery Services
Getting More Bang for Your Buck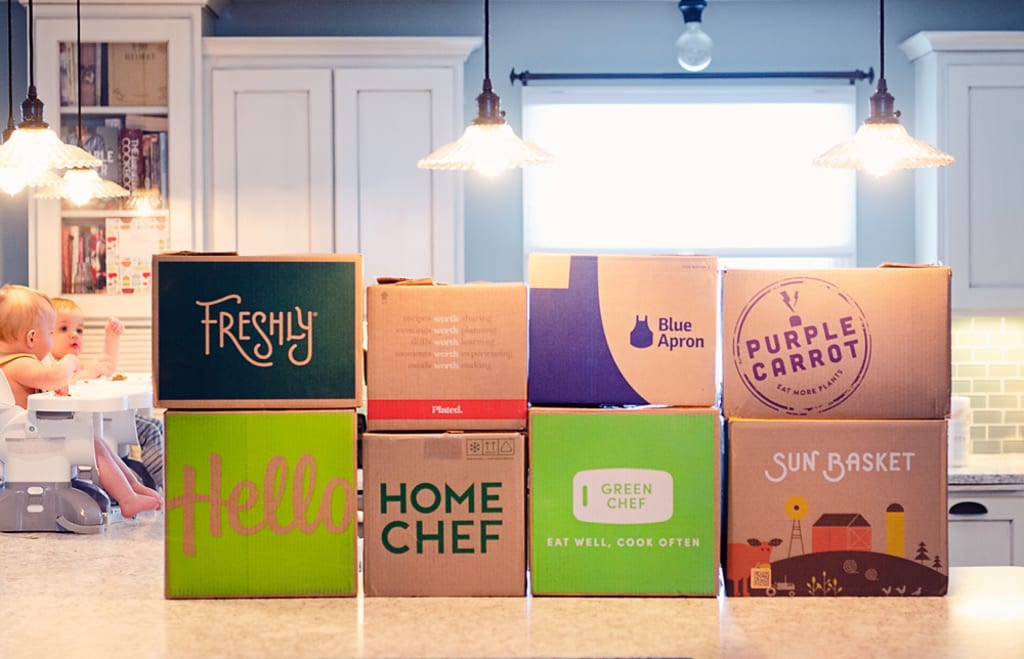 I once read a quote that stated "Weight loss doesn't begin in the gym with a dumbbell; it starts in your head with a decision". With the constant temptation of fast food, and an endless array of snacks, candy, ice cream, and soft drinks to choose from- I had fallen victim to the American trap of eating unhealthy but tasty, cheap, and large portioned meals.
I tried to approach the fact that I was overweight by going long periods of time without eating, and then broke down and binge ate tons of calories all at once. After multiple failed attempts of "starving myself"- I looked into what it meant to eat proper portions; and downloaded a calorie counter app, tracking every item that I ate- limiting myself to 1,200 calories a day. Calorie counting, by far, was something that opened my eyes on how many calories I was in taking- sometimes ending the day with a whopping 3500+ calories. Although calorie counting was inconvenient at times, within a couple months, I found the weight shedding off of me- and became a religious believer in portion control. I went from 200lbs, to 160lbs in about 6 months; and then 160lbs to a steady 135lbs after a couple of years. Around 2015 my sister had introduced me to "Hello Fresh" in order to help me maintain better meal decisions- and since then, receiving weekly meal boxes became a way of life.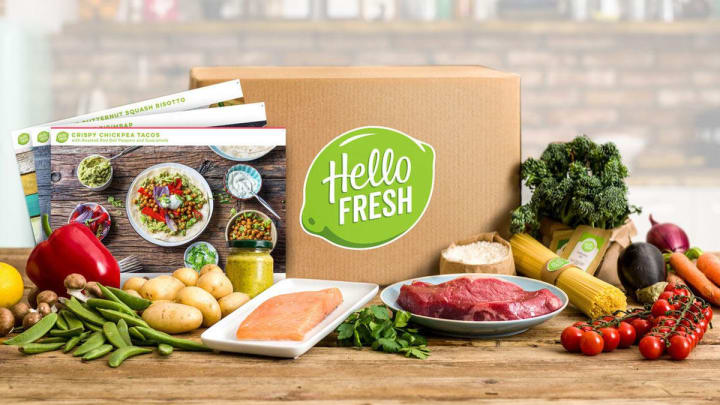 For those who aren't aware of what "Hello Fresh" is, it's a pre-portioned meal plan for two that delivers fresh ingredients in convenient meal kits straight to your doorstep. Packed to stay fresh, the meal kits come with chef-curated recipes that are super easy to follow. I personally found myself turning them into "meal preps"- splitting 3 meals into 6 days, and allowing myself one cheat day per week.
When my box arrived, it was perfectly packaged, and came with separate lunch sacks, containing each meals ingredients- so customers didn't have to sort out which ingredient went with what meal. For the instructions, they provided customers with fancy recipe cards illustrating what the finished product is suppose to look like on the front, and super easy step by step instructions on the back. After downloading the app, they offered 3 free meals once signing on, and gave customers the ability to choose which day of the week they wanted their meals to show up on. Customers could pick which meals they personally wanted sent to them; which was a pretty sweet deal until the trail ended. After the trial ended, customers are offered to keep their weekly boxes arriving to their doorstep for $63 a week/$252 a month. Although $63 a week doesn't seem like a bad deal- I decided that I wanted to cancel my subscription, and look into another company that offered the same service at a lower cost; which brought me to my next boxed meal "Every Plate".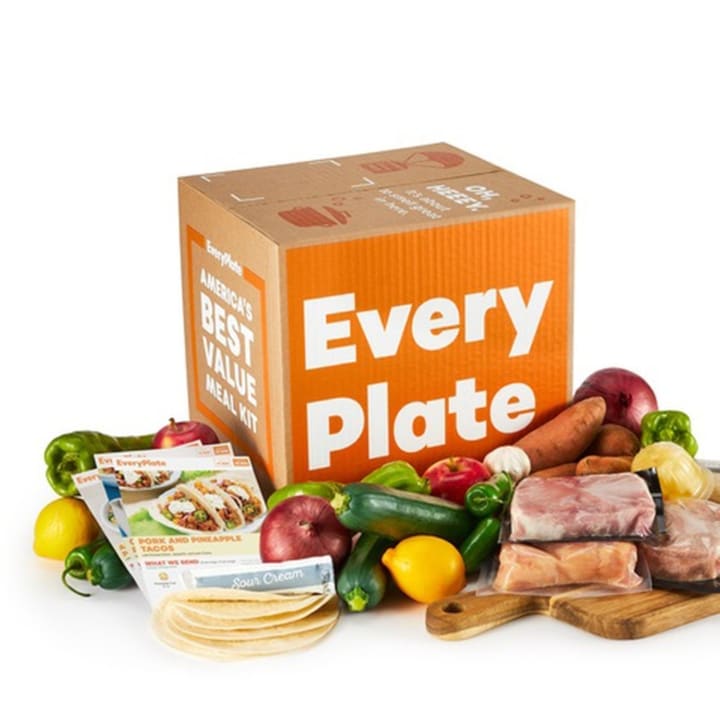 With "Every Plate" advertising their meals as "58% Cheaper Than Other Meal Kits. Generous Portions. 100% Fresh Ingredients. Chef-Created Recipes. New Recipes Every Week". After making my own personal meal choices, my total came to $39 a week/ $156 a month- and I was sold. After placing my order, I patiently waited in excitement to see what "Every Plate" had to offer- and when the box arrived, I opened it realizing that "Hello Fresh" was basically asking customers to pay for delivery presentation. "Every Plate" took all your ingredients, threw them loosely in the box, and came with smaller (yet still incredibly convenient) ingredient cards. Being someone that isn't always about presentation, I didn't mind the loose contents because the meals were just as incredible. After awhile, I noticed their meal choices often repeated over and over again- but for the cheaper price, I continued to use the "Every Plate" service for almost a year. There would be some weeks that the box was shorted on certain ingredients, and some weeks that the box was late on arrival- but then I hit a point with the company where I was getting charged my $39 weekly price, and did not receive my meals at all.
Being a person that rely on eating their meals solely off these meal box deliveries, it became more of an inconvenience then a convenience to use their service. At first I was convinced that my meal package was being stolen from our porch- but after being off on a day that my package was suppose to arrive; I received an email stating that my box was delivered, but when going outside, it wasn't there, nor did it ever show up. I called the Every Plate support number, and was put in a que line for over an hour, and got hung up on- then I spent days figuring out if there was another way to contact the company. There was no email, no online customer support contact chats, and no response from them when I contacted them on their official Facebook page. After spreading the word to other people on ordering from the company- I retracted all my recommendations, canceled my subscription, and looked into another meal kit company- which lead me to who I use now, which is "Dinnerly".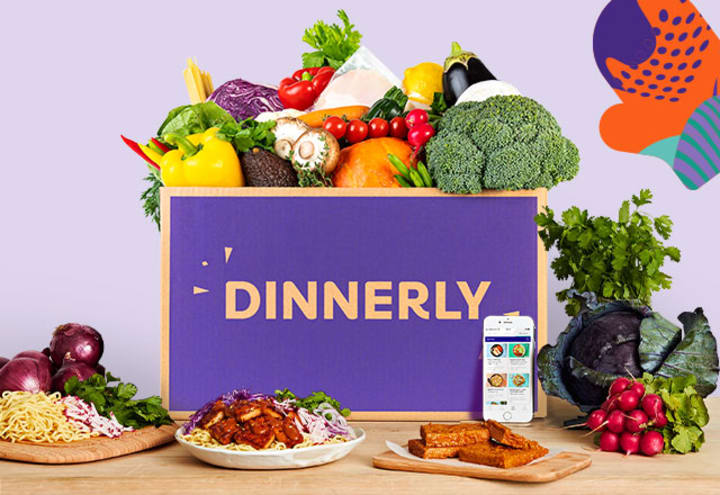 With their slogan being "The most affordable meal delivery service on the market. Open the door to unfussy, affordable weeknight cooking". Upon downloading their app, and browsing their meal choices- I instantly noticed they seemed to offer more meal choices then the other 2 companies, they even gave their customers the option to change their box to "vegetarian only" meal choices. Although their service mimicked similar services "Every Plate" had to offer, the weekly total cost for 3 meals per week came to a total of $41/ $164 a month. Once receiving the delivery, the contents of the box again was loosely thrown in with a couple of ice packs, and unlike the other two services, it did not come with ingredient cards; instead, you'd find your recipe cards digitally through their app. The online cards, were just a easy and navigable as having the physical cards- and almost seemed more convenient because I wasn't having to keep up with the cards.
Unlike the other two companies, "Dinnerly" has definitely been more courteous when it came to not receiving a meal- and they even issued a refund for a box that had gotten lost in the mail, without me having to contact them about it. They also deliver texts warning me if a delivery is going to be late, and emails on when my package will arrive- assuring me that the contents will still be fresh, because they're packaged to withstand any delivery delays. All three services (before "Every Plate" offered sham deliveries), offered fresh produce, meat choices, and made sure to come with the smallest ingredients as simple as brown mustard. The only ingredients that one would have to shop for is: Cooking oil, salt, pepper, butter, flour, sugar, and an occasional egg or two- which are all ingredients that once bought, you wouldn't have to purchase excessively over and over again. In the long run- I would recommend for small families, couples, and those who are single to order from the "Dinnerly" company if they're wanting to get on the right track to healthy eating. In my personal journey, it's definitely helped me maintain a healthy weight, and make better food choices- without the calorie counting.