My Guide to the Best Cafes in Hoxton, London
The London neighbourhood of Hoxton is always seen as a bit edgy, a bit cool — awash with independent stores, emerging names, and people not afraid to be fashion-forward. Here's where to get your coffee.
Canal-side at the Barge House – Hoxton, London. Photo: Gareth Johnson
Towpath
For most of the year, the Regent's Canal in the Hoxton neighbourhood is best avoided — inhabited only by cyclists and joggers battling each other for space on the narrow canal-side path. Once the sun comes out though it's a different story.
Just around the corner from my flat are a number of canal-side cafes, with the best of them probably Towpath. On a sunny day this place is heaving with the scarce tables fiercely contested.
Curious Yellow Kafe
This is one of the stand-out cafes in Hoxton. A Swedish-influenced menu, great cakes, good coffee, and an all-day breakfast on the weekends. Tucked away on Pitfield Street, this is one of those places that you have to know that it's there — as a result it's hugely popular with the locals. Free wifi makes this a great place to hangout with your laptop for the day.
Barge House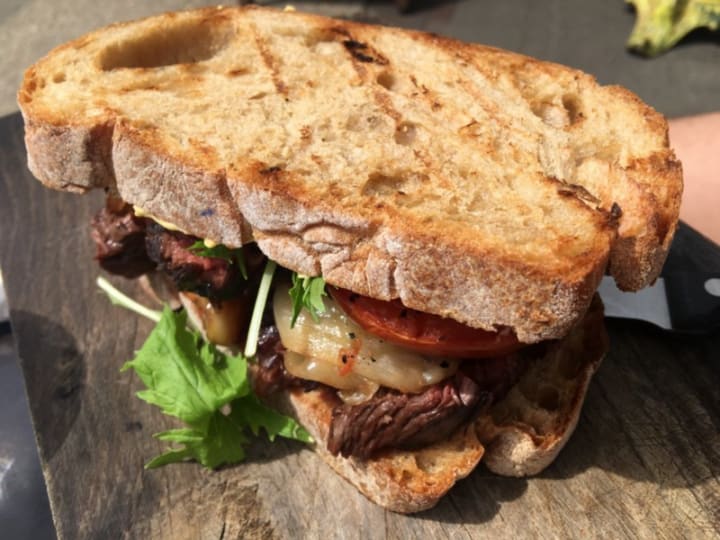 Situated on the Hoxton stretch of the Regent's Canal, the Barge House is an Italian flavoured cafe.
The food is good, the service is friendly, and the canal-side position is fairly unique – on a sunny day it's almost impossible to snare one of the few outdoor tables. Their chorizo sandwich is a total winner. A great option.
Beagle
Popular bar and restaurant beneath Hoxton's overground station. They do good breakfast, although sometimes the service is a bit hit-and-miss.
Bach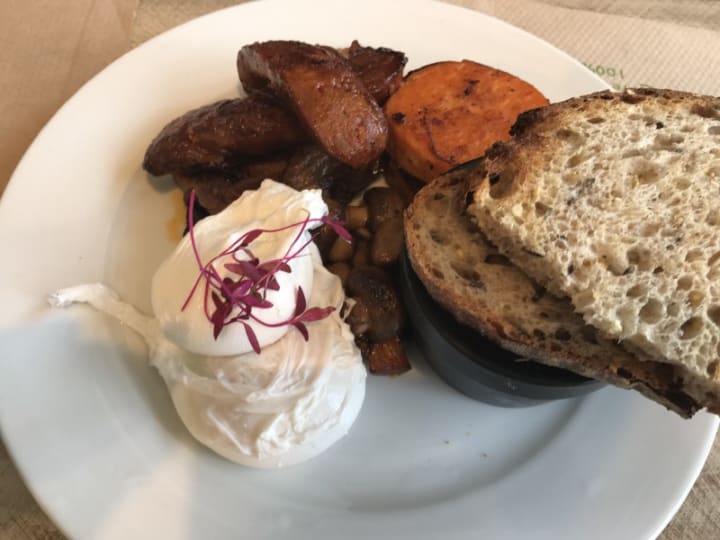 One of the newer cafes, taking over an unloved corner on Hoxton Street. In it's early days but so far it seems to be a success – friendly, efficient service, good quality brunch options, and plenty of people filling the place every day.
Arepa & Co
Having begun life as a Venezuelan food stall in Camden Lock, Arepa & Co. has now evolved into this canal-side restaurant. This is on the East bank of the canal, between the Kingsland Road and De Beauvoir Road bridges.
Their specialty is the Arepa pocket sandwiches — a corn bread pocket with your choice of fillings. It's great — and the coffee is really good too.
Embassy East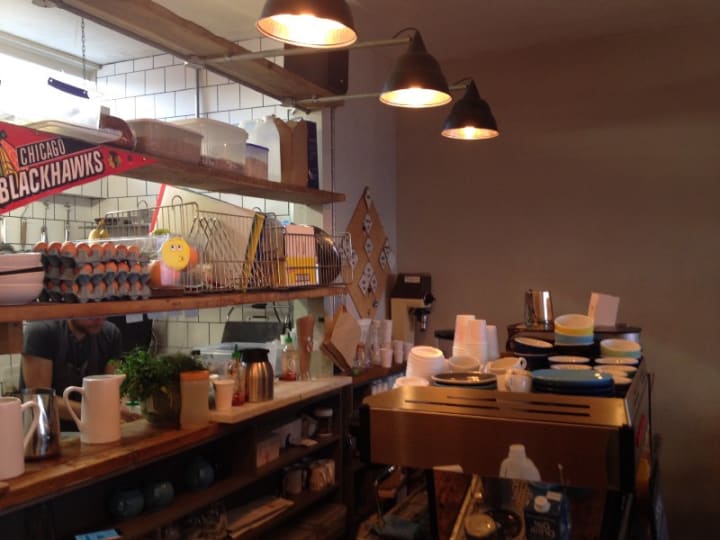 Embassy East is tucked away at the quiet end of Hoxton Street — the market end, away from the city. I used to feel that I lived up the uncool end of Hoxton Street — as always (and especially in London's inner-East) there are degrees of coolness. I was the opposite end to Hoxton Square — where everything pretty much used to happen.
A small space with a clever fit-out, Embassy East is a cafe run by Australians so the coffee is top-drawer and they serve all-day breakfasts and other solid, brunch-style meals. Plus there's free wifi.
I always opt for the meat and eggs — perfectly poached eggs, sausage, bacon, haggis, and toast.
This is the kind of cafe I used to cycle across town for. It's the kind of cafe that people in Melbourne queue for. This is a freakin' amazing cafe — and it's next door to my flat.
Bill's
Occupying a prominent position in Hoxton Square, Bill's is a chain of restaurants that could perhaps be described as the antithesis of all of that you'd normally associate with Hoxton-cool. There's nothing wrong with Bill's - The decor is a nice mix of shabby-chic, they're serving decent food that will appeal to pretty much everyone, the coffee is good, and the service is professional and friendly.
We were there for breakfast on a Sunday morning. It was busy — every table full. I ordered the full-English. It wasn't the best I've had, wasn't the worst. Bill's is a good safe option, and that's okay. It just doesn't feel very Hoxton.
Bach - Hoxton, London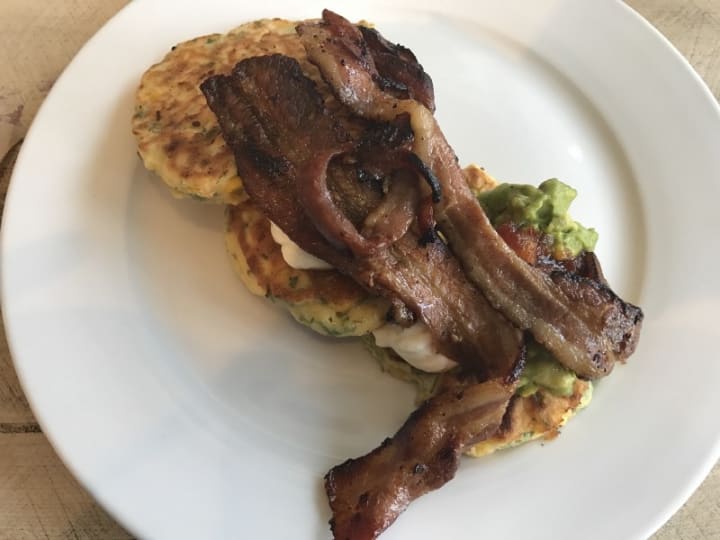 Geffrye Museum Cafe
The Geffrye Museum on Kingsland Road in London's inner-east is a fascinating insight into design and living through the decades and through the centuries. There's also a cafe.
We called in on a Saturday afternoon — admiring the large square where you can sit in the sun, exploring the contemporary ceramics displays that they were showcasing as part of London Design Week, and (of course) ending up in the cafe for a coffee.
This is an attractive, light-filled space. The service was professional and friendly. Unfortunately the coffee was fairly mediocre.
Trip Kitchen & Bar
Trip Kitchen & Bar is a very cool space occupying a couple of arches beneath the overground railway line – between Hoxton and Haggerston stations. The kitchen is part of a yoga and dance studio.
My boyfriend Liviu and I called in for lunch on a Wednesday. We shared some really great avocado, salmon, and eggs on toast. Everyone else there was in yoga or dance gear. They even have a special discount lunch for dance students.