Making Banana Pancakes
recipe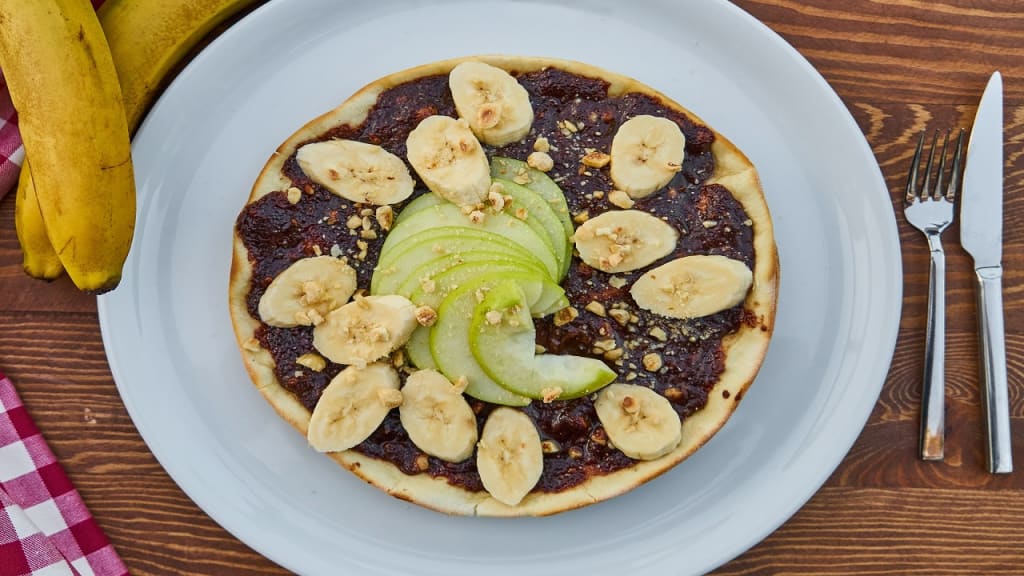 Pancakes are known as American fluffy pancakes, and they are comparable to pancakes in many aspects. The meal is heavy in calories in the traditional version, however this is "dressed" by making modest changes to the recipe, such as adding banana to pancakes. How do you make a lighter version of a traditional American dessert?
Pancakes are traditionally made using wheat flour, eggs, and sugar. They can be topped with fruit if desired. In lightened-up recipes, flour is substituted with whole grain or rice flour, and the sub-formulas are omitted. Cook all of the selections and then pick the one you like most.
Banana Pancakes with No Flour
Ingredients: 1 big banana, 30 g bran, 1 egg, a pinch of salt, and 10 ml vegetable oil for frying.
Instruction: Peel the banana and cut it into big chunks. Combine with the other ingredients in a blender. Whisk until completely smooth.
Grease a pan with oil, add the chicken, and cook on both sides until golden brown.
Yogurt, mango, and banana pancakes
Ingredients: 125 g of yogurt 0% fat, an egg, 125 g of rice flour, 5 g of baking powder, 50 ml of water, a pinch of salt, 5-10 ml of vegetable oil, 1 banana. For the sauce: 150 g mango (fresh or canned), 1 lime, chili to taste.
Instruction: Mix yogurt with egg, add flour, baking powder and whisk to avoid clumping. Mash the peeled banana with a fork, add to the dough, stir. Then add a pinch of salt and a little water there until the consistency is thick. Grease the pan heated over medium heat with vegetable oil and fry the pancakes for 1 minute on each side.
For the sauce, cut the mango into small cubes, add the zest of whole lime and the juice of ¼ lime. Chop finely and add chili to taste, after removing the seeds and stalk. Place the pancakes on a plate, top with the sauce, or serve separately.
Banana Pancakes
Ingredients: 1 medium banana, 1 egg, 1 tbsp. l. chia seeds, 1/2 tbsp. l. coconut oil or ghee oil. For serving: 2-3 tbsp. l. maple syrup, 1 handful of fresh berries.
Instruction: Mash the banana with a fork, stir in the egg and chia seeds. Heat coconut oil or ghee in a skillet. Spread the resulting dough with a tablespoon, like pancakes. Flip them quickly enough once one side is browning. Serve the pancakes with maple syrup and berries.
Vegan Banana Pancakes
Ingredients: 2 cups whole wheat flour or gluten-free mixture, 400 g plant milk, 2 bananas, 2 tbsp. l. vegetable oil + 1 tbsp. l. for frying, 1 tsp. baking powder, 1/5 tsp. cardamom or vanilla.
Instruction: Mix the ingredients and let sit for 20 minutes. Preheat a skillet and lightly grease it with vegetable oil. Fry pancakes on both sides until golden brown, uncovered.
Pancakes with pumpkin and banana
Ingredients: 300 g raw pumpkin, 1 egg, a pinch of salt, 25 g Greek yogurt, 50 g oatmeal or ground oatmeal, 1 banana, 15 ml olive oil for frying, a little baking soda.
Instruction: Grate the pumpkin on a fine grater. Combine with egg, salt and mashed banana. Add yogurt and baking soda, stir and gradually add flour to form a not very thin dough. Grease a skillet with oil and heat over medium heat. Spoon the pumpkin mixture over a couple of tablespoons and fry the pancakes for 3-5 minutes on each side.
"Oh my God! Pancakes! "
Ingredients: 50 g ricotta cheese, zest and juice of one lemon, 1 large banana, 2 tbsp. l. muscovado sugar or granulated sugar, 180 ml of milk (0.5% fat), 2 large eggs, ½ tsp. ground cinnamon, seeds of 1 vanilla pod or 1 tsp. vanilla extract, 1 cup (130 g) whole grain flour, 1 tsp. baking powder, butter or vegetable oil for lubrication, fresh berries for serving.
Instruction: In a large bowl, combine cinnamon, vanilla, ricotta cheese, banana pulp, lemon zest and juice, sugar, milk and eggs. Stir for 2-3 minutes until smooth. Sift flour with baking powder, stir in a thin stream into a bowl. Heat a large skillet over high heat. Once it's warmed up, reduce the heat to medium and brush the skillet with butter or vegetable oil. Cook pancakes in small portions: pour a ladle of batter into a skillet and fry until bubbles appear for 2-3 minutes. Then turn the pancake over and fry the other side for another 2-3 minutes. Transfer the finished pancakes to a preheated plate. Repeat with the rest of the test. Serve with berries.