Harry Potter Recipes
recipe
If you have already run out of ideas about what to do with your child during the "vacation", we offer you another one - joint culinary creativity. Master the recipes from the Harry Potter universe together - we are sure that you and the children will love the dishes.
Recall that none of the Harry Potter books contain exact recipes for the dishes that the heroes eat. There are only titles and approximate descriptions. However, there is a theory that most of the treats in "Potterian" are variations on the theme of English cuisine. British journalist Rita Mock-Pike conducted her own "investigation" and adapted the most popular recipes from the Harry Potter books. Introducing 5 meals that are easy to prepare at home.
Spotted pudding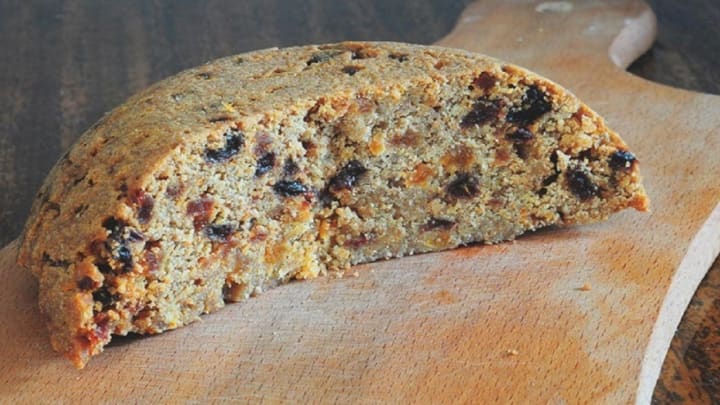 "Spotted pudding gets its name from its appearance: its surface is speckled with dried fruit," explains Rita Mock-Pike, author of the bestselling Hogwarts Unofficial Cookbook. 75 recipes based on the magical world of Harry Potter . "
Ingredients. 1 tbsp. dried cherries, 2 tbsp. dark raisins, 2 tbsp. light raisins, 1 ½ tbsp. dried cranberries, 3 ¾ tbsp. almond petals, 1 tbsp. margarine, 1 tbsp. cane sugar, 5 large eggs, 4 tbsp. l. vanilla extract, 3 tbsp. wheat flour, 3 tsp. baking powder, 1 tsp. salt, 1 tsp. vegetable oil.
Instruction. Preheat oven to 150 ° C. Brush with butter and flour on a notched round muffin tin. Combine nuts and dried fruits in a separate bowl. In another bowl, beat the margarine and sugar until lightly fluffy. Add eggs to the margarine mixture one at a time and beat. Pour in the vanilla extract. In another bowl, combine flour, baking powder, and salt. Combine the flour mixture with the butter mixture. Mix well, add dried fruits and nuts and distribute them evenly in the dough. Transfer the dough to a greased pan. Bake for 2 hours, or use a toothpick to test if the pudding is done. Remove the pudding from the oven and refrigerate for 20 minutes, then remove from the mold and transfer to a wire rack to cool.
Chocolate frogs
This surprisingly simple treat will delight any potter lover. "The only difficulty is to get a special form with cells in the form of frogs; these are sold on the Internet, "recalls Rita Mok-Pike.
Ingredients. 330 g dark chocolate, 2 tbsp. l. unsalted butter, 4 tbsp. l. milk, a handful of mini marshmallows, halved pecans or coconut (optional), oil in a spray.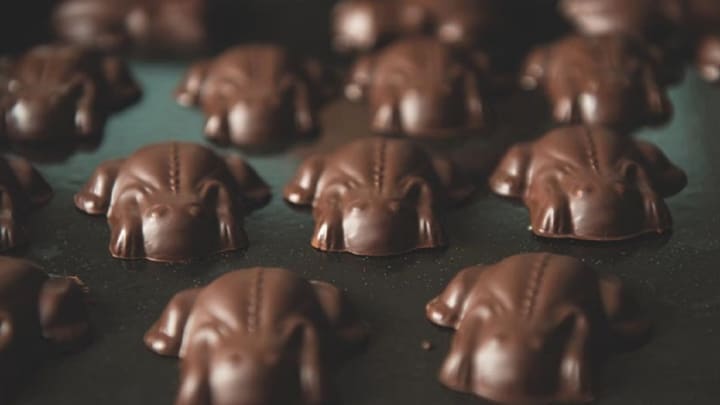 Instruction. Sprinkle the candy pan with the spray oil lightly. Place the butter and chocolate in a water bath over medium heat and, stirring constantly, heat for 5 minutes until the chocolate begins to melt. When the chocolate begins to melt quickly, reduce the heat to low. Stir for 3-4 minutes. Pour in milk 1 tbsp. l. and keep heating and stirring for 5-8 minutes. The chocolate mass should be smooth and not too thick. Remove the mixture from the heat and immediately spread over the molds with a spoon. Make sure all grooves are filled. If you plan to add toppings, fill out the forms only halfway. Add mini marshmallows, halved pecans, or coconut to the center of the frogs. Top up with chocolate. Smooth out the surface of the mold with a butter knife. Place in the freezer and refrigerate for at least 4 hours before serving.
Rice pudding
Ingredients. 2 tbsp. boiled rice, ½ tbsp. milk, ¼ st. cane sugar, ¼ tsp salt, 1 tbsp. l. cocoa powder (sugar free), ½ tsp. vanilla extract, 200 g dark chocolate, whipped cream for decoration, cinnamon for sprinkling.
Instruction. In a medium saucepan, combine all ingredients except chocolate, cream, and cinnamon until smooth. Put on low heat and heat. Melt the chocolate drops in the microwave at 30 second intervals (heat for 30 seconds, then remove, stir and repeat until you achieve the desired consistency). The chocolate mixture should be soft and creamy.
Add the chocolate to the pudding pan and stir well [1]. Heat on low heat for 10-12 minutes, stirring every minute so that the pudding does not burn. Remove the pan from heat and let stand for 10 minutes; then serve. You can also leave the pudding to cool for a couple of hours and then serve it cold. Garnish with whipped cream and lightly sprinkle [1] with cinnamon before serving.
Homemade chocolate toffee
"Harry got delicious homemade toffee as a gift in his first year," adds Rita Mock-Pike.
Ingredients. Spray coconut oil, 200 g dark chocolate, 200 ml condensed milk, a pinch of salt, 1 ½ tsp. vanilla extract, 1 tbsp. chopped pecans or other nuts (optional).
Instruction. Drizzle a 20 cm glass baking dish with coconut oil. Melt the chocolate in a medium saucepan over low heat, add the condensed milk and salt. Stir constantly to prevent the chocolate from burning. When the chocolate is completely melted and the ingredients are mixed into a homogeneous mass - after 3-4 minutes - remove the pan from the heat. Add vanilla extract and nuts and stir for 3 minutes.
Then pour the mixture into a baking dish and spread evenly. Refrigerate for 2 hours. Cut into 20 squares and serve.
Hot non-alcoholic butter beer
"This beer (although it doesn't look like beer at all) is the favorite drink of all the wizards of Hogwarts," comments Rita Mock-Pike.
Ingredients (for 5 servings). 70 g butter, 2 tbsp. l. light cane sugar, 3 tbsp. l. maple syrup, 3-4 cups buttermilk, whipped cream, 5-6 pcs. butterscotch.
Instruction. In a medium saucepan over medium heat, melt the butter and taffy until dissolved and smooth. Add brown sugar and maple syrup and stir. Pour in 4 cups buttermilk. Continue stirring until the buttermilk is warm. Serve in a fireproof mug. Garnish with whipped cream and toffee pieces.
recipe
Freelance Blogger and Content Writer. I owe a website and write for my clients.