Macro Friendly Hungarian Goulash
A delightfully creamy, flavorful, crock pot dish!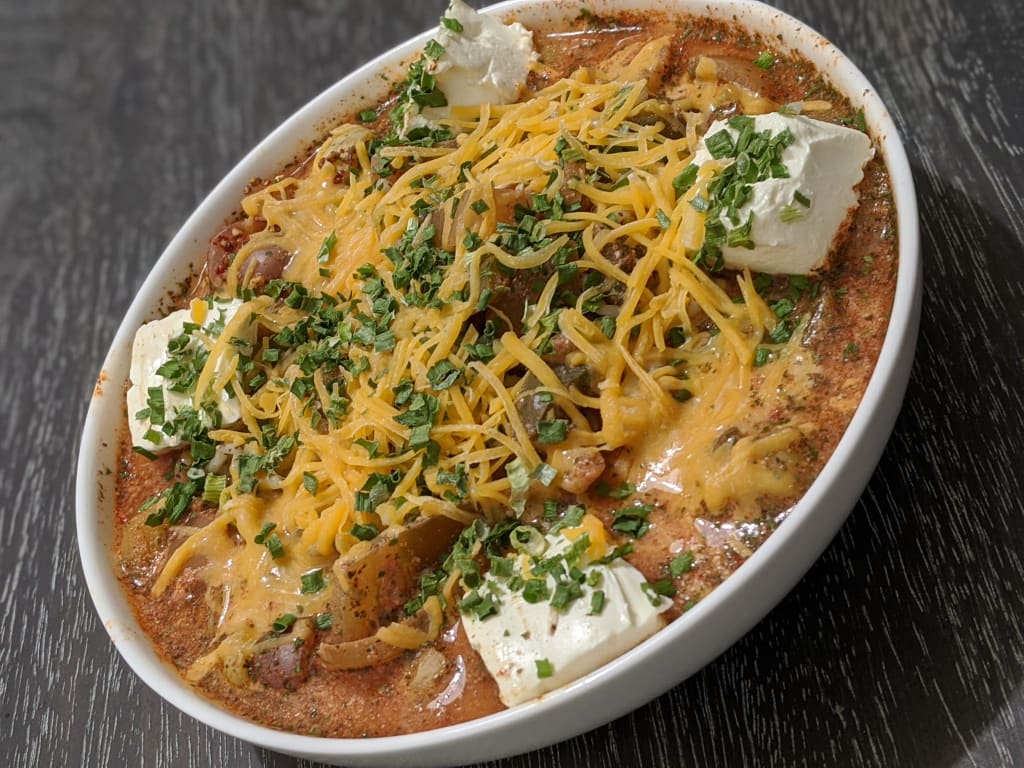 If this is your first visit to my recipes, welcome! If you are a returner, thank you!
I am a true believer that the world of food should be open to a person and moderation in all things is a great way to live life, that's why I specialize in creating macro-friendly recipes that are much easier to "fit" in moderation.
As you get to know me, you will find that all my recipes use a moderate to few amount of ingredients because I also believe that cooking should be stress free and not break the budget. I encourage that for all of my recipes you look into buying frozen rather than fresh to promote longevity of each food item if you do not use it again right away.
I would also love to hear your personal spin on any of my recipes! As always, have fun and please enjoy!
I created this recipe last Fall during what I call "crockpot" season. Hungarian goulash used to be a childhood favorite of mine, full of spice with a delightfully creamy sauce. I would highly recommend you don't go around your friends that don't regularly eat onions after this one! But seriously even my husband liked this one!
This recipe is suitable for bariatric patients, vegetarians, body builders, anyone who is practicing moderation or just someone looking for a delicious and comfort food inspired classic!
For more macro-friendly recipes, lifestyle posts and bodybuilding posts feel free to follow my instagram @boho_nutrition!
Servings
Makes 12 Serving
Cookware required
Crockpot/InstaPot or Large cooking pot for stovetop
Prep Time
Approx. 15 min
Cooking Time
Approx. 8hrs in slow cooker, 60 min on stove top
Difficulty Level
Easy
Hungarian Goulash Base
Make s 12 (300g) servings
2 lbs chopped or sliced onions
1½ cups coarsely chopped green sweet peppers
1tsp garlic powder
1 (6 ounce) can tomato paste
12 cups water
1/2C (35g) paprika
¼ teaspoon salt
¼ teaspoon black pepper
4C greek fat free plain yogurt
1 pound beef stew meat, cut into 1-inch cubes
(Feel free to substitute for a more tender meat such as chicken)
For vegetarian version substitute stew meat for:
1 (98g) Meatless chicken cutlet (add when serving) I use the Wegmans "Don't Be Chicken"meatless chicken style breasts
DIRECTIONS
· Combine all ingredients, except yogurt and faux chicken (if using stew meat put it right in with everything) into the Crockpot or Instapot
· Cover and cook on "slow cook" for at least 8 hours or can boil on stove top.
· Add yogurt to the entire dish after cooking, prepare and add meatless chicken cutlet when serving for vegetarian version.
Serving suggestion: Top with freeze dried chives, onion and herb Mrs. Dash, tomato garlic basil Mrs. Dash, salt and pepper to taste. I also enjoy adding greek cream cheese to this dish, fat free cheddar, potatoes and serving over "Better Than Pasta Noodles" (Similar to that seen in picture)
Nutrition Hungarian goulash base no meat
1 (300g) Serving
Calories: 80
Fat 0g
Carbs 13g
Protein 7g
Nutrition with stew meat
Serves 12 (~1C portion)
Calories: 165
Fat 6g
Carbs 13g
Protein 14g
Nutrition for the vegetarian version
Serves 12 (~1C portion)
Calories: 180
Fat 4g
Carbs 23g
Protein 19g
Nutrition for the serving suggestion version version
150g portion "Better Than Pasta", 50g Greek cream cheese, one (98g) meatless chicken cutlet, 50g potato , 1(300g) serving of Hungarian goulash base , topped with 15g fat free cheddar and chives
Calories: 380
Fat 9g
Carbs 45g
Protein 33g