Pumpkin Protein Donuts with Cinnamon Vanilla Cream Cheese Frosting
An easy Fall delight you won't want to miss out on!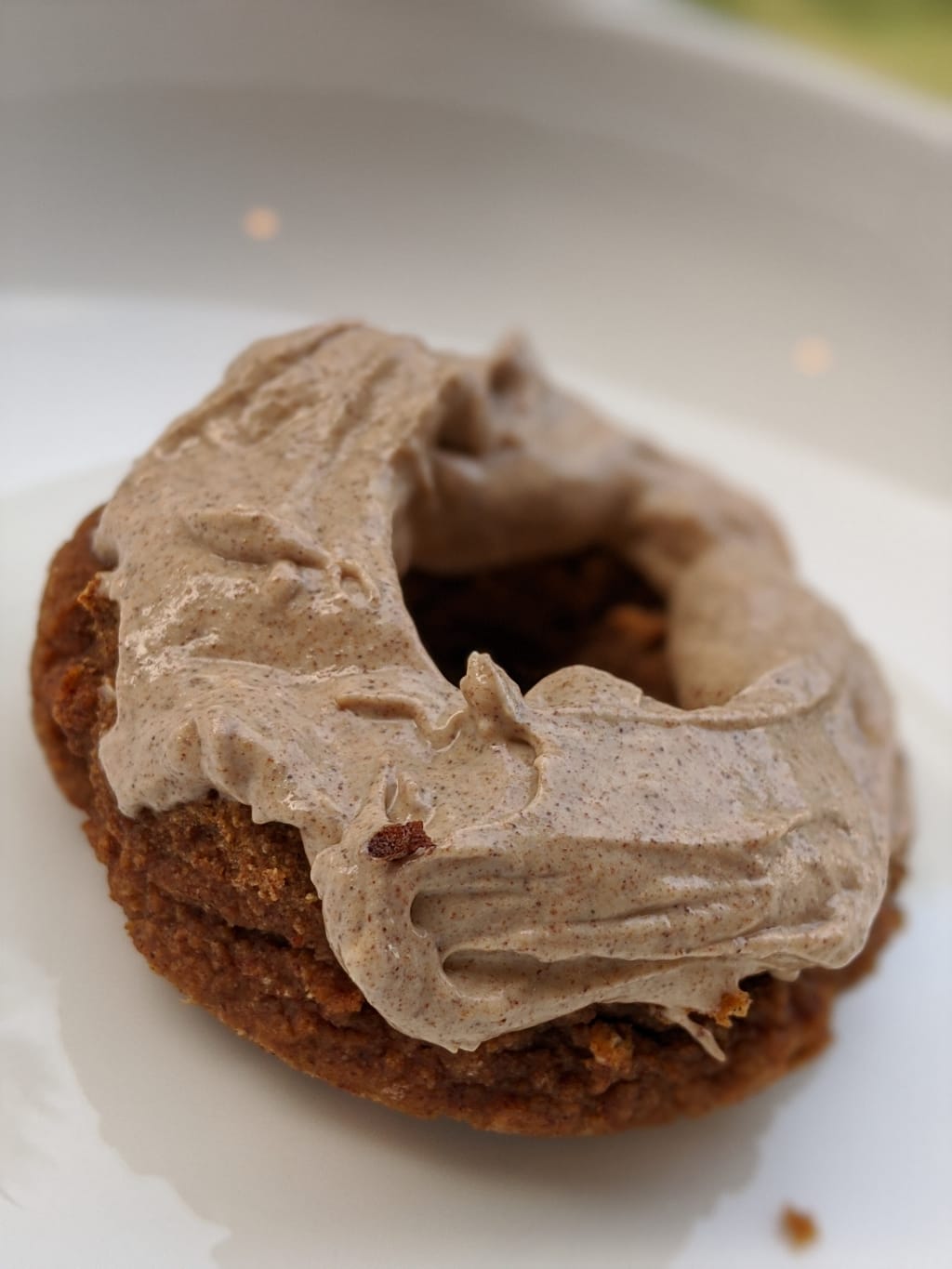 Pumpkin Protein Donuts with Cinnamon Vanilla Cream Cheese Frosting
Alright Autumn/Fall, however you prefer to call it, is upon us and I have a confession...I'm a summer girl through and through. But, hay rides, haunted houses, apple picking and any reason to enjoy a festive confection helps get me through! (I'm also a sweets girl through and through lol!) So here I've created a macro friendly version of pumpkin donuts with cinnamon vanilla cream cheese frosting! I feel some pumpkin chocolate chip mini muffins coming in the near future too after creating this one!
Keep active with the cooler weather my friends, don't let it slow you down! Get out and savor the fresh air and sunshine. I try to focus on what each season offers and enjoy those exclusive things, such as the beautiful foliage that we get to experience during this season. Bundling up is a must for those of us who are "cold blooded" but wear however many layers are necessary for you, don't worry about what others think, or looking cute! Just get out and feel good! (I promise you really will feel much better after!)
Quick tip: if you are in a serious contest cut/prep, weigh the entire cooked batch of donuts and the entire frosting batch in grams, that way when you eat a serving you can weigh your serving and quantify it accurately!
I hope you enjoy these, feel free to reach out to me boho_nutrition on Instagram with any nutrition related questions or recipes you would like made "macro friendly". I love talking food!
This recipe is suitable for bariatric patients, lacto-ovo vegetarians, body builders, anyone who is practicing moderation or just someone looking for a delicious festive Fall treat!
For more macro-friendly recipes, lifestyle posts and bodybuilding posts feel free to follow my Instagram @boho_nutrition!
Serves 6
Ingredients
Donuts
(Makes 6, 51g donuts)
-3 Tbs (35g) liquid egg whites
-1 egg
-1 (30g)scoop vanilla or cake flavored protein powder (I use cake pop Pescience)
-1 tsp baking powder
-1/8C (35g) coconut Flour
-1/2C (122g) Canned Pumpkin
-2Tbs (15g) Cinnamon
-1/2C No calorie sweetener of choice (I use Golden Monk fruit)
-¼ tsp salt
-2Tbs water
Frosting
(Makes 6, 29g servings)
1 scoop (30g) vanilla protein powder
3/4C (150g) Greek cream cheese
1Tbs (~7g)Cinnamon
1 tsp no calorie sweetener of choice
4Tbs water (thin to the consistency desired)
Directions
Preheat oven to 350 degrees F
Mix donut ingredients in blender beat until smooth
Spray donut pan with olive oil spray (These donuts tend to stick)
Spoon batter into donut pan evenly, dough will be sticky, smooth out and form with a spoon/rubber spatula
(If you get batter on the donut centers just wipe with a paper towel)
Bake for 12-15 minutes
Put on wire rack to cool
To make your frosting, mix all ingredients in the blender with water and cinnamon until smooth
Chill in the fridge to create smooth frosting consistency
Spoon frosting onto each donut evenly or wait to frost when you plan to eat them! (Donuts are fine outside the fridge but frosting needs to be refrigerated)
Enjoy!
Nutrition Facts
(1, 51g donut without frosting)
Calories 70cal
Fats 2g
Carbs 6g
Proteins 7g
Nutrition Facts
(1, 51g donut with 2tsp, 29g frosting)
Calories 95cal
Fats 1g
Carbs 13g
Proteins 7g
Cinnamon Spice Cream Cheese Frosting
(2tsp, 29g serving)
Cal 15 kcal
Fat 1g
Carb 1g
Protein 2g
Feel free to tell your friends all about my recipes, I'd appreciate it!
Tag me in any recipes you try!! @boho_nutrition
(I would love to hear your honest reviews positive or negative!)
Just a reminder: for more macro-friendly recipes, lifestyle posts and bodybuilding posts feel free to follow my instagram @boho_nutrition!
Rhianon Condello RDN, BSN, RN