Lucky 13 Sandwich Patong
Breakfast, Breads, Burgers and Sandwiches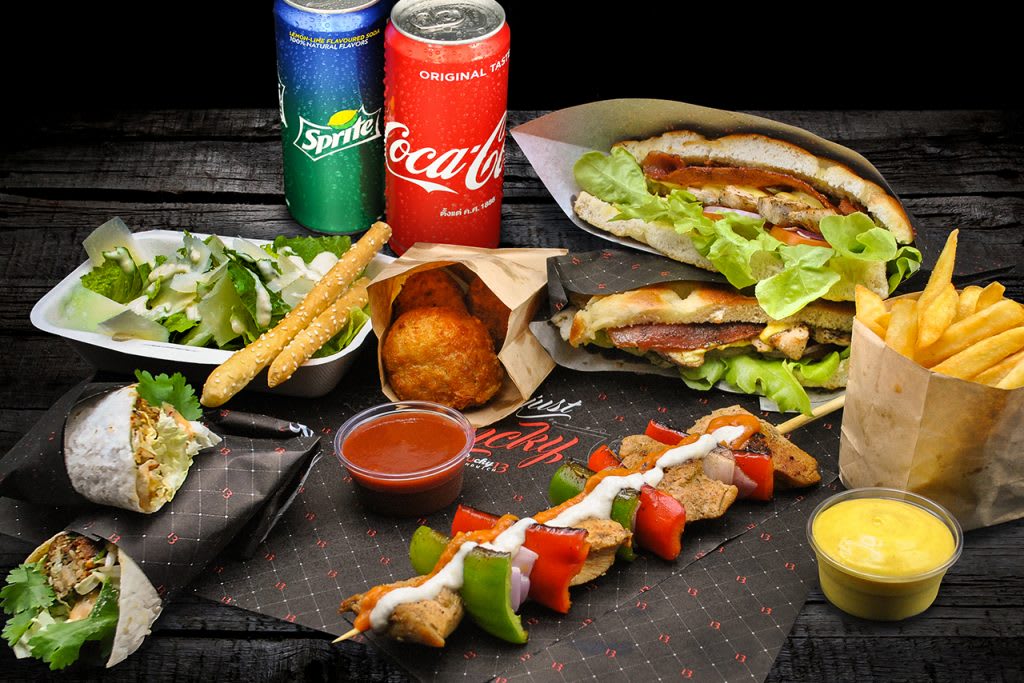 Price Range: Low to Moderate
Experience: Relaxed Restaurant, Online Ordering
Food: Breakfast, Breads, Burgers, Pizza, Sandwiches, Snacks
Lucky 13 Sandwich has several locations in Phuket. They offer an assortment of "Western Style" foods at a low to moderate price. If your hotel does not offer breakfast or you have a hankering for bacon and eggs after the bar you can order online without having to worry about a language barrier or head to the restaurant location located conveniently between Bangla Road and Banzaan Night Market.
The restaurant atmosphere is modern and for Thailand pretty cool for a fast food place. The seating is comfortable, the staff is friendly and most importantly the place is really clean. The location itself is great being between a major night spot and most of the hotels and resorts in Patong. You probably have passed by it several times without realizing what Lucky 13 is. Another great thing about the location is it is across from all the major shopping in the area. Even if you are going to Central on the other side of Jungcylon you can easily pop into Lucky 13 for a great breakfast or lunch before or after you go shopping, avoiding the high costs and low quality of the food at the malls.
The food from Lucky 13 Sandwich is always a nice change from Thai. A little secret when you order, ask for the bacon to be crispy otherwise by western standards it seems under cooked. I often order bacon and eggs or a Caesar salad from them and have learned to write "make bacon crispy please" in the additional instructions box.
Lucky 13 Sandwich also bakes their own breads and bagels fresh every day. So you can order some good quality baked goods by the slice or by the loaf if you are tired of the sandwich breads from 7-11 and Family Mart without ever leaving your room. You will find the breads are more like what we have at home, less sugar and made with milk and eggs. The bagels are huge and have a great shelf life, you can keep them in a refrigerator for at least a week (that's as long as I had a dozen for) but keep in mind toasting your own bagels and bread can be tricky if you are staying in a hotel without a restaurant that can do it for you.
The value of Lucky 13 Sandwich is pretty good considering the quality of the food, the types of food they offer and that you can order online without having to worry about speaking Thai. I have never had an order mixed up or misunderstood. This to me is worth a few extra baht. They deliver the food fairly fast unless they are really busy. That is another good sign, Lucky 13 Sandwich has times when they are very busy because they make quality food people enjoy.
I recommend Lucky 13 Sandwich if you are looking for Western Style food, breakfast late at night or don't want to leave your room for whatever reason. The food is really high quality and good portions for the price. I have never had a complaint or problem with an order and continue to purchase food from them whenever I want a salad or bacon and eggs.
Useful Links:
Lucky 13 Website with Online Ordering
For great videos and images check out the Lovin' it on Phuket YouTube Channel, Facebook Page and Instagram Account. If you are a blog writer you can find images available on Adobe Stock, Getty iStock and Shutterstock by following these links.
Adobe Stock     
Happy travelling to Phuket and beyond! There are more interesting articles to come. Thanks for reading and showing your support.