Is Your Favorite Burger on This List?
If Not, Consider Moving.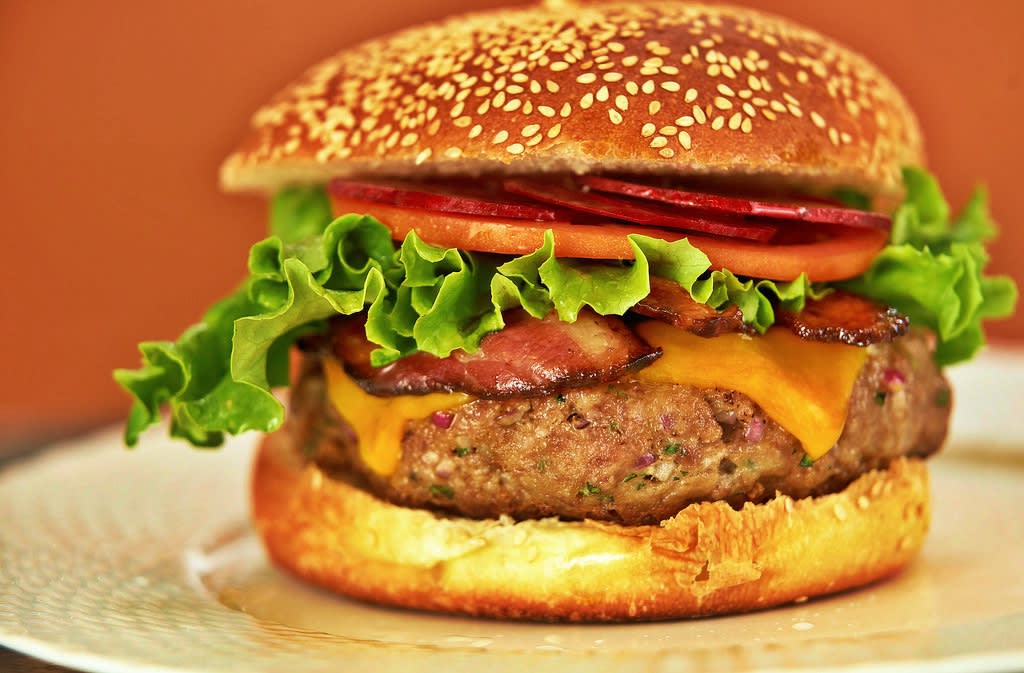 Does a tasty, juicy burger sound pretty good right now?
I thought so. In a world seemingly overrun with kale and umami, we know what you want in the heart of your stomach. These are the hamburgers that call your name on a summer night. They fill your dream world with an aroma.
How did we decide? (Burp) research and the opinions of food lovers and tastemakers around the country. Is one of your favorites present? If not, road trip! Sometimes a good hamburger is worth a day's drive.
Two ground rules (for ground chuck) were important. First, a scope of entries was important. New York City may assert that they have the five best burgers, but we included burgers from every region of the country. Second, we stayed away from known chains. These are the best and they aren't mass produced to taste the same way in 1500 locations.
Representing the Northeast: Louis' Lunch, 261 Crown St, New Haven, CT.
This place lays claim to the first hamburger in this country. That's dubious, but we don't care. Folks line up for a Louis. Quirky? You wouldn't expect anything less. The burger is served on white bread and a sign instructs you to not ask for ketchup! Truth told, the burger stands on its own. That's good, because "The Works" includes tomato and onion. That's all, folks.
We can't list a gold and silver medal for Louis' because there is really only one burger to be had. It's the best burger in Connecticut, though. The Yalies will tell you that.
Louis Lunch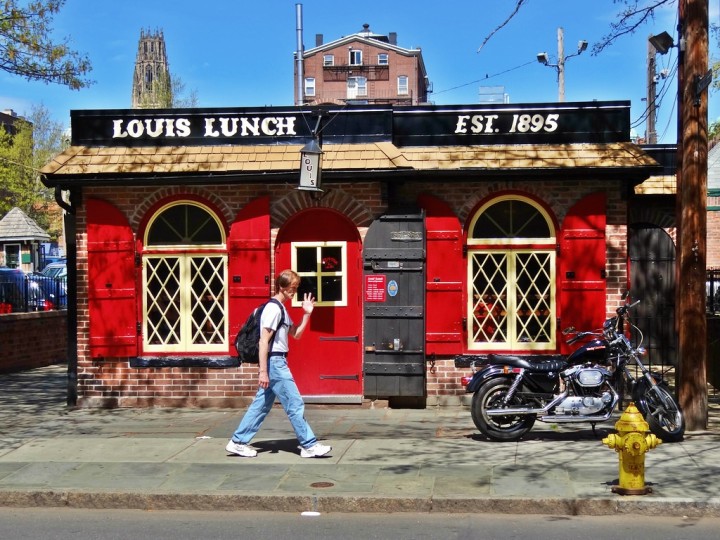 Representing the Southeast: Pawley's Front Porch, 827 Harden St, Columbia, SC.
By and large, follow a college student around for a day and you'll find a good burger. That's what's up with the Gamecocks of the University of South Carolina. Pawley's Front Porch (and there is one) fills up with kids after the best burger in the State.
Gold Medal: Sullivan's (Pictured below)- grilled pineapple, citrus jalapeño mayonnaise, and pepper jack cheese. (Guac by request, but it doesn't need it.)
Silver Medal: Wadmalaw - chipotle barbecue sauce, fried pickle chips, applewood smoked bacon, cheddar cheese.
Sullivan's Burger, Pawley's Front Porch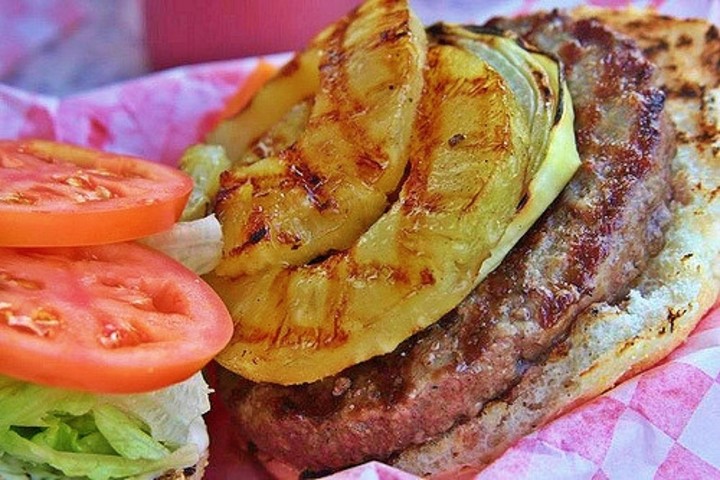 Representing the Midwest: Downtown Diner, 409 E. Santa Fe Street, Olathe, KS.
Where did Grandma and Grandpa go get burgers when they were sparking? Downtown, of course. That's where Kansas' best burger is found. The Downtown Diner gets our vote for the Midwest's best hamburger.
Gold Medal: The Sheboygan, (Pictured) A half pound of beef with Swiss cheese, Italian sausage, grilled onions, and kraut.
Silver Medal: The Downtown Burger, two beef patties, Swiss cheese, corned beef, and coleslaw (right on the burger, Memphis style!)
Take me to Sheboygan without leaving Olathe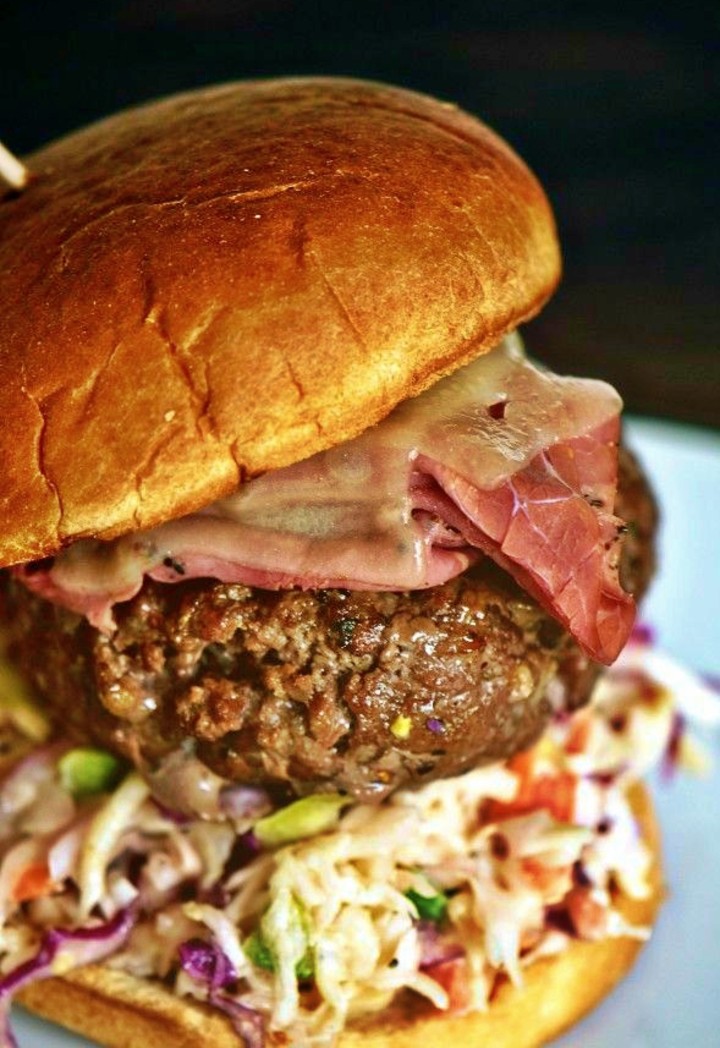 Representing the Southwest: Buckhorn Tavern, 68 US-380, San Antonio, NM.
New Mexico stakes no claim to the first burger, but they will tell you they improved it all day long. How did they do such a thing? Green chiles, baby! No better examples are to be found than at the Buckhorn. The most unprepossessing place on the list serves a mighty fine burger!
Gold Medal: Chili Verde Burger, green chile hamburger with lettuce, tomatoes, pickles, onions, and mustard.
Silver Medal: Buckhorn Taco Burgers, Hamburger patty with cheese, lettuce, tomatoes, onions on three corn tortillas with green chiles (or red, if you prefer).
#7 in America. #1 in the great southwest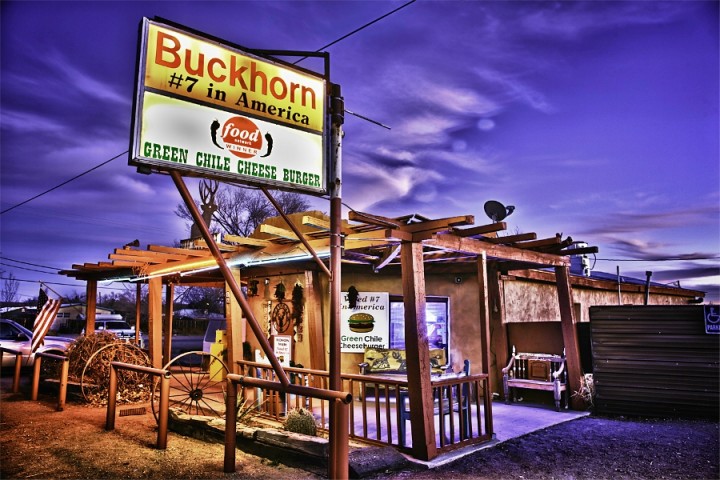 Representing the Far West, Jasper's Cafe, 2739 N. Pacific Hwy, Medford, OR.
Too many foodies believe gastro-delight begins and ends at the Portland city limits. Silliness! The best burger in the State and our choice for the region happens to be five hours from Portland when traffic is light. Jasper's offers about five burgers that could make our list, that is, if we weren't sticklers for beef. This is the only place on our list where a kangaroo burger is an option. It's worth a try but we'll stick with...
Gold Medal: Hawaiian Cowboy: Honey Bourbon Chipotle BBQ sauce, grilled onions, bacon, pineapple, Memphis BBQ sauce, tomato and cheddar.
Silver Medal: The Crazy Horse: (Pictured) Pepperoncini's, mushrooms, grilled onions, pepper jack, and smoked chipotle aioli.
Crazy Horse Wasn't So Crazy...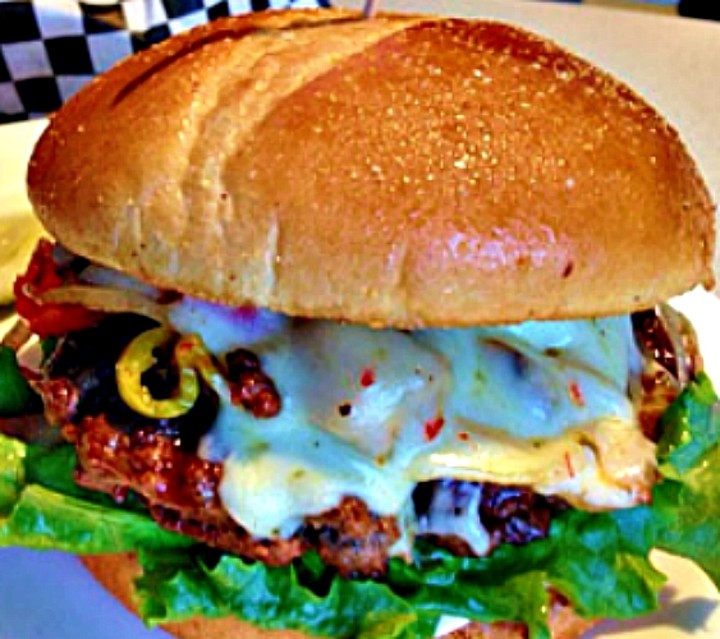 From sea to shining sea we found burgers worth a trip. Is yours here? Try these and your favorite will be here. Enjoy!
list
restaurants
travel

Kim Hastings
I am a four-time novelist from Tacoma who writes, virtually, every day of my life. I have written extensively for Gildshire.com, and write Arts and Entertainment in the South Puget Sound area for Axs.com. I'm married to the lovely Jeri.
See all posts by Kim Hastings →