I made Dominique Ansel's Cronuts at Home.
It takes 3 days.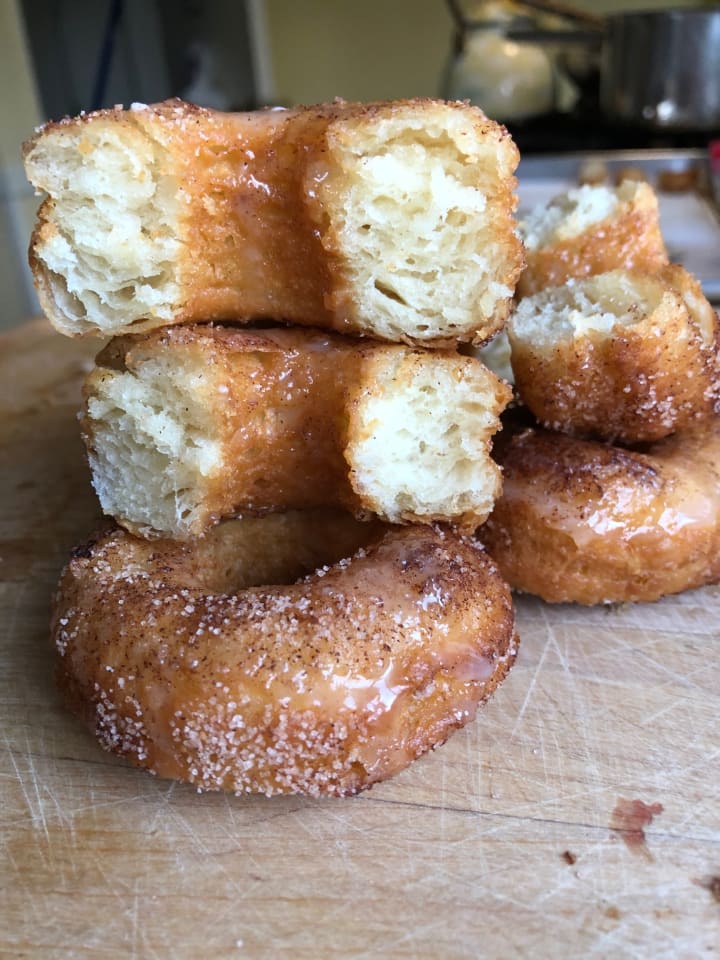 If you don't know who Dominique Ansel is perhaps you've heard of the Cronut. If you haven't heard of the Cronut, prepare to have your mind blown. Imagine a croissant. Flaky, crispy, tender, crumbs falling when you bite into it. Now, picture that in the shape of a donut. It's a circle, with a smaller circle inside cut out. Now, the best part is, this croissant/donut was actually deep fried. Just like an actual donut is instead of baked like a croissant.
I believe it was 7 years ago when Dominique Ansel introduced the world to his magical creation. I live in New York, right where he baked and sold the first Cronut at his Soho shop. Fast forward to today, and it's still one of the most insane dessert mashups we've seen. I also believe this is what started a million other dessert crazes like the Cruffin and Croissantwich. He has managed to keep the dish relevant and sophisticated with different flavors without going overboard.
I've made croissants before and I've made donuts/doughnuts, but the Cronut has always been something I wanted to tackle. Since I'm stuck in the house now I figured what a perfect time to do it. As I was researching, I really wanted to make his recipe and fortunately he has it published. The catch is though that it takes 3 full days. I then thought, maybe I could just use a different dough and follow his steps. But then I went back to the fact that I'm literally stuck in the house and doing nothing so what's the rush?
It's actually fairly easy to make, it just takes some patience. If you've got that, then this isn't a problem. Below is the recipe. Try 'em out yourself and prepare to fall in love.
Ingredients
3 3/4 cup bread flour
1 tsp salt
1/3 cup granulated sugar
1 TB plus 1 1/2 tsp instant yeast
1 cup water
1 egg white
8 TB unsalted butter
1 TB heavy cream
18 TB unsalted butter
1 cup cinnamon sugar
Directions
Start by making the pastry dough. Combine the flour salt, sugar, yeast , water, egg white, butter and cream in a stand mixer fitted with the dough hook and mix.
Once all ingredients are fully incorporated and dough comes together, place in a lightly greased bowl then cover with plastic wrap and let rise for 2-3 hours until doubled in size.
Remove the dough and punch down. Roll out into a 10 inch square. Wrap in a lightly floured piece of parchment paper and place in the fridge to rest overnight.
Make the butter block. Cut 18 tablespoons butter to form a square. It easiest if you make it 3 rows of butter each 6 TB across. Using a rolling pin, press out the butter to an 8 inch square. Wrap in parchment and refrigerate overnight.
The next day take out the dough and place on a floured surface. Remove the butter block and place on top of the dough at an angle so each corner of the butter is pointing towards a flat side of the dough. Take the corners of the dough and fold over the butter. The dough corners should now meet in the middle of the butter. Roll out the dough until it doubles in size. Fold the dough in half horizontally, then again in half vertically. There should be openings on the bottom and left side of your dough. Wrap and refrigerate 1 hour. Repeat rolling and folding process 2 more times. Refrigerate overnight.
The next day, remove the dough from fridge and roll out to a 17×8 inch rectangle. Using a 3 inch round cutter, cut circles from the dough. Then use a 1 inch round cutter to punch out the inner circle of the doughnut. Cut out as many circles as possible and place on a parchment lined sheet tray. Cover and let rest 2 hours.
Heat vegetable, canola or grapeseed oil in a large pot to 350 degrees F. Gently place Cronuts in oil and fry 90 seconds on each side. Do not overcrowd the pot. Only fry 3-4 at a time. Remove from oil and place on a paper towel lined tray or plate to cool.
At this point you can fill and top with whatever you want. The original Cronuts are dipped in sugar to cover the sides. Fill with jam, chocolate, pastry cream, anything you want! To do what I did, just dunk the whole thing in cinnamon sugar. Serve warm.