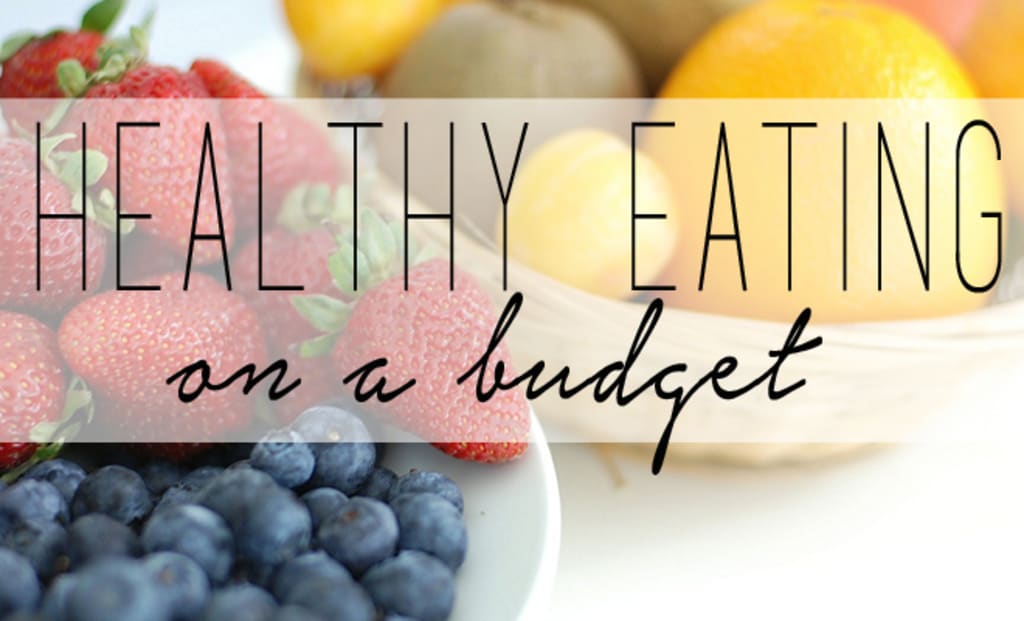 So you're trying your hardest to eat healthy and exercise but the health food store is just too overpriced. I feel you. You're a busy working individual and sometimes just don't have time to cook an elaborate healthy meal. I feel that too.
The reason why many people are obese today is the accessibility to cheap food that is killing us slowly. The fast food industry is more popular than ever and has cheap food available 24 hours a day. That doesn't mean you need to give in to those franchises, as tempting as it may be. You can make similar food at home that will help your wallet out as well as your body. I am going to share with you many different options for cheap, easy, healthy meals that wont take you hours make and taste just as delicious as restaurants meals.
Club Lettuce Wraps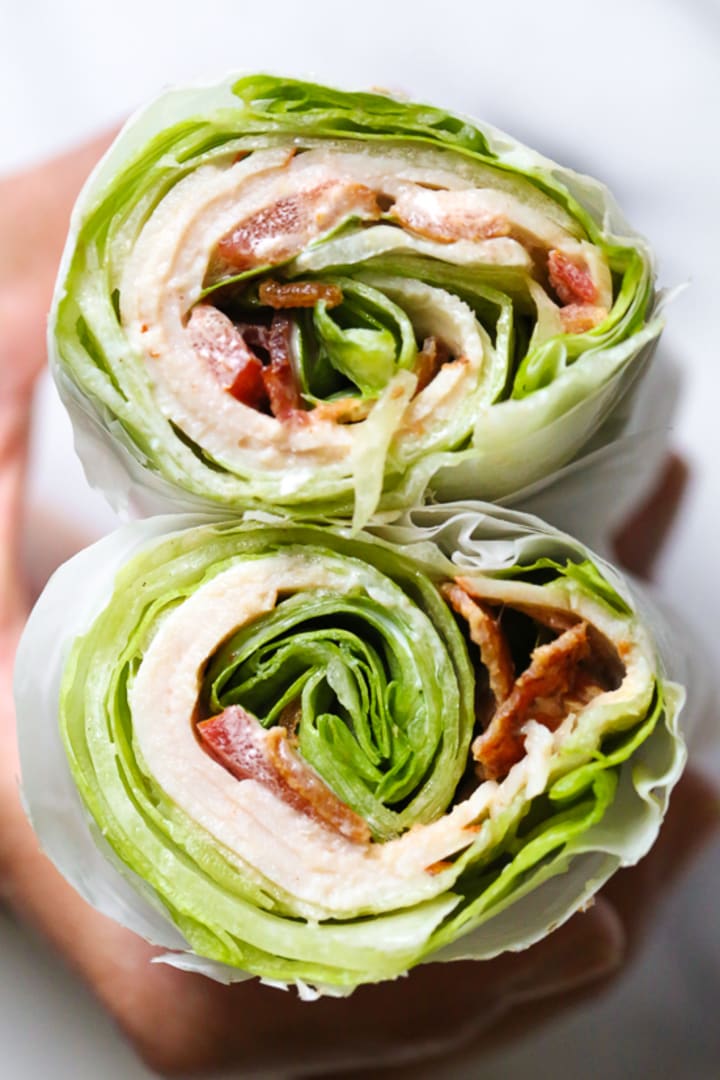 All you will need for this healthy dish is romaine lettuce leaves, deli style turkey breast, tomato, bacon, & light mayonnaise (or any condiment you prefer).
This is a great option if you are on the go. They are super easy to make, taking less than five minutes. I use pre-cooked bacon, but you can cook your own if you'd prefer. Lettuce goes on bottom, then chicken breast, layer on tomato, bacon and top off with mayonnaise then roll up. This will fill you up and tastes just like a BLT!
Calories: 250 per wrap
Quinoa Bowl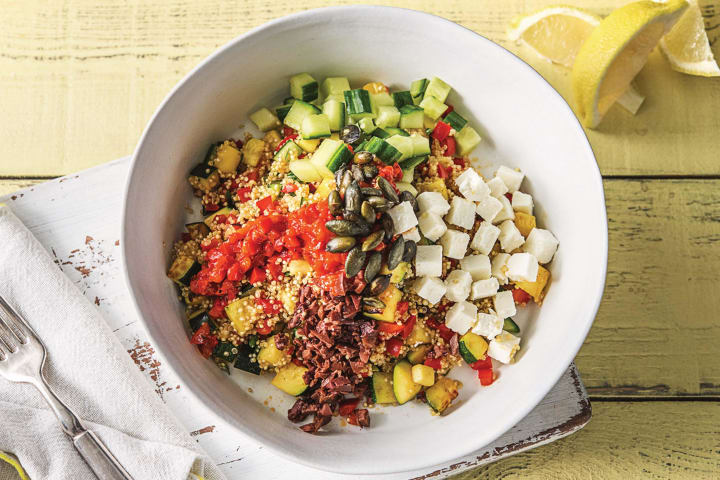 This recipe is SO easy and versatile. The only ingredients you need is quinoa and any vegetables you fancy. You can dress the dish up with lots of extras or dress it down, which is perfect for those of us on a budget.
In the bowl I made, (not my photo) I put the cooked quinoa on the bottom then put red onion, cucumber, black olives, cherry tomatoes on top and sprinkled with an olive oil dressing. (Add feta cheese if you please.)
Another quinoa bowl option is a roasted cauliflower, kale, broccoli and sweet potato bowl. You can add any type of dressing you'd like on top and voila! This dish is so filling and delicious.
Calories: Approximately 400-500 calories per bowl
Berry & Chia Yogurt Parfait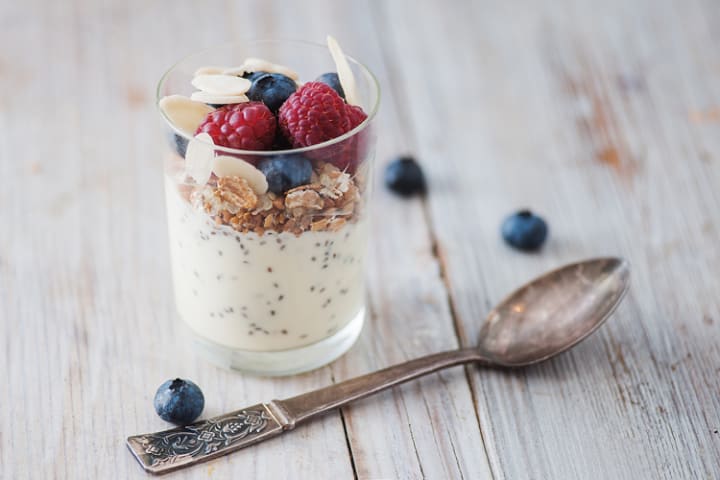 This is a great healthy option for breakfast or snack time. For this recipe you will need Greek yogurt, chia seeds, honey, cinnamon, granola & berries.
In a dish, combine two cups of yogurt, two tsp chia seeds, two tbsp honey and 1/4 tsp of cinnamon. In smaller dishes/mason jars, divide the yogurt mix. Top with granola followed by the fresh berries. If desired, sprinkle some slivered almonds on top for an extra layer of goodness.
This recipe makes four small parfaits. You can cover them and stick them in the fridge for breakfast the next day. Will stay fresh for up to three days.
Calories: 250 per serving (makes four servings)
Chicken Apple Skillet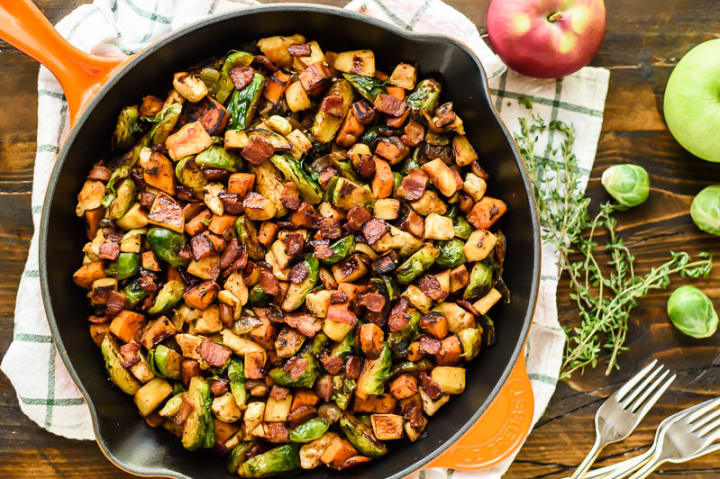 I made this for dinner last night and it was a complete hit! Safe to say this is my new favorite meal. This meal does take a little bit longer to make, I would give yourself about 30-45 minutes, but it's so worth it. It tastes like the perfect fall dish and has a cinnamon-y aroma that smells heavenly.
The things you'll need to make this will be 1-2 pounds of chicken (depending on how many people you're feeding), one bunch of asparagus, one medium sized sweet potato, one yellow onion, two apples (I used green, but red work just as well), four cloves of garlic, cinnamon and chicken broth.
On medium high heat, cook the chicken in some olive oil or vegetable oil until fully cooked and lightly browned. Then set the chicken aside until the vegetables are cooked. In the same skillet or frying pan, place cubed sweet potatoes, diced onions and chopped asparagus until the onions turn translucent and the sweet potatoes are soft. Add salt and pepper to taste.
Once veggies are all cooked, place cubed apples, four finely chopped cloves of garlic, one tsp cinnamon and 1/2 cup of chicken broth (I like using low sodium chicken broth—it tastes better in this dish in my opinion) in the pan. Let simmer until the broth evaporates.
Add the chicken back into the pan with another 1/2 cup of broth and let sit for two minutes. Serve warm and enjoy!
Calories: 320 calories per serving (serves four)
Breakfast Bagel Sandwhich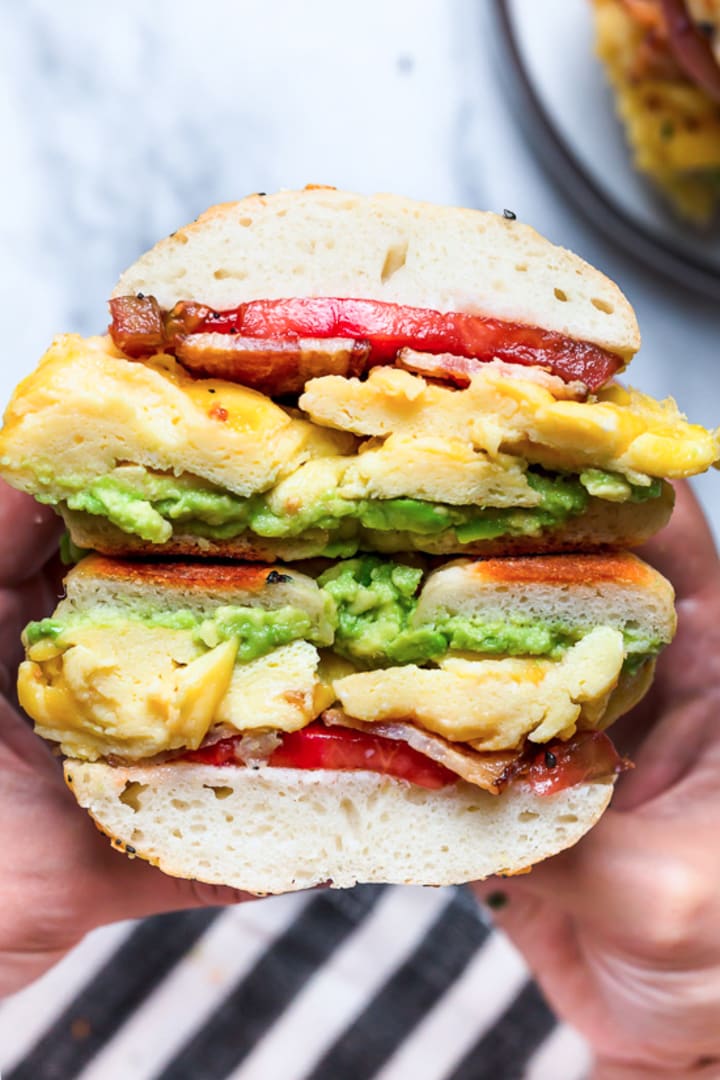 This one is so easy it should be a sin! The ingredients you'll need is a bagel, tomato, egg, avocado and bacon if you'd like.
This one is pretty self explanatory. First you'll want to cook the egg however you'd like—sunny side up, scrambled, over easy, etc... While you're cooking the egg, make sure to toast your bagel. I use pre cooked bacon, so I just pop the bacon into the microwave and set it aside until ready to assemble.
Cut up your tomato and avocado and start assembling. I personally really like putting light mayo on the bagel before adding the eggs. You can leave it plain or put any type of condiment of your choice.
This is a perfect grab and go breakfast. Even for lunch, this is simply delicious and extremely easy to make. If you cook the egg beforehand, this is also so easy to assemble at work or school.
Calories: 300
Apple Walnut Salad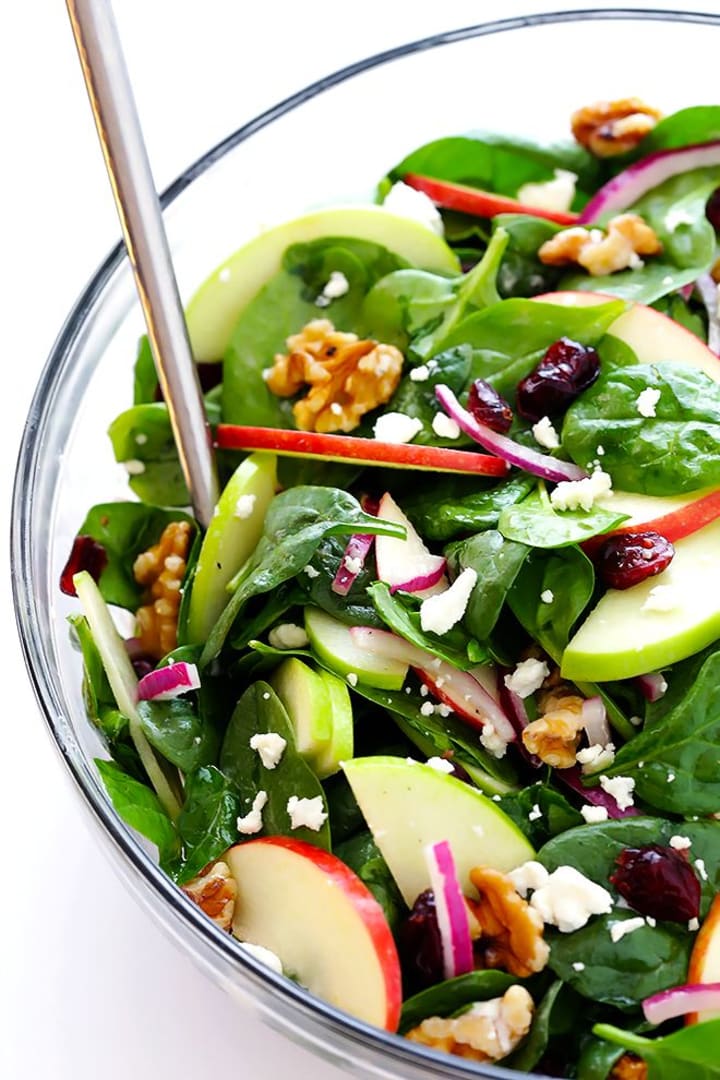 Salads can be so yummy with the right ingredients. And these are the right ingredients! This mix is absolutely delectable. It'll leave you craving more. Good thing it's low in calories, so you can head back for thirds and fourths if you want!
Here's what you'll need: Three to four big handfuls of spinach, two ounces of walnuts, two apples, 1/3 red onion, handful of feta cheese, about two ounces of cranberries and a vinaigrette dressing.
Place spinach in large bowl. Chop up all the ingredients and mix well within the spinach. Add your dressing and enjoy. Super quick and easy lunch or dinner for those of us wanting something a little sweet while trying to eat healthy.
Calories: Approximately 275 calories for half
Teriyaki Chicken Bowl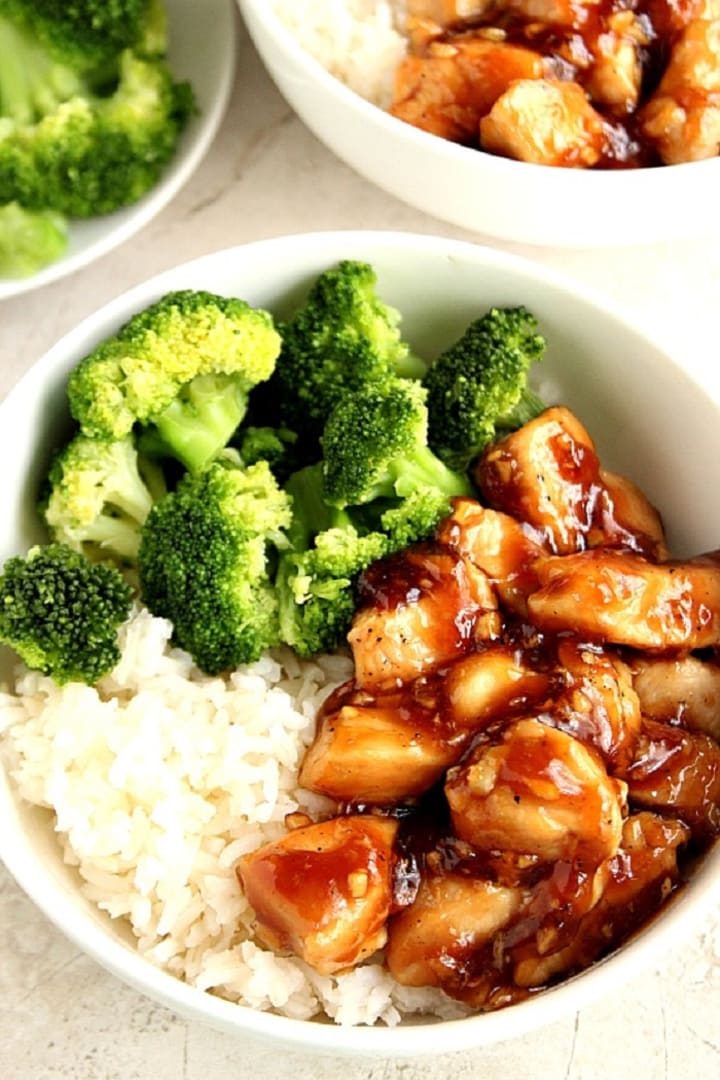 Another easy dish to make is this super yummy teriyaki chicken bowl. This meal is also a great dish to meal prep and keep in the fridge for your meals all week.
What you'll need is one pound of chicken breast, cooking oil, teriyaki sauce, rice, green onions and broccoli. You can also sprinkle some sesame seeds on the chicken if you'd like.
Cut the chicken into cubes and sprinkle with salt and pepper. In a large saucepan cook chicken in one tbsp of cooking oil until fully cooked and golden brown on both sides. Once browned, add your teriyaki sauce until all the pieces of chicken are coated.
While the chicken is cooking, prepare your rice according the package. I used brown rice, but feel free to use any rice you have readily available. During the last 7-10 minutes of the rice cooking, add your broccoli in and cook until tender.
Plate your rice and broccoli first, then add chicken and chopped green onions (and sesame seeds if you so please) to top it off.
Calories: 520 calories
These are some of my favorite healthy meals to cook when I'm on a budget. I hope you get just as much use out of them as I do!
Reader insights
Be the first to share your insights about this piece.
Add your insights