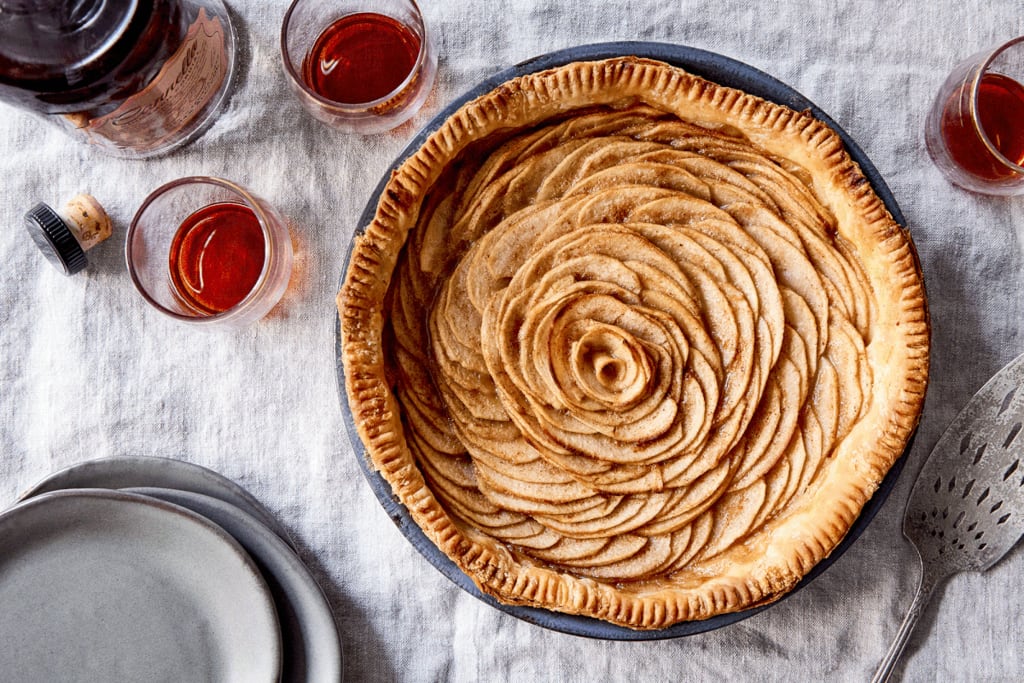 It's that time of year again, the leaves are changing colors, the air is getting crisp, and pumpkin spice is in the air! Fall is my absolute favorite season. Pumpkin patches, apple orchards, colorful leaves, big chunky knit sweaters and of course pumpkin spice lattes. When it starts to get chilly out, I love to stay inside and bake delicious goodies. I will be sharing five of my favorite recipes that are perfect for fall. These recipes are super easy, delicious and will make your home smell amazing.
1. Pumpkin Cheesecake Bites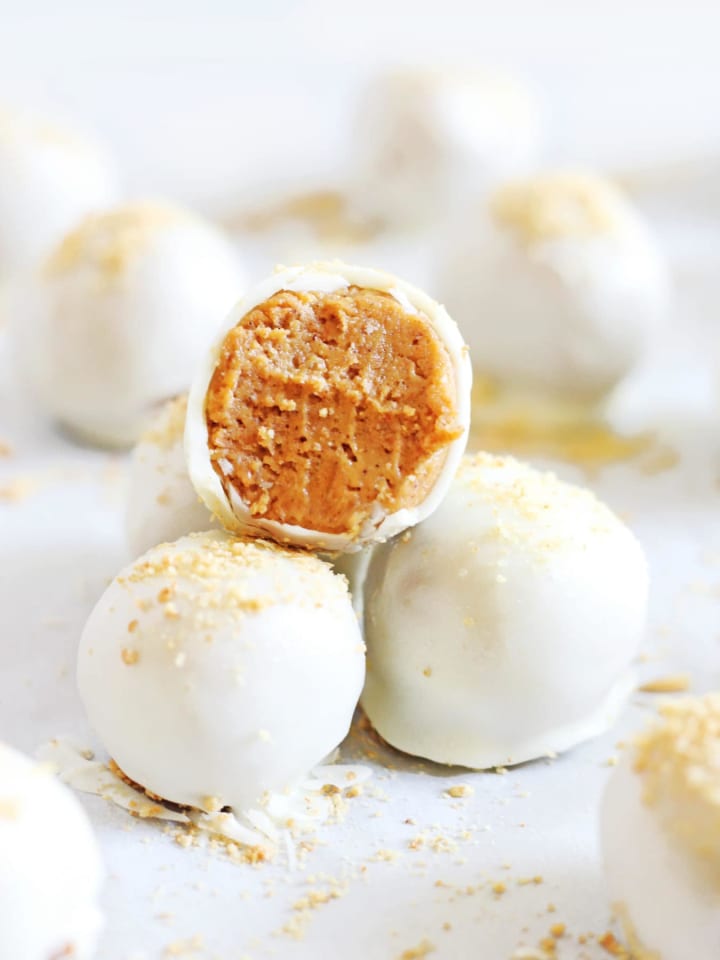 These tasty treats are so addicting. Get ready to eat the whole batch! Here's how to make them.
Ingredients:
3/4 cup crushed ginger snaps
3/4 cup crushed graham crackers
4 oz. softened cream cheese
1/2 cup pumpkin purée
2 1/2 cup melted white chocolate
1 tsp pumpkin pie spice
Pinch of salt
Steps to make them:
First you need to mix up your crushed ginger snaps and graham crackers in a medium sized bowl and set aside.
Next, in a larger bowl, beat your cream cheese until fluffy. Add in your pumpkin purée, pumpkin spice, salt & 1/2 cup of melted white chocolate. Mix well until all ingredients are incorporated evenly. Add in cookie crumbs and mix well.
Scoop your mixture into tablespoon sized balls. Put on lined baking sheet and freeze for 30 minutes, or until solid.
Melt remaining two cups of white chocolate and dunk your truffles in it to coat them completely. Put back on lined baking sheet, sprinkle any extra cookie crumbles on top and set in fridge for 10-15 minutes or until ready to serve.
2. Caramel Apple Fudge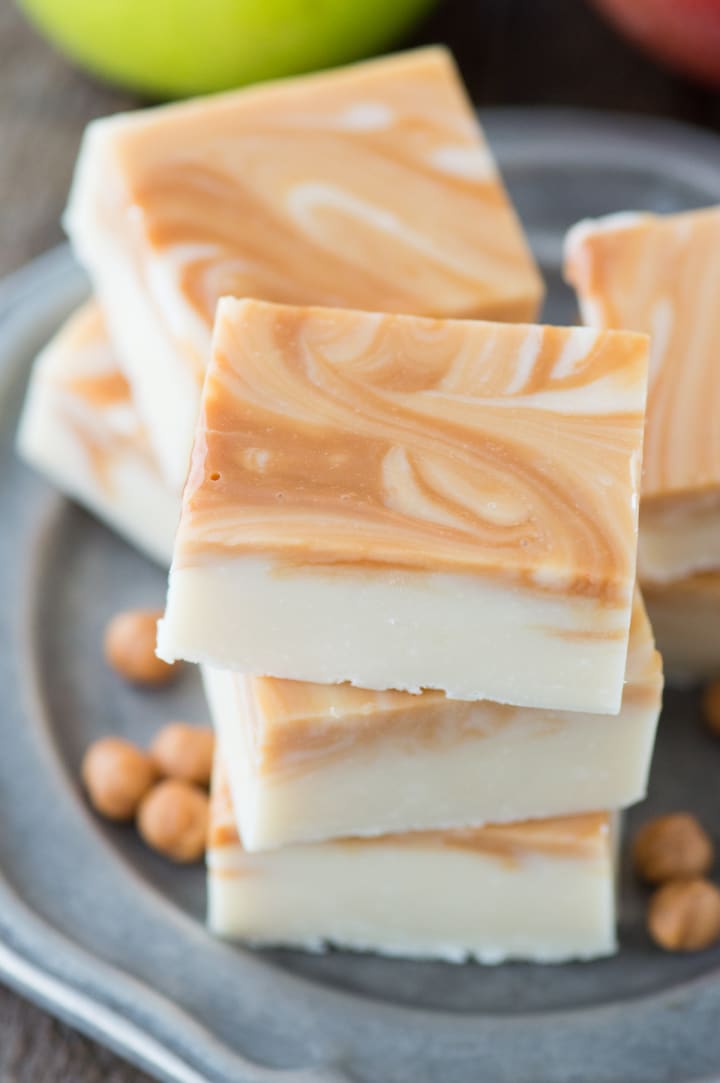 This fudge tastes exactly like those Caramel Apple suckers we all love, yet better! Here's how to make this delicious fudgey treat.
Ingredients:
1/2 stick of butter
3 cups mini marshmallows
1/2 cup sugar
1/2 cup heavy cream
3 packets of apple cider drink mix (0.74 oz each)
1/2 cup caramel
3 cups white chocolate chips
1 & 1/2 tbsp caramel macchiato creamer (International Delight brand works well)
Here's the steps:
Line an 8x8 inch baking pan with tin foil, leaving an overhang on all sides.
Combine butter, marshmallows, sugar, heavy cream, and packets of apple cider in a large cooking pot. Cook over medium heat, stirring occasionally until marshmallows are melted.
Microwave the caramel and caramel macchiato creamer in a microwave safe bowl for intervals of 45 seconds until the caramel is melted and smooths. Set aside.
Remove the marshmallow mix from the heat and stir in the white chocolate until completely melted.
Pour fudge into lined pan. Drizzle the caramel on top of the fudge & use a small spatula to create swirls in the fudge.
Put in fridge to cool for 3 hours. Cut into small squares and enjoy! (For best results, keep the fudge in fridge until ready to eat.)
3. Spiced Pumpkin Gingerbread Cookies
Just looking at these cookies make me drool! These are a must have in my household all fall long.
Ingredients:
1/2 cup butter
1 cup sugar
1/4 cup molasses
1/4 cup pumpkin purée, canned
1 egg
1 tsp vanilla extract
2 3/4 cups all purpose flour
2 tsp baking soda
1/2 tsp salt
2 tsp cinnamon
1 1/2 tsp ginger
3/4 tsp cloves
3/4 tsp nutmeg
Steps to make them:
In a mixer, combine butter, sugar & molasses. Add in pumpkin purée and mix well. Add egg and vanilla to the mixture. In a separate bowl, combine all of your dry ingredients. (Flour, baking soda, salt, cinnamon, ginger, cloves and nutmeg.) Slowly mix your dry ingredients into your butter mixture until well combined.
Wrap the dough in wax or parchment paper and set in fridge for 3 hours or until it becomes firm.
Once dough is ready, preheat oven to 375 degrees. Lightly flour your work station and split dough into thirds. Lightly flour one third of dough and roll out with a rolling pin until it's about 1/4 inch thick.
Cut into desired shapes (I like using leafs or pumpkins) and place on a greased baking sheet.
Cook for 6 to 7 minutes. Let cool completely.
(This last step is optional, but adds a delicious flare to these cookies) Pipe your favorite icing onto each of your cookies with whatever design you'd like. Cream cheese frosting tastes really yummy on these particular cookies.
4. Simple Pumpkin Pie Milkshake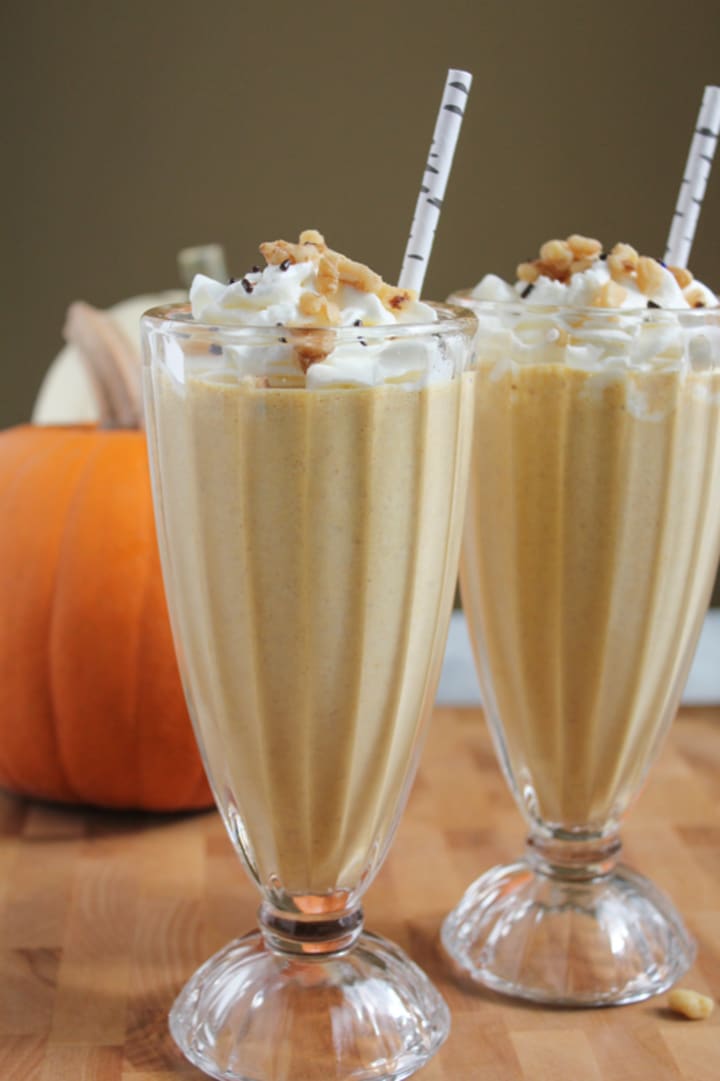 Even on chilly days, I'm always down for a good milkshake. These milkshakes are so creamy and taste just like a pumpkin pie! The great thing about this recipe is it takes about five minutes to make, so you can get your pumpkin fix without hours of baking.
Here's what you'll need:
3/4 cup pumpkin purée
1/2 milk (any milk will do—cow, almond, cashew, whatever you prefer)
1 tsp pumpkin pie spice
6 scoops vanilla bean ice cream
Whipped cream
(Optional) shortbread cookies, crushed
How to make them:
Add all ingredients together in a blender except the cookies and whipped cream. Blend until smooth and creamy.
If you like chunky milkshakes, you can add in pieces of shortbread cookies now.
Pour into two tall glasses and garnish with whipped cream and sprinkle crushed shortbread on top. Add a straw and enjoy!
5. Apple Cranberry Pecan Cobbler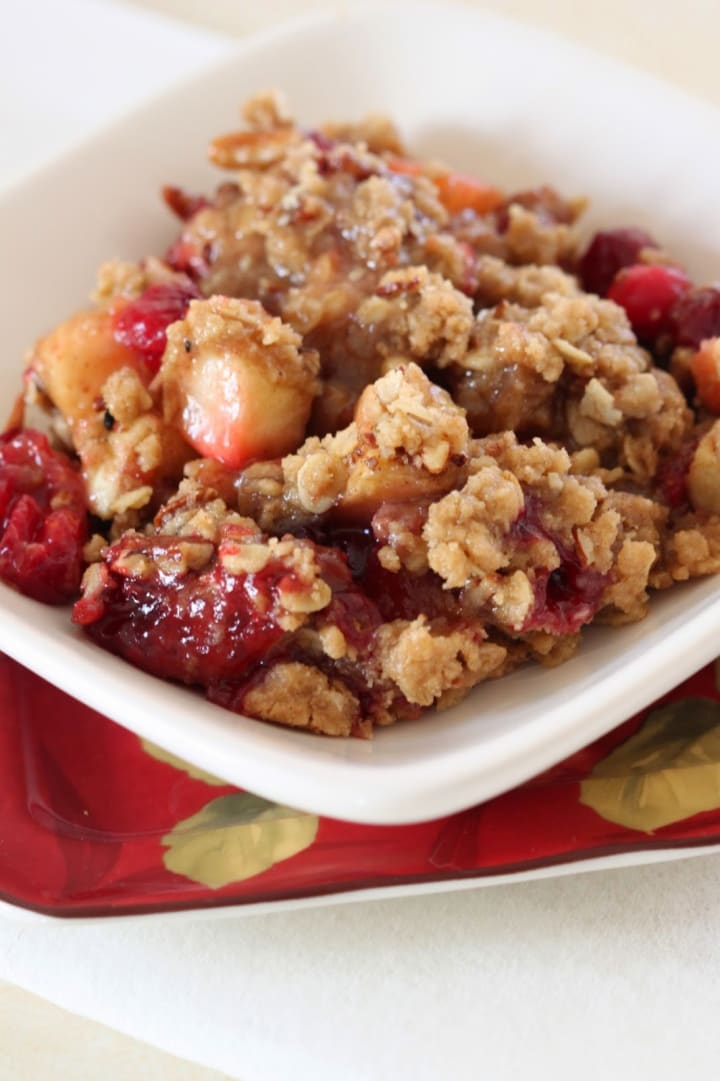 Who doesn't love a good warm cobbler on a chilly fall day? Growing up, my mom always made cobblers for my siblings and I all fall/winter long, which makes this recipe so special to me. Cobblers are really quite easy to make and so delicious. For you next fall get-together, try making this cobbler and wow your guests with this tasty fall treat!
Ingredients:
Filling:
5 Granny Smith apples - peeled, cored & diced
2 cups cranberries (fresh or frozen)
6 tbsp granulated sugar
1 tsp cinnamon
Zest of one lemon
3 tbsp lemon juice (freshly squeezed)
Topping:
1 1/2 cup all purpose flour
1 1/2 cup light brown sugar
2/3 cup old-fashioned oats
2 tsp cinnamon
1/2 tsp nutmeg
1/2 tsp salt
1 cup (2 sticks) unsalted butter, cold & diced into cubes
1 cup chopped pecans
Here's how to make it:
Preheat oven to 350 degrees Fahrenheit.
In a 9x13 inch baking dish, add apples and cranberries. Then add in sugar, cinnamon, lemon juice and zest, then toss to coat the fruit mixture.
For the filling, whisk flour, brown sugar, oats, cinnamon, nutmeg and salt together in a medium sized bowl. Next you'll want to add the butter and mix well until the butter turns into pea-sized crumbs. Add in the pecans and toss.
Take 1/3 of the crumb mixture and add to the fruit mixture and toss together until the fruit is evenly coated. Take the remaining 2/3 of crumb mixture and sprinkle evenly over the top, not mixing together.
Bake on center rack for 40 to 45 minutes or until bubbly and slightly browned on top. Let cool for 20 minutes and then serve. (It's best when served warm with a scoop of vanilla ice cream!)
Reader insights
Be the first to share your insights about this piece.
Add your insights