Healthy & Delicious Recipes to Get You in the Mood for Fall
Bon appetit!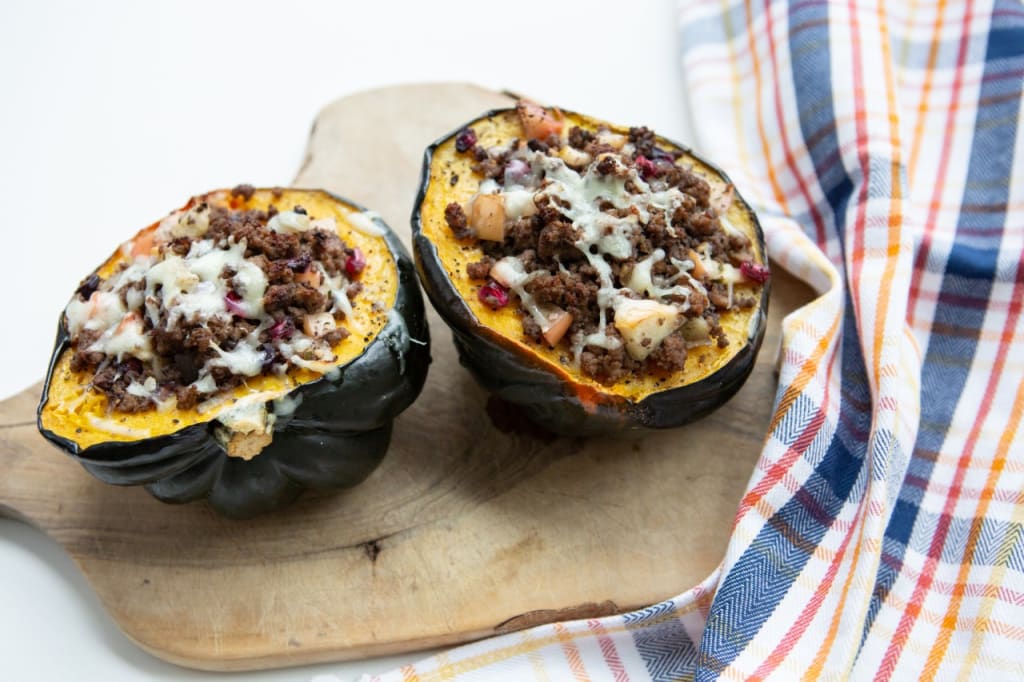 For awhile, it seemed like it might be summer in Nashville forever. Luckily, the weather has finally started to cooperate and fall is here!
What better way to celebrate the changing of seasons than with one of Nashville's fastest-growing areas: food?
These fall recipes all come from Nashville locals who know what it means to combine healthy ingredients with delicious flavors. If you enjoy cooking at home, try these dishes that everyone will love!
Stuffed Acorn Squash
Certified Personal Trainer, Nutrition Coach, Yoga Instructor and Women's Fitness Specialist Lori Zabka shares her tasty and healthy stuffed squash recipe.
Learn more about Lori's services and programs by visiting her website and follow her on Facebook and Instagram.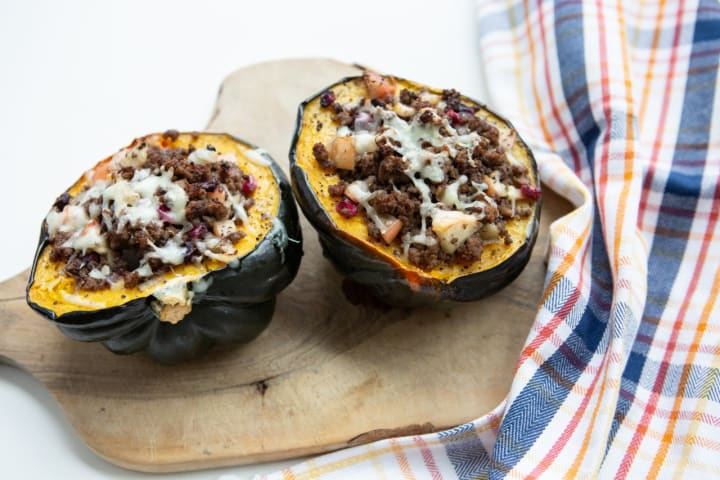 Ingredients
2 acorn squash small/med*
2 tsp organic olive oil, plus sea salt, for roasting
1 Tbsp organic olive oil, plus more, if needed
1 lb. ground turkey or bison
1 small onion diced
2 cloves chopped garlic
2 cups arugula
1 Tbsp fresh thyme leaves minced**
1/3 cup pomegranate seeds
sea salt and pepper to taste
Goat cheese, feta, or other cheese of choice
fresh parsley for garnish, if desired
Instructions
First, roast the squash. Preheat your oven to 425 degrees F and line a large baking sheet with parchment paper.
Cut each squash open, lengthwise, the scoop out the seeds/strings with a spoon, leaving a "bowl" in the center.
Brush the top of each squash half with olive oil and sprinkle lightly with sea salt, then place face down on prepared baking sheet, and roast for 25-30 minutes, or until top of the squash feels soft when you press on it.
Roasting time will vary depending on the size of your squash. You can remove, check for doneness (it should be soft enough to eat) and return the the oven for a few more minutes if necessary.
While the squash roasts, prepare the stuffing. Heat a large skillet over med-hi heat and add your ground turkey, breaking up lumps with a wooden spoon to evenly brown. Once browned and toasty, remove from heat and transfer to a plate.
Return skillet to medium heat and add the onion and sprinkle lightly with salt. Stir while cooking to soften, about 3 minutes. Add garlic and cook for 1 minute more.
Add the arugula, fresh herbs, and salt and pepper to taste, stir to combine. Cook for another 1-2 minutes to allow apples to soften.
Now add the pomegranate seeds and browned meat back to the skillet, lower heat to med/low and continue to cook another 2 minutes to blend flavors.
Once ready to stuff the squash, preheat your broiler and arrange the 4 squash halves face-up on the baking sheet. Scoop the stuffing mixture into each one, filling them evenly.
Once filled, set your broiler to hi and broil until tops of stuffing and squash are nicely browned, 5 minutes or so. Here is where you add cheese, if you tolerate it…get it browned and bubbly. Garnish with fresh minced parsley, serve and enjoy!
Pumpkin Banana Bread
You can't have fall without pumpkin. And Ashley Khristine is here to help you get your pumpkin fix with her pumpkin banana bread recipe.
Ashley is a Personal Trainer and Health Coach in Nashville. She offers in person and online training and coaching. Follow her on Instagram and Facebook.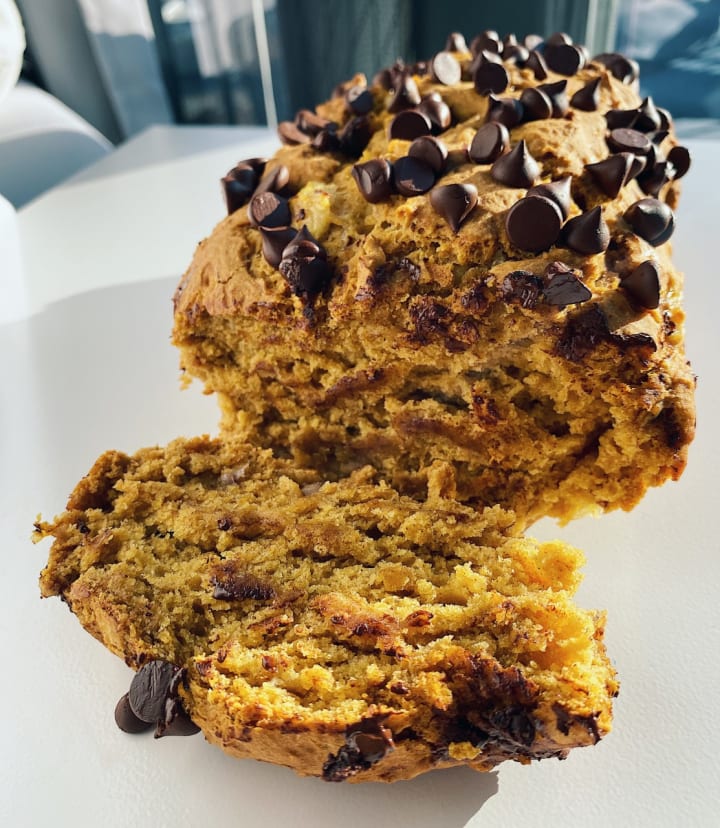 Ingredients
2 C oat flour (I pulsed quick oats in a blender for about 10-20 seconds)
1 tsp baking soda
3/4 tsp salt
3/4 tsp baking powder
1 tsp Pumpkin Pie Spice (or as much as you want)
1.5 C mashed, overripe banana (I used 2 bananas and left some small chunks. It's better that way I promise!)
1/2 C pumpkin puree (I did an overflowing half cup for a little extra)
1/2 C dark wildflower honey
1/3 C unsweetened vanilla almond milk
*Optional* 1/2 C mini dark chocolate chips for the top
Instructions
Preheat oven to 350 F. Grease a 9×5 loaf pan with extra virgin olive oil spray and set aside.
In a large mixing bowl, combine all dry ingredients. Whisk all liquid ingredients in a separate bowl, then pour wet into dry and stir to form a batter. Smooth into the prepared pan and sprinkle chocolate chips over top if you'd like!
Bake on the center rack for 30-35 minutes, then check on it. Because ovens may vary, if it's still undercooked keep checking every 5 minutes until done. Mine took almost 45 minutes total!
Sweet Sausage, Pasta & Cheese Mash Up
This super simple recipe - which only requires three ingredients - is great for making on busy evenings.
While she isn't a health expert, Behind Nashville Founder Leena Kollar is a busy mom of two who knows the importance of eating healthy meals that are also kid-friendly.
This one gets rave reviews from her two biggest - and youngest - critics.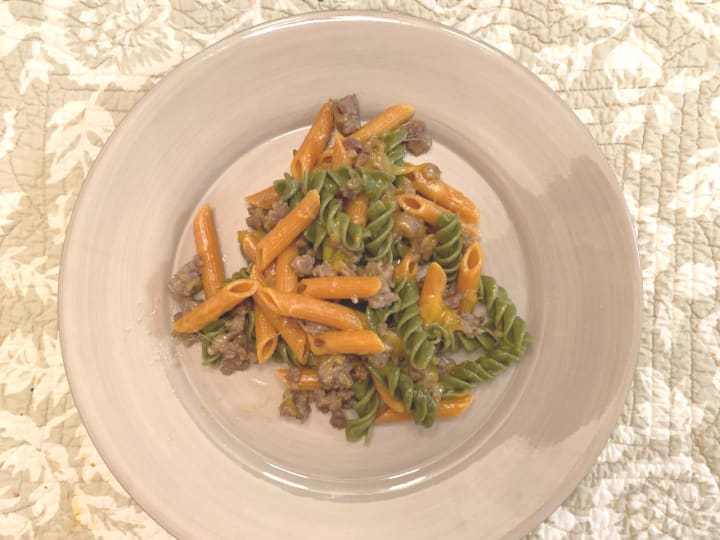 Ingredients
mild ground Italian sausage
pasta
shredded cheese
From Leena: When it comes to measurements, this recipe is all about personal preference. I like my sausage to pasta ratio to be as equal as possible, but you might like more of one over the other.
You can also substitute the sausage for lean ground beef or turkey and use any type of pasta. I mixed two different kinds of veggie pasta because I happened to have a small amount of each left over.
For the cheese, choose any type that you like and also sprinkle to your liking. There's no "right" way to make this dish!
Instructions
Brown the Italian sausage; drain
While cooking the sausage, boil pasta; drain
Add pasta to the sausage and mix
Top with shredded cheese and mix
Eat and enjoy!
3 Ingredient Cauliflower Soup
Soup is a quintessential fall food, so this recipe is perfect for the fall season! Nashville Health Coach Hether Crawford shared this recipe, which is sure to delight!
Follow Hether for more health & wellness inspiration on Instagram and Facebook.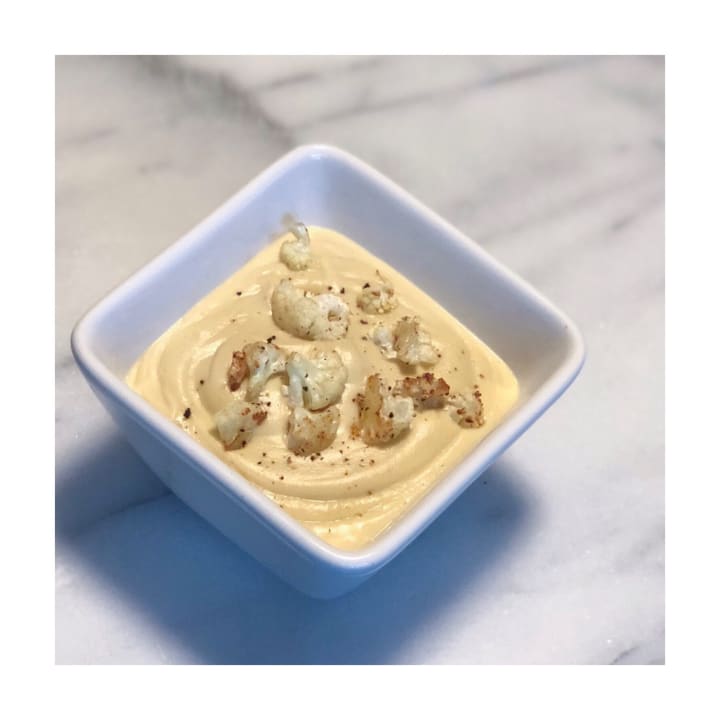 Ingredients
1 32oz box Veggie Stock (or Broth)
1 small head of organic cauliflower
1 cup raw (or roasted) cashews
Instructions
Bring stock to boil in medium saucepan.
Rinse and cut cauliflower, keep mostly florets (remove most of stalk).
Once stock boils, add in cauliflower and medium-high simmer for 10 minutes.
Add in cashews and simmer for 5 more minutes. Add salt (optional)
Carefully pour into high speed blender and blend (or with immersion blender until smooth and creamy.)
Top with seasons to taste: crushed pepper, herbs de Provence, or some freshly roasted cauliflower.
Curry Chicken Salad
Also from Ashley Khristine is this seasonal salad. It's loaded with good for you ingredients that also make your taste buds happy!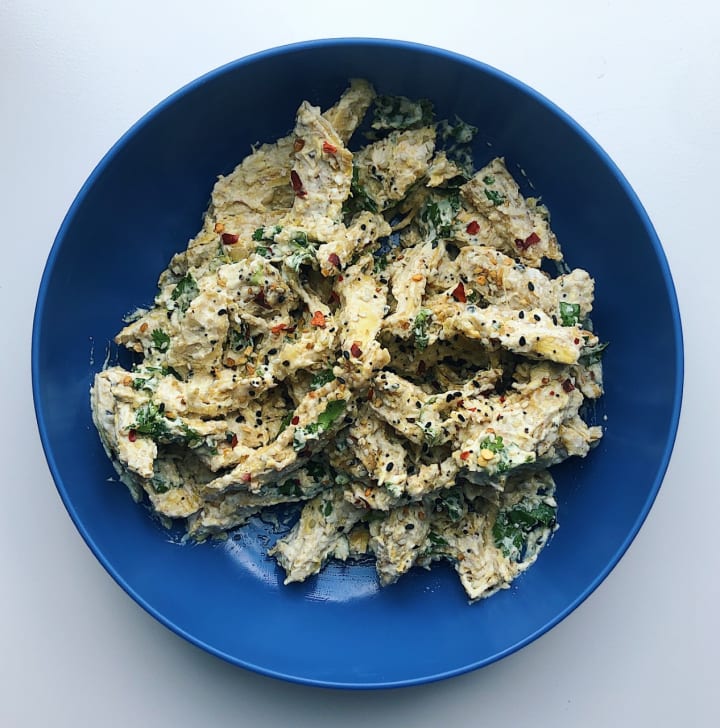 Ingredients
1-2 lb shredded chicken
3/4 C Greek yogurt
1-1.5 tbsp extra virgin olive oil
1-1.5 tbsp honey
Curry, onion, and garlic powders (to taste - I used a lot)
Sea salt and black pepper
Everything but the bagel seasoning
Optional add-ins: raisins, chopped celery, cilantro
Instructions
Boil or cook the chicken in a crockpot so you can shred it nicely and it keeps its moisture
Add curry, onion, salt, pepper, and garlic powder to the chicken while you shred it.
Put chicken in the fridge to chill.
While the chicken is cooling down, mix the yogurt, olive oil, honey, and additional seasonings that you want in a large bowl until well combined.
Once chicken is cool, add it to the mix and stir until fully coated. Top with everything but the bagel seasoning, raisins, and cilantro at the end.
Enjoy!
Like what you read? Your support via tips lets us know how much you appreciate our content so that we can continue providing it to you! Send a tip by clicking on the button below.
About the Creator
Behind Nashville is a hyperlocal digital community and website that features articles and interviews of people and places in Nashville - the greatest city in the nation. It is also known as Nashville's "podcast you can watch."
Reader insights
Be the first to share your insights about this piece.
Add your insights