10 of the Most Original Must-Try Burgers in Nashville
These burgers have way more to offer than just beef on a bun. They are anything but ordinary - they are extraordinary.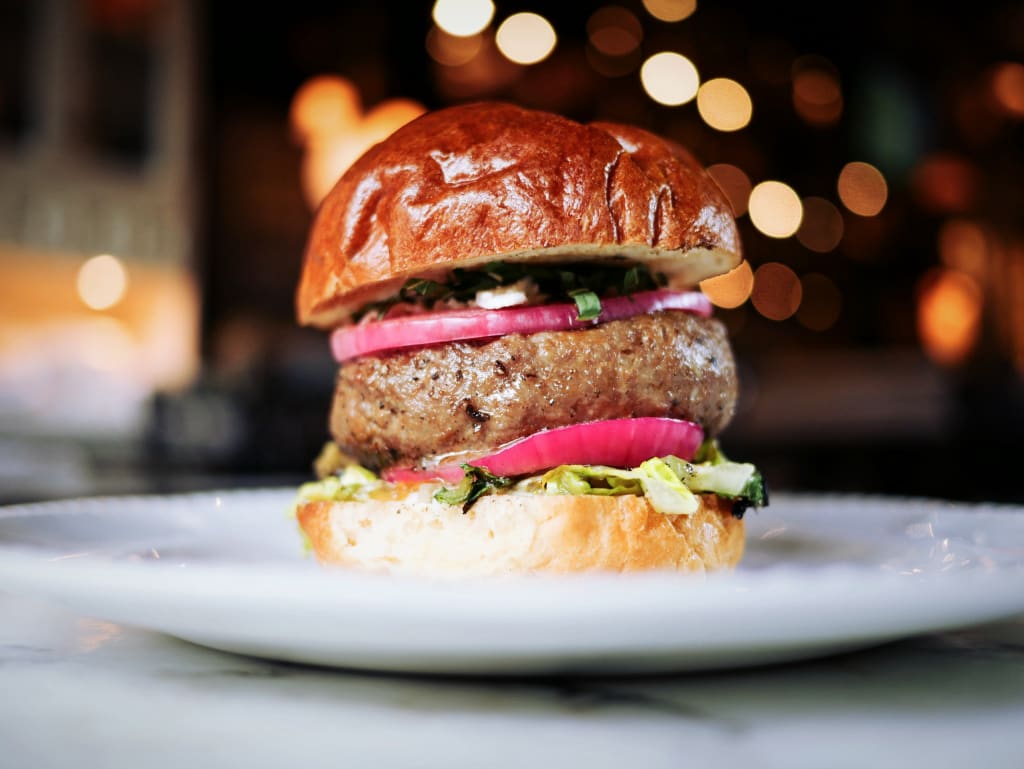 Nashville isn't known for its burgers, but there is no shortage of unique burger options on the menus of local restaurants. These 10 are setting the bar mighty high with their original recipes and flavors.
Whether you are local to Nashville or just passing through, make sure to put these burgers on your meal bucket list because they are anything but ordinary.
Mission City Burger From The Pharmacy
Known as Nashville's "Wurst-Burger" joint, The Pharmacy in East Nashville serves German wurst and bier, as well as milkshakes and ice cream sodas from the soda fountain.
But the real reason for visiting is the Mission City Burger. You can forget Taco Tuesday because this bad boy is loaded with guacamole, pico de Gallo, slow-cooked black beans and horchata crema fresca. Talk about muy delicioso!
Lamb Burger From Burger Up
It's not every day you find a lamb burger on a restaurant menu. But at Burger Up, you will. Made with Boursin cheese, red onion, arugula, honey mint, and dijon aioli, the Lamb Burger is so good, you'll be counting down the days until you can go baaack.
Also among the burger offerings are a Bison Burger, Turkey Burger, The Byrd (fried chicken breast) and the Troyathlon (quinoa and black bean). There are more adventurous choices as well, so you won't leave disappointed, no matter how you prefer your burgers.
West Texas From Burger Republic
If you enjoy spicy food and have a Texas-sized appetite, this burger is for you. The West Texas is two thin pressed patties are topped with two slices of habanero jack cheese, sliced jalapenos, crispy onion straws, and spicy west Texas BBQ sauce, creating an explosive experience for your mouth.
So if you want to risk having your taste buds burned off, head to Burger Republic and try this fiery creation.
Ahi Cali Club From Hopdoddy
Can't decide between seafood and a burger? Enjoy the best of both with the Ahi Cali Club. Available at Hopdoddy, this stack of goodness is made with sushi-grade tuna, hickory smoked bacon, provolone cheese, arugula, cilantro dijonaise, basil pesto, tomato, and onion.
It's among many inventive burger options, including the Breakfast Burger and the Impossible Cheesesteak, made with plant-based meat.
Pastured Pig From Farm Burger
There are pulled pork sandwiches and there's the Pastured Pig burger from Farm Burger. Both of these are lovely meal options, but the pasture-raised pork burger is crafted with incredibly flavorful ingredients: braised cabbage, grilled apples, candied jalapenos, and white BBQ sauce.
Talk about flavor overload! You won't need to try any other burgers on the menu after scarfing this one down, but just in case you've got room for more, there's also the Sunny Side, Spicy Chicken, and Housemade Vegan Burger.
Elvis From Jack Brown's Beer and Burger Joint
Pay tribute to the king of rock n' roll by enjoying a burger named after him. One of Elvis Presley's favorite foods was said to be a peanut butter, banana and bacon sandwich. So what better way to honor him than with the Elvis-inspired burger from Jack Brown's Beer and Burger Joint?
There are no bananas on this burger, but it does have peanut butter, along with mayo, applewood smoked bacon, and American-cheddar blend cheese.
Pretzel Burger From The Stillery
When people think of burgers, they usually think of buns. But The Stillery has a burger that's served inside a housemade pretzel. Stuffed with spicy pub cheese, bacon, and caramelized onion, the Pretzel Burger is an interesting twist on a classic menu item.
Enjoy the Pretzel Burger with house cut fries, mixed greens or baked mac & cheese and rinse it all down with one of the tasty mason jar cocktails.
The General From Hopsmith
You can find many places in Nashville with hot chicken offerings - it's what the city is famous for, after all! But at Hopsmith, you will find a hot chicken burger. The all-natural ground chicken patty is topped with roasted pepper & scallion slaw, sesame-Arbol chile mayo and General Tso's sauce, served on a buttery bun.
And because hot chicken lovers can't get enough spicy flavor, The General is served with seasoned fries.
2:00 A.M. From Rock Bottom Restaurant & Brewery
Calling all night owls! Or maybe early birds... Want to savor a breakfast burger when it's actually not morning? You can enjoy breakfast any time of day at Rock Bottom Restaurant & Brewery, thanks to the 2:00 A.M. burger. It's 3/4 lb. of breakfast taste with hash browns, American cheese, bacon, and fried egg.
Choose a side like cilantro lime rice, seasonal veggies, apple coleslaw or cheddar mashed potatoes to enjoy with this burger.
Knife-and-Fork Chili Cheese From Ted's Montana Grill
If you're having a hard time deciding which burger to order from Ted's Montana Grill, the Knife-and-Fork Chili Cheese is quite adventurous sounding. Choose from freshly ground all-natural bison or certified Angus beef, and delight in each bite as pepper jack, cheddar, bison chili, tomato, jalapeño, red onion, sour cream, and ciabatta awaken your sense of taste.
Choose fresh-cut fries or your choice of side to accompany your burger. Healthy side options include sauteed green beans, kale salad, and buttered carrots.
Like what you read? Your support via tips lets us know how much you appreciate our content so that we can continue providing it to you! Send a tip by clicking on the button below.
About the Creator
Behind Nashville is a hyperlocal digital community and website that features articles and interviews of people and places in Nashville - the greatest city in the nation. It is also known as Nashville's "podcast you can watch."
Reader insights
Be the first to share your insights about this piece.
Add your insights