Happy Internation Mother Language Day !
21st of February we celebrate multilingualism across the world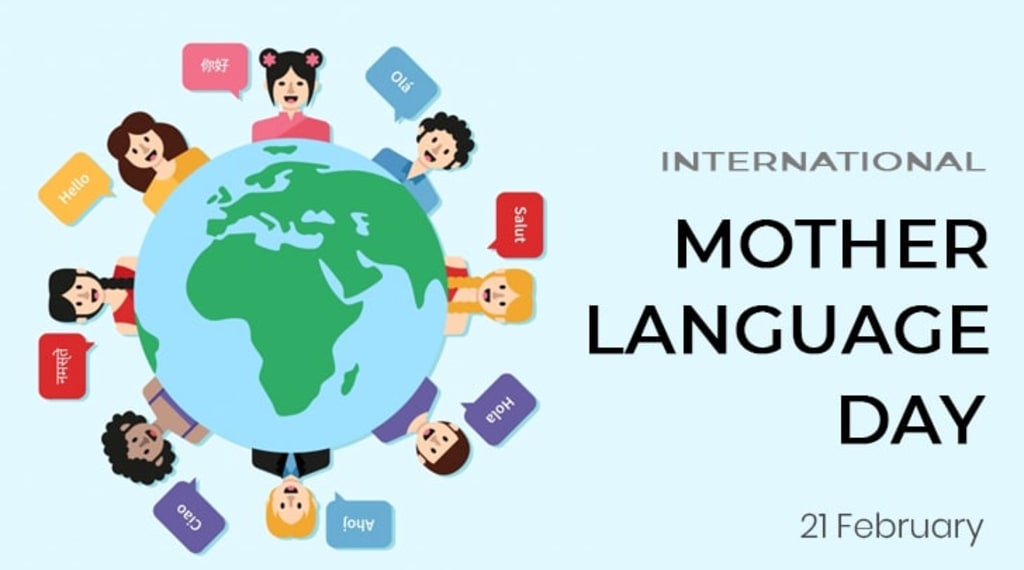 copyrights : Sugermint.com
Mother Language
Mother Language defines the first language that we are exposed to, the first language we understand and use for communication. It is our native language and the tongue that our parents speak with us. Let's see the word ''Mother'' in different languages. Read more below to see common words used in your language.
The word ''Mother''
English: Mother
Spanish: Madre
Italian: Madre or Mamma
German: Mutter
French: Mère
Hindi: Maji
Greek: Mama (Μαμά)
Serbian: Majko
Tagalog: Nanay
Arabic: Māma
Bengali: Ma
Chinese: Mãma
International Mother Language
The United Nations Educational, Scientific, and Cultural Organization (UNESCO) General Assembly established International Mother Language Day in November 1999. Bangladesh took an effort to establish World Mother Language Day. In its resolution from 2002, the UN General Assembly praised the declaration of the day.
International Mother Language Day recognizes that languages and multilingualism can advance inclusion. UNESCO promotes multilingual education based on native language. That is to say, the learner begins to be educated in the language they understand most and then slowly learns new languages. This approach is really helpful for students that have a different mother tongue than the instruction language. It bridges the gap between home and school, it is critical to create a friendly environment and thus learn and adjust better.
Multilingualism is a great tool to create multicultural societies, based on inclusion, and mutual respect and creates space for an exchange of ideas between people from different cultural backgrounds and worldviews. The motto of the 2023 International Mother Language Day is ''Multilingual Education – a necessity to transform education'' and emphasizes indigenous people's education and languages.
Linguistic Diversity: Why is it so important?
Languages are crucial for individuals and the environment because of their complex effects on identity, communication, social inclusion, learning, and growth. They are, however, increasingly in danger of extinction because of rapid globalization. Language extinction results in the loss of the world's diverse cultural heritage. Furthermore, a dramatic decrease in local habits and special ways of thinking and expressing themselves has been observed.
A language dies off every two weeks, bringing with it a whole historical and intellectual legacy. The estimated 6000 languages spoken worldwide have an endangered status of at least 43%. Less than 100 languages are utilized in the digital sphere, and only a few hundred have been really given a position in educational institutions and the public world.
Languages, which sustainably transmit and maintain local traditions and cultures, are the foundation of multilingual and multicultural communities.
Every year, International Mother Language Day is marked to encourage multilingualism and linguistic and cultural diversity. (https://www.un.org/en/observances/mother-language-day)
Most spoken languages and least spoken languages
The most spoken language in the world is -obviously- English. About 1.5 billion people in the world speak it either as a native language or a second tongue. The second most spoken language is Mandarin Chinese. It is spoken by about 1.1 billion people. Also, in the top 10, we can see languages like Spanish, as they are a common language in Latin America and of course, Spain. Additionally, French, Arabic, and Bengali are high on the list.
On the other hand, we can see that the least common languages are in danger of extinction and that is really frustrating. Younger people tend to pay less attention to their cultural characteristics and only target to adjust to the new form of society. One of the parts of everyone's identity is language and the Aborigines of Australia, sadly see their traditional language -Paakantyi- on the verge of extinction as only 20 speakers of the language remain. Another endangered local tongue is Dumi spoken in the villages of Nepal, as there are only a few native speakers remaining. In Europe, the languages are in safe hands but not all of them. A great example is the endangered language Friuli, in the Slovenian-Italian borders, whose publicity tends to decrease. There are many examples of languages that are on the verge of extinction, at the altar of globalization.
Most common words
The most common words are ''the'', ''of'', ''and'' but there are some more meaningful words that are worth to be presented below. First of all the basic greeting (Hello) in each language. It is fundamental knowledge going into a foreign country and really good to know if you are planning to travel to some of these countries. The word ''love'' can also express deep feelings and is really interesting to see how it is sound in each language. And finally speaking of languages, the word ''language'' itself could not be out of this list, since it is a really strong sign of identity and a powerful means to express your feelings and thoughts! Happy International Mother Language Day!
The words ''Hello'', ''Love'' and ''Language''
English: Hello / Love / Language
Spanish: Hola / Amor / Idioma
Italian: Salve or Ciao / Amore / Lingua
German: Hallo / Liebe / Sprache
French: Bonjour / Amour / Langue
Hindi: Abhinandan / pyar / Bhaasha
Greek: Kalispera or yia sou / Agapi / Glossa
Serbian: Zdravo or Dobar dan / ljubav / Jezik
Tagalog: Pagbati / Pag-ibig / Wika
Arabic: Asalaam alaikum / hob / Lugha
Bengali: Namaskaar / Bhalabasa / Bhasa
Chinese: Nin hao / Ai / Yuyan
Tell me how you say ''Happy International Mother Language Day'' in your language in the comments below!
About the Creator
Hello! I am Triantafyllos and this is my personal vocal media page.
Words that better describe my stories: Innovative, positive, with useful information
Since you came to my page you should take a look at my articles :)
Reader insights
Outstanding
Excellent work. Looking forward to reading more!
Top insight
On-point and relevant

Writing reflected the title & theme
Add your insights