Gumbo
A Southern American Classic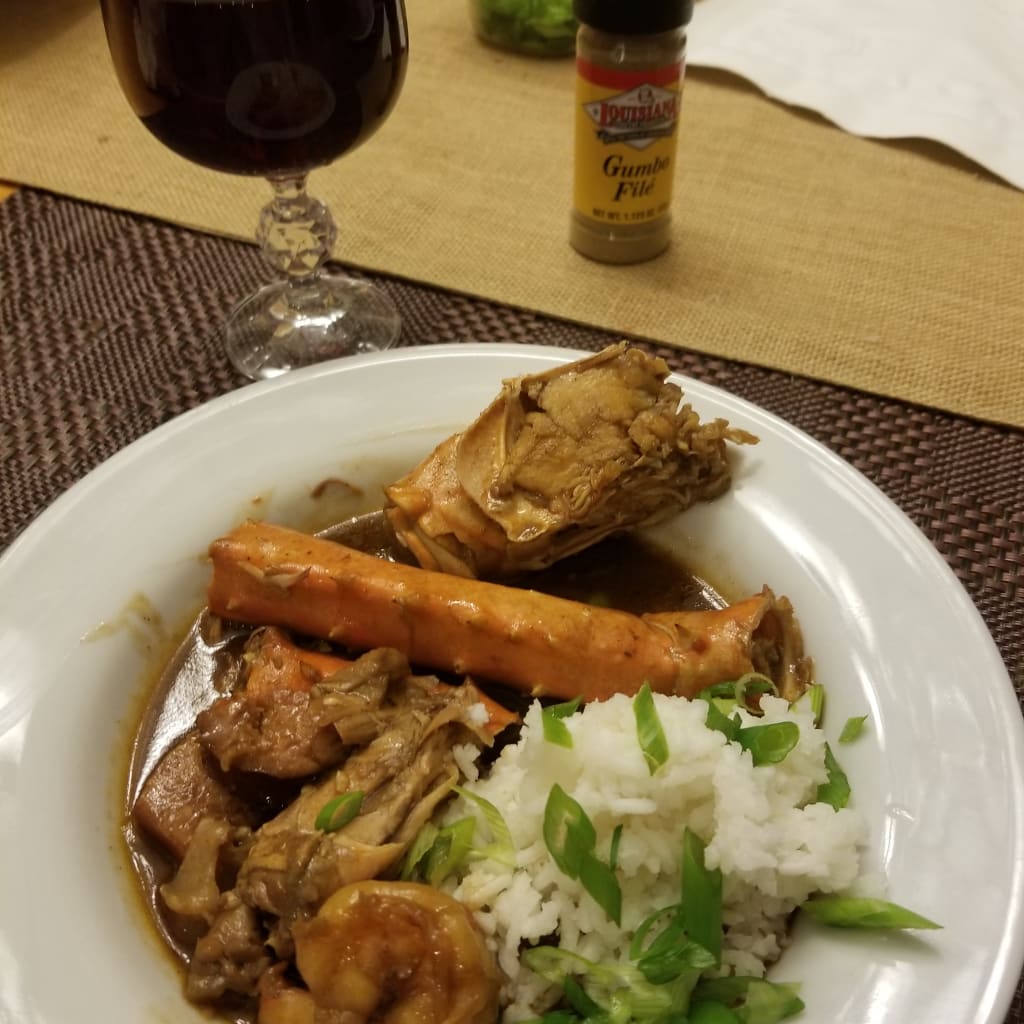 My mother's family is from Louisiana. Growing up in southern California I thought Louisiana was the best place to be from. My maternal grandfather, Arthur "Pops" Smith, worked on the railroad and brought his wife and nine kids to Los Angeles from Shreveport, Louisiana in the late 1940s. Decades before my birth, he started a series of successful businesses. My grandmother, a stay at home mom, was the glue and matriarch of the family, big and tall in stature, she was affectionately called "Big Mom". The family originally settled in Watts, a suburb of south Los Angeles where the kids attended school and eventually moved on to Compton, a city a little further south. As my grandfather's businesses continued to grow, he and his wife moved to a newly developed city called Carson, just a little more south of Compton.
Carson is where my beginnings started. I remember weekly my mom would take us to Big Mom's house just to hang out after she got off work. Her siblings, my aunts and uncles and their children, my cousins, would gather at her house to talk. I never knew or understood why they all did this, but I loved this weekly ritual and it was a normal way of life for me at the time. The adults congregated in the dining room and the kids played throughout the house as well as outside.
On special days, especially during the colder months, our family's traditional dish that was served was seafood gumbo. It's known as a Louisiana staple and is probably one of the most popular dishes in Louisiana cuisine. Everyone has their own version of gumbo, but our family favorite has always been the seafood gumbo. It's basically a soup made up of at least four different kinds of meats; chicken, sausage, shrimp, and crab. When prepared correctly, it's the most sought-after, most deliciously amazing soup anyone can ever experience.
As a child, I remember watching the women in my family prepare this Louisiana staple. It seemed like such a big production and as each aunt was assigned to prepare their ingredient, I often wondered if I would ever be able to do this on my own someday. One aunt prepared the chicken, another aunt prepared the sausage, then another handled the shrimp and crab. I remember my mom cutting and dicing onions and bell peppers. My grandmother meticulously manned the roux, which was the foundation or the base of the gumbo. It seemed like forever as she stirred the flour and oil until it was the perfect brick or mud-like color. I never remember seeing measuring cups or recipe books. What I saw was women really knowing what they were doing, making a magical dish that we all loved and couldn't wait to devour.
My family was somewhat big and we all eagerly filled my grandmother's house. Two large tables were set in place in the garage where all the kids sat and the adults sat in the main dining room. Don't get me wrong, the garage was very clean and suitable for us kids to dine as that space was very much needed for all of us to fit. The amazing aromas that filled her house were nothing short of amazing. This was a dish that we all looked forward to several times a year.
Once served, the chatter turned into a hush as everyone concentrated on the bowl of goodness in front of them. Everyone always wanted the crab. To some of the younger children, opening the huge crab legs was a bit challenging, but if you wanted to enjoy the sweet delicate meat inside, you learned pretty quickly how to crack open the shells and get every single ounce of it out. Gumbo night at Big Mom's were my fondest memories of my childhood.
Fast forward to my adulthood. I origionally learned how to cook by watching my mom and dad. I eventually attended culinary school to be classically trained as a chef. Over the first decades of my adulthood, I prepared many dishes but never gumbo. For some reason, I felt a little intimidated by what seemed to be a big production. Culinary training, for the most part, was fairly easy for me, because for one, I had a natural ability and desire for cooking, and two, I had been cooking since I was about 15 years old. The curriculum was national, so we learned how to prepare food from all over the world. As I learned about different staples of different countries and origins, I often thought about the staples of Louisiana. I thought about the many dishes that my grandmother prepared that originated from where she was born. I thought about how amazing Louisiana cuisine truly was. Although there were many, my mind kept taking me to gumbo. I felt since I was now classically trained to cook anything, it was time for me to take on the task of preparing my family's traditional seafood gumbo. I took all the years of watching the women of my family and combined it with my classical training and made a masterpiece. Seafood gumbo is not cheap, it costs upwards of $200-$300. So if you don't know what you're doing, it's best to leave it to the experts. I can officially say that I am a proud expert in making this delectable dish amazing. I would divulge the recipe, technique, and steps, but then I'd have to kill you. Just kidding. But seriously, if you've never had gumbo the way it's supposed to be, find yourself a friend whose family is from Louisiana and ask to be included in on the next gumbo night, or better yet, take a trip to New Orleans and explore their amazing restaurants to see what it's all about. I guarantee you'll love everything you eat there. I thank God for my Louisiana roots and that I am able to pass what I've learned down to my own children. Bon appetite!