Gluten Free and Dairy Free Vegetable Dishes
Healthy Side Dishes or Vegetable Main Dishes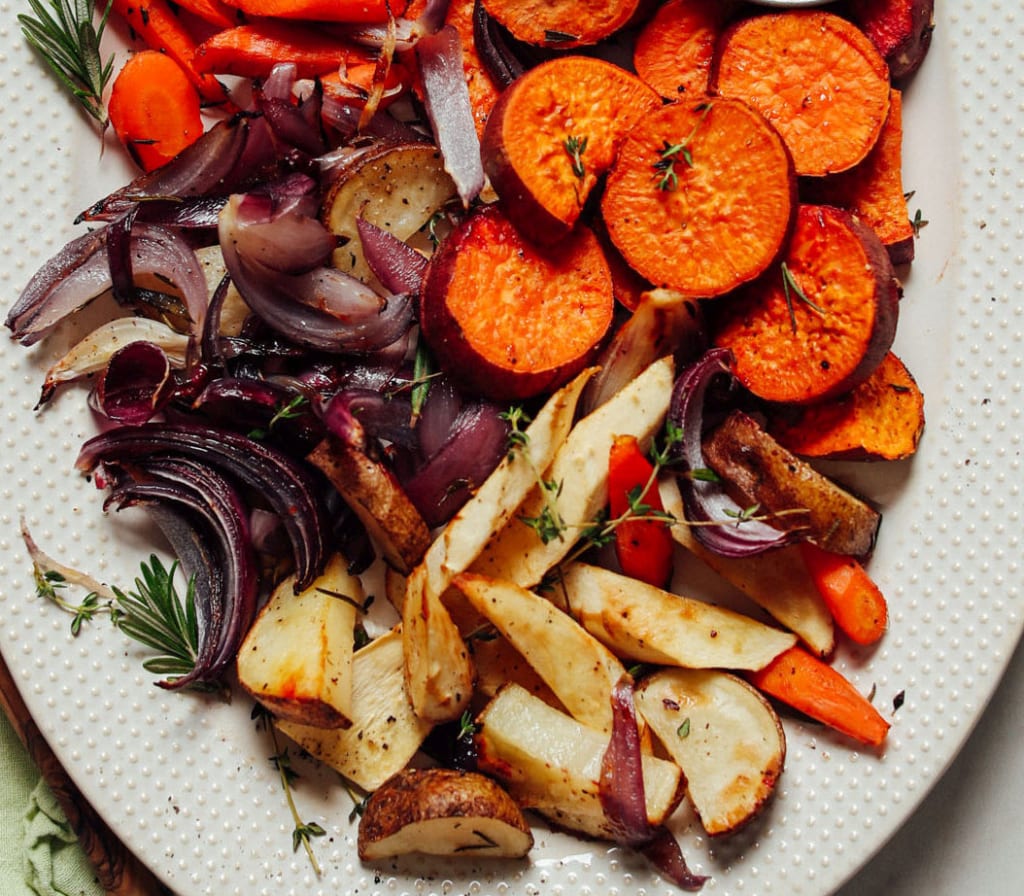 Gluten-free and dairy-free vegetable dishes.
Vegetable Side Dishes:
• Asparagus:
Fresh and frozen asparagus can be tossed with oil, salt and pepper, spread onto a baking sheet and bake at 400 degrees for about 15 minutes or until starting to brown. If using frozen asparagus spears there is no need to thaw; use straight out of the freezer like you would fresh.
Canned asparagus can be drained and mixed with chicken stock in your blender. Blend until consistency of a Cream of Asparagus soup. Transfer to a saucepan, add salt and lemon pepper and garlic if you like. Heat through for a great soup or use as a sauce under or over chicken breasts.
Asparagus is also an excellent addition to your stir fry or chicken vegetable soups.
• Asparagus and Mushroom Stir Fry:
8 ounces fresh mushrooms, sliced
Bundle of fresh asparagus, chopped into one inch pieces.
1-3 Tablespoons Sesame Oil
Spray a skillet with nonstick cooking spray. Toss asparagus and mushrooms in a bowl with your favorite cooking oil, salt and pepper. Sauté the vegetables in the hot skillet for about 3 minutes. Add sesame oil and continue to sauté another few minutes until "just" tender.
• Sweet potato: (orange or white sweet potatoes)
Be mindful that even though sweet potatoes are very healthy they are also high in carbs.
A baked sweet potato is always a good choice. Something I like to put in my crock pot. I often times have a sweet potato for breakfast as well as for supper.
Dice up your sweet potato, add a bit of diced onion and fry up like hash browns. Add bacon for an entrée. You can also add a fried egg to the top. Great for supper or breakfast.
Sweet potatoes are an excellent choice for Chicken Vegetable Soups if you are avoiding nightshades.
Try peeling and boiling sweet potatoes and mashing just like you would traditional mashed potatoes. Or slice into steak fries, toss in oil, a small bit of cornmeal, cornstarch or gf flour, salt and pepper and fry in a skillet or bake in the oven until tender.
• Sweet Potato "Potato" Salad: Dice up your sweet potatoes (orange or white). Boil until just tender. Allow the potatoes to cool and then mix with what you normally would mix up for a potato salad. I like to add the following ingredients to my Sweet Potato "Potato" Salad:
Diced celery and a tiny amount of onion
Mayo
1 tablespoon oil
Salt, pepper, ½ teaspoon celery seed
Mix all the ingredients well and best if allowed to sit in the refrigerator for a few hours before serving.
• Roasted Beets:
Five beets, peeled and cut into bite size chunks
Two sweet potatoes peeled and cut into bite size chunks
One medium onion (I prefer a yellow onion in this recipe)
Two-three tablespoons oil
One teaspoon sugar and 1 teaspoon garlic powder
Preheat oven to 400 degrees. While your oven is preheating:
Toss the beets and half the oil and spread evenly on a baking sheet.
In a small bowl mix the remaining oil, seasonings, and sugar with the sweet potatoes. Shake well to coat the potato pieces.
Bake the beets for 15 minutes. Remove from oven and add the sweet potatoes to the baking sheet. Return to oven and bake 45 minutes. For best results turn the vegetables half way through the 45 minutes.
Vegetables will be tender when done.
• Broccoli:
Broccoli can be eaten raw with dips, tossed into salads, sautéed into a stir fry, steamed, roasted in the oven or made into a creamy soup or sauce.
Add leftover cooked broccoli or thawed frozen broccoli to your blender with chicken broth. Blend until smooth. Broccoli takes a few extra pulses of the blender to get that creamy like texture. Transfer to a saucepan and add any seasonings you like. Heat through. This makes a nice Cream of Broccoli soup or a sauce for chicken.
• Garlic Lemon Pepper broccoli
Fresh or frozen broccoli (half way thaw if using frozen, and I like to do a quick blanch when using fresh)
Toss broccoli with oil, salt and lemon pepper. Sauté in a skillet until broccoli is somewhat tender. Remove from skillet. Remove the skillet from the heat source.
Add your favorite cooking oil and fresh minced garlic while the oil is still room temperature to the skillet. Return to burner and cook for a few minutes over medium heat. Be sure not to burn the garlic. Remove and toss with broccoli. Serve immediately.
• Cauliflower: Cauliflower has been the star of the show this past year with gf pizza crust and more. I haven't yet mastered the Cauliflower pizza crust but if you have, Congratulations! Here is what I do like to do with cauliflower:
I think cauliflower rice is one of the many great things to do with a head of fresh cauliflower. I can use it in any dish that calls for rice and significantly cut down my carbs.
• Cauliflower Hash Browns: Dice or mince your fresh cauliflower as if you were "ricing" it. Toss with other vegetables like minced onion. Toss with a bit of oil, salt and pepper. Transfer to a hot skillet. A black iron skillet works well here as you can get a nice browning.
Spread the "riced" cauliflower into the skillet and sort of smash it down. Over med to med/high heat let it sit. Checking it often so as to just brown the bottom nicely but not burn. Then using a spatula, flip the whole thing over or you can just stir it if you prefer. If you cook bacon with it or use bacon fat as the oil this will most definitely take on the taste and feel of traditional hash browns.
• Mashed Cauliflower Potatoes: Boil one head of cauliflower and one white sweet potato. Drain and mash just like you would traditional mashed potatoes. I find for a more savory flavor boil in chicken broth instead of water and add garlic.
You can also make potato soup this way, using half potatoes and half cauliflower. Increase the amount of chicken broth to create the consistency of soup that you like. Add sautéed diced celery, carrot and onion and allow to simmer for about an hour.
• Ginger Garlic Cauliflower Rice:
3 cups of riced cauliflower
2-3 tablespoons oil
4 slices of fresh ginger (buy a ginger root in the produce dept., simply place in a Ziploc freezer bag and keep in the freezer, slicing off when you need it)
2-4 cloves of fresh garlic, minced.
1 Tablespoon apple cider vinegar
1 tablespoon chopped chives or parsley
Sauté the ginger for about 60 seconds and remove the ginger from the skillet. Just long enough to flavor the oil in your skillet. Add garlic, cauliflower, vinegar, and the seasonings. Sauté until cauliflower is tender.
• Pineapple Cauliflower Rice:
Sauté Riced Cauliflower with a can of pineapple tidbits. Sometimes I will add just a bit of diced celery, chopped fresh cilantro or parsley. This goes great with fish.
• Cabbage: For a quick side: Sauté sliced cabbage and onion in a skillet. Be sure to add some salt and pepper and garlic is also a nice accompaniment.
• Slaw: chopped cabbage, shredded carrots, mayo, celery seed, salt, pepper, a teaspoon of oil. Mix well and refrigerate.
• Green Beans: I don't like frozen green beans at all so I tend to stick to fresh or canned. Fresh green beans and canned green beans are like two different vegetables so it just depends on what I am preparing as to which I decide to choose. One thing that is consistent is that I find both taste better when prepared in chicken stock. Whether I am boiling them, blanching them or poaching them, I always use a good chicken stock instead of water.
• Mushrooms: Often overlooked, mushrooms can make a great side dish!
Add mushrooms to your roast in the crock pot, toss mushrooms with oil, salt and pepper and bake in the oven (400 degrees until a golden brown). Sauté in oil with garlic and onion.
Mushrooms and gravy make a nice side dish for chicken, pork or beef. Toss your fresh mushrooms with oil, salt and pepper, cornstarch or gf flour. Sauté in a skillet in a bit of oil. Just until all the mushrooms look moistened. A little longer if whole, less if you have sliced them. Add chicken stock slowly, continuing to stir until you have gravy at the consistency you like. Keep the heat at about medium while making the gravy. Season to your taste. Garlic is a nice addition to this dish. Pour over roast, chicken, pork chops, and meatloaf or add browned ground beef and serve over gf noodles or rice.
I like to take portabella mushrooms and mincing them up using my chopper to be added to my ground beef or ground turkey when making meatloaf.
Large portabella mushrooms can be stuffed and baked. I like to stuff mine with artichokes, spinach and garlic. Drain a can of artichokes and then puree in your blender. Toss with spinach and garlic and stuff in the caps of your mushrooms. Bake at 350 degrees for 30 minutes. I find the mushrooms bake much better if you will rub them in oil before stuffing and placing in the oven.
• Roasted Vegetables: mushrooms, brussels sprouts, onions, artichokes, frozen whole okra
There really is no end to what you can "roast". These are some of my favorite "go-to" roasted vegetables. Remember that roasted vegetables are also excellent leftover the next day for lunch.
• Frozen whole okra: take it straight from the freezer, toss with oil, salt and pepper. Spread onto a baking sheet and bake in a preheated 400 degree oven until the okra starts to become a dark golden brown. You may wish to turn the okra about 7 minutes in.
• Onions: thinly sliced onions baked in the same fashion as the okra will get browned up and a bit crisp on the ends and make a tasty addition to many meals.
• Brussels sprouts: The tick to Brussels sprouts, whether fresh or frozen, is to be sure they are sliced in half. Whole brussels, no matter how small, simply do not roast up in the way those that are sliced in half do.
• Canned artichokes: I have not yet mastered the fresh artichoke and so I am still dealing with canned artichokes. Drain the can and simply place the artichokes on a baking sheet, drizzle with oil, and bake at 400 degrees until they start to brown nicely. You'll be surprised at how delicious these are hot or leftover cold and added to a salad.
Other Gluten and Dairy Free Recipes I have shared here on Vocal:
GF and DF Recipes Everyone Will Like
These recipes and tips were brought to you by Paula C. Henderson. Find her gluten and dairy free cookbooks on Amazon.
You will also find a gluten and dairy-free grocery list which is divided by the departments of your grocery store: frozen foods, produce, refrigerated, meats and seafood and the aisles. The list is of foods that are naturally gluten and dairy free for a healthier, non-processed diet.