Gluten and Dairy Free Chicken Recipes
Old Favorites Made Healthy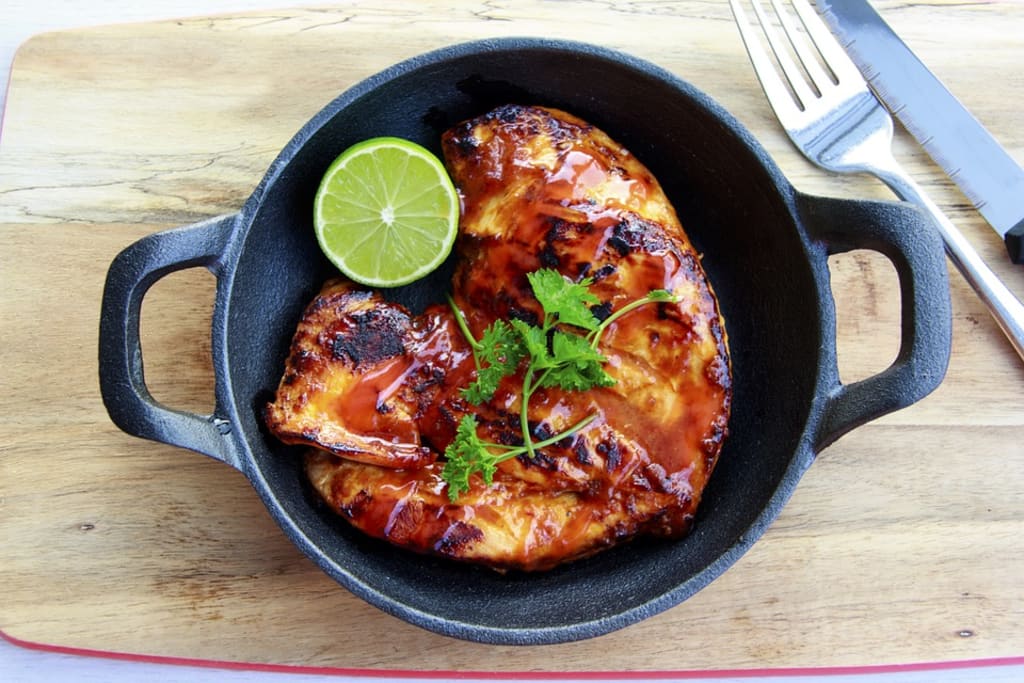 Many people on a dairy-free diet find real butter does not bother them when eaten on occasion. I am one of them and so you will find some recipes calling for real butter. If you avoid butter, please simply replace this ingredient with your butter replacement alternative or a healthy oil of your choice. I find avocado oil is a nice replacement when butter is called for.
1. Lemon-y Chicken With Mushroom-y Sauce
Ingredients:
1 T. healthy oil
4-6 Chicken Breasts
One lemon or lime (zest of…, if you are sensitive to citrus)
¼ cup Unsalted Real Butter
2 Cups Fresh Sliced Mushrooms
2 T. Arrowroot or Gluten free flour
¾ cup chicken broth
Preheat your oven to 400 degrees.
Drizzle chicken with oil, salt, and pepper on both sides.
Bake in preheated oven for 20 minutes on a baking sheet or shallow pan.
Turn chicken over, squeeze lemon or lime over the chicken, and return to the oven for another 15 minutes. Chicken is done when it reaches 165 degrees.
While the chicken is cooking: melt butter in a skillet and add your mushrooms about 5 minutes. Sprinkle Arrowroot or flour over the mushrooms. Stir to coat. On medium /med-to high heat, add the chicken broth. Reduce heat to medium. Continue to stir until thickened. Add any seasonings you prefer such as salt, pepper, garlic, fresh parsley, a little dried thyme. Spoon over chicken breasts.
2. Creamy Comfort Chicken
3 tablespoons unsalted real butter (or your preferred sub)
2 tablespoons Arrowroot or Gluten Free flour
2 cups Homemade Chicken Stock/Broth
1 cup Shredded Chicken
½ teaspoon Sage
½ teaspoon Thyme
Salt and Pepper
1 teaspoon chopped parsley
Melt butter in a skillet, add the Arrowroot or flour to make a roux. Add broth, stirring constantly, over medium heat until thickened. Like a gravy. Add chicken and seasonings.
Just before serving add parsley and stir.
This goes quite well over mashed/pureed cauliflower. Boil the cauliflower in chicken stock and garlic. Be sure to salt and pepper before serving.
3. Apricot Honey Mustard Chicken
2 Chicken Breasts or 4 thighs
1 teaspoon cumin
Black pepper to taste
½ teaspoon homemade nightshade free *curry powder
3 Tablespoons *Dijon mustard
¼ cup honey
3 tablespoons *Apricot Jam
Preheat oven to 375 degrees.
Sprinkle chicken with cumin, pepper and curry powder. Place in a glass bowl.
In separate bowl: combine mustard, honey, and jam. Toss with chicken and allow to marinate, covered, for at least an hour if not overnight.
Bake chicken on a baking sheet in a preheated oven at 375 degrees for 20 minutes. Turn the chicken over. Bake an additional 15 minutes or until the chicken is 165 degrees.
If the chicken looks like it is getting too brown at any time, simply cover with a loose bit of foil.
4. Chicken Alfredo With Vegetables
2 cups chopped or shredded cooked chicken
2 cups sliced, raw vegetables: zucchini, yellow squash, onion, broccoli, thin sliced carrots, kale, asparagus. Any vegetable combination you like with Alfredo sauce
Alfredo Sauce: (Choose the Almond Milk method or the Cauliflower method)
Almond Milk Method:
Heat 4 tablespoons oil in a skillet. Add chopped vegetables and give a quick sauté. About 5 minutes. Add cooked chicken and add Alfredo sauce. Cover and allow to simmer on low for at least 30 minutes or until vegetables are tender.
Just before serving toss with 2 tablespoons finely chopped fresh parsley and a quick squeeze of fresh lime juice.
Almond Milk Alfredo Sauce:
6 raw garlic cloves
2 cups Almond Milk (unflavored original)
Salt and Pepper
Italian seasonings
Marinade garlic, milk, salt, pepper and Italian seasonings overnight or 8 hours minimum.
When it's time to prepare: create a roux using the marinated milk:
2 tablespoons real, unsalted butter or healthy oil and 4 tablespoons Arrowroot or gf flour. Add marinated Almond Milk slowly, stirring constantly, with a whisk, over medium heat. Will thicken over the next 5 to 10 minutes. Continue to add milk until consistency you like for an Alfredo sauce.
Or…
Cauliflower Method:
6 raw garlic cloves
1 head raw or 16-ounce bag frozen cauliflower (cook (with a lid) whichever you choose in chicken broth with garlic until tender. ) Vegan method: cook cauliflower in the garlic marinated Almond Milk as described above.
Retain broth you cooked in. Allow to cool. Place cauliflower in the blender and add part of the broth. Blend until smooth and continue to add broth until you have the consistency of an Alfredo sauce.
5. Sage Sauce Roasted Chicken
4 Chicken breasts or thighs
Salt and pepper
2 tablespoons oil
1 leek, chopped
¾ cup chicken broth
¼ cup dry white wine or dry vermouth
2 tablespoons fresh sage leaves (+)
2 tablespoons unsalted real butter
2 teaspoons *Dijon mustard
Preheat oven to 375 degrees.
Salt and pepper the chicken and brown, in oil, both sides, turning just once. In skillet. Transfer chicken to 375-degree oven. Bake about 15 minutes.
After chicken has baked about 15 minutes add the chopped leeks and ¼ cup of the broth to the skillet with the chicken and continue to bake for another 15 minutes.
When the chicken is done, set the chicken aside on a platter to rest. Pour the broth and leeks to a skillet on the stove top:
Add remaining broth and the wine. Simmer about 5 minutes to cook out the alcohol. Turn off the heat. Immediately add sage leaves, butter, and mustard to the skillet and stir gently until blended.
Spoon sauce over chicken to serve.
"The flavor of the sauce was delicious. My husband thought it might have too much sage but I thought it was the right amount. I thought about skipping the mustard because I thought it would clash with the sage. I was wrong, it pulled all the flavors together."Cindy Norris, Recipe Tester
6. Chicken and Pineapple Stir Fry
½ cup chopped pineapple
1/8 cup water
¼ cup Coconut Aminos
1 tablespoon raw unfiltered honey
1 tablespoon Sesame Oil
½ teaspoon fresh ginger
1 lb. raw chicken tenders or bite size cut chicken breasts
2 tablespoons oil
1 cup fresh cut bite size pineapple
1 celery stalk sliced (Bok choy is also a great choice for this recipe)
1 carrot sliced; best sliced using the side slicer on your grater. This will give you nice thin slices
3 tablespoons diced white onion
½ cup flat pea pods
1 teaspoon Arrowroot or Cornstarch
Put ½ cup chopped pineapple in blender with ½ cup water. Blend until liquefied.
Mix next 4 ingredients in a bowl with the pineapple from the blender.
Brown and sauté the chicken in the oil in a skillet until chicken is all white. About 5 to 10 minutes.
Add vegetables to chicken in skillet on medium heat. Stirring constantly. About 5 to 8 minutes until the vegetables are somewhat tender.
Add Arrowroot and stir to coat.
Add pineapple sauce to skillet and cook another 5 minutes or until vegetables are done. Should thicken.
Get the rest of my gluten and dairy free chicken recipes from the cookbook, 52 Low Carb Healthy Tasty Chicken Recipes: Gluten Free Dairy Free Soy Free Nightshade Free Grain Free Unprocessed, Low Carb, Healthy Ingredients.
Available on Kindle or in paperback on Amazon.
The 52 recipes included in the cookbook are:
Lemon-y Chicken with Mushroom-y Sauce
Chicken Piccata
Roasted Chicken
Creamed Comfort Chicken
Chicken Marsala
Apricot Honey Mustard Chicken
Mustard Chicken Wings
Chicken Breasts with Tangy Cream Sauce
Chicken Vegetable Soup
Chicken Stew
Kung Pao Chicken
Chermoula Baked Chicken
Chicken Alfredo with Vegetables
Chicken and Pineapple Stir Fry
Chicken Lettuce Wraps
Chicken with Brussels Sprouts with Apples
Pineapple Chicken Kabobs
Chicken Pizza
Chicken Avocado Salad
Pan Roasted Green Beans and Chicken
Chicken with Artichokes, Capers, and Olives
Honey Orange Chicken
Chicken and Lemon Broccoli Alfredo
Chicken Roulade Cutlets
Spatchcock Rosemary Chicken
Cilantro Lime Chicken
Thai Basil Chicken Salad
Chicken Satay
Chicken and Squash Casserole
Greek Avgolemono Chicken Soup
Sage Sauce Roasted Chicken
Chicken Mushroom Burger
Sesame Ginger Chicken Legs
Cream of Broccoli Chicken Smear
Thyme Baked Chicken Pieces
Chinese Chicken Salad
Crockpot Poached Chicken Breasts
Chicken Adobo
Chicken Ala Coconut
Chicken Breakfast Sausage
Chicken Meatloaf
Golden Milk Chicken
Italian Grilled Chicken Breasts
Chicken Mushroom Crepes
Chicken Tacos
Red Chicken Chili
White Chicken Chili
Chicken Tarragon
Sunday Chicken
the Chicken and the Egg
Breakfast Chicken Fritatta
Leannes Chicken Salad with Fruit
Get the rest of my gluten and dairy free chicken recipes from the cookbook,52 Low Carb Healthy Tasty Chicken Recipes: Gluten Free Dairy Free Soy Free Nightshade Free Grain Free Unprocessed, Low Carb, Healthy Ingredients.
Available on kindle or in paperback on Amazon.
Becoming a certified weight loss counselor started an interest in healthy food choices and a healthy lifestyle that continues today. Taking care of one's self is even more important when facing daily challenges. My hope is to motivate you to "Crave a Healthy Life."
Paula C. Henderson
recipe