Lettuce Eat Our Greens
Bored with salads?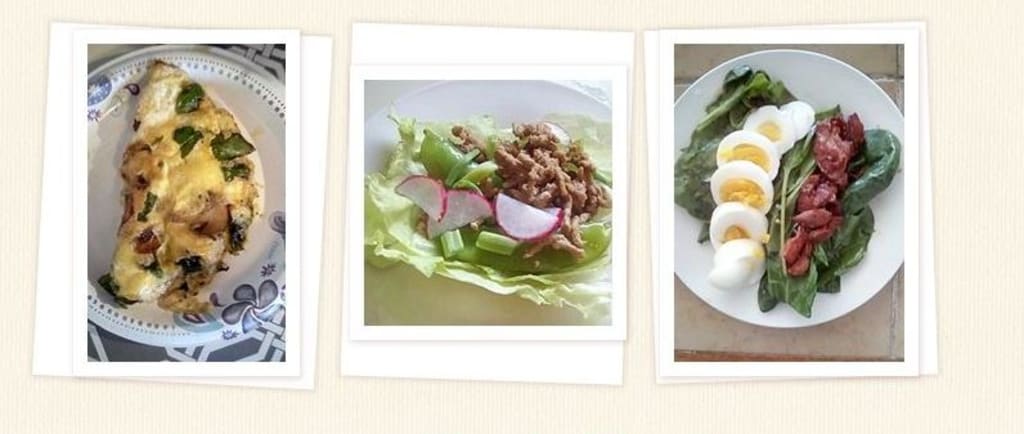 That's right. Lettuce. Leafy greens. Not just salads either. Green leafy vegetables aren't just gaining in popularity with the re-discovered backyard gardens or the popularity of container gardening on the patio. We are finding out just how nutritious and vital they really are to our overall health.
Are you thinking just salads? You're wrong! Salads are great, don't get me wrong, but what about a sauté? How about creamy soup? Have you tried a lettuce cup or a lettuce bun? Did you know you can make sauces and dips out of your lettuce? Hot and cold?
Lettuce and all leafy greens are naturally low in sodium and a low carb food while offering great health benefits. Lettuce is:
Dairy-free
Grain-free
Gluten-free
Soy-free
Nightshade-free
Remember when lettuce got a bad "wrap" :) because it was "mostly water"? Not anymore! It is true that lettuce is over 90 percent water but that is great news. Water is more easily absorbed by the body when received by foods that have a high water content. I find these foods especially refreshing in the morning and any time of day during the hot summers.
Lettuce and other greens, whether eaten raw or slightly cooked, offer a multitude of vitamins and minerals that your body needs. Lettuce contains protein, Vitamin B's, Vitamin C, folate, zinc, and potassium just to name a few. All greens, including all lettuce varieties, are also low carb foods which makes them weight management friendly.
Choose any of your favorite go-to health sites and they will tell you greens are known to be anti-inflammatory, can lower cholesterol, and may even help you sleep better. The next time you are at your local grocery store, I hope you will check out the different lettuce varieties offered, as well as the wide variety of other leafy greens like cilantro, parsley, swiss chard, spinach, and more. Look up some recipes and start incorporating these affordable but healthy foods into your regular diet.
When asked, the biggest drawback people seem to have is that their lettuce and fresh greens go bad and they feel like they are wasting money. I wanted to offer some tips to help you feel more confident in purchasing fresh produce:
My number one tip is that you actually eat them within the first five days of purchase. When you do that they will not go bad. I don't mean that to come off as snarky, but just as a matter of fact. Eaten greens cannot go bad. Greens will stay fresh for a full week. Some longer depending on how you store them.
Don't get overzealous at the store! Sometimes, when we make the decision to start eating healthier, we can get a little too overzealous. Do not buy more than you can eat in the next seven days.
Plan meals that include greens BEFORE you buy them. Then, stick to your menu!
Keep a list of all your fresh produce on the front of your refrigerator. I like to list my inventory in one column, then in another column write out menu (recipes) ideas next to them. I created a workbook to help you do just that. It is available on Amazon, or you can just use a blank piece of paper.
Keep your greens dry! Moisture is the enemy. Moisture and air. When you get home from the store with your greens place them in either an airtight container or a Ziploc bag, making sure all the air is out. Don't wash your greens before storing. Store them dry. Wait until you are ready to prepare and eat them to wash them and then, only wash what you will be serving. If your greens are wet when you get home because of the produce sprayers, simply spread them out and blot them dry with a paper towel. Lettuce spinners work great for drying your leaves as well and you don't waste paper towels. Here's the one I use at home: Oxo Good Grip Salad Spinner and by the reviews, there are thousands of others using it too! By the way, this one is BPA free. Don't leave your greens out on the counter too long or they will go limp. Oxo also makes a lettuce keeper.
I have found that by following these simple rules my greens will last up to two full weeks. Even a head of iceberg lettuce, romaine, and spinach!
As an extra tip, I find my celery last the longest when kept dry and wrapped tightly in aluminum foil. Or you can try some marketplace products especially for celery storage like this one: Click here.
Last year, I wrote a book of lettuce (and greens) recipes called Lettuce Amaze You. It is full of recipes but I also included a list of various lettuce's and greens, their taste profile (bitter, sweet, crisp, tender) and general ways they are used.
There are many ways to include lettuce and other greens into your meals. Next time you serve tacos, also place some crisp lettuce leaves on the table and try putting your taco meat in the cup of the lettuce rather than a taco shell. I find the crisp firm leaves of iceberg lettuce works best for this. To get the best results for a lettuce cup or even a lettuce bun for your hamburger;
Cut your head of lettuce in half then peel the layers of leaves carefully. The outer leaves are generally thinner than those closer to the core. Those are great for making wraps and roll-ups. Sometimes you may want to layer two or more leaves depending on what you will be using them for.
Add a bit of chopped spinach to your scrambled eggs. Sear romaine hearts on your inside or outside grill! Cut your romaine heart in half lengthwise, drizzle with some oil, salt, and pepper, and then grill just long enough to get a nice set of grill marks. You can also do this in a skillet or in your oven.
Chopped romaine is wonderful when lightly stir-fried with a bit of balsamic vinegar, salt, and pepper. Also delicious when chopped and added to soup just before serving.
I like to add wedges of iceberg lettuce to the table when having a meal that is rich and savory. It's also a nice snack after work if I am starving but supper is still 30-60 minutes away.
When you are serving a vegetable tray with veggies and dip include the small, beautiful romaine hearts at the center. Start peeling away the outer leaves of a romaine heart until you get to the smaller ones that are perfect for your vegetable platter for dipping. Check out some condiment servers and porcelain vegetable trays!
Here are just a few of the recipes you will find in the book:
Tartar Sauce (Eggless, Dairy-Free, Gluten-Free, Soy-Free, and Nightshade-Free)
BLP (basic lettuce puree)
Chopped/diced dill pickle
A small amount of finely diced white onion
Minced anchovy (optional)
Lemon juice
Mix all together. Taste. Add salt if needed. Best when refrigerated for several hours. This will not be as thick and goopy as tartar sauce. But the taste will be there.
Green Garlicky Salad Dressing
2 cups Iceberg lettuce
3 garlic cloves
Oil
Salt and pepper
Apple cider vinegar or Lime Juice
Put chopped lettuce, and garlic in a blender with one tablespoon water.
Use pulse to get the lettuce started adding a little bit of oil at a time until the consistency you want. Add Vinegar to taste. This is also good with a small chopped scallion.
Best after chilling in the refrigerator for at least an hour.
Lettuce Soup
2 T. Oil
1 T diced onion
2 chopped garlic cloves
1 T chopped parsley or cilantro
1 Iceberg head of lettuce or Romaine
3 cups good chicken stock
Salt and pepper to taste
Combine chicken stock, garlic cloves, salt, and lettuce to blender or food processor. Blend till a rustic consistency or until smooth; whatever your preference. Allow to sit while you sauté the onion. In a saucepan, add two tablespoons oil, add two tablespoons diced onion.
Sauté onion till onion is translucent. Transfer soup from blender to saucepan and heat through. Allow to simmer on low for about 15 minutes.
Variations:
You could add cooked diced cauliflower (or frozen chopped up to diced size) when you add the chives.
This also makes a great sauce for chicken or pork chops.
Mock Mayo
2 cups chopped iceberg lettuce
½ cup chopped cucumber
Oil, salt, and pepper
Apple cider vinegar to taste
Place lettuce, cucumber, and oil in a blender. I suggest starting with two tablespoons of oil. Blend until a consistency of mayo or dip. Add enough oil to that consistency as well. Add salt and pepper to taste.
TIP: Start with the oil and cucumber. Blend. Add lettuce a little at a time. Then the vinegar last.
A nice mayo, spread or you could use as a slaw dressing.
Just a note on storing dips, sauces, and even leftovers: use glass whenever possible. Gone are the days of saving those plastic butter containers! Instead, save your jars, wash and remove the labels and use those. Jars come in all sorts of shapes and sizes for your every need. Also be sure to buy a good set of glass storage containers too. Here are a few to look at and purchase online or in your local area stores. Click here!
Artichoke Lettuce Hummus
Iceberg lettuce – ¼ cup
Artichoke hearts: one can; drained
Oil, salt, and pepper
Roasted garlic
Onion Powder (optional)
Place the drained artichokes, lettuce, oil, garlic, salt and pepper in the blender. Blend until smooth.
Best after chilled.
Lettuce Slaw
Perfect for those avoiding raw cruciferous!
Slice thin strips of Romaine lettuce or Iceberg. (Use a crisp lettuce)
Shred one carrot
Toss vegetables with
Mayo
Apple cider vinegar (get the raw, unfiltered with the mother like this one)
Salt and pepper and any other seasonings you would normally put in your slaw.
Or your favorite slaw dressing.
Try it! Most people can't tell the difference. Great on fish tacos. Also, a nice slaw to go on hot dogs or with grilled steak. Try it with leftover roast beef on a sandwich!
Basic Lettuce Puree
Ingredients:
1 cup chopped Iceberg lettuce
3-4 tablespoons oil
Salt and pepper
Blend together. Great to eat right away as a sandwich spread or salad dressing but gets even better when put in the refrigerator for at least an hour. (This is my favorite low-cost blender!
TIP: When working with lettuce in the blender always put your liquid in first and add the lettuce in a little at a time.
This is a very versatile basic starter puree that you can make from iceberg lettuce that is getting wilt-ee or starting to turn brown. Use all green and white parts. All but the very core.
As you look through the recipes in this book you will see many include the Basic Lettuce Puree.
In theory, you can use any lettuce you have on hand. Depending on which lettuce variety you choose will depend on the flavor you end up with. I recommend Iceberg as it is one of the sweeter tasting lettuce varieties when pureed. But you could, of course, use Romaine for a more bitter taste.
Author of Lettuce Amaze You, 52 Low Carb Healthy Tasty Chicken Recipes: Gluten Free Dairy Free Soy Free Nightshade Free Grain Free Unprocessed, Low Carb and The Companion Workbook.