Food Tour of Europe
Some of the most popular European dishes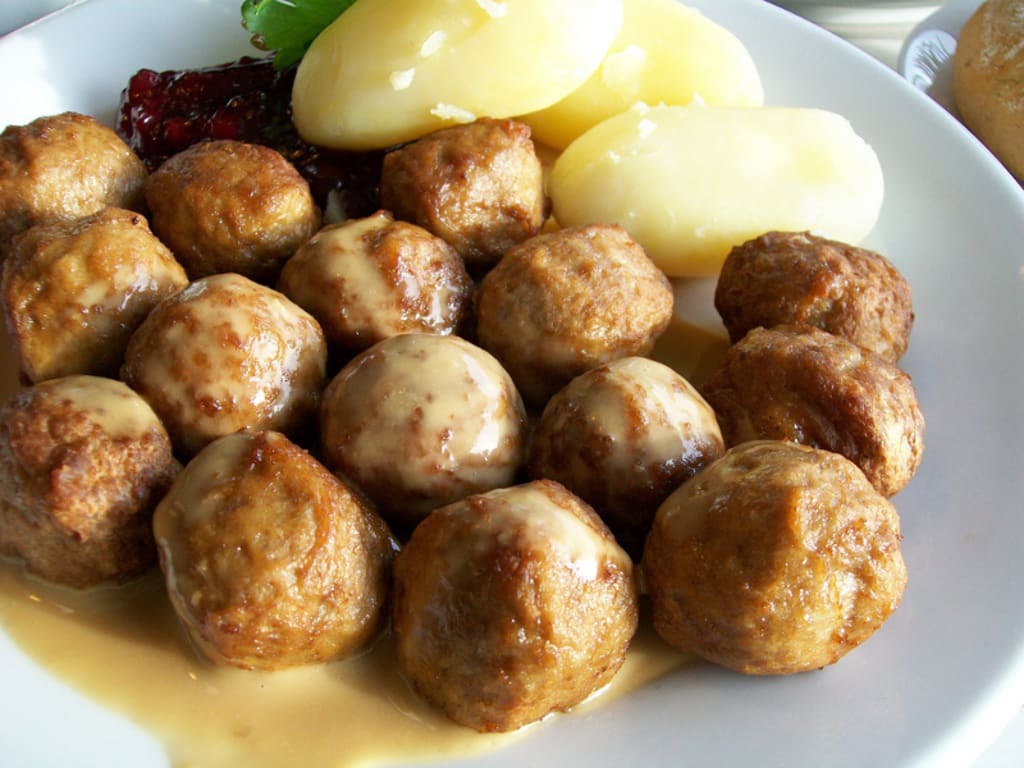 Sweden
Kottbullar are popular Swedish meatballs. They are prepared with ground beef or a mix with pork or veal. Then seasoned with onions, salt, pepper, and allspice. They are shaped into small, round meatballs and browned in hot butter. The dish is accompanied by lingonberry sauce, mashed potatoes, and thick gravy on the side.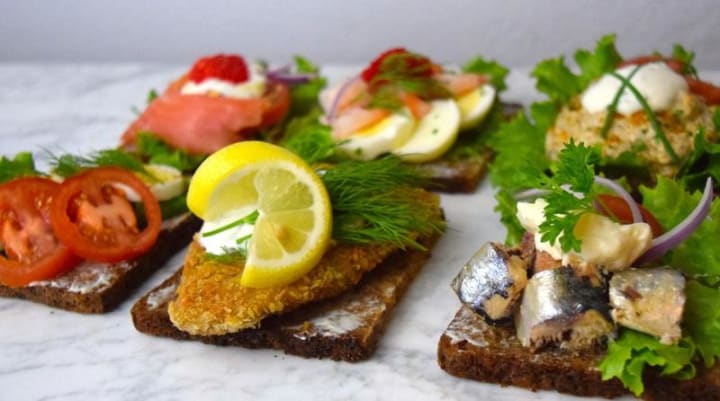 Denmark
Smorrebrod is a traditional open-faced sandwich. It is prepared with buttered rye bread and topped with various ingredients. The toppings can include cold cuts of meat, cheese, spreads, meatballs, caviar, and condiments like mayonnaise.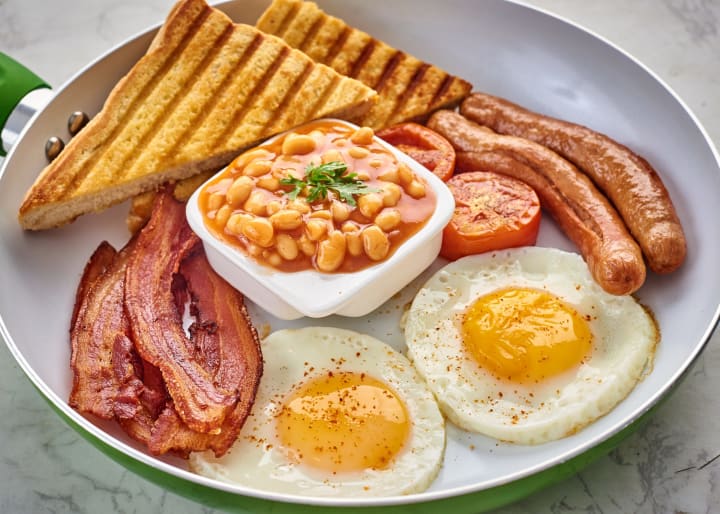 England
An English breakfast is also referred to as a full breakfast. It is a traditional British dish that consists of sausages, bacon, baked beans, tomatoes, crispy fried bread, and two or three over-easy eggs.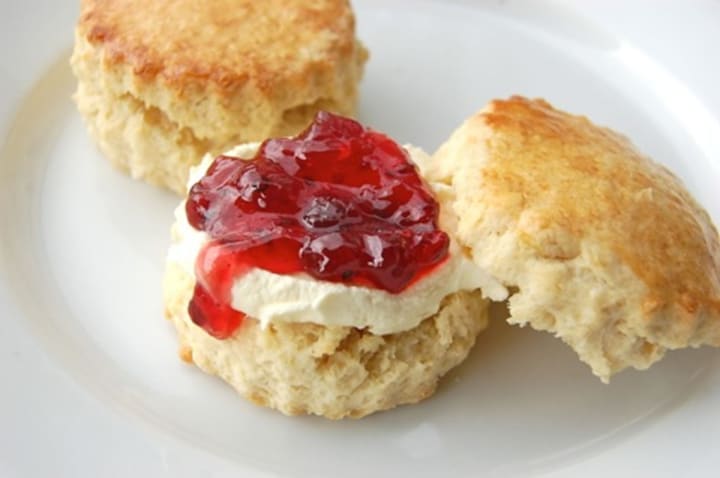 Scones are quick breads formed into various shapes like squares, diamonds, or triangles and baked in the oven. They're prepared with wheat flour, baking powder or soda, butter, milk, sugar, and eggs. These can be sweet or savory and eaten for breakfast or served with afternoon tea.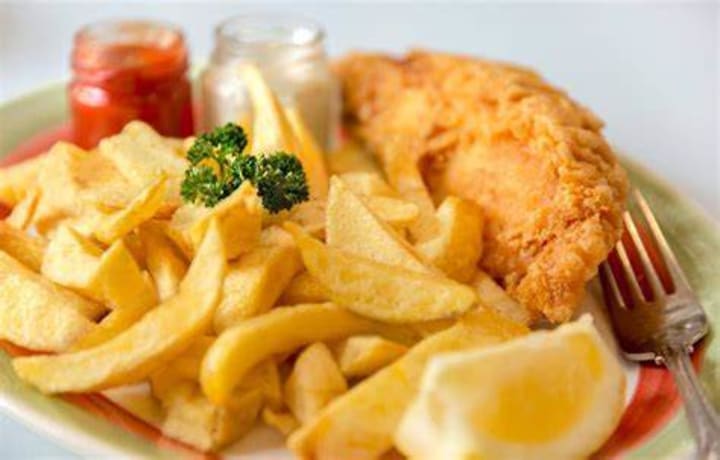 Fish and chips is a popular national dish. It consists of a fried white fish filet and large, sliced and fried potatoes. The most common fish filets used are cod, haddock, and flounder. The filets are dipped in a batter made with eggs, milk, and flour. Then they're fried in oil, lard, or beef drippings along with the potatoes.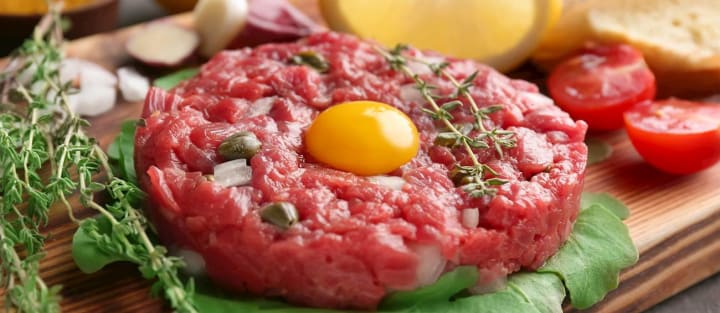 France
Steak tartare is an appetizer that is prepared with finely chopped raw beef and seasoned with salt, pepper. Worcestershire sauce, and Tabasco or mustard. The meat is combined with a raw egg yolk, capers, onions, parsley, and chopped gherkins. It is served with toasted bread, rye bread, or French fries.
Profiteroles are chocolate-covered puff pastries filled with whipped cream, custard, pastry cream, or vanilla ice cream.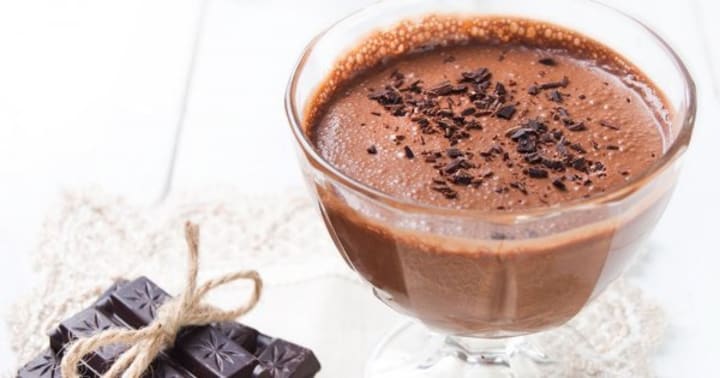 Mousse au chocolate is a classic French dessert. It is prepared with dark chocolate, eggs, butter, sugar, and salt. It is decorated with flakes or chunks of chocolate on top.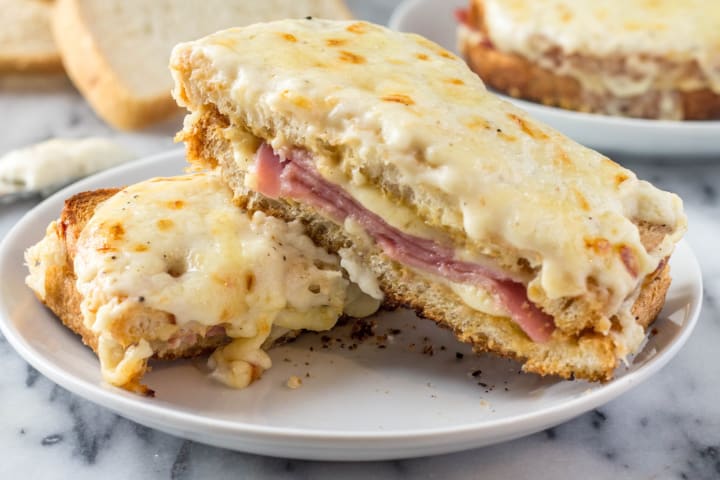 Croque-monsieur is a classic hot sandwich. It is made with a thin slice of ham and melted cheese between two pieces of sliced bread. To be authentic the cheese has to be Gruyere (mixed with bechamel to get Mornay sauce) and the sandwich has to be sauteed in butter until crispy and golden brown.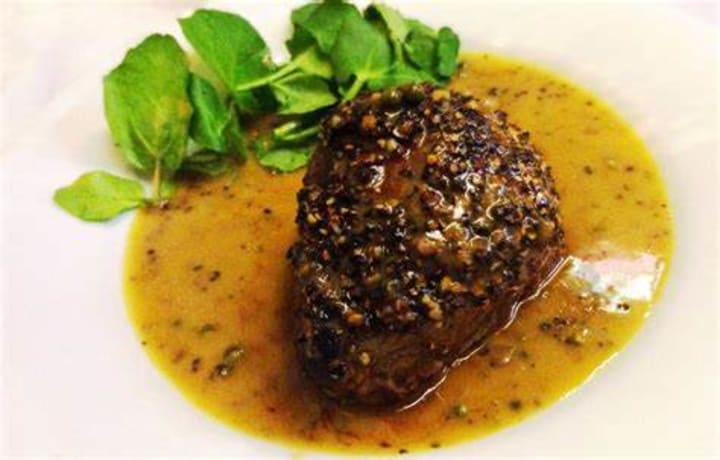 Steak au poivre is a dish that consists of beef steak coated with crushed peppercorns and fried, It is served with a sauce prepared in the same pan and accompanied by potatoes and a salad.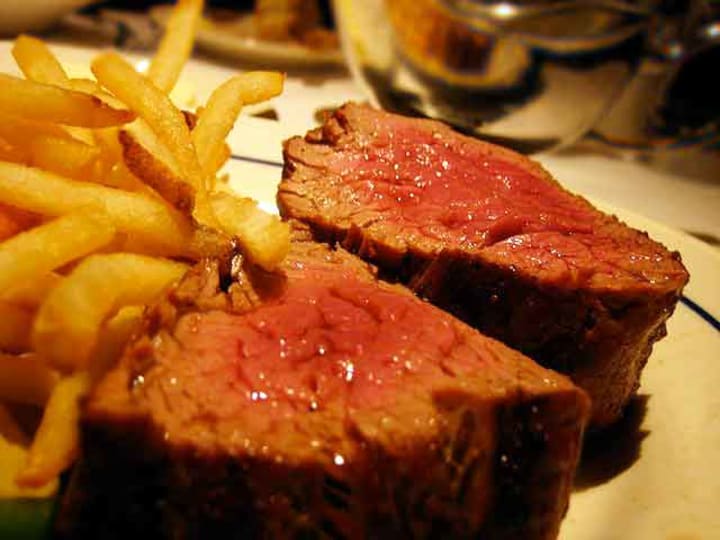 Chateaubriand is both a cut of beef and a method to roast or grill thick cuts of beef tenderloin. The beef is accompanied by either a traditional red wine sauce or Bernaise sauce. Roasted potatoes are served on the side.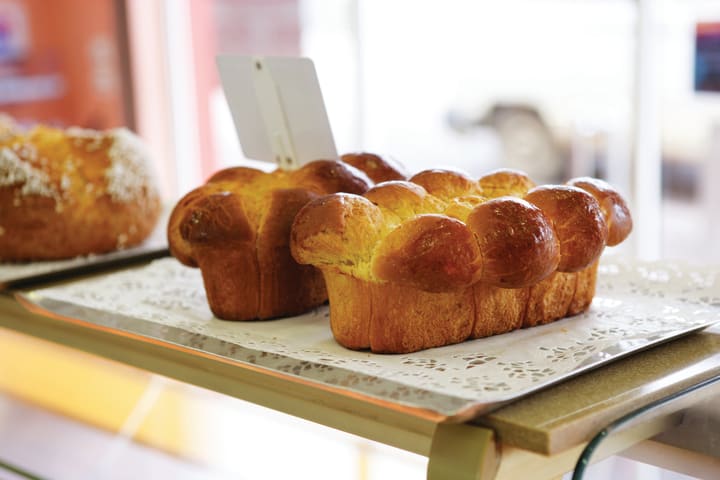 Brioche is a French specialty that is a cross between pastry and bread. It is soft and flaky and made with butter, milk, and eggs.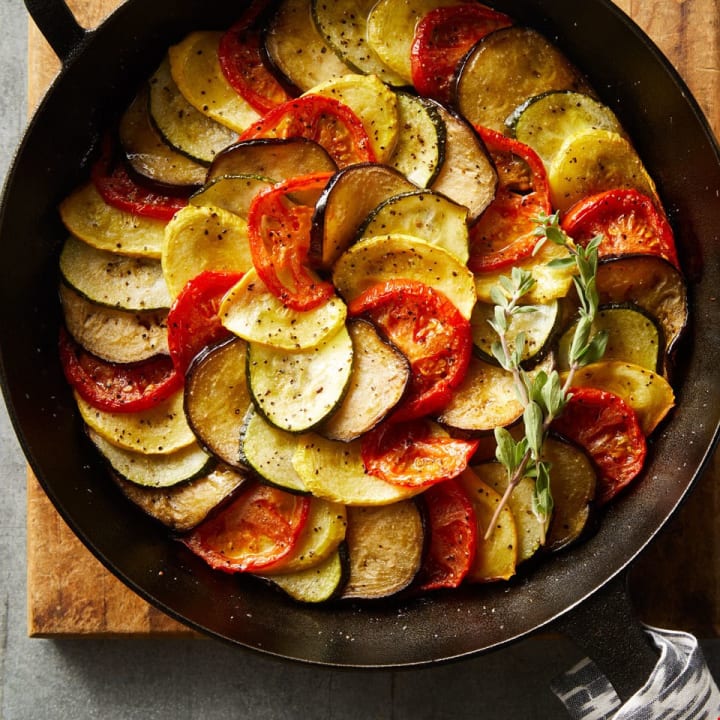 Ratatouille is a Provencal vegetable ragout. It is made with courgettes, eggplants, green and red peppers, tomatoes, onions, garlic, and parsley. The vegetables are seasoned with salt, pepper, and olive oil. The vegetables are prepared and sauteed in a pan, then layered in a baking dish, and baked until done.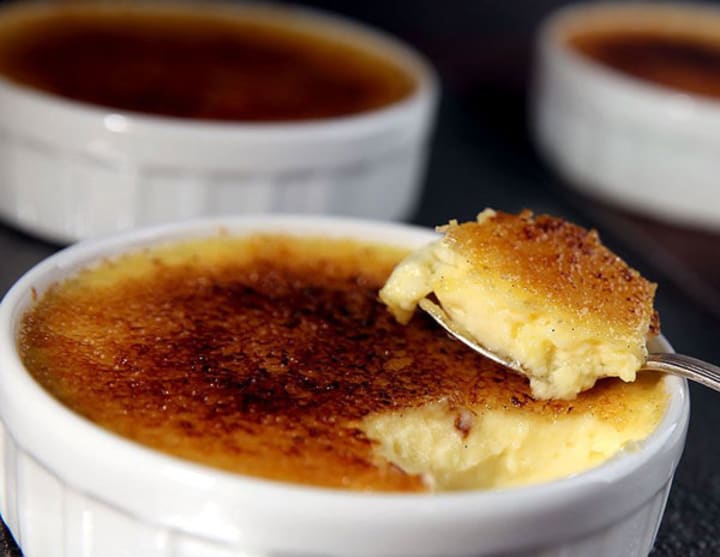 Crème brulee is a traditional egg custard dessert. It is made with egg yolks, cream, sugar, and vanilla. Each crème brulee is placed in a ramekin and poached. Then well-chilled. When served the custard is topped with brown sugar and caramelized under a broiler.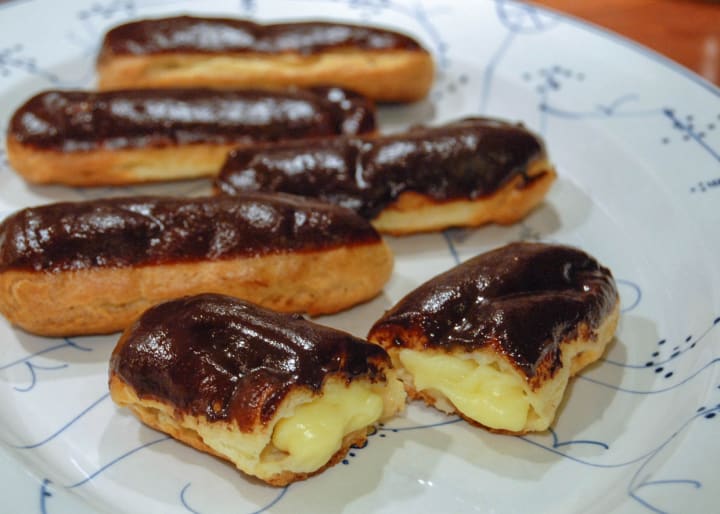 Eclairs are elongated pastries with a glaze on top, and a doughy interior with a sweet, creamy center.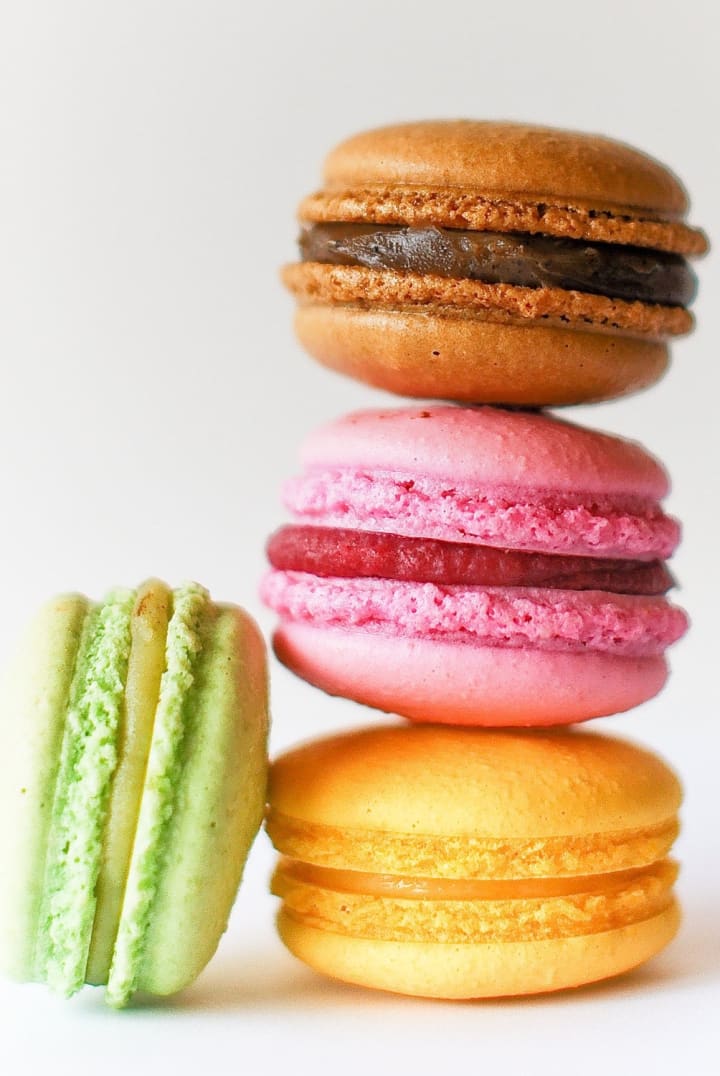 Macarons are most popular. These are small, round, sweet meringue-based cookie sandwiches. They are light and crunchy on the outside and chewy on the inside. They come in various colors. Two cookie halves are sandwiched together with a creamy ganache.
Quiche is a popular French pie. The quiche is made with a pastry crust filled with eggs, cream and a wide variety of ingredients from bacon to cheese, to leeks, to mushrooms, and seafood. It all depends on what kind of quiche you want to make. They can be served hot or cold and cut into slices.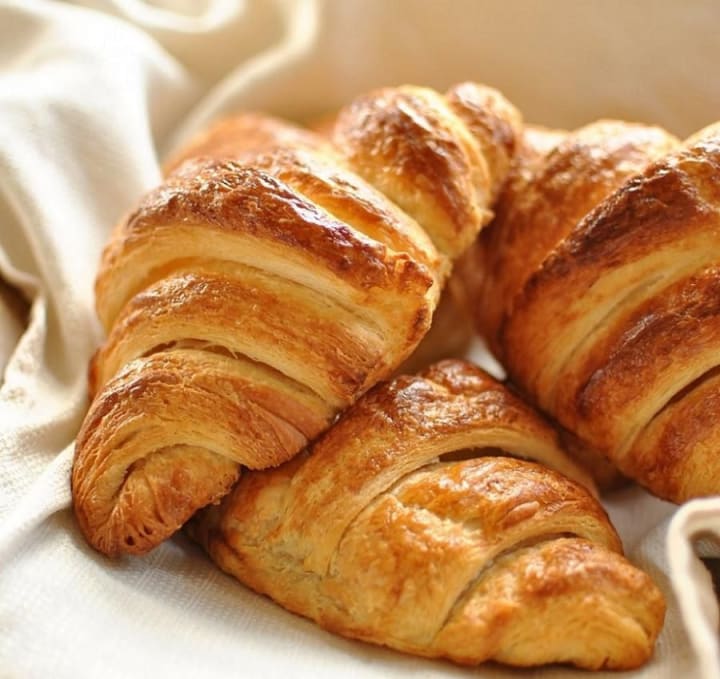 Croissants are flaky, golden-colored crescent-shaped pastries prepared with butter and a slightly sweet yeast dough. They can be eaten plain with butter or jam. They are also used to prepare sandwiches.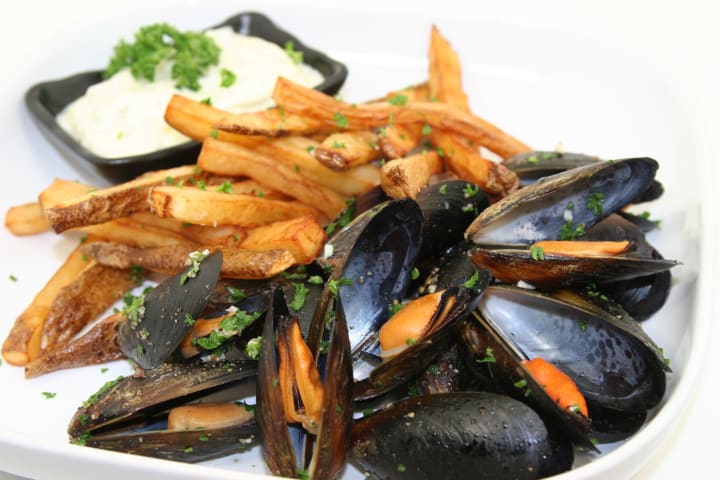 Belgium
Moules-frites is a traditional comfort food. It is made with steamed mussels and served with Belgian fries on the side.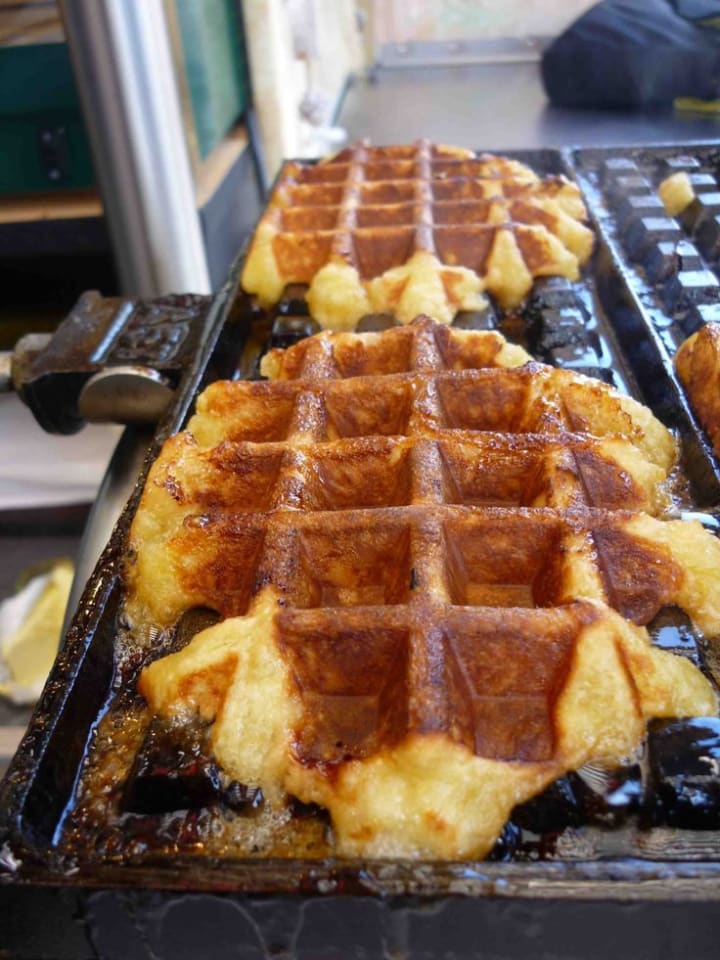 Gaufre are delicious waffles. They are prepared with a thick dough or thin batter and cooked in a waffle iron.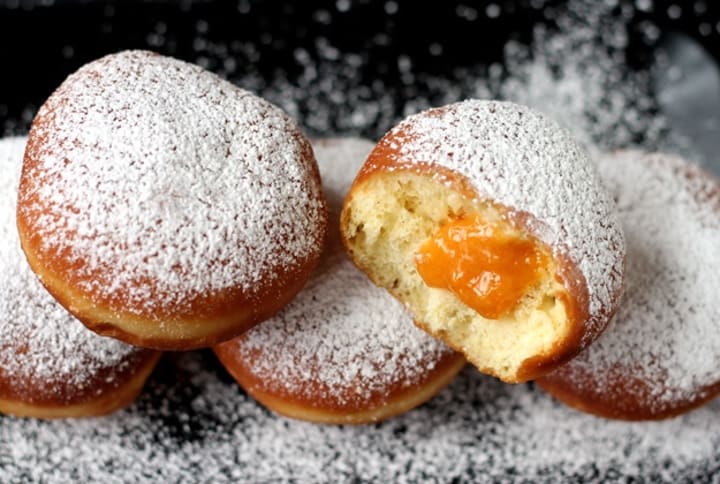 Austria
Krapfen are pastries prepared with leavened dough. They are deep-fried until golden and crispy on the outside and light and airy on the inside. They can be plain or filled with jam or chocolate or vanilla custards.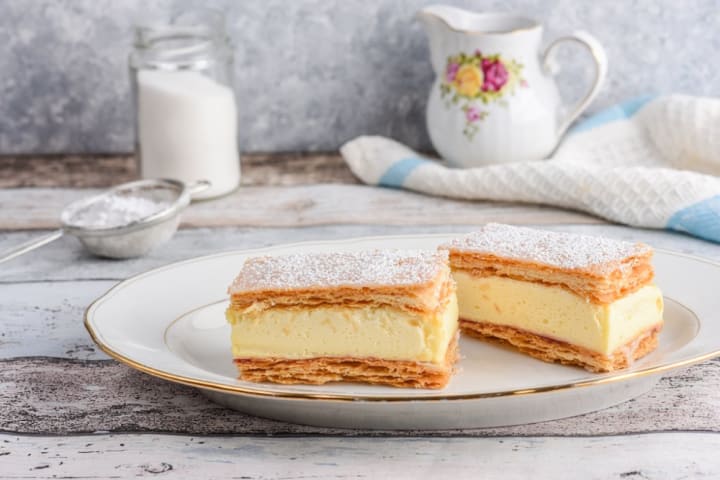 Cremeschnitte is a vanilla-flavored custard cream cake.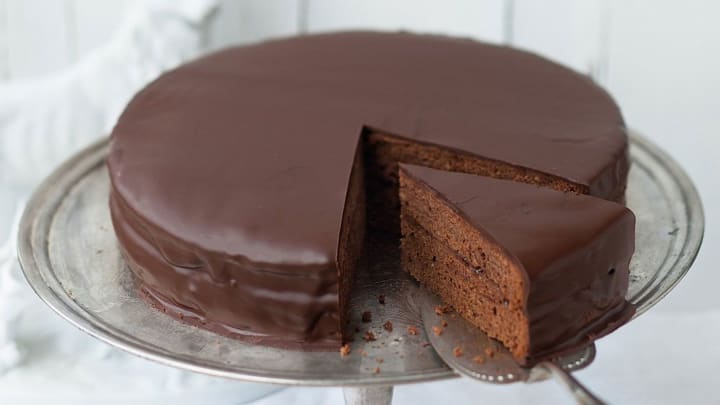 Sachertorte is the most famous Austrian cake. It consists of layered chocolate sponge cake, thinly coated with apricot jam, and topped with chocolate icing.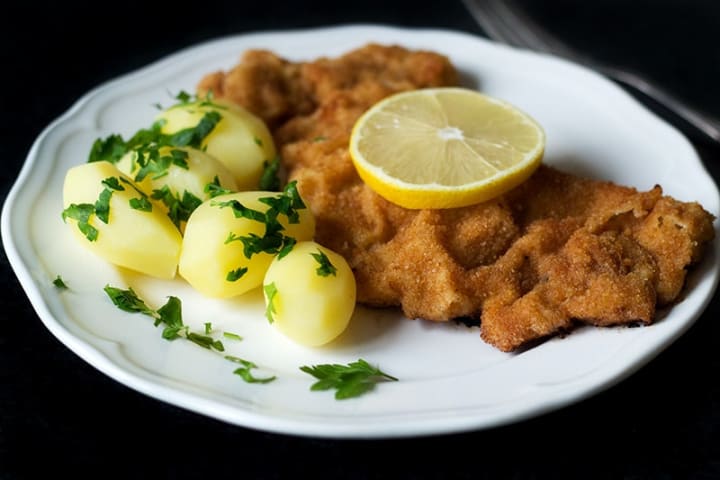 Wiener schnitzel is one of the best-known Austrian dishes. It is a thin veal cutlet, breaded and pan-fried. It is served with lingonberry jam, lemon wedges, and potatoes.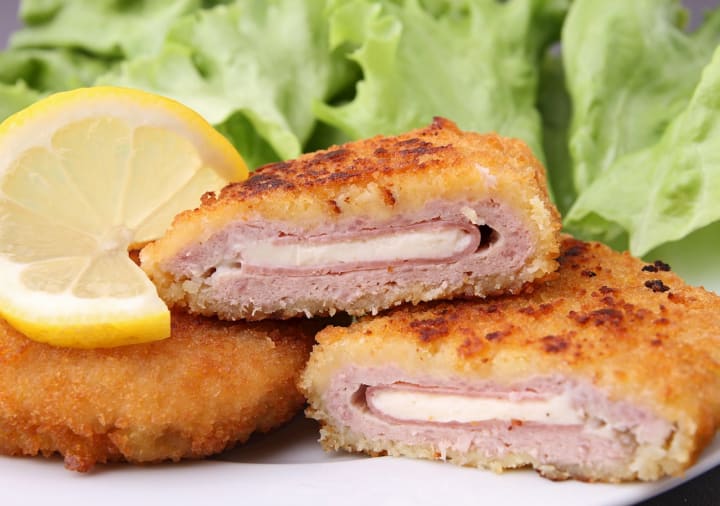 Switzerland
Cordon bleu is a well-known international dish with Swiss origins. It consists of two meat cutlets filled with a thin slice of ham and cheese between them. They are breaded and fried or baked in an oven.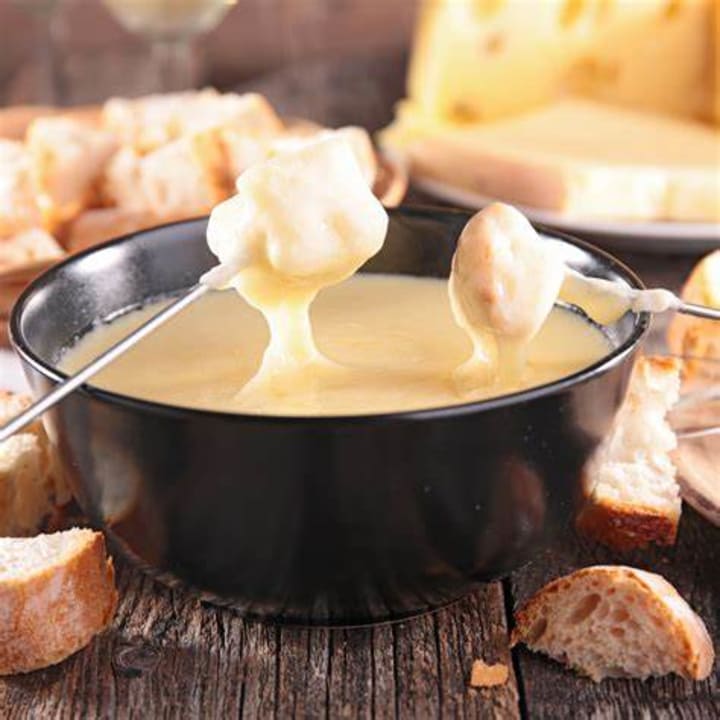 Fondue is Switzerland's national dish. The main ingredient is cheese that is melted over a fire with added ingredients like cherry brandy, white wine, or sprinkled nutmeg. Chunks of bread are dipped in the melted cheese and enjoyed.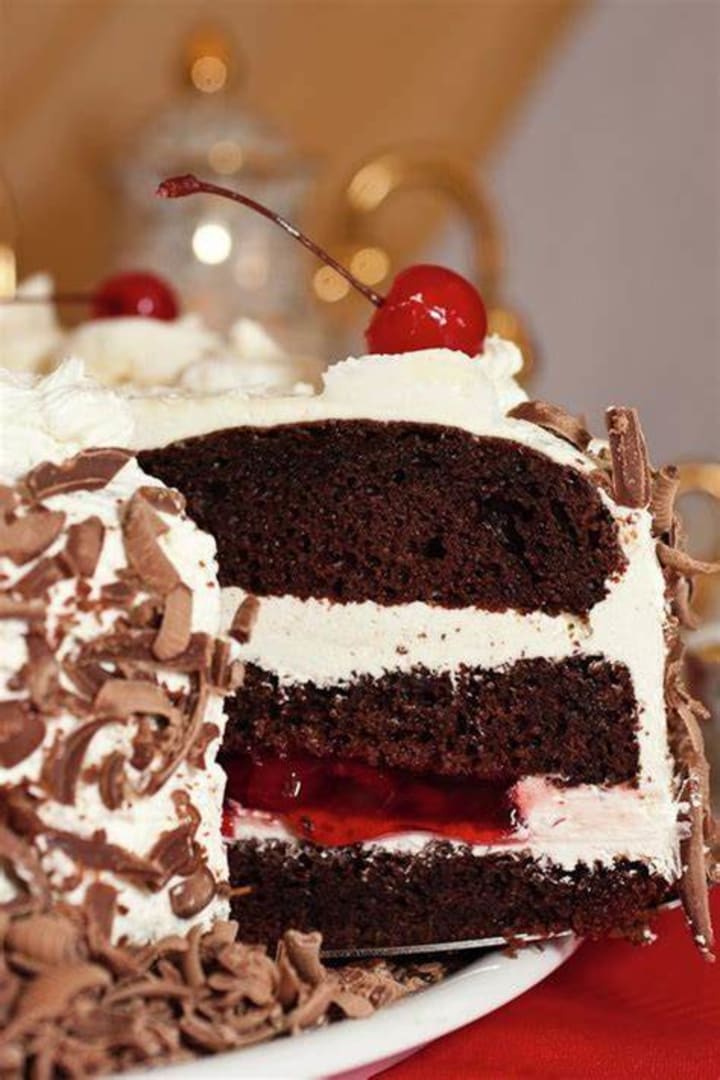 Germany
Black Forest cherry cake is a popular dessert. It is made with chocolate sponge cake coated in whipped cream and dotted with kirschwasser-infused cherries. The chocolate layers can also be soaked in kirschwasser brandy. After the cake is assembled it is decorated with whipped cream, chocolate shavings, and cherries.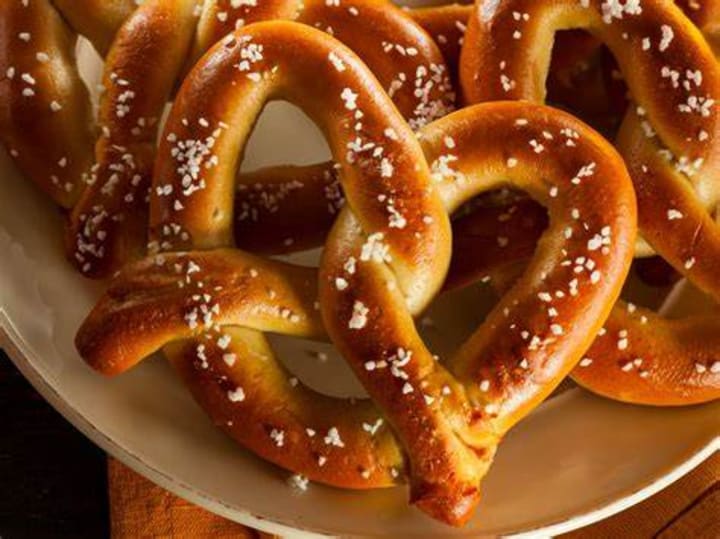 The pretzel is considered to be an iconic symbol of Germany. It is a traditional baked good that is prepared with flour, salt, malt, yeast, and water. It is shaped in the usual pretzel knotted shape and baked.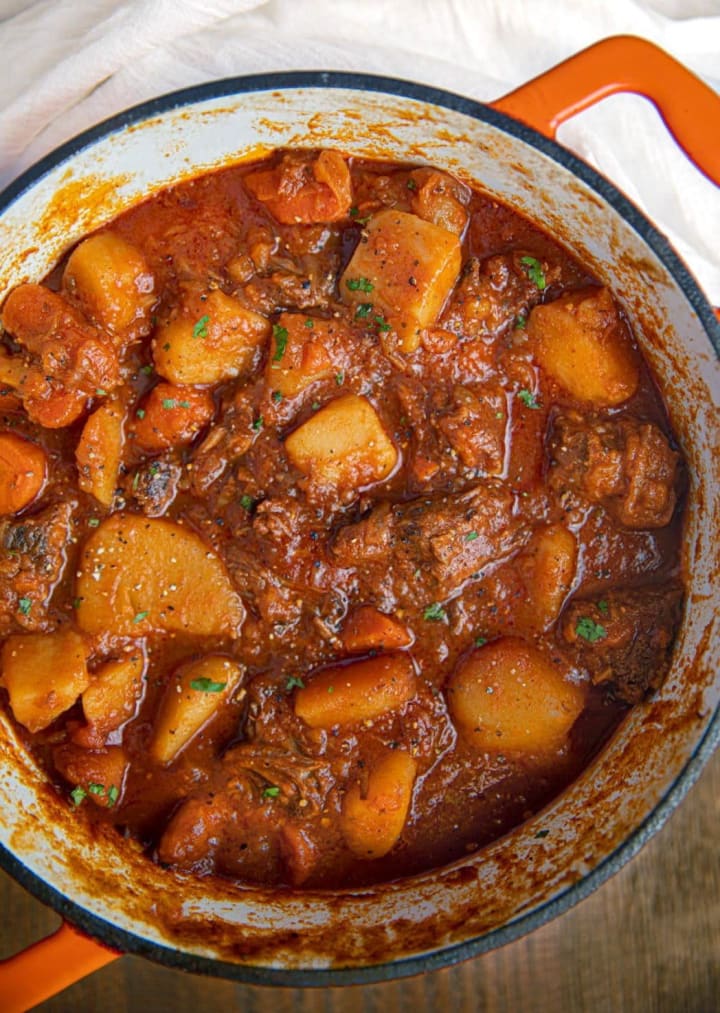 Hungary
Gulyas is a Hungarian specialty prepared with beef simmered in a rich paprika-infused broth with onions, bell peppers, root vegetables, tomatoes, and spices. It is served as a thick stew.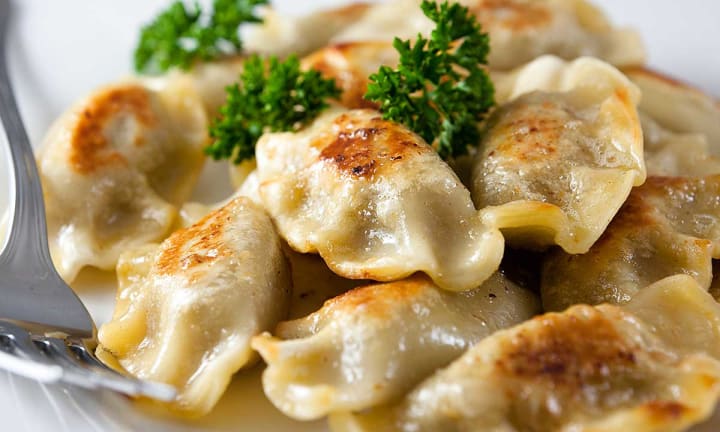 Poland
Pirogi are popular stuffed dumplings. They can be savory, sweet, or spicy. They can have a variety of fillings like cheese, onions, ground meat, mushrooms, potatoes, or sauerkraut. Sweet versions can include strawberries or blueberries.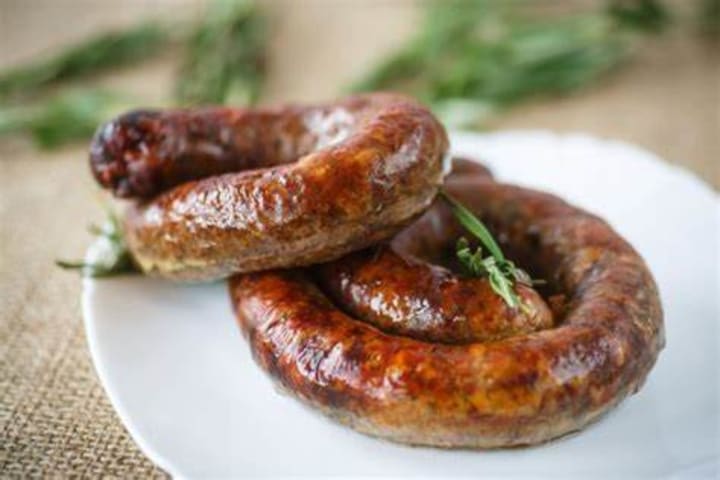 Bratwurst is a sausage that is considered a delicacy. They are usually eaten at breakfast but can be eaten at any other time during the day.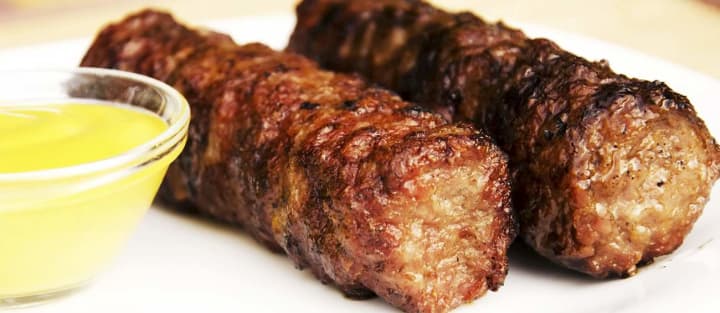 Romania
Mititei are grilled ground meat rolls. They are made with a combination of lamb, pork, and beef. Then they're seasoned with thyme, anise, black pepper, and garlic.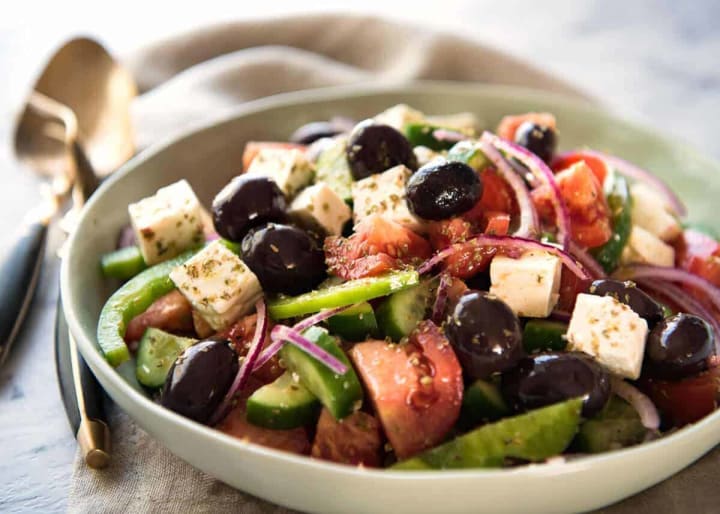 Greece
Greek salad is the national dish of Greece. It consists of tomatoes, red onions, and chunky slices of cucumber. Other ingredients can be included like olives, green peppers, feta cheese, oregano, salt, and pepper. The dressing is made with olive oil and lemon or vinegar. The feta cheese in the salad can be added sliced or crumbled.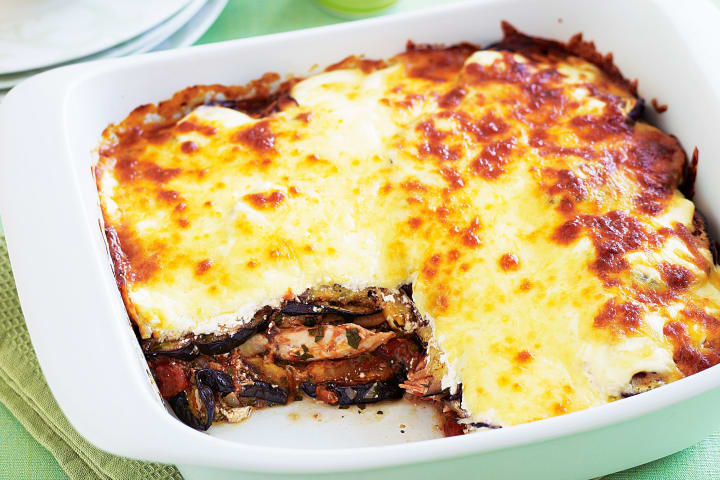 Moussaka is one of the best-known Greek dishes. It is a baked casserole that is made with ground lamb and layers of sliced eggplants, covered with a thick layer of bechamel sauce. Then baked until golden.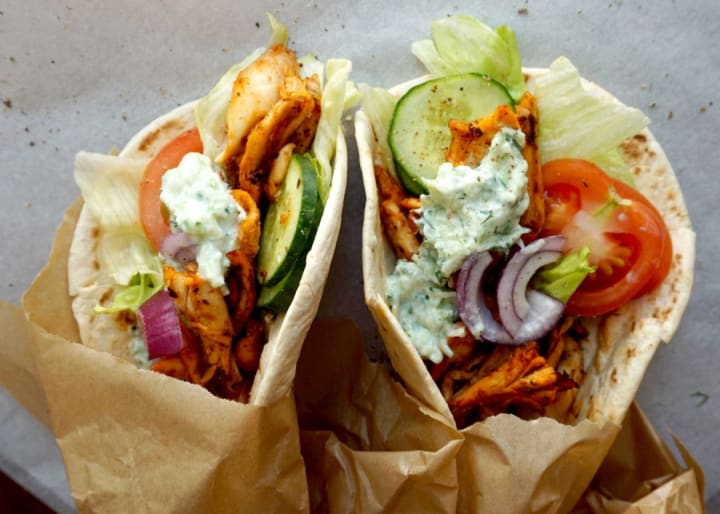 Gyros are a popular street food. They consist of meat like lamb or pork or chicken cooked on a vertical spit. Once done the meat is sliced in thin shavings and filled in pita bread with vegetables like tomatoes, onions, lettuce, and cucumber and a sauce like tzatziki.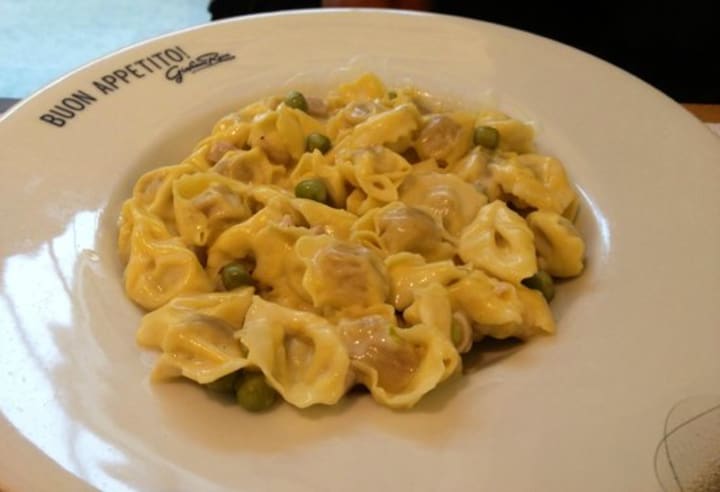 Italy
Tortellini are a variety of Italian stuffed pasta in various shapes. The tortellini are filled with different ingredients like meat and cheese. When served they are topped with Parmesan and a sauce that consists of butter and sage.
Pizza capricciosa can vary from region to region. The pizza can include ingredients like tomatoes, mozzarella, mushrooms, artichokes, ham, olives, and sliced hard-boiled eggs. Other places it is made with capers, sausages, and even anchovies.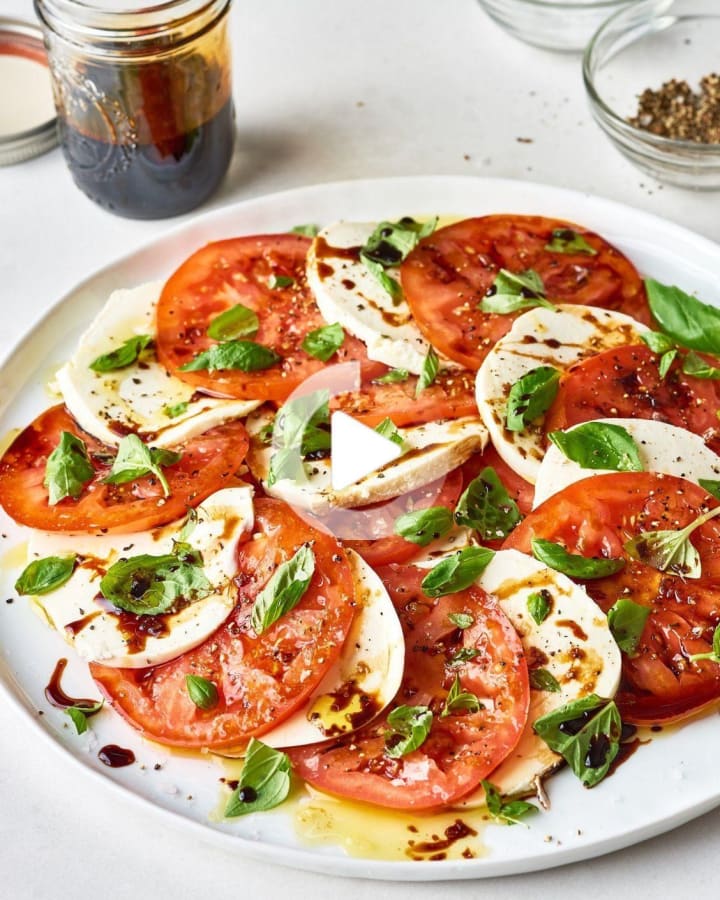 Caprese salad is a summer favorite in southern Italy. The salad is prepared with tomatoes, mozzarella, and fresh basil.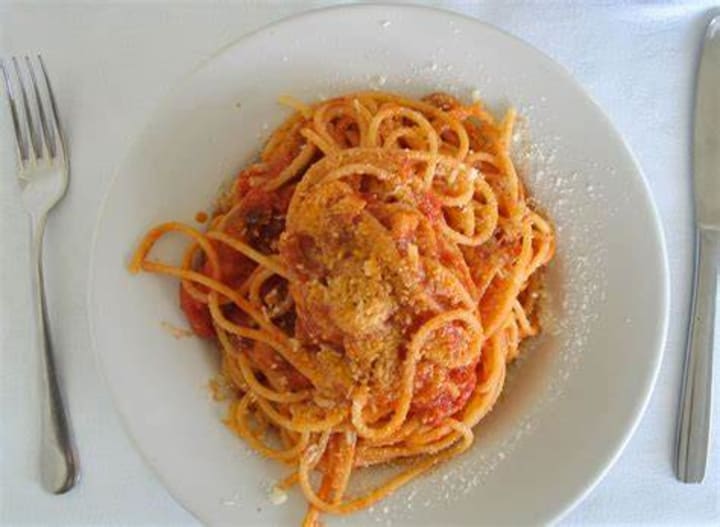 Amatriciana is named after the town of Amatrice in the Sabine Hills northeast of Rome. The dish is made with diced tomatoes, cured pork jowl and tossed with grated pecorino cheese.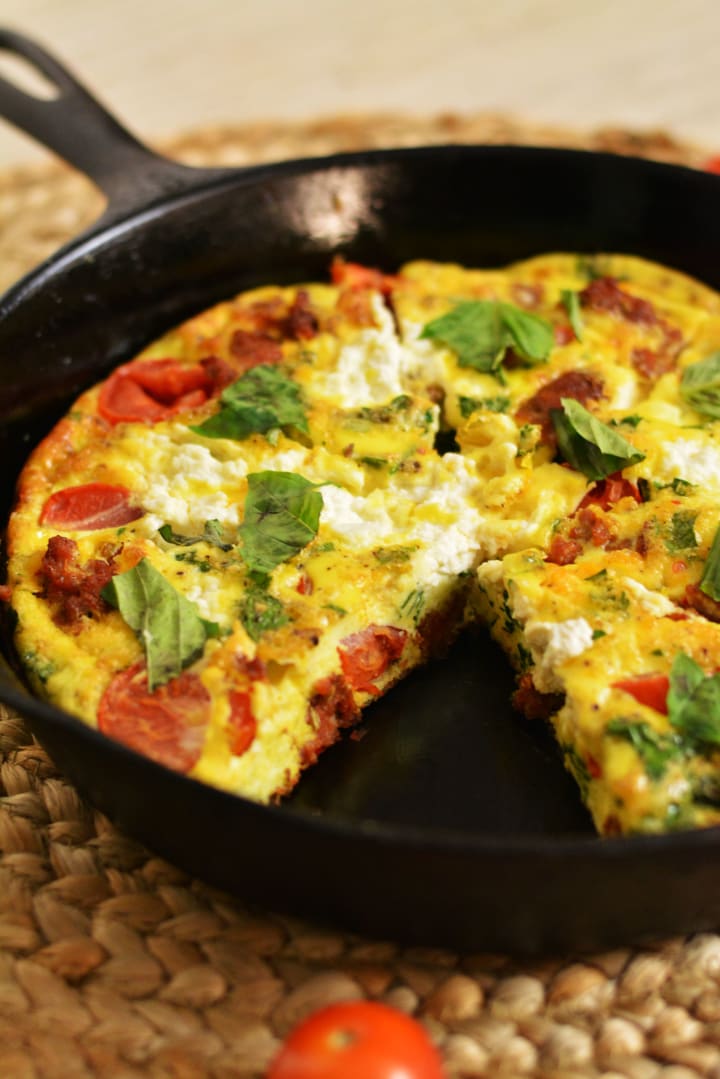 Frittata is a traditional egg-based dish. It is made with whisked eggs and ingredients like prosciutto, grated cheese, or sautéed onions. When poured on the pan the frittata must be moist but completely set. It is cooked in butter over low heat in a heavy-bottomed frying pan.
Spaghetti alle vongole is a traditional Neopolitan dish. It has two main ingredients – vongole clams and pasta. There are versions that include tomatoes.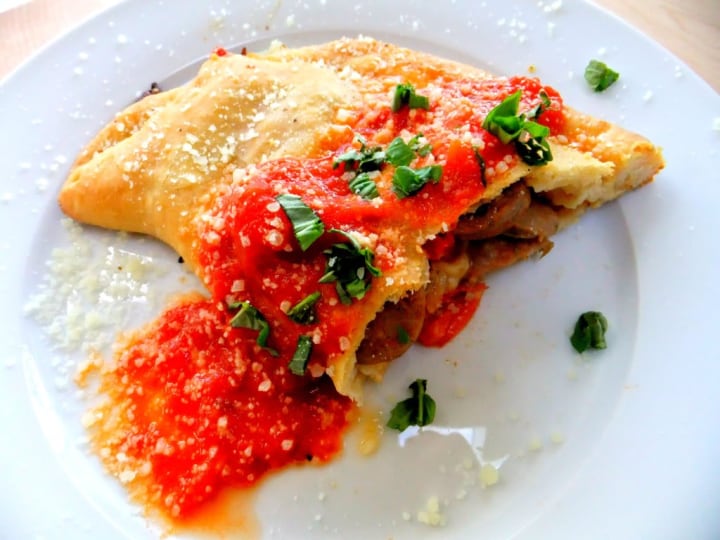 Calzone pizza has a half-round shape. Once prepared the calzone are filled with salami or ham and cheeses like mozzarella, ricotta, parmesan, and pecorino.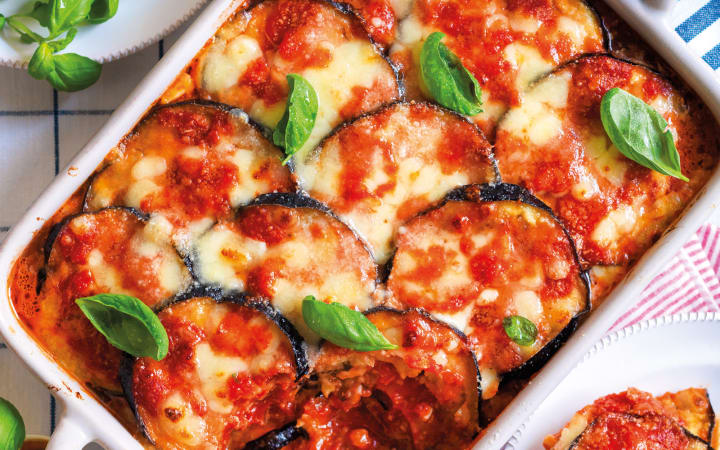 Parmigiana de melanzane is a gratinated vegetable casserole. Traditionally it is made with fried or grilled slices of eggplant layered with basil-flavored tomato sauce. It is topped with cheeses like mozzarella, pecorino, or others.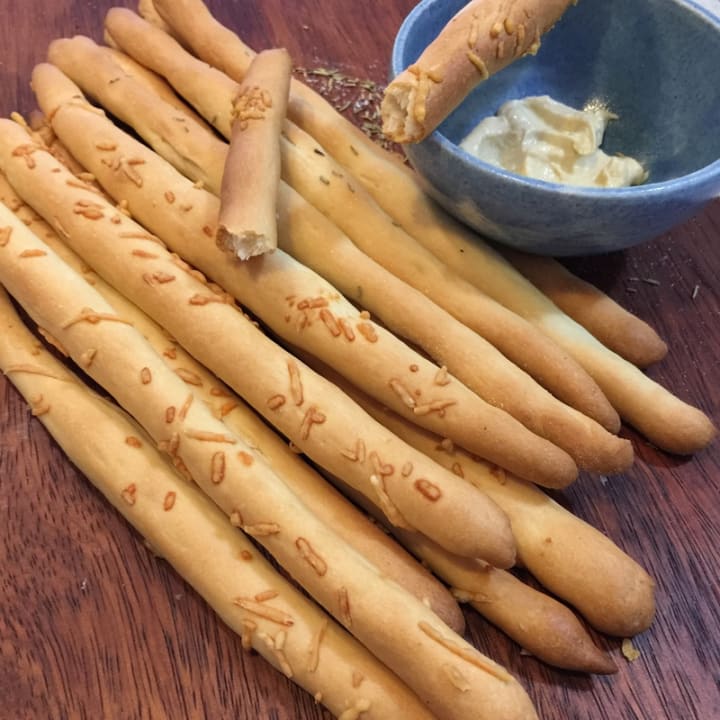 Grissini are traditional Italian breadsticks originating in Torino in northwestern Italy. The crispy, thin, dry bread is flavored with rosemary, sesame seeds, onions or Parmesan cheese.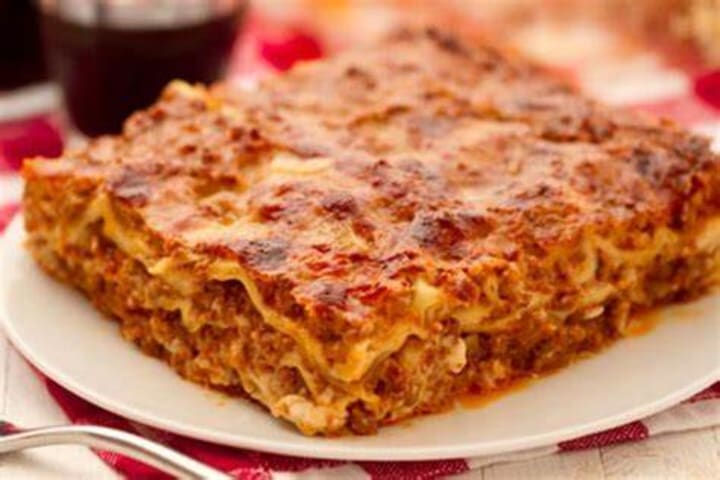 Lasagna alla Bolognese is prepared from layers of homemade spinach flavored fresh egg lasagna pasta. The pasta is topped with bechamel sauce and a rich meat sauce called ragu alla Bolognese. The lasagna is sprinkled with cheese and baked until tender and browned on top.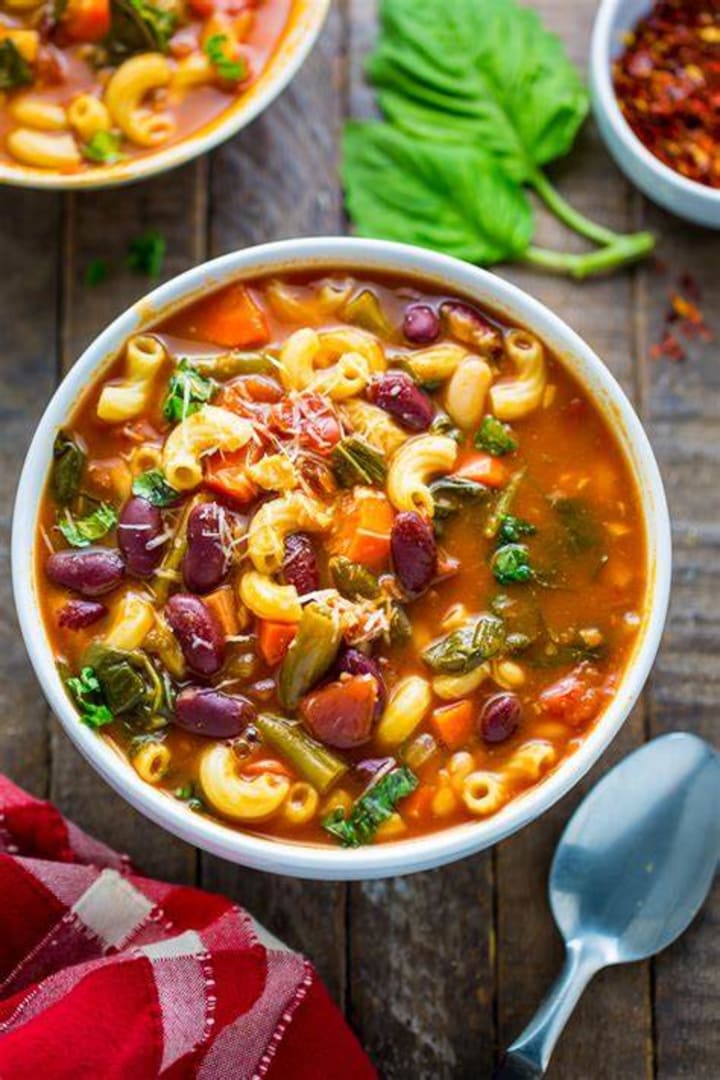 Minestrone is a thick and chunky soup. The usual ingredients include stock, onions, tomatoes, celery, carrots, and legumes. The pasta included should not become mushy.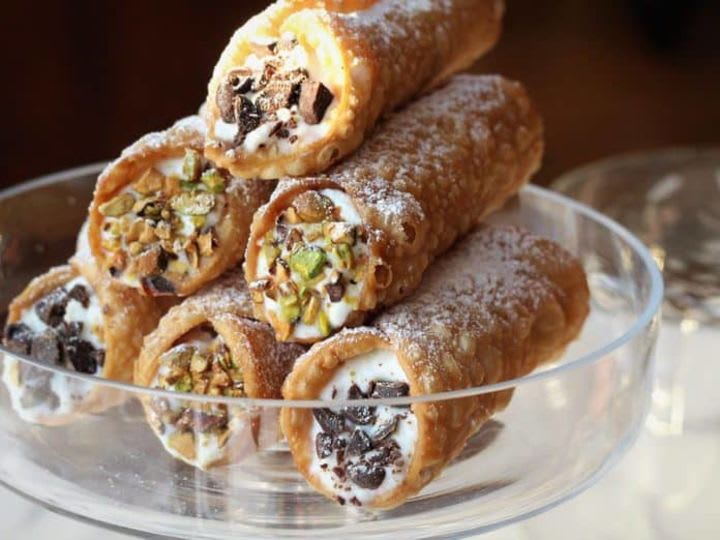 Cannoli are crispy fried pastry tubes filled with ricotta cheese cream.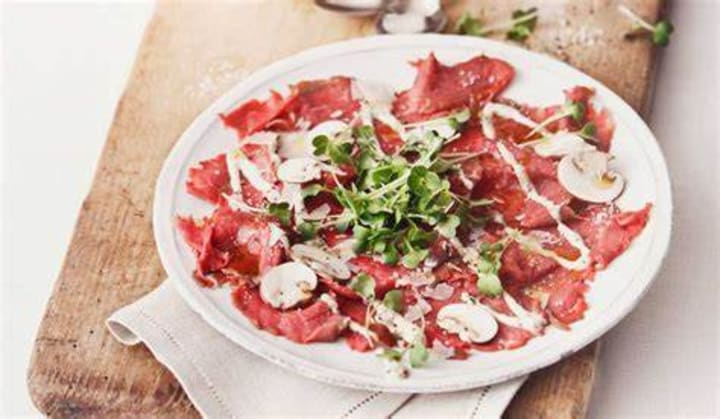 Carpaccio is a traditional dish served as an appetizer. It is made with very thin slices of raw meat or fish served on a plate with olive oil, cheese shavings, and lemon.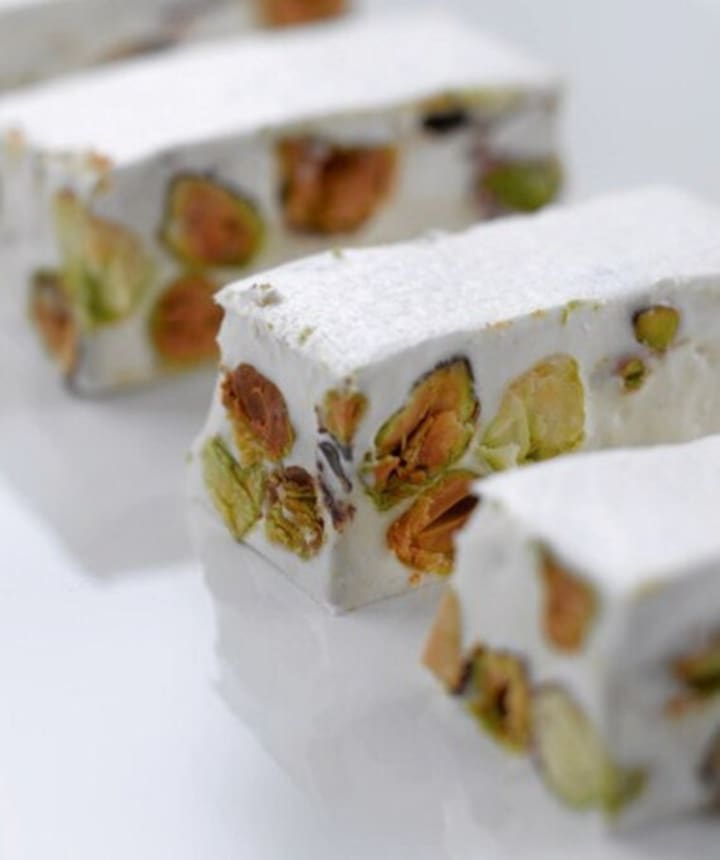 Nougat is one of the oldest kinds of confections. Each region has its own specific type. Nougats are made with whipped egg white mixed with roasted, chopped nuts like almonds, pistachios, walnuts, and hazelnuts. It is a sweet treat with a chewy consistency.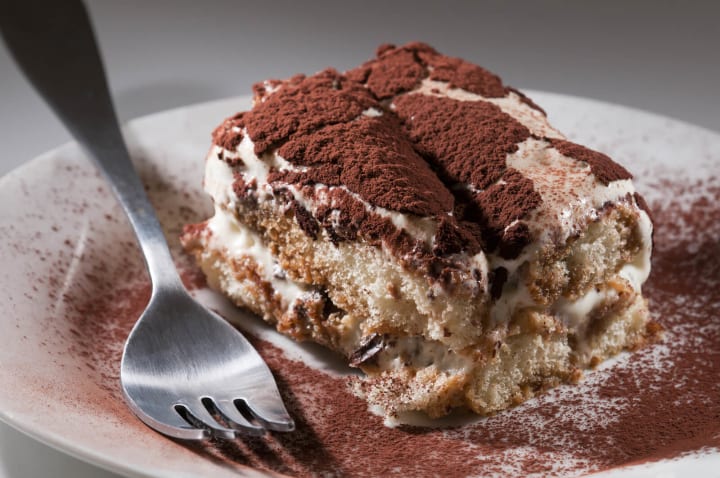 Tiramisu is a dessert that is prepared with coffee-soaked ladyfingers layered with mascarpone cream.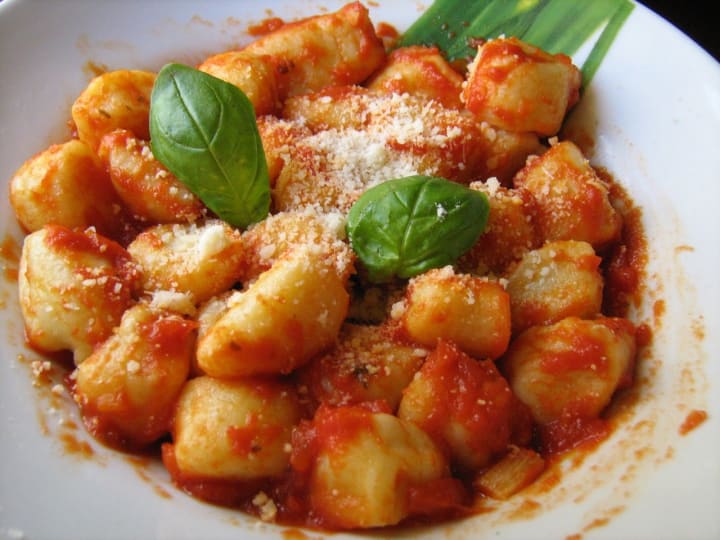 Gnocchi are traditional Italian dumplings. They're prepared with potato-based dough shaped into thick bite-sized pieces. The gnocchi are boiled in salted water or fried in shallow oil.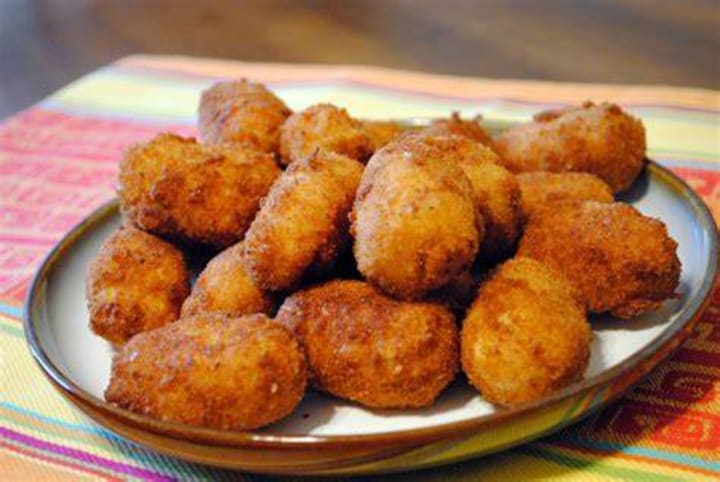 Spain
Croquetas are traditional Spanish fritters. They are made with a buttery bechamel base well-chilled and formed into round or cylindrical patties. These are coated in egg wash and breadcrumbs and fried until golden and crispy. They can include ham or shredded chicken.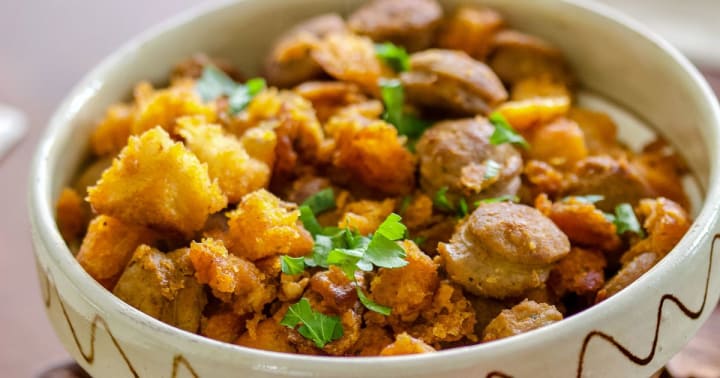 Migas is a traditional ancient dish in Spanish and Portuguese cuisine. The base of this dish is softened bread cooked in fat. The dish includes water-soaked bread, garlic, paprika, and olive oil. Various regional varieties can have spinach, chorizo, and bacon. This is usually served as an appetizer.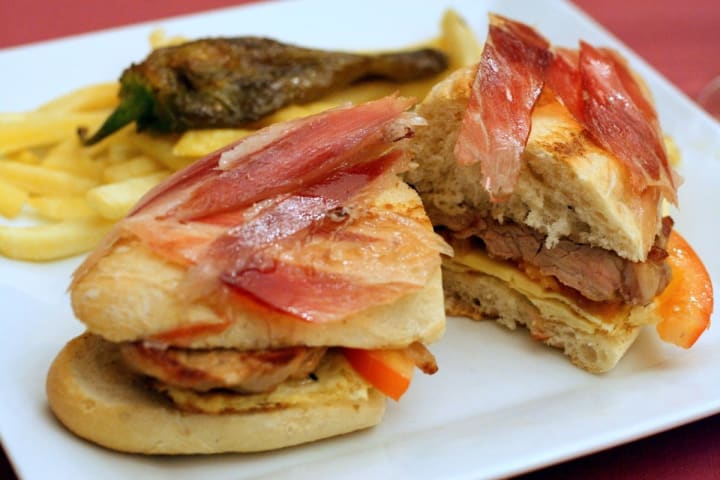 Bocadillos are sandwiches prepared with Spanish-style baguettes called barrade pan. The fillings include meat, cheese, tuna, omelets, jabon, or chorizo sausages.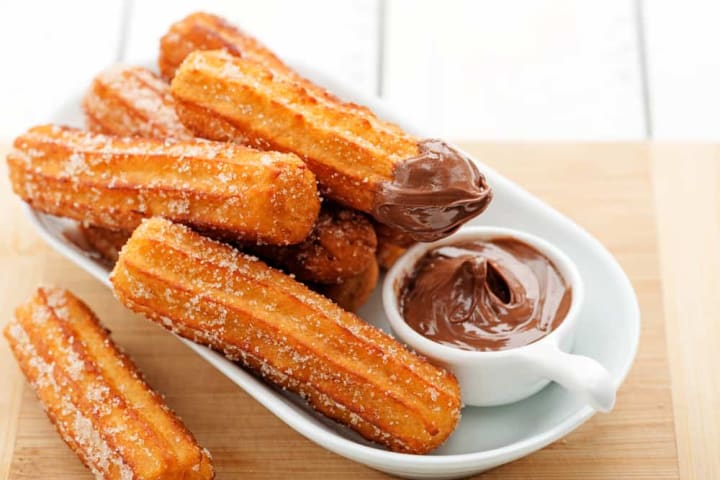 Churros are elongated, crispy and crunchy sweet treats. They are made with deep-fried yeast dough encrusted with sugar.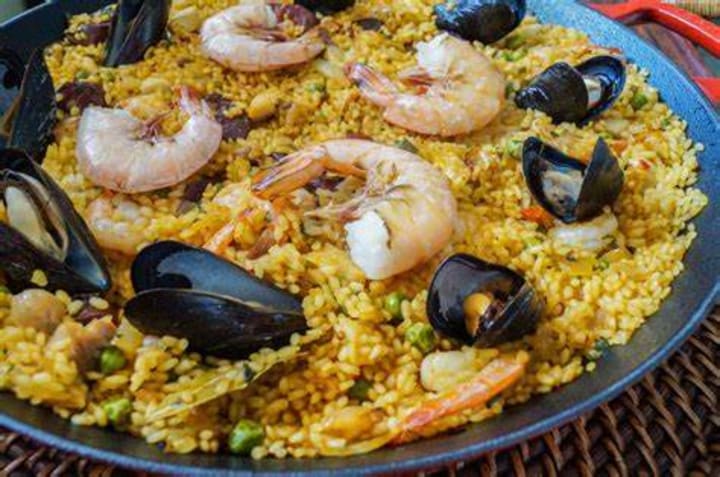 Paella is a popular dish based on saffron-flavored rice. Additional ingredients can include meat, seafood, or vegetables. Traditionally it is made in a shallow pan used both for cooking and serving.
About the Creator
My passions are writing and creating poetry. I write for several sites online and have four themed blogs on Wordpress. Please follow me on Twitter.
Reader insights
Be the first to share your insights about this piece.
Add your insights