Everything You Need to Know About Next Stop Vegan's Opening
Bronx Vegans Gain Another Food Spot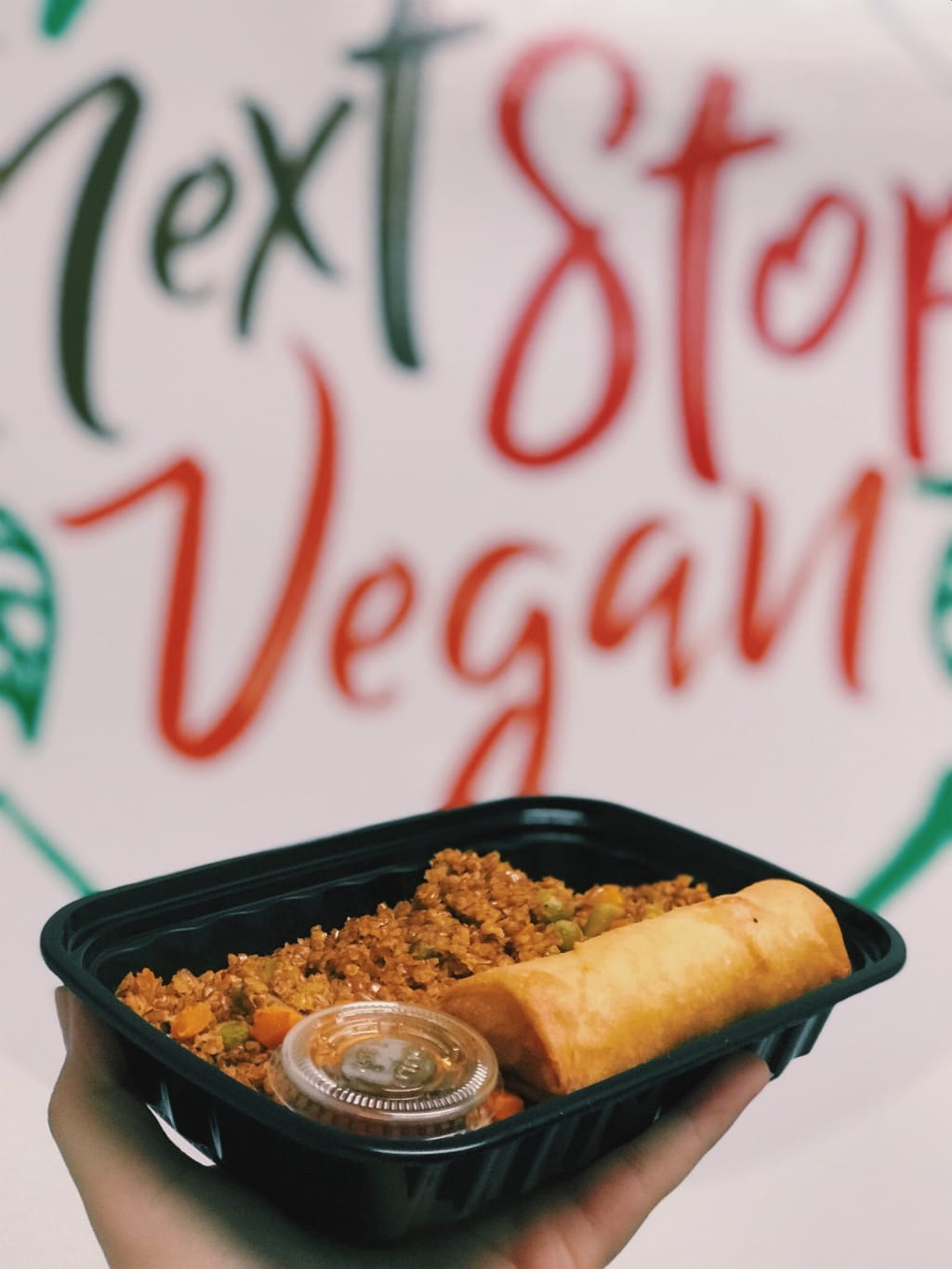 On May 1, 2019, Next Stop Vegan, The Bronx's first vegan meal-prep company, announced their plans to open their doors to the public with a soft opening happening on Saturday, May 11, 2019. From three PM to nine PM, you can visit their humble home located on 1818 Archer Street in the Parkchester area of the Bronx.
You might know Next Stop Vegan for their famous vegan chimi, delicious plant-based meal prep service, or inspiring vegan journey. Now anyone is welcome to savor their delicious vegan food every Saturday when the business will open its doors. Here's everything you need to know:
Next Stop Vegan will open every Saturday from three PM to nine PM starting May 11, 2019.
The shop is located on 1818 Archer Street on the corner of Archer Street and Taylor Avenue.
Seating is limited! It's recommended that you place your order in advance for takeout as the establishment can seat only four people at a time.
There will be 12 menu options available including their chimi burger, mofongo, pulled pork sandwich, loaded nachos, and more.
While there will be a standard menu in place, please ask them about their special dish of the day.
Cash and credit will be accepted.
Delivery is unavailable for now, but for pickup orders, please call 1(347) 398-8166.
The announcement of their opening follows their long journey of vegan entrepreneurship in the meal-prep business. Starting the business in October 2017, Blenlly Mena, and her family have been serving plant-based meals inspired by their Dominican heritage to people in the Bronx, and all other boroughs. Blenlly's journey to Next Stop Vegan is as inspiring as her love for the vegan lifestyle, and the Bronx community.
Next Stop Vegan found a home in 1818 Archer Street in May 2018. Their move gave them the space to continue their business, but a lot of people questioned when they would finally open. In an interview conducted by Veggie Mijas in 2018, Blenlly expressed feeling the pressure to open the shop because of the lack of vegan food establishments in the Bronx. "That's why we're gonna have to open up. People want this food to-go. So my mom, my sister, and I are thinking we are going to have to open up, because of the lack of options," says Blenlly.
Along with their meal-prep service, Next Stop Vegan also caters and vends for public and private events. They can be seen going all around New York City with their savory vegan meals in tote on their Instagram. Their next major vending event will be at the 2019 New York Vegandale Festival on September 28, 2019 at Randall's Island Park.
With the rise of veganism in the Bronx, its companies like Next Stop Vegan that help make sure Bronxites have a place to experience plant-based food in a familiar way. With few resources available to the borough, it's exciting to have another one owned and operated by a fellow Bronxite. I speak for a lot of Bronx vegans when I say I'm thrilled about the opening of the shop, and can't wait to see this company grow and prosper.
Make sure to catch up on all things Next Stop Vegan on Facebook and Instagram, where you can find out more about the opening, see pictures from their weekly meal-preps, and support their journey.
-
The Bronx Vegan is a blog run by Puerto Rican and Peruvian Bronxite, Alexis Montoya. This blog aims to highlight vegan resources in and around The Bronx through recipes, reviews, and more. If you like what you read, please consider tipping below! All tips will be put towards vegan efforts to share with the world.
For more, follow The Bronx Vegan on Instagram, YouTube, Facebook, and Twitter.