The Bronx Vegan Eats: Vegan's Delight
Delicious Jamaican Vegan Food + Grocery Store in the Bronx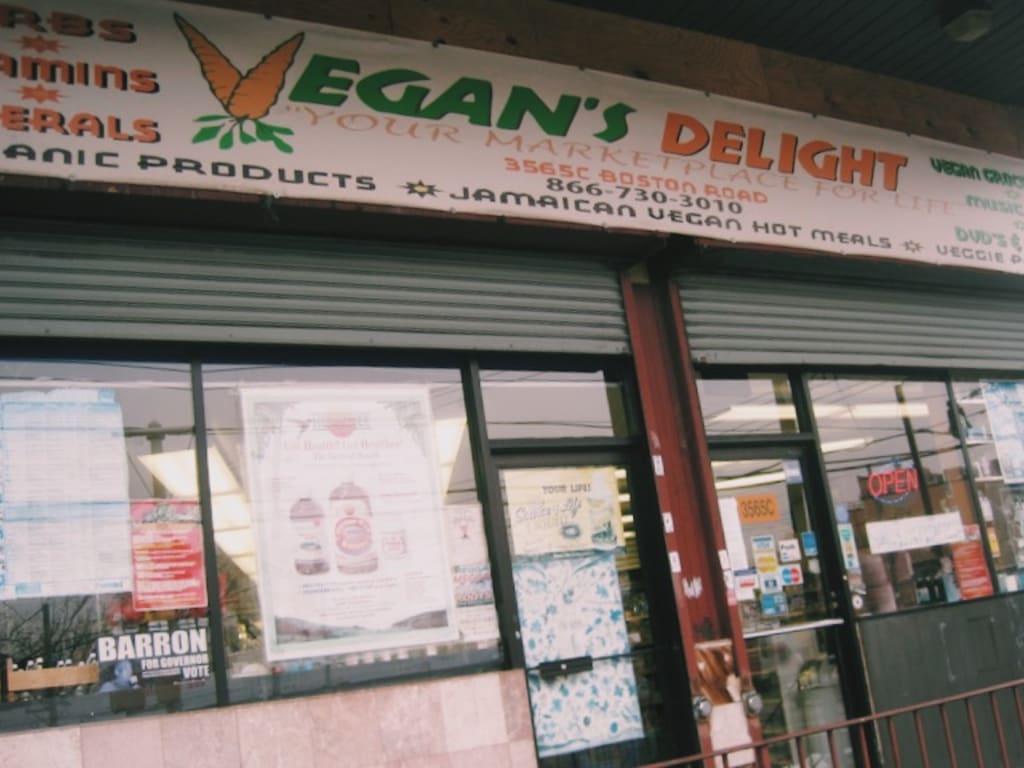 Vegan's Delight in the Bronx at 3565 Boston Rd, Bronx, NY 10469
Quick Notes:
Jamaican vegan hot food
Serves as both a take-out restaurant and grocery store
Not a sit down, very few seats available
Amazing selection of hot meals
Above average costs
There are some non-vegan items so be sure to ask before purchasing.
Note: The following passage was written in 2017 after my first visit. I will indicate when this section is over and my current review begin.
It was almost an insane thought to become vegan in a borough that's home to some of the finest local international cuisine. Everyone has a favorite Chinese spot, daily Deli visit, and can make outstanding arguments for the best pizza slice around. Changing to this diet meant sadly leaving behind these places and ultimately sacrificing some of the best comfort food around. Vegan's Delight decided no vegan Bronxite should go without a comfort option, offering some of the most delicious vegan dishes that you won't find anywhere else in the Bronx.
Walking into the small restaurant on Boston Road, the aromas are the first indication that this is a trip you won't regret. When at the counter, there was a number of meal options available that weren't listed on the website, telling me that they change their menu often! Jamaican patties, spare ribs, and oxtail were some of the many fresh meals available to pick up that day. I ordered the vegan spare ribs with rice and beans and cabbage at my first visit there. I also picked up some soy patties and a ton of frozen vegan meats that I never would have even dreamed existed. Most of the products I picked up were Gardein products and included meals like meatballs, spare ribs, steak strips, and mandarin orange chicken. Not only were there hot foods plenty, but the grocery options were bountiful!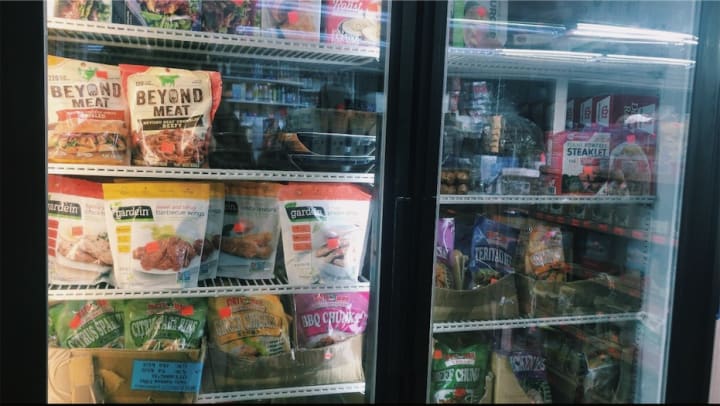 By the time I got home, I didn't have a moment to properly document my food because I was so invested in tasting what was before me. The spare ribs were flavorful and the texture was just right. Accompanied by a delicious coconut rice and beans and cabbage, it instantly became a favorite. I got a medium order and was pleasantly full by the end of the meal.
Note: This is where my current review begins.
After almost two years later, I decided to visit Vegan's Delight again. As one of my first introductions to vegan food, this review was long overdue!
The aromas walking into the establishment delighted me just as it did the first time. I walked through the small grocery section and saw a lot of vegan frozen options available as well as dry goods. Something different that I saw this time around was dry goods produced and packaged by the store.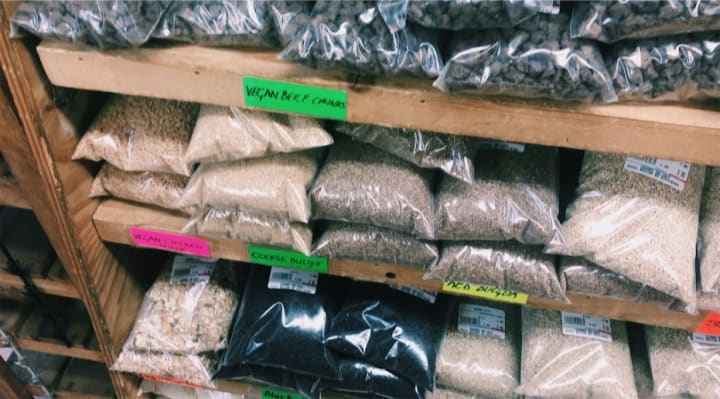 When it came time to ordering, there was again no established menu, but I didn't mind. I asked for them to just give me a plate filled with whatever they want. I ended up getting a large container, which sincerely was too much for one person. This serving costed about $20 and could have fed two people. While the cost was high, it made sense. The large portion came with three different vegan meats, three different grains, and a slaw to top it off. It was outrageously delicious, but now I know to opt for a smaller size next time.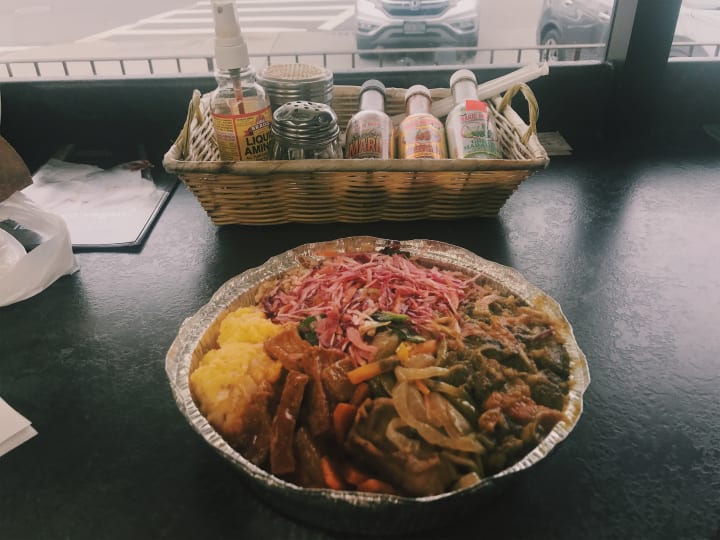 I decided to eat at the establishment. Just like I mentioned above, there is a very small seating section towards the front of this spot. While seated, I met with a longtime customer of Vegan's Delight named Teddy who said they've been coming here since before I was born (haha!). We had a long discussion about the Bronx, veganism, and life that made my meal all the more pleasant. Teddy introduced me to one of the owners who informed me that they have an Instagram now (@vegansdelight) and will also be offering cooking classes in the Summer.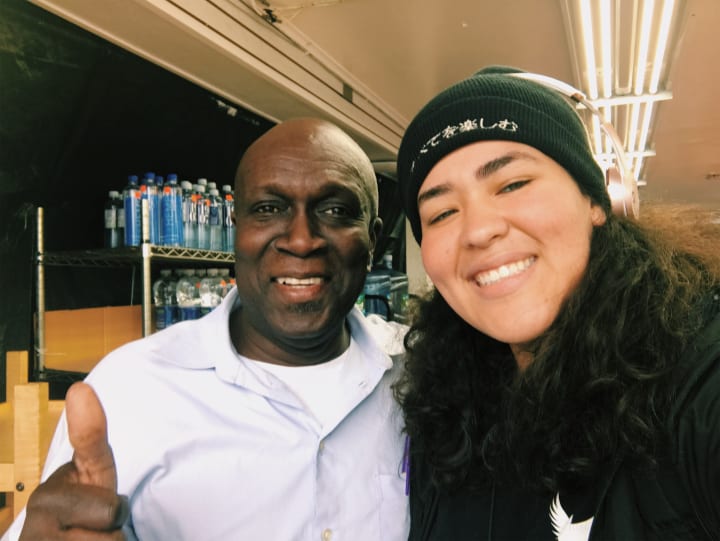 Overall, I have a lot of love for Vegan's Delight. Show them love and visit their shop over on 3565 Boston Road in the Bronx.
-
The Bronx Vegan is a blog run by Puerto Rican and Peruvian Bronxite, Alexis Montoya. This blog aims to highlight vegan resources in and around The Bronx through recipes, reviews and more. If you like what you read, please consider tipping below! All tips will be put towards vegan efforts to share with the world.
For more, follow The Bronx Vegan on Instagram, YouTube, Facebook, and Twitter.