Egg "Fried" Rice
This is a fantastic side to any recipe!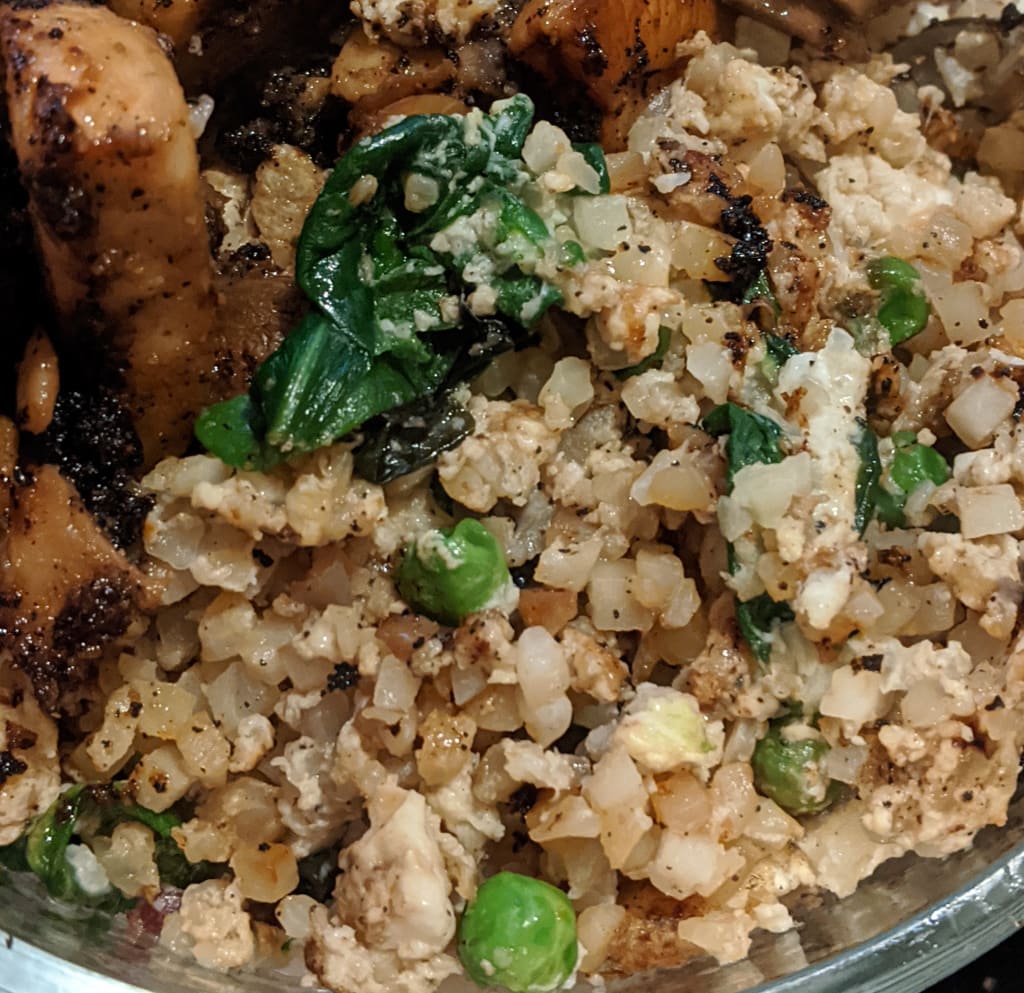 If this is your first visit to my recipes, welcome! If you are a returner, thank you!
I am a true believer that the world of food should be open to a person and moderation in all things is a great way to live life, that's why I specialize in creating macro-friendly recipes that are much easier to "fit" in moderation.
As you get to know me, you will find that all my recipes use a moderate to few amount of ingredients because I also believe that cooking should be stress free and not break the budget. I encourage that for all of my recipes you look into buying frozen rather than fresh to promote longevity of each food item if you do not use it again right away.
I would also love to hear your personal spin on any of my recipes! As always, have fun and please enjoy!
I love egg fried rice and add it to a majority of my Asian inspired recipes. On cut it's hard to fit a larger amount of carbohydrates at one meal so I like to use cauliflower substitutions, feel free to add some white or brown rice to this recipe if you have higher carbohydrate needs but still would like additional bulk!
With my egg fried rice I usually add a variety of vegetables from sauteed peppers and mushrooms to peas and carrots. In this recipe rendition today I have kept it very simple so it pairs more easily with many different dishes!
If you are cooking for a group, feel free to double, even triple this recipe for however big your pan is, it's super simple to make in a large batch!
Feel free to try this one with my macro friendly Sesame Chicken!
This recipe is suitable for bariatric patients, vegetarians, anyone who is practicing moderation or just someone missing classic take out but wants a lower calorie version!
For more macro-friendly recipes, lifestyle posts and bodybuilding posts feel free to follow my Instagram @boho_nutrition!
Servings
Makes 1 Serving (Easy to make into large batches)
Cookware required
Skillet
Prep Time
Approx. 5 min
Cooking Time
Approx. 10 min
Total Time
Approx. 15 min
Difficulty Level
Easy
Ingredients
-200g Cauliflower rice (or regular cauliflower you can just use a chopoper after it's cooked to easily rice it)
-150g egg whites
-Olive Oil Spray
-40g Celery
-⅛ tsp Garlic Powder
-⅛ tsp Onion Powder
-⅛ tsp Tumeric (gives a delightful yellow color)
Instructions
Coat skillet with Olive Oil spray ( approx. a 2 second spray).
Warm skillet on medium heat
Add spices to skillet
Add cauliflower rice
Give another 2 second spray
Move rice around pan with spatula at about 3 min intervals
Chop celery as you wait
Add egg whites and continue to move rice at about 3 min intervals to coat evenly and fluff
Once cauliflower is golden brown add chopped celery and cover to soften to desired texture (I like mine with some crunch)
And your rice is done!
This is delightful with any Asian inspired sauce from teriyaki, to traditional low sodium soy sauce to G. Hughes Sweet and Spicy sauce! You can also use it to pair with any main dish as a side such as my macro friendly Hungarian goulash!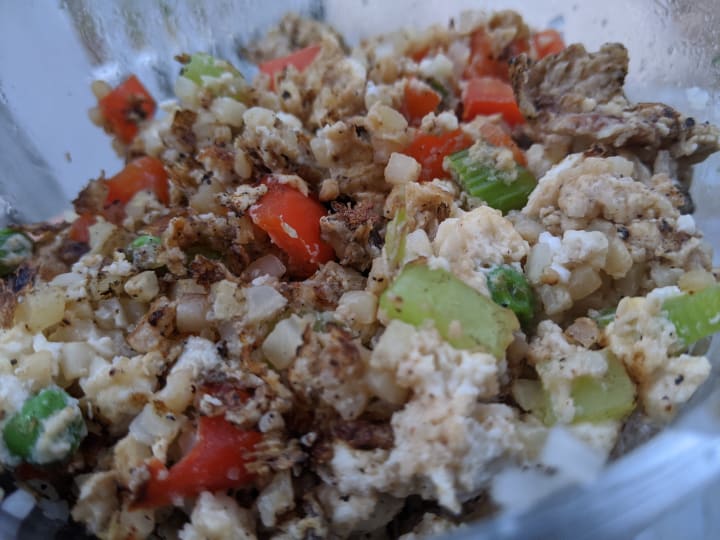 Nutrition Facts
1 Serving
Calories 180 kcal
Fat 5g
Carbs 11g
Protein 15g
Feel free to tell your friends all about my recipes, I'd appreciate it!
Tag me in any recipes you try!! @boho_nutrition
(I would love to hear your honest reviews positive or negative!)
Just a reminder: for more macro-friendly recipes, lifestyle posts and bodybuilding posts feel free to follow my Instagram @boho_nutrition!
Rhianon Condello RDN, BSN, RN