Easy Cookbooks for Kids
Finding the right cookbook to inspire your kids in the kitchen can be hard, so here are some books guaranteed to turn your kids into little culinary masters.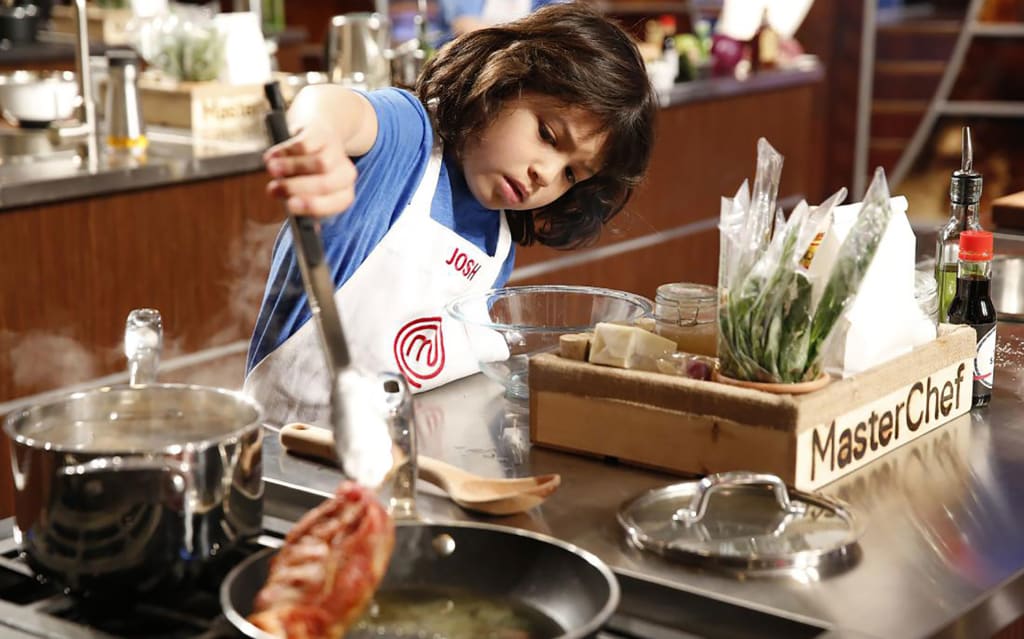 For kids, good food can be magical—so that makes the cookbook an eldritch tome of untold power. Parents can prepare tons of dishes for their kids to make them smile, make them happy, but, after awhile, kids may want to learn how to make those foods themselves. They may watch you in the kitchen, creating something amazing, and say "I want to do that." Or, perhaps, you want your child to learn the safest way to work in the kitchen early in life. Or you want a new family bonding project! Whatever the case, finding the right cookbook to inspire your kids in the kitchen can be hard, so here are some books guaranteed to turn your kids into a little culinary master.
DK has for years been one of the leading publishers for kids. Their products take huge amounts of material, and condense it down into a package kids can take in and enjoy. This cookbook contains 150 different recipes, divided into nine separate categories (including breakfast, soups and salads, light bites...). Kids can learn how to make French toast, tomato soup, and lasagna! A well-organized introduction to the culinary arts that will delight children.
Despite the implications of the title, this book is aimed at tweens and teens hoping to learn a thing or two about the cooking world. Written by the Culinary Institute of America, this book hopes to educate young teens not only about popular recipes, but also the various techniques utilized to realize your greatest food-related fantasies to life. A must-have cookbook for kids over the age of ten.
Betty Crocker may be a household name associated with baked goods, but this book offers more than just teaching kids how to make the sweetest desserts. More than just a recipe guide, this cookbook teaches children some essential kitchen safety lessons. Beyond being a colorful volume for children, it also teaches the most important lessons of all: how to have fun in the kitchen.
This book is geared towards families ready to explore the culinary world together. With over 60 recipes, kids and their parents can cook whole meals together. The cookbook offers a stupendous learning experience that can bring the whole family together around the oven. A must-have for any family ready to make delicious meals.
A terrific early cookbook for young kids who watch their parents make dishes with reverence and awe. Nothing here is too complicated for your young child, and will offer your child the ideal first steps into a larger world of food and preparation. Young kids will love this easy-to-read guide, and parents will love to watch their kids present their dishes with pride in their eyes, all the while saying, "I did this. I made this."
Yet another brilliant cookbook by DK, this cookbook offers mothers the chance to create something beautiful and delicious with their kids. The book offers recipes for families to make together, as well as important tips and experiments mothers can use to help their children learn about kitchen hazards and special techniques necessary to avoid being hurt. Families will delight making meals and dishes together.
This is not a guide on how to make boring plates of food. For any girl hoping to learn how to make the sweetest desserts, this cookbook is a must-own. This collaboration between Williams-Sonoma and American Girl will teach young girls over 40 different dessert recipes–some geared for special occasions and others just for the fun of it. Become the envy of all your friends as you make some sweet-smelling treats for everyone! Or just for yourself, if you aren't up for sharing.
If baking isn't your thing, American Girl has a second cookbook for you. This guide to the culinary arts will teach young girls how to prepare dishes of food for family members, friends, or, once again, yourself. This beginner's guide not only teaches girls on how to cook their meals, but also how to present their meals. Visual presentation is a hard thing to learn, but this cookbook for kids will educate girls on how to serve their food to make it both tasty and beautiful.
Kids love fun foods. Applesauce, french toast, and all those colorful little treats. This cookbook for kids teaches youngsters not only how to make all these classic childhood dishes, but explains them in a way that children can understand and also enjoy. This cookbook will make your kids love cooking by teaching them how to make all those dishes they crave.
From another titan in the food industry, Pillsbury brings to life a fun cookbook for kids and their families to enjoy. All the treats are kid-approved delicacies (like french toast and hot dog pizza boats) that may not be the healthiest dishes for children to consume, but offer a great introduction into the world of cooking. Just make sure to balance out the less healthy stuff with something good for the body.
Geared at kids five and up, Better Homes and Gardens presents a cookbook for kids geared to not only educate but also entertain. Brilliant illustrations adorn each page, presenting narratives around each recipe for kids to follow. Each one teaches lessons about the recipe, and, with over sixty recipes, kids will find much to both learn and enjoy in this little volume.
This gem is more than just a cookbook; it's also a collection of fairy tales from around the world, retold with a culinary twist. Each story correlates to a delicious recipe. Once you finish reading your child the story, you can then make the corresponding recipe together. A thorough, integrative experience every child will love.
From Disney comes this amazing cookbook for kids who can't get enough of Disney's Princess line. The dishes are "inspired" by the Disney films in question, and accompanied by beautiful artwork of the Disney princesses. If you ever wanted a tip where Ariel can offer tips to make the best Sea Turtle Cupcakes (hint: don't use real sea turtles as an ingredient), then this is the cookbook for you and your children.
Time to set off for a galaxy far, far away. With this specialty cookbook, kids can enjoy making recipes inspired by their favorite Star Wars adventures. The book offers healthy snacks and tasty treats for any young kid who is no longer content with watching Star Wars–now, they have to taste it, too. To consume it! Each book comes with beautiful photographs and creative recipes to inspire every child's brilliant imagination.
For any child who has been whisked away by the magical world of J.K. Rowling's Harry Potter, this book is a dream come true. This book is long–over 250 pages, and over 150 recipes–but the experienced cook ready to take on some unorthodox challenges for some phantasmic dishes may be ready to accept the challenge. Create dishes discussed only in Harry Potter's world, as well as meals inspired by the books. Bring your wizarding foodie fantasies to life with this cookbook for kids.
About the Creator
Obsessive writer fueled by espresso and drive. Into speculative fiction, old books, and long walks. Follow me at twitter.com/AGramuglia
Reader insights
Be the first to share your insights about this piece.
Add your insights