Best Grilling Cookbooks
Before you humiliate yourself in front of your family and friends by lighting steak on fire, buy some of the best grilling cookbooks on the internet.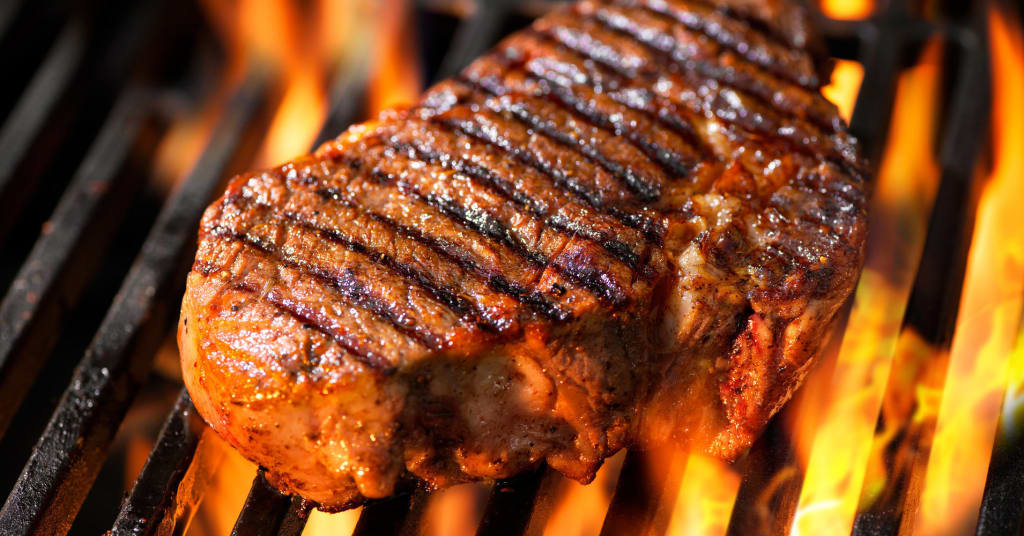 There is something rugged and cool about grilling chunks of meat outside on a boiling summer afternoon, but so many of us are afraid to admit that we don't know what the hell we're doing out there – so thank God for the best grilling cookbooks to save our cooking failure butts. A good book can save you from making a culinary catastrophe.
With summer coming up, you're gonna want to brush up on your grilling skills, especially if you're hosting a Fourth of July party or something. Before you humiliate yourself in front of your family and friends by lighting steak on fire, buy some of the best grilling cookbooks on the internet.
The magazine Bon Appetit has been known for its incredible recipes that anyone can make. Their aptly named The Grilling Book promises to be the best grilling cookbook in the world. While there area few other cookbooks on this list that may give them a run for its money, this book – sporting nearly four hundred recipes – is certainly among the best grilling cookbooks.
Incorporating the easy-to-read, organized, and delicious style of the magazine, The Grilling Book is a terrific guide to anyone who wants to flex their grilling muscles.
Meathead Goldwyn may not be a household name all over the place (though he is one syllable away from Meatloaf), but he has made a name for himself on the website AmazingRibs.com. And I will give him this: anyone who legally changes their name to Meathead might be a little passionate about his meats.
Meathead is one of the best grilling cookbooks for those who really want to make sure their meat tastes top-notch. The book is a must-have for anyone who wants to kick their steak preparation game up a notch.
As the name suggests, this is one of the best grilling cookbooks for grilling novices. A more experienced griller may find some of these recipes a little mundane, but if you're just starting out in the grilling world, then this is going to become your BBQ bible.
The book illustrates various essential cooking strategies to maximize your food's flavor, as well as some lesser known tactics that can leave you with some damn good eats.
There is a hypnotic beauty to open flame, isn't there? The hypnotic licking of heat against the underside of meat that makes it nothing short of irresistible.
Married team Greg and Gabrielle Denton craft this zen-like cookbook. It remains one of the best grilling cookbooks around not only for its hearty recipes, but also its approach to cooking. Nothing to get stressed out over. Just fun.
Oh, and one bonus technique the Dentons recommend: take the meat drippings, and add some spices into it. There. An instant sauce to drizzle on your fresh steaks and grilled meats. Beautiful.
Some of the best grilling cookbooks are very expensive, but worth the cash. This one? It's nice and inexpensive. From Cook's Illustrated, we have this inexpensive, simple book that no one reading this list has any excuse not to buy.
The advise offered is the kind of stuff that every cook, regardless of cooking preference, needs to know. As such, it is a general guide to any style of grilling, regardless of what sort of recipe you have going on.
Coming from North Carolina, Elizabeth Karmel has a bit of a different approach to grilling than, say, a New York writer might. She takes a very intimate approach to food preparation in order to help ease newbies into the grilling world.
For those who are a little intimidated by grilling your food, then this is the best grilling cookbook for you. It offers you easy recipes to start off with before moving onto more complex, rich recipes. But don't get me wrong: some recipes are simple to make, but that doesn't mean they aren't delicious.
Adam Perry Lang helped put his New York City restaurant, Daisy May's, on just about every list of must-visit restaurants in NYC. This book, therefore, no doubt has to be on any list of the best grilling cookbooks.
This is the sort of blunt cookbook that even a monkey can understand. No need for cooking philosophy. Simply mandates that all grilling amateurs must follow. His techniques are undeniably useful to any chef to learn. Ready to get serious about barbecue? Then read this book.
One of Argentina's most popular chefs, Francis Mallmann shares his understanding of grilling "the Argentine way." And, quite frankly, he has a lot of good techniques.
What makes this one of the best grilling cookbooks around is its attention to the varieties of grilling. He explores every technique of cooking with an open flame, and how the way we cook food can sometimes greatly enhance what we're tasting.
Oh, and the recipes themselves? Top notch.
The work of competitive chef Mike Mills and his daughter, Amy, Peace, Love & Barbecue is supposedly "the last cookbook you will ever need." And while I will fiercely debate that (spoiler alert: this recipe won't tell you how to properly make cheesecake), I admit this is certainly one of the best grilling cookbooks money can buy.
The secret to this cookbook? The cooking techniques of a very clever competitive cook. The competitive cook must utilize every element at his or her disposal to make some damn fine meals, and Mike Mills, clearly, knows his way around the grill. Read this. Love it. Live it.
I admit, this one is not merely one of the best grilling cookbooks around. It's a manifesto. What's the difference? Well, the other cookbooks approached grilling as a means to eat food. This book? No, grilling isn't just a means to feed yourself. It's a lifestyle.
The book deals especially with smoking meat, and, as such, includes a lot of tips on how to properly smoke meat, what sort of spices to use, and even, yes, how to properly prepare the fire for the meats. If all this sounds complicated, it is. But if you're enthusiastic about meat, then everything I just described sounds intriguing enough to warrant this book's purchase.
About the Creator
Obsessive writer fueled by espresso and drive. Into speculative fiction, old books, and long walks. Follow me at twitter.com/AGramuglia
Reader insights
Be the first to share your insights about this piece.
Add your insights