Dreaming through the Noise
Dumplings and jazz on a Sunday morning.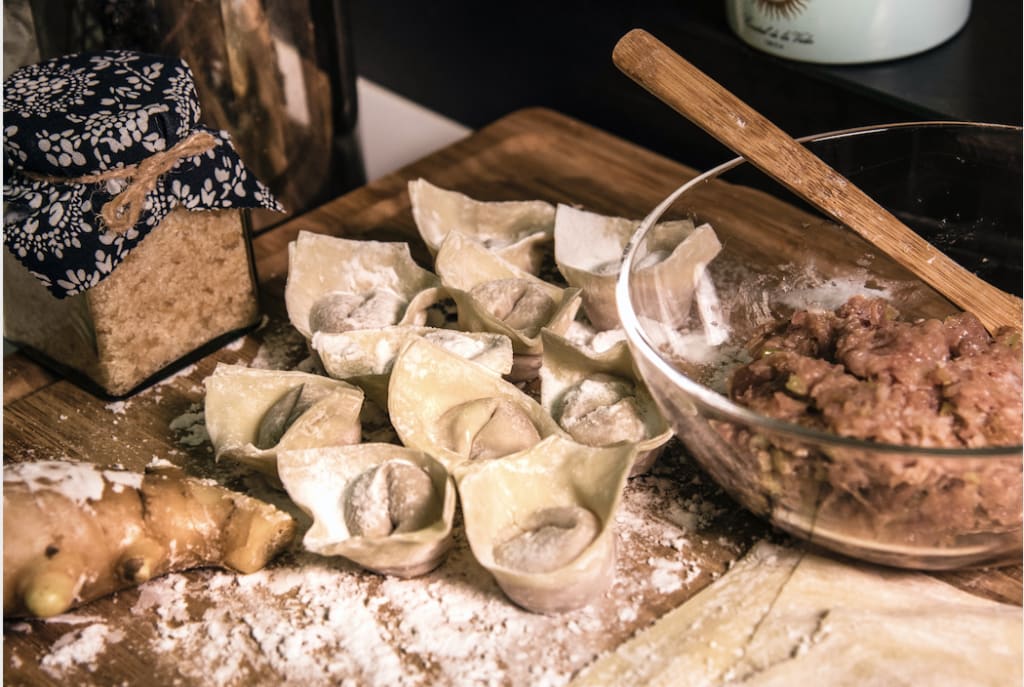 Photo by Arnie Chou
I lower the needle. The opening line of soothing jazz wafts into the kitchen as the Sunday morning ritual commences. Life is a hodgepodge of sacred ceremonies.
This is no exception, consisting of an hour or three of prayer and preparation that the week to come sails smooth. Order determines outcomes, after all.
So, when I come home stumbling, world weary from gritty projects and the hours spent on my feet shooting, I'm a ten minute steam away from resuscitation.Demanding much from the world means that the world wants you of equal yoke before it you begin to negotiate with it.
Seasons of bargaining call for the jiaozi Mum made: ground pork and shrimp with cabbage, mushrooms, and scallions. For occasions of nostalgia or more hectic Sundays: siu mai, where black-eared fungus and ginger mingle with pork and green onions.
During my college days, when this practise took off for me, the potstickers were filled with the odds and ends of my refrigerator: rotisserie chicken, peas, blue cheese, tofu, and stray kale that was kicked at the end of my vegetable compartment. Sometimes kimchi with spam, onions, and cheddar cheese will make its way into a filling.
I've taken that hodgepodge confluence into my more curious beginnings which are stuffed full of ricotta and spinach or beef and potatoes with a walnut tahini-apricot sauce.
Let the Sunday tradition commence! The Chengdu Zhong dumpling is a classic from the Sichuan region and the one I'll be making. The filling is rather pasty since an egg is added in addition to ginger and pepper infused water.
Meat mixing is done in a single direction, in order for the protein to form long white threads and bind. I saved myself the pain of making a hot water dough by using pre-made skins from the grocery.
With the station ready I relinquish myself into the folds, into this thousand year old tradition passed down mother to mother, or in my case: grandmother to me.
My hands move until I find my rhythm: scoop, fill, wet, pleat, place, repeat. An extended Nat King Cole Trio album carries me through the process.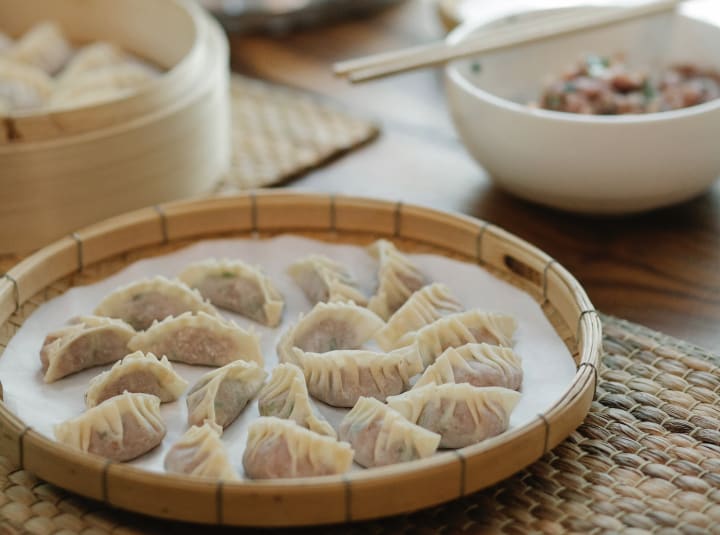 Dumpling making can be as passive an experience as you like it to be. There are instances where I let my imagination run while I go through the standard half moon, where you fold the filled wrapper in half then seal the edges by pressing together pointer and thumb with the wrapper in between.
I proceed with steady movement while characters for stories take form like clouds. I oft am in a race against myself to rinse my hands and tether down a fresh lede that solidifies the plot I'm crafting. Other times, memories resurface.
When I was nine, my uncle challenged my then ennui ridden self to see who could make the most dumplings in an hour. My small hands made fifteen but Uncle made a hundred.
It was then that I learned that our family recipes were made to yield an exact hundred. Perhaps, I'll find myself challenging my future kids in the same way… Though it'd be after I pull off the feat myself.
The routine could also be an exercise of elevation. How do you take the prosaic then transform it into a new learning experience? In this case: crimping.
I experiment by leaning toward ambitious styles, such as the Gok Jai pleat from the Guangdong province. Or giving the otherwise flat edge an empanada-like look or that of a rose bud by pinching the two ends together.
The other demanding aspect of applying more complex techniques is that the wrapper has to be homemade as it is soft, moist, pliable compared to its store-bought counterpart.
Another pro-tip that I learned the hard way is to never over-flour the wrapper. Else, it will not seal then all your labour will leak out while cooking which will result in unappealing mushy goo.
Farther from a ritual, it's a chance to be 'relieved of the burden of my consciousness,' as David Mamet places it. The process can run its course as quick as the first season of Big Little Lies.
Invested in the dramatic moments leading to Perry Wrights' murder juxtaposed with candid interviews from bystanders where the murder occurred, I find solace away from the mind.
Wanting everything in the future means that you can't have everything right now. The serenity that comes from this odd practise stems from the idea of working toward then completing something tangible within a set time frame with the knowledge that whatever the outcome, it is both edible and nourishing.
When you make a mistake in the seasoning of the filling, like with mayonnaise, you can add one or another ingredient and come out on the other side with maybe a little more filling than you bargained for but otherwise unscathed.
cuisine
A filmmaker and photojournalist based in Cologne, Germany.
I enjoy hearing from you! Let me know whose words you're made of by commenting or shooting me an email. 📨 [email protected]
Receive stories by Ingrid Canuel in

your feed