Cook with the Stars: Best Celebrity Cookbooks
Curated recipes from these best celebrity cookbooks are sure to be a hit at your next dinner party.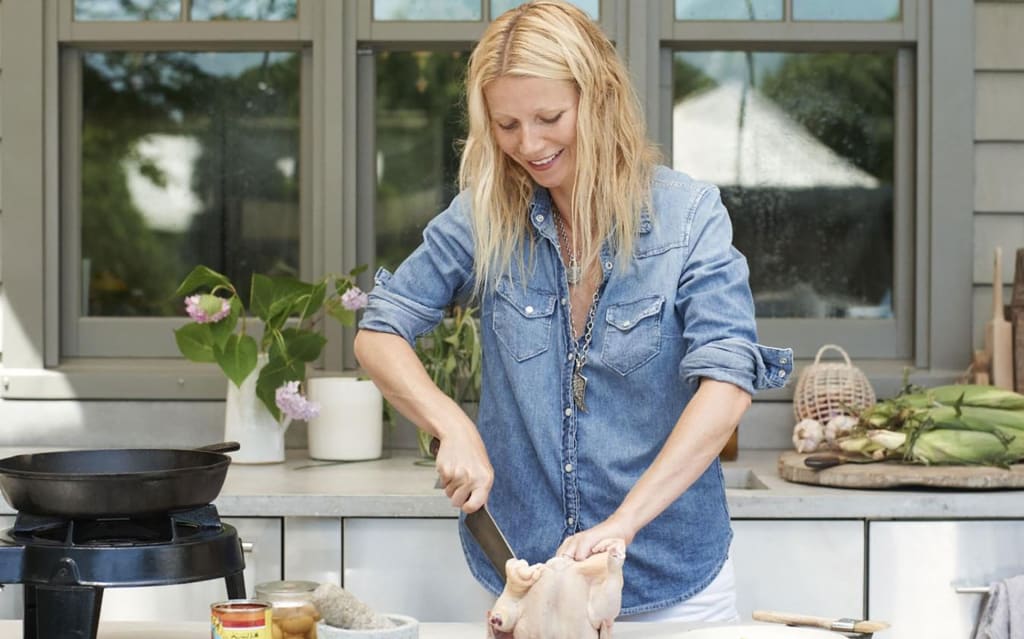 "No one who cooks, cooks alone. Even at her most solitary, a cook in the kitchen is surrounded by generations of cooks past." Author Laurie Colwin explained why cookbooks are essential for modern-day homemakers, but nowadays the market is quickly becoming oversaturated. Not only are chefs and Food Network hosts publishing cookbook after cookbook, but every celebrity also wants to showcase their favorite recipes. To help narrow down the selection, we have chosen the tastiest celebrity cookbooks that every cook should add to their collection. Whether your tastes resemble those of Gwenyth Paltrow, Sheryl Crow, or Olivia Newton-John, these celebrity-curated recipes are sure to be a hit at your next dinner party.
Rock star. Activist. Mother of two. How does Sheryl Crow have time to keep so healthy and fit? Sheryl knows how to eat right and deliciously thanks to personal chef Chuck White, affectionately known as "Chef Chuck." The duo met while Sheryl was battling breast cancer, which for her was a wake-up call to eat better. Since then, Chuck has taught Sheryl how to do just that by cooking foods that are seasonal, locally grown, and vitamin-rich to keep her on top of her game and always ready to perform. Rock-and-roll flavored throughout, If It Makes You Healthy will have a full menu of approximately 125 recipes grouped seasonally, which reflects Sheryl's busy schedule.
Kris Jenner has done everything under the sun, from starring as the matriarch in Keeping Up With the Kardashians to writing a New York Times bestselling memoir entitled Kris Jenner… And All Things Kardashian. Inside this incredible cookbook, you'll find nearly 70 favorite recipes that have become the centerpiece of Kardashian-Jenner family traditions. This book is another way to bring fans into Kris' home with recipes and entertaining tips that can be used by anyone and everyone. Join Kris as she rolls up her sleeves to dish out tips on how to do it all and have it all in her new cookbook/entertainment guide.
Olivia Newton-John is a woman who radiates health, positivity, and wellbeing. In Livwise, Olivia explains her belief in the importance of eating a healthy diet in order to maintain wellness and balance. She embraces holistic remedies, supports complementary therapies, and is a living testament to her beliefs. It should come as no surprise then that Livwise introduces you to wise ways of eating and living that will keep you in good health and happiness. Enjoy all of these healthy, imaginative, delicious, and well-balanced recipes from the kitchens of Grammy-Award-winning artist.
Eva Longoria may be most recognized for her role as Desperate Housewives' saucy Gabrielle Solis, but on her own time, there are few places she would rather be than in the kitchen, cooking the food she loves for her family and friends. Here is a list of the foods Eva loves to eat, and the recipes in Eva's Kitchen trace her life story, taking readers on her culinary journey—from the food she was brought up on, to the recipes inspired by her travels abroad, to the dishes she serves during casual nights at home.
With two New York Times best sellers and after reaching star-status on The Real Housewives of New Jersey, Teresa Giudice has lots more to share with her fans. In this latest book, Teresa provides a detailed program for how she keeps her voluptuous, sexy figure after four kids. The more than 60 recipes in Fabulicious!: Fast & Fit emphasize "skinny," including lessons on playing up veggies and grilled meats, cooking low-calorie Italian favorites, and rules for the five things you MUST cut out (and what to replace them with).
Featuring family-friendly recipes and stunning photography comes an all-new cookbook from New York Times bestselling author, beloved actor, and respected foodie Stanley Tucci. Stanley Tucci's association with wonderful foods began for fans with the movie Big Night and resonated in his role as Julia Child's husband in Julie & Julia. But well before these films, he was enjoying innovative homemade Italian meals throughout his childhood, when family and food were nearly inseparable, and cooking was always a familial venture.
Coolio started making 30-minute meals when he was ten years old and has since developed a whole new cuisine: Ghetto Gourmet. His recipes are built around solid comfort foods with a healthy twist that don't break the bank. Start your Ghetto Gourmet adventure with some "Soul Rolls," follow-up with "Finger-Lickin', Rib-Stickin', Fall-Off-the-Bone-and-into-Your-Mouth Chicken," and finish off with "Banana Ba-ba-ba-bread" sweetened with golden honey. As Coolio says, "All you need is a little bit of food, and a little bit of know-how."
Country music superstar, Food Network standout, and bestselling cookbook author Trisha Yearwood shows how delicious foods and wholesome dishes are part of the same balanced lifestyle. Trisha Yearwood is as much a force in the kitchen as she is on stage. But after years of enjoying decadent Southern comfort food, her culinary philosophy is evolving. As Trisha says, "I have adopted an 80/20 rule: 80 percent of the time I make good choices; 20 percent of the time I let myself splurge a little."
Legendary singer and New York Times bestselling author Patti LaBelle reveals her mouthwatering culinary secrets for eating your way to a healthier life. Patti has taken her love (and considerable knowledge) of food and put this in a book that also contains family recollections, words of encouragement, and smart living advice. It's a great book to give as a gift (especially to someone who loves to cook, but needs to watch their diet), and a whole lot of fun to read, and prepare her meal suggestions.
The Academy-Award winning actress and avid foodie shares a sumptuous collection of recipes and gorgeous photographs celebrating the joy of preparing food for loved ones, a passion she learned from her beloved father. As an actress, author, trendsetter, creator of goop.com, and host of the popular PBS series, Spain: On the Road Again, Gwyneth Paltrow is an icon of style and good taste around the world. As a young girl eating and cooking with her father, Bruce Paltrow, she developed a passion for food that has shaped how she lives today and strengthened her belief that time with family is a priority.