Coconut Water Lemonade Gummies
Tart, Refreshing, Adorable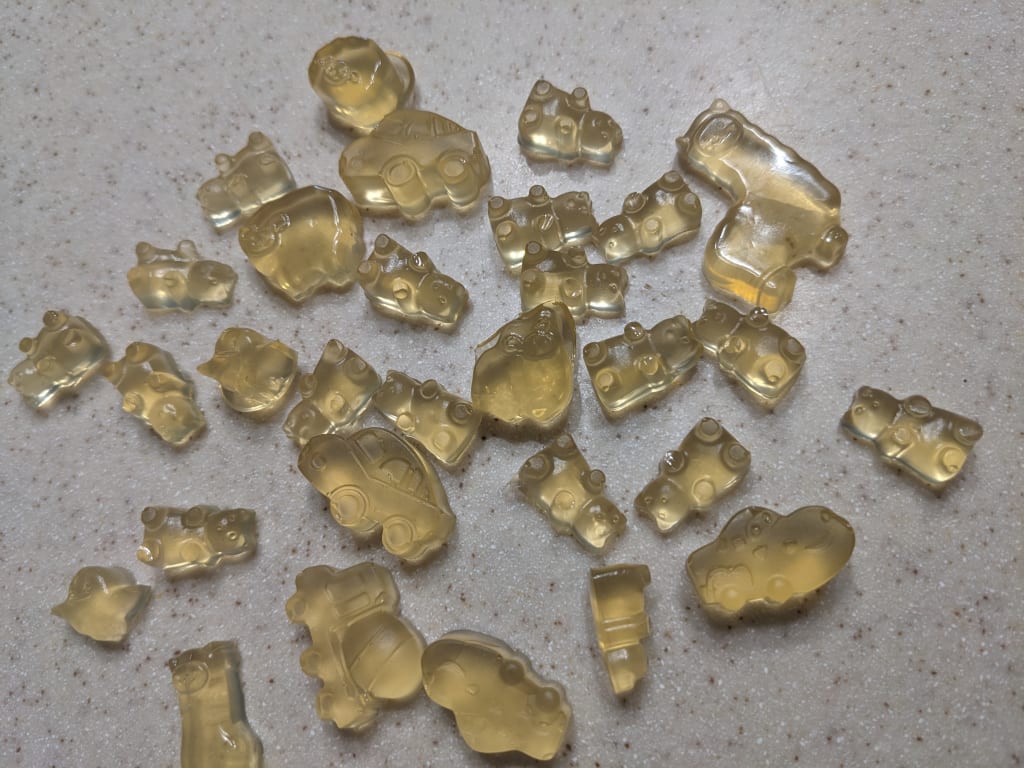 bears and llamas and cars, oh my!
If your kids are anything like mine, they want gummies all day every day. But many store-bought gummy snacks have dyes, additives, and "natural" flavoring. Thankfully, they love homemade gummies made with fruit juice! You can use any kind of juice or liquid to make gummies, and you'll find different recipes quite easily, but these lemonade gummies have been a hit with even my pickiest guests. You just need 4 ingredients.
1 Liter coconut water, 3/4 cup lemon juice plus 1-2 Tbs, 1 cup sugar, and 12-13 Tbs unflavored gelatin.
The first thing you'll do is mix the coconut water and lemon juice. I like 2 Tbs lemon juice in addition to the 3/4 cup for a little extra tartness. The sour flavors die down over the course of the process, so don't adjust all the flavors at the beginning thinking it will be the same through the end. Just know that 3/4 cup is pretty mild, adding a Tbs adds a tiny bit of flavor and a slight tartness, and 2 Tbs is a more noticeable sourness.
Put the liquid into a pan. You can use a saucepan or a skillet. I actually prefer a skillet since there's a greater surface area for the gelatin to bloom, which reduces clumping. Just make sure your liquid stays at least an inch below the lip of the pan. I would recommend using coconut water that hasn't been refrigerated yet, as the gelatin blooms and dissolves better in warmer liquids. Sprinkle the gelatin over the surface of the liquid as evenly as you can. You'll be able to see the gelatin absorb the liquid and begin to expand pretty quickly. Let it rest for a few minutes, allowing the liquid to reach all of the gelatin. By the end, it should all be translucent. If you see a few pockets of white powder left, just smush those areas with the back of a spoon to expose the dry powder.
Once the gelatin is finished absorbing the liquid, turn on the burner and heat the mixture on low. Stir occasionally and keep warming until the gelatin is dissolved. Again, the back of a spoon is usually effective for getting rid of clumps, but if there's a stubborn one, you can remove it. Here is where you'll add the sugar and stir it in until dissolved. At this point, the mixture should have a pretty silky/slippery texture. Once it's smooth and even, you can begin putting the liquid into molds!
If you don't care about shapes, feel free to use a baking pan, bowl, or other food container lined with plastic wrap, parchment paper, butcher paper, or something similar. If you do, then adorable molds are very easy to find. Some of our favorites, with great pricing, are from Sprinkle Bee Sweet. They have classic shapes like bears and worms, along with really fun cars, llamas, dinosaurs, and more! Some of their molds include a dropper, but I find a plastic syringe to be the easiest way to transfer liquid from the pan to the mold. I also recommend putting the molds on a baking sheet for easier transfer into the fridge or freezer. I have frequent spills if I'm moving the molds individually with no support!
Once your molds are filled, place them in the fridge to set. I usually do other tasks while I wait, so they end up setting for at least an hour before I pop them out. If you want them to be ready in less than a half hour, you can put them in the freezer. I have to do 2-3 rounds with the molds, so I just leave the rest of the liquid in the pan and warm it up again on low to thin it out and fill the molds. Be sure to store the finished gummies in the fridge. As far as shelf life, they're always eaten within a week, so we've never tested longer than that!
If you try this or any of my other recipes, tag me (@UglyYummies) on Instagram!
About the Creator
Cooking with our minds, our hands, and our hearts to nourish bodies and souls.
Reader insights
Be the first to share your insights about this piece.
Add your insights