Chocolate Banana Almond Overnight Oats
Another Great Tasting Breakfast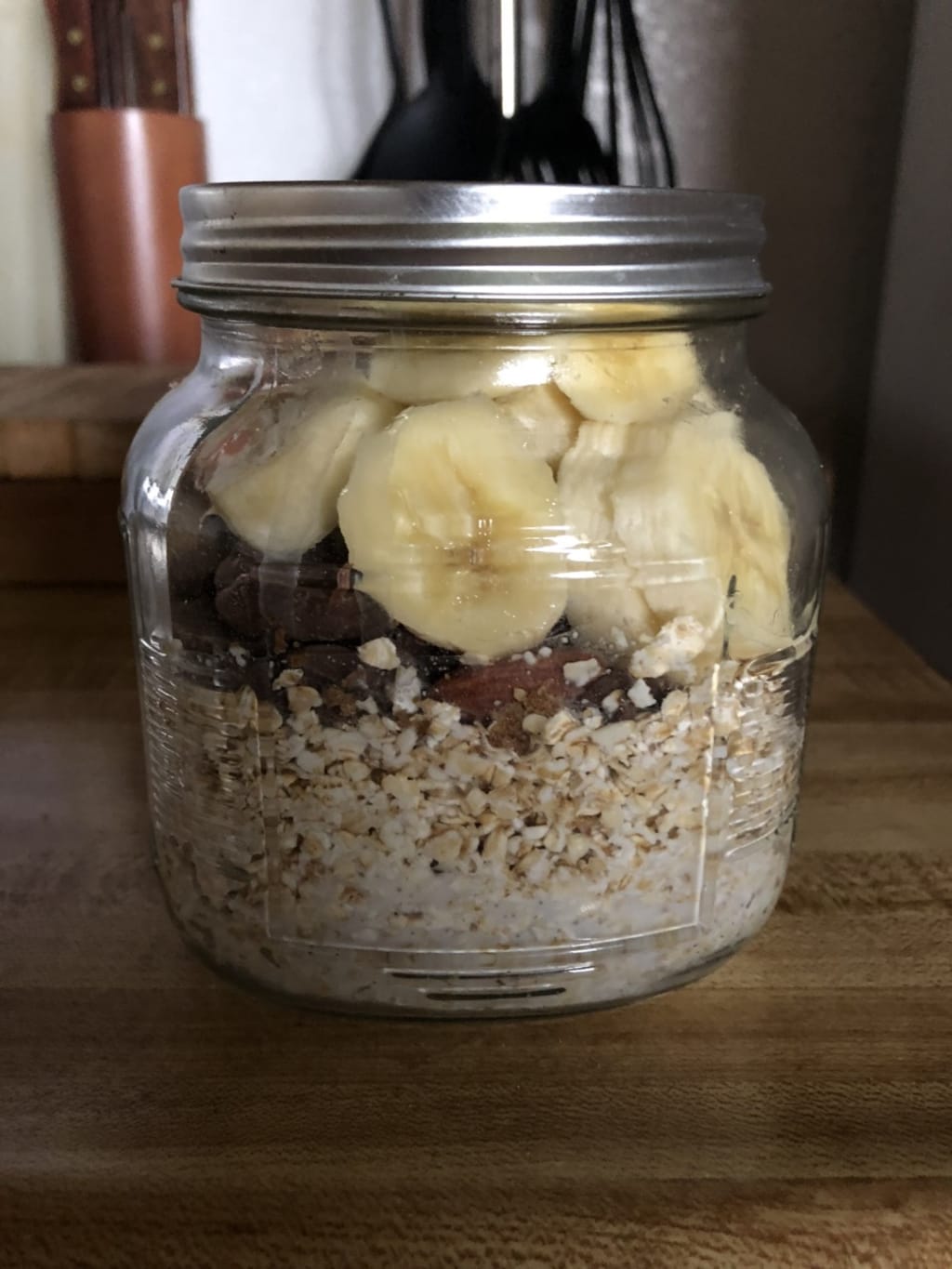 Chocolate Banana Almond Overnight Oats
I have another great overnight oats recipe. Chocolate banana almond overnight oats. Need I say more? I cannot get enough of overnight oats. Just add a few different ingredients and it feels new, delicious, and wonderfully pleasing to the senses.
Here are all of the ingredients:
2 cups oats
1 cup almond milk
2 tablespoons brown sugar
1/4 cup chocolate melts broken into pieces
1 full banana sliced
Grab a mason jar or any jar you think looks good. The one I use for it is about half the size of a regular mason jar, but it fits nicely and looks perfect once all of the ingredients are in it. I then layer it in the order I listed above, oats first, then pour the almond milk all over it, brown sugar next, then chocolate melts, and lastly I put in freshly sliced bananas. I then put the lid on the jar, maybe take an Instagram picture and then put it in the refrigerator for the night. In the morning, I scoop it all out using a spoon into a large breakfast bowl and then stir it a little bit so that it sets nicely into the breakfast bowl.
It looks nice and tasted perfect. This particular recipe for me is a bit filling, so I always have a little bit left over for the next day. I usually put it into a small food leftover storage jar and take it out the next day to add to breakfast. Lately, I have been making a pretty good egg and cheese sandwich the next day and having my leftover overnight oats as a side dish to go with that. The combination is wonderful.
Overnight oats in a jar are easy to make and go well with a lot of other breakfast foods, if of course, you do not eat the whole jar in one sitting. If you scoop some out to have with the rest of your breakfast and save the rest for later, there are a lot of good combinations to try. Eggs, breakfast sandwiches, bagels—the food pairings for overnight oats are endless.
As for beverages that go with this, well I usually have a nice cold cup of ice water to start my day off right with these. However juice, milk coffee, and black tea are just as good. It might be a bit too filling, but a good banana smoothie would taste just as good with this meal. I really think you cannot go wrong as long as you choose overnight oats for breakfast.
Breakfasts in a jar like chocolate, banana, almond overnight oats are pleasing to look at and delightful to the senses. It feels really good to scoop the layers of deliciously looking kitchen decorative food out of the jar in the morning into a breakfast bowl, feeling ready to eat them. The breakfast is aesthetically pleasing and makes food crafting fun. It feels good to know that you created something you really like and that it works all the way. It is a beautiful decoration, but also a perfectly crafted meal. Food in a jar definitely makes me feel better about life. I am glad that my mornings feel so good and healthy from eating overnight oats that I do not have to worry about a late morning snack. This keeps me healthy, satisfied and looking forward to learning more fun breakfast cooking in the future. Cooking is fun for me. Breakfast is at times my favorite meal of the day. I always look forward to a fun start to my day with chocolate, banana, almond overnight oats.