Chinese Cooking Challenge- Day 1
Singapore Noodles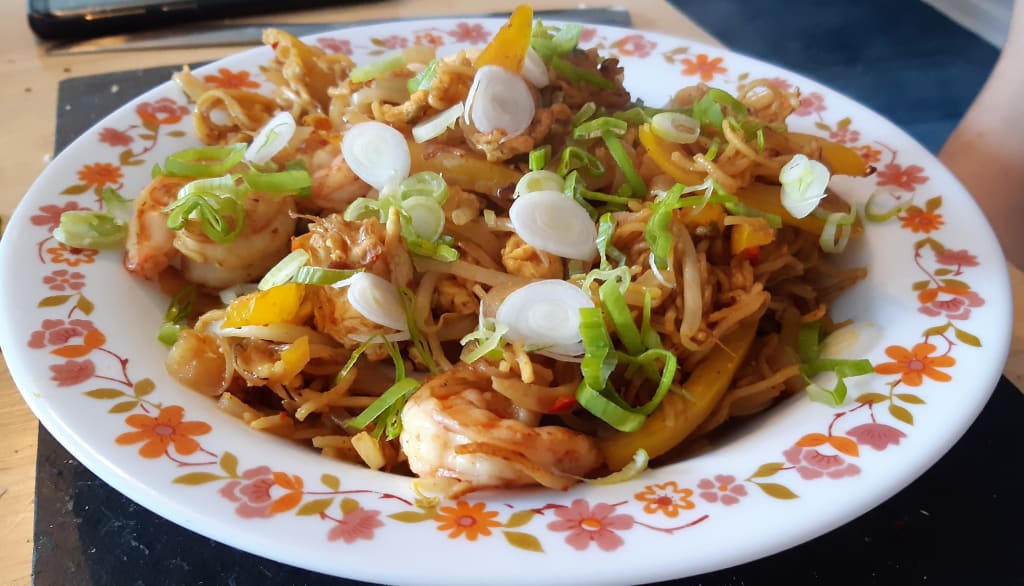 Day 1- Singapore Noodles
Day 1 has gone well. At around half past three we had an internal debate with ourselves; "can't we start tomorrow instead". We would be able to put off going to the shop for an extra day, we were so close to caving in but yesterday I promised you Singapore noodles and we didn't want to let you down. So, we put on our shoes and trudged to the shop.
Once back from the shop we had a… heated discussion let's say, about the way we were going to cook it. Tadger was all for us taking turns on different nights to create the dishes, whereas I was taking the approach of us working together. So we compromised… and cooked together as a team. I say as a team- for preparation, I was in charge of heating the noodles for three minutes and making the sauce. Tadger in the meantime, chopped the onion, pepper, spring onion, made the seasoning mix and deshelled the prawns. I was trusted with making the sauce which was a bad mistake… why are the words teaspoon and tablespoon so similar? Not to worry though, I used problem solving to fix my mistake and it all worked out ok.
The preparation of the dish definitely took longer than the cooking. One top tip from the book was "NEVER, EVER lose your sizzle!" This just meant to keep the pan at a high heat throughout the whole cooking process. With me stirring and Tadger adding in ingredients whenever needed, we worked out a good system. Overall it took about 40 minutes for the preparation, the book said 20 but we are noobs don't forget. But the frying really did only take about 10 minutes. We both agreed that it was a really simple recipe and a nice one to start with. There weren't that many ingredients to put in either which made it good. With us being in lockdown, we did consider that buying some of the ingredients might be quite tricky but most of the stuff we used were in our cupboards.
It asked for 100g Singapore vermicelli noodles. We were not too sure what these were so we opted for a thin egg noodle instead. It worked well but according to the book, that specific type of noodle is supposed to be really dry, so possibly the normal egg noodles are generally a bit wetter? (I really have no idea what I'm talking about). In any case, for noobs like us, it worked well.
The result (as you can see from the photo) turned out really well! It doesn't look exactly the same as the one in the book but I'd say it's dam near close. The taste was great! I thought it was quite spicy but you can change that by choosing how much chilli powder you put in.
We have decided to rate every dish from 1 to 5 (1 being not great and 5 being wowza). There will be two categories; how simple is it to make and how tasty is the final result. So, for our first attempt at the Singapore noodles, we would rate it:
Simplicity: 5
Taste: 4
Thanks for taking the time to read about how we are getting on in our challenge. Just a reminder that the book we are cooking from is Chinese Unchopped by Jeremy Pang. There won't be posts everyday because we don't want to get completely sick of Chinese food but we promise to attempt it every couple of days and keep you updated on the dishes we create. Until next time, good bye and good night!