Beyond Butterbeer
A Quest to Find the Best Harry Potter Recipes Around!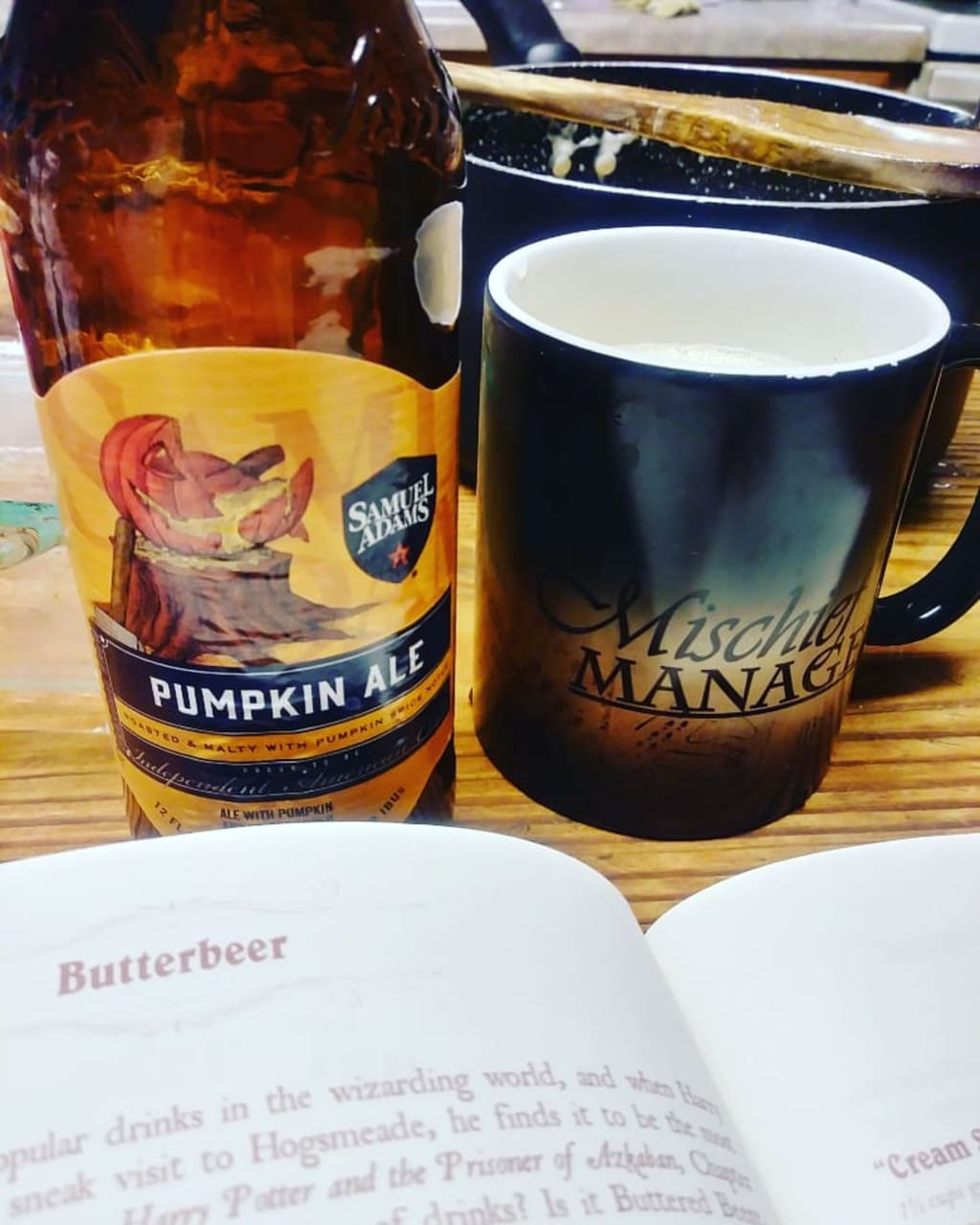 I have been on an almost constant search for the best Butterbeer that I could find... and I finally found one!
The Recipe Book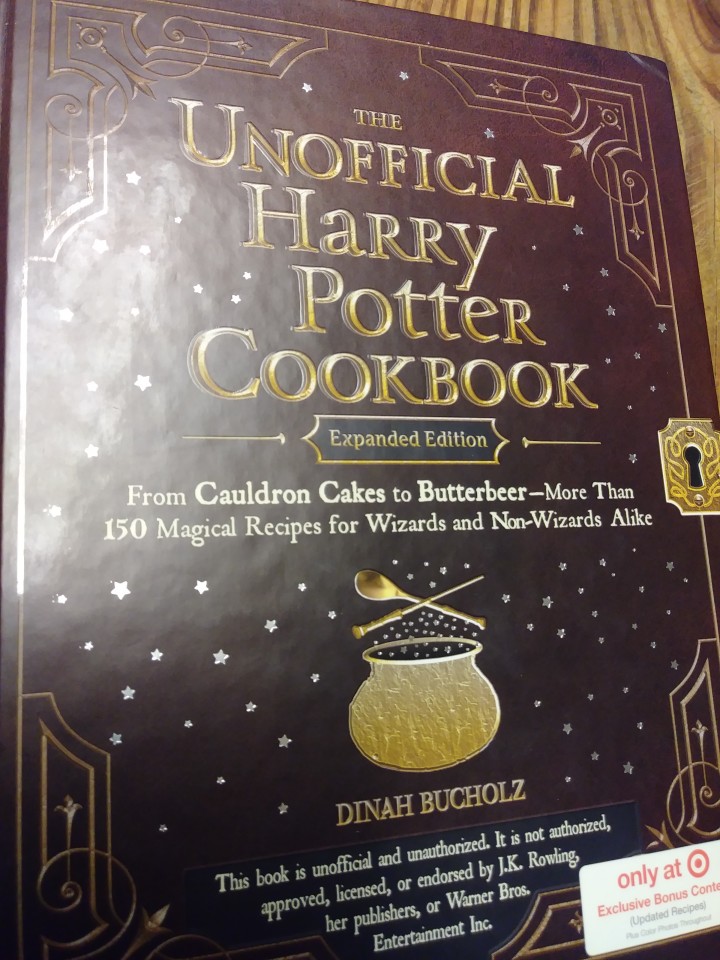 When I was gifted with this book on my last day at work, I couldn't wait to try out the recipes! However, Butterbeer was a must-be-first recipe to try. I have tried many different recipes from cold ones made non-alcoholic and including ice cream, to hot ones made with rum.
Butterbeer, as its name suggests, has two main ingredients in it: butter and beer. Now, I'm not a big fan of beer, so this one was tricky. The recipe called for a non-alcoholic beer but I wanted the real thing. Along came Samuel Adams Pumpkin Ale, and what goes better with a crisp warm drink than pumpkin? So, I heated the ingredients, topped my drink with whipped cream, and went to relax. I was not disappointed! The beer flavor was enhanced by the added cinnamon and nutmeg which also made my kitchen smell surprisingly well.
Of course the recipe itself is copyrighted, so if you want to try it you'll have to buy the book.
Pumpkin Pasties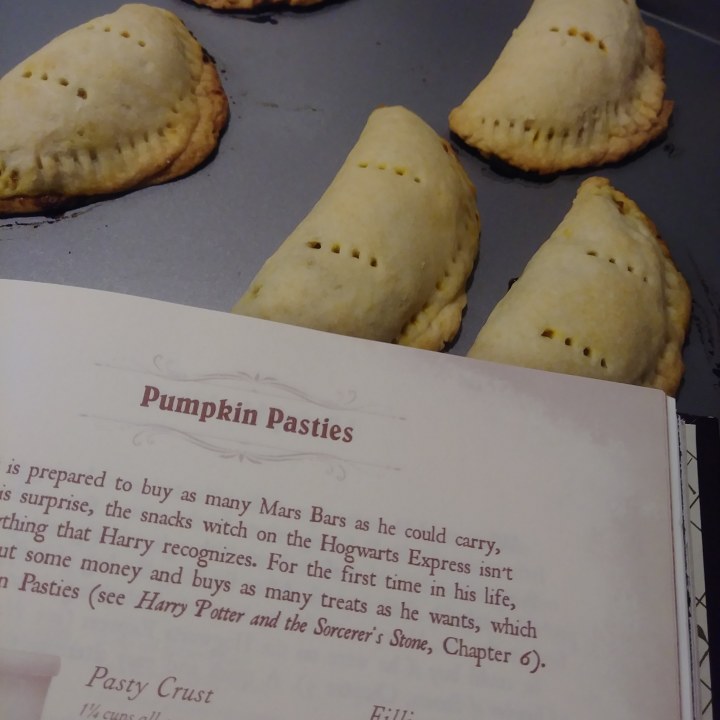 Pumpkin pasties were next on my list of recipes to try. I have to admit I'm usually lazy when it comes to making my own dough but it was necessary in order to give an accurate review.
This recipes gives a very easy dough recipe which you have to let set in the fridge for a bit while you work magic on the filling. The filling is not your typical pumpkin pie filling. It contains very few ingredients even though it does call for one can of pumpkin, but not filling. This pastry was a big hit with my son and I loved the crust but personally I think it would have tasted better with traditional pumpkin pie filling. I am definitely keeping the dough recipe and can't wait to try it out with my homemade apple pie filling! The crust was flaky, soft, and absolutely magically. The crust is enough for six pasties but the filling is enough for at least twice that so I recommend doubling the crust recipe.
Homemade Fudge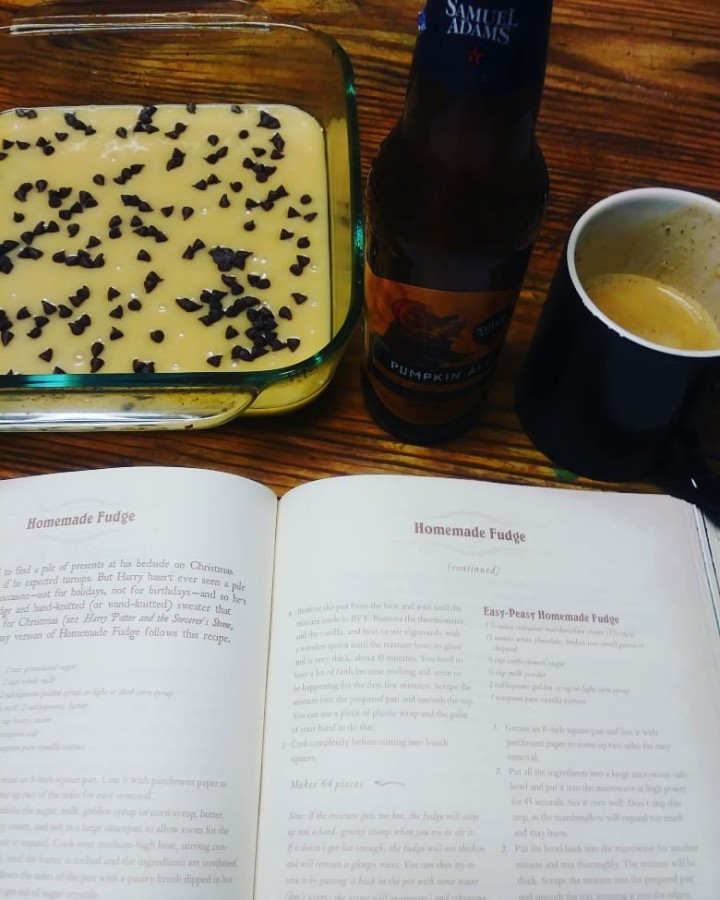 This was my first try ever at making homemade fudge. Usually, I buy a kit from the grocery store and have no problems with it. On this one, I got out my candy thermometer and set to work, and work it was. It takes so long to make that I actually made the Butterbeer mentioned above while I waited. There are side stories included in the book about each recipe, and this one explains how English fudge usually doesn't contain chocolate and tastes more like caramel. I mixed the ingredients and let it get to 238 degrees like called for, and then you stir it until the gloss is gone. This seemed to take forever! If you've ever made divinity then you'll understand the work involved. After stirring, and stirring, and stirring some more, I was finally able to pour it out to set. I added some Ghirardelli chips on top because I was worried there wouldn't be enough flavor. Which, as it turns out, was completely wrong. The fudge never actually set for me but it tasted like caramel without the stickiness and we ended up using part of it as a dip for apples.
Chocolate Frogs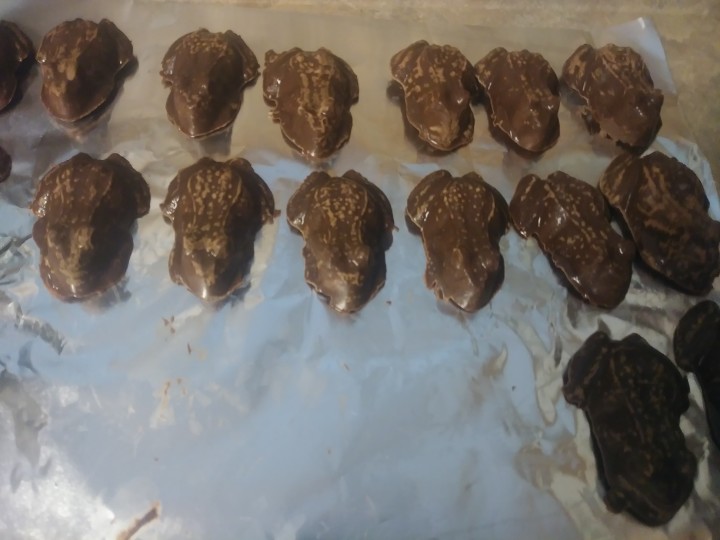 Finally, I tried the ever popular chocolate frogs! I expected a little more to go into this recipe other than chocolate being melted and pored into frog molds to set. You can literally add whatever flavor you want or even stuff them as the set. I ended up putting some of my fudge above into the bellies of the frogs and let them set that way. It added more to them aside from plain chocolate. I also put them in the fridge to set quicker in order to turn out more frogs in a short period of time. I bought the frog molds on Amazon for around $6.00 a set with eight molds on each one. I used six squares of dark almond bark and half a bag of Ghirardelli chocolate chips when I melted them in a double boiler. That's literally all there is to it. You can use any chocolate you want, but I favor Ghirardelli chips.
So far these are the only magically delicious recipes I've tried from the book. There are ones I will never try, such as Spotted Dick or anything calling for lamb, but there are many more I will try. My family are all too willing taste testers along this journey and hopefully yours will be too.
recipe

Renae Rodriguez
Quick bio: Harry Potter nerd, book lover, hot bath, wine sipping momma of 5 beautiful kids. I love food, exercise is necessary, and trying new adventures as often as possible! I have been blessed with a wonderful husband who gets me.
See all posts by Renae Rodriguez →