Meal Planning
Best Slow Cooker Soup Recipes
Nothing quite warms the bones like a hot bowl of soup. These are the best slow cooker soup recipes we've found — and they will melt in your mouth beautifully.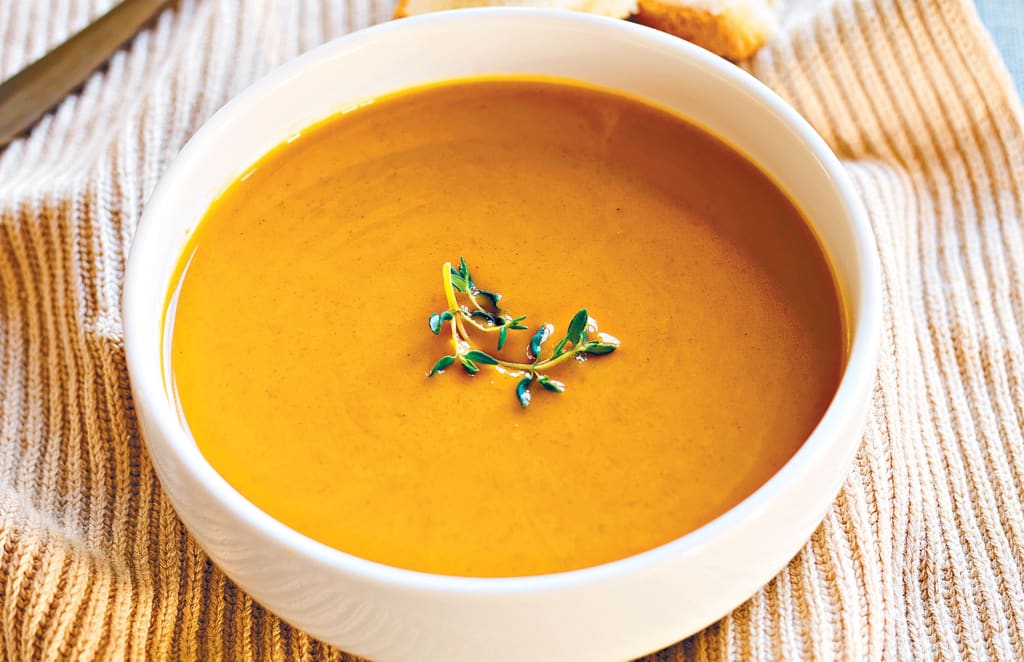 Soup is one of those rare dishes that works well during any time of the year.
Ramen on a balmy summer night is a great thing to experience. During the fall, squash soup is a must. Wintertime is basically synonymous with "soup season" for many of us, and during the spring, a fresh broth can't be beat.
One of the best items you can use to make incredibly rich soups is a slow cooker. The "low and slow" method of making soup naturally unlocks flavors, juices, and a creamy texture that turns any regular soup into an amazing meal worthy of a restaurant.
If you love the taste of real homemade soup, but don't want to stand over a stove for hours, check out our list of the best slow cooker soup recipes.
Tortellini Chicken Noodle Soup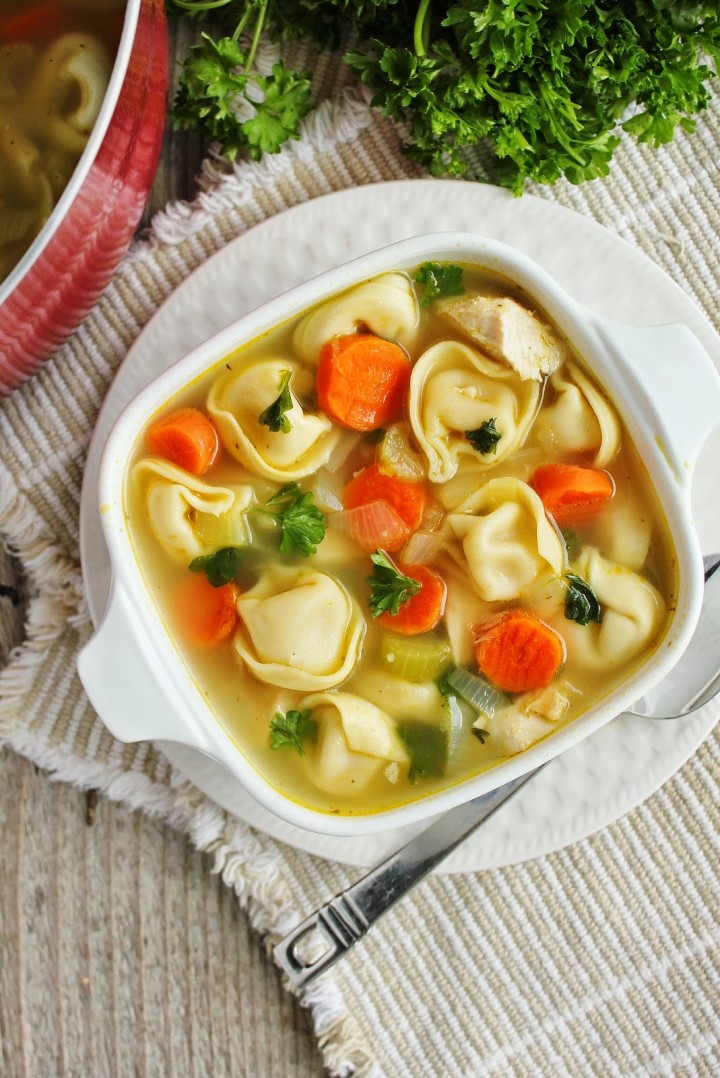 For many of us, the flavor of homemade chicken noodle soup is unmistakable comfort food. We were fed this soup by our parents when we had the sniffles as kids. During the winter, chicken noodle was the way that we knew that we were home.
If you have been yearning for comfort food, this is one of the best slow cooker soup recipes you can try out. This recipe for Slow Cooker Tortellini Chicken Noodle Soup keeps the authentic flavor of the classic dish, but also adds in meaty pieces of tortellini for a full meal.
Easy Taco Soup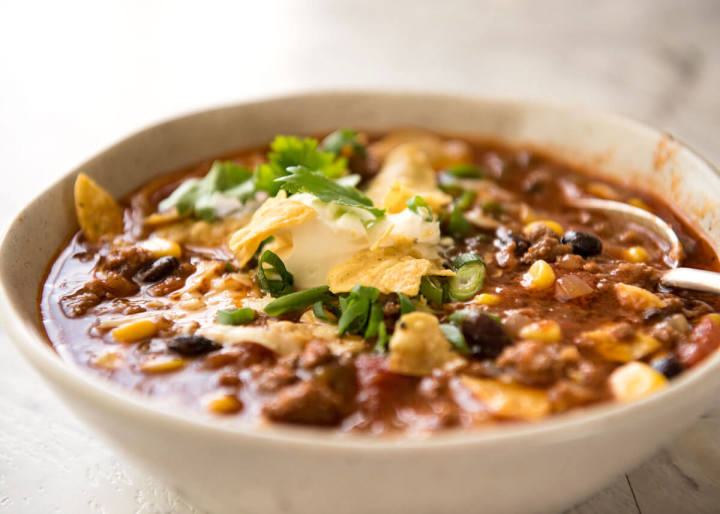 One thing everyone loves about crock pots is how quick and easy the recipes can be. That principle of "set and forget" really does apply to soups as well, and that's why there are so many incredible crock pot soups out there that taste like they were made by a master chef.
This super affordable recipe for Easy Taco Soup is one such soup. It's literally as simple as can be, uses fresh ingredients, and also manages to be easy on your waistline, too. (It's Whole30-approved, if you're wondering.)
Our advice? Top it with homemade queso fresco for one of the best slow cooker soup recipes you'll ever taste.
Thai Coconut Chicken Wild Rice Soup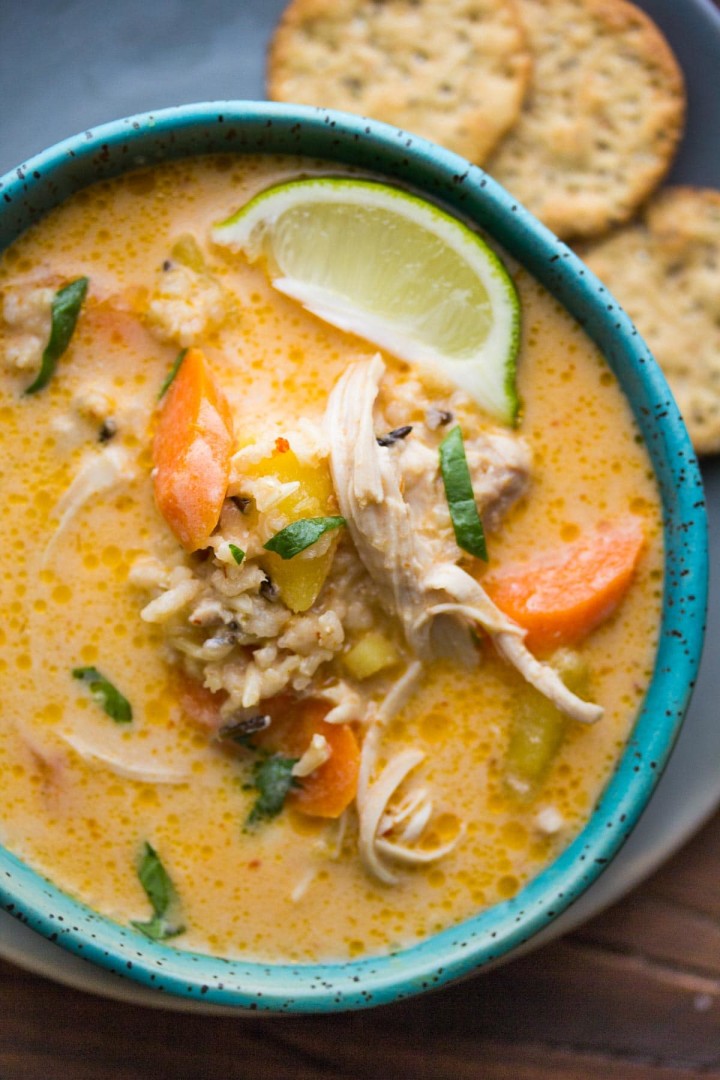 Most of the best slow cooker soup recipes involve classic ingredients and "down home" flavors. The reason for this is obvious: we don't usually want to have to go out to Whole Foods and hunt down rare spices just to make a single soup dish.
That being said, certain recipes are worth the ingredient hunt, and this Thai Coconut Chicken Wild Rice Soup recipe is one of them. This soup is savory, creamy, and has that deliciously earthy-peanutty spice that brought on the Thai craze of the 2010s.
Like other soups on this list, Thai Coconut Chicken Wild Rice Soup is hearty enough to be an entire meal on its own. If you love exotic food and want to be able to brag about being able to make it at home, this soup needs to be your next crock pot dinner.
Beef Barley Soup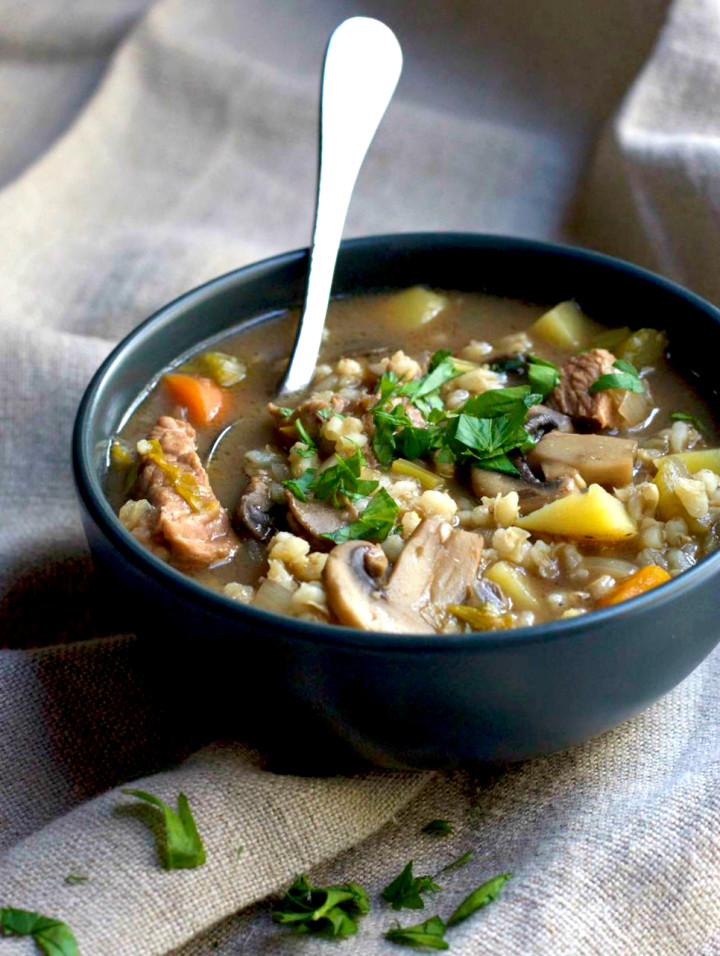 When you search up the best slow cooker soup recipes online, you'll probably notice that 90 percent of them are all about chicken. Chicken noodle, chicken enchilada, chicken stew, chicken this, chicken that...
Where's the beef?
We looked long and hard for a great crock pot soup involving beef, and are proud to say that we found it in this recipe for Beef Barley Soup. This soup really packs in the meaty, juicy, and savory flavor of beef in its entirety — all while giving you the "stick to your ribs" goodness of barley grain.
It's a classic recipe that's a classic for a reason. That reason being, it's good. Once you give this crock pot soup a try, you will want to make it again and again.
Split Pea Soup with Grilled Cheese Croutons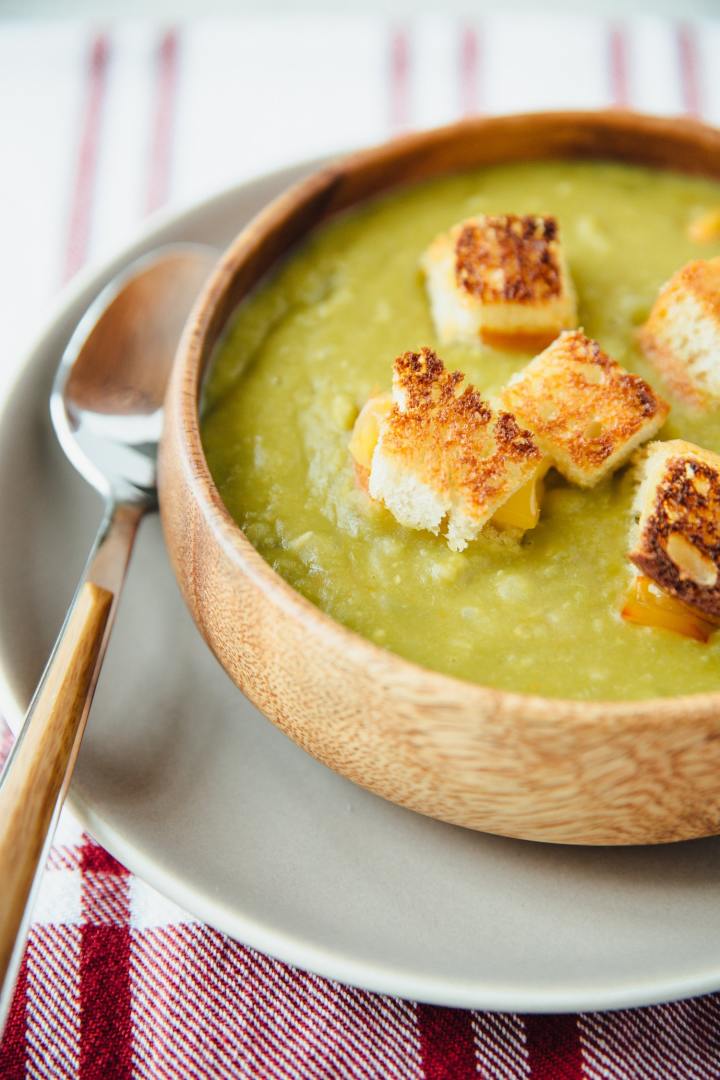 It's common knowledge that many of the best slow cooker soup recipes have a base in beans, meats, or a mix of the two. Split pea soup is a natural pick for a crock pot, primarily because it requires to be cooked slowly over a stove in its original form.
What's better than a comfort food like split pea soup? Having it accompanied by another comfort food favorite, like grilled cheese. As a result, this awesomely comforting recipe for Split Pea Soup with Grilled Cheese Croutons is ideal for cold winter nights.
Coconut Milk Pumpkin Soup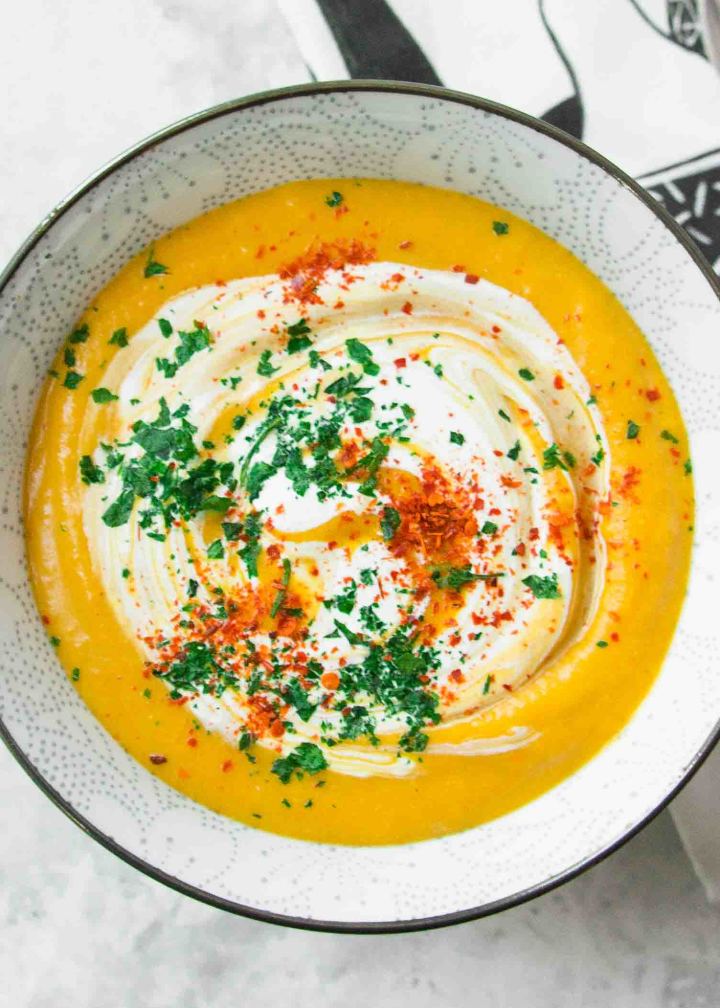 Hey, vegetarians and vegans like soup too! This vegetarian soup recipe easily ranks among the best slow cooker soup recipes we've seen in a while, and it shouldn't be hard to figure out why.
This incredibly creamy, savory, and fragrant soup tastes absolutely perfect on a chilly autumn day. The best part about this recipe for Coconut Milk Pumpkin Soup is that it can easily be spiced up with the right curry powders, so you can definitely tailor it to your personal tastes.
Butternut Squash Soup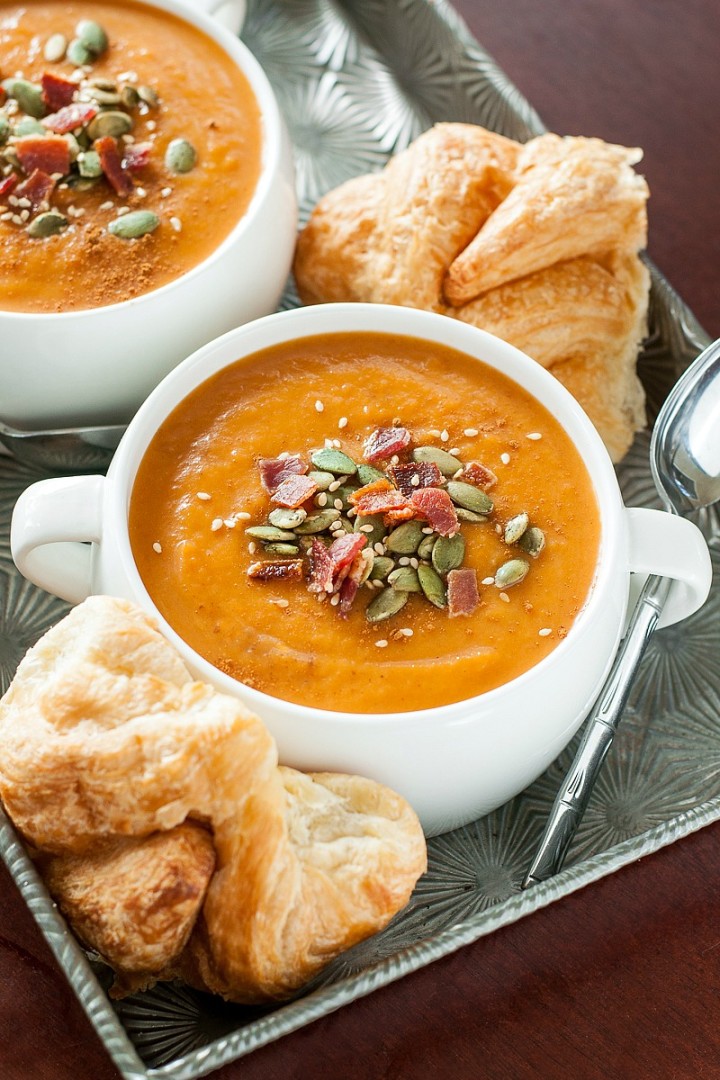 Butternut squash has all the awesome vitamin punch of spaghetti squash, minus the spaghetti texture. This makes the sweet and nutty butternut squash a perfect squash for soups recipes — and yes, it handles slow cooking very well, too.
If you want to give butternut squash a try, we suggest using this recipe for Butternut Squash Soup. It's one of the best slow cooker soup recipes for beginners to try, packs a powerful punch of Vitamin C, and also tastes great when chilled, too.
Sausage, Spinach and White Bean Soup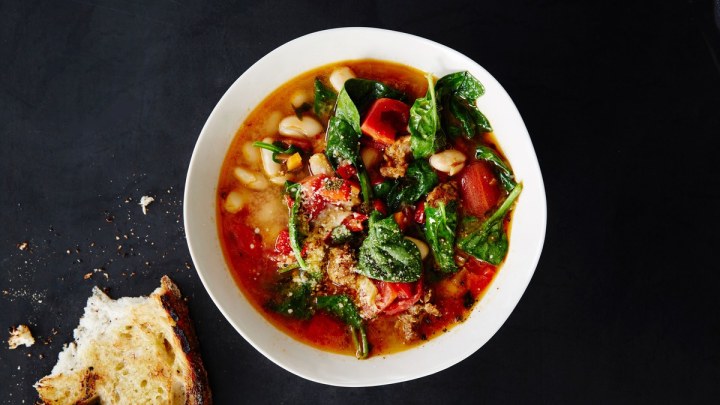 Craving an Italian-style soup that pairs well with wine? Then you might want to try some of the best slow cooker soup recipes that focus in on classic Tuscan flavors.
Though there are tortellini soups out there, we found that this recipe for Sausage, Spinach, and White Bean Soup really knocks it out of the park. It's light enough for springtime, hearty enough for winter, and also makes you feel like you just took a trip to Italia.