Best Places to Brunch
Brunch is a lifestyle, and anyone who's anyone knows that unless you've lived under a rock for the past decade. However, some brunches are greater than others, read on for the best places to brunch.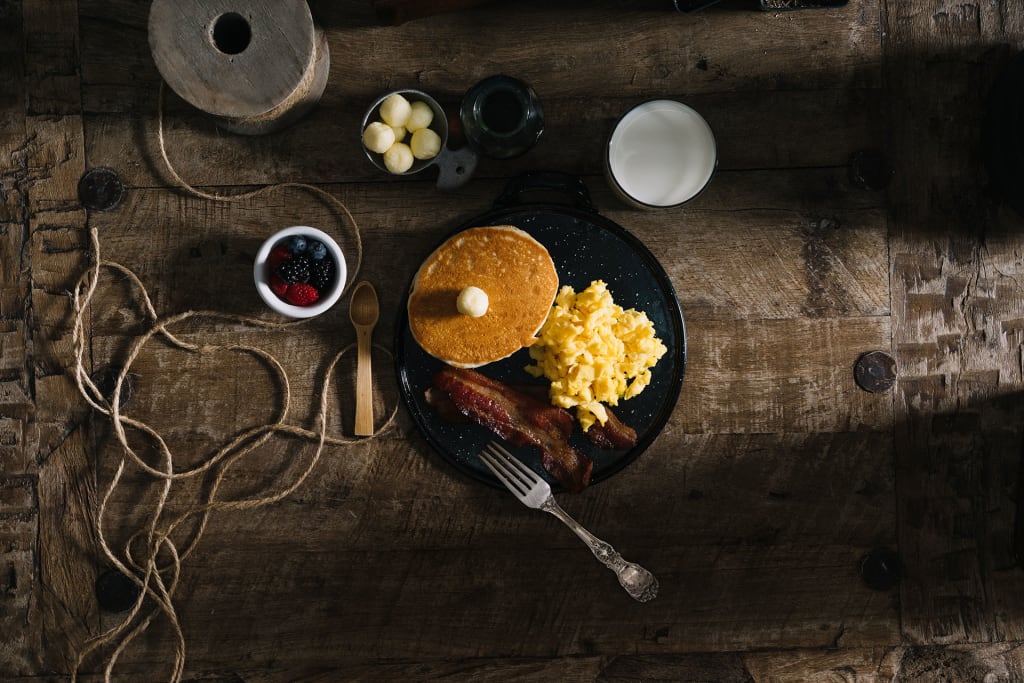 The best places to brunch are those where you can meet with friends (or family!) to recharge after a long week and mentally prepare for the upcoming one. It's a brief respite in the busy rhythm of our daily lives, where you can stop and sip the mimosas and load up on sugary sweet french toast delights or savory bacon and egg concoctions. It's also a great place to cure a hangover (cue the bottomless mimosas and spicy bloody marys!) or get a little boozy before another dreary Monday rolls around. Are any of the best places to brunch in your city?
Vox Table - Austin, TX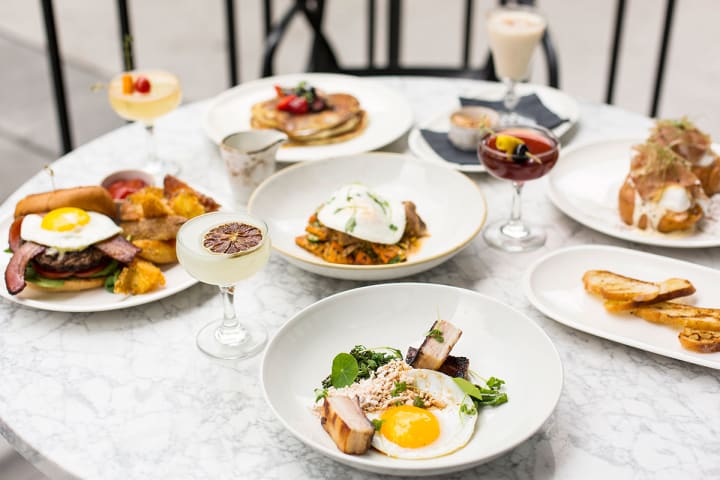 The only disappointing thing about brunch at Vox Table is that you can probably only manage to fit one meal at a time in your stomach. The best way to brunch is with a group, and the Vox Table experience is no exception. Plus if you eat with a group, you'll get to have more bites of everyone's food. Texas-sized portions of chef Joe Anguiano's Spanish and French inspired dishes include crab Benedict and olive oil pancakes complemented by fig and walnut butter. The Bloody Mary's are also Texas style, a classic served with a shot of hot sauce and a Lone Star chaser.
Milktooth - Indianapolis, IN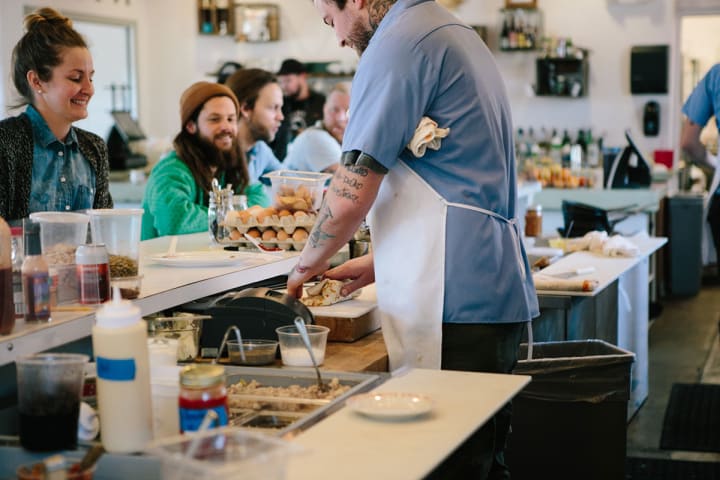 Milktooth in Indianapolis, run by Chef Jonathan Brooks, is hands down one of the best places to brunch. Previously recognized on Thrillist's "Best New Restaurants in America" Milktooth drew special attention as a restaurant that is only open to serve breakfast and lunch, but still can compete with the best of them. Taking fresh spins on classic dishes, like the Dutch baby pancake, Milktooth pairs pancakes with local pears, honey almond yogurt, puffed rice, and caramel corn. But, go any other season and you might find the Dutch baby pancakes paired with something entirely different, keeping customers on their toes, or heir tastebuds if you will. Operating out of a former garage space, Milktooth is sure to be an unforgettable brunch experience.
Santina - New York City, NY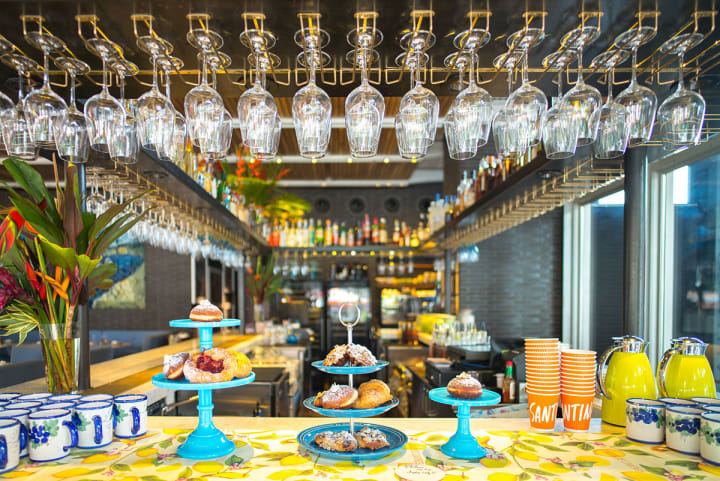 Doubling as both a date-night hotspot as well as one of the best places to brunch, Santina from Mario Carbone and Rich Torrisi is a real crowd pleaser. Beginning the brunch experience with the restaurant aesthetic, you'll be dining with tropical and coastal vibes with floor-to-ceiling windows, bartenders with island-style shirts, and chandeliers. What better way to spend the morning with your squad? For the hungry at heart, try the ginormous breakfast sandwich stacked high with Neuske's bacon, scrambled eggs, and tomatoes, enveloped by sesame seed buns smothered with avocado.
Jelly - Denver, CO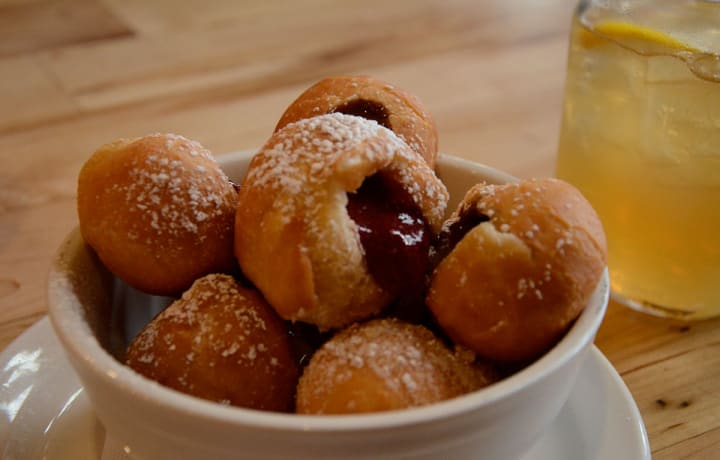 Denver is not new to the brunch way of life, and frequently shares their brunch gems with cities like San Diego, Phoenix, and Austin. Lined with retro design cereal boxes, and featuring mile high piled donut bites, Jelly is the perfect small bites brunch place. You might not be full on donut bites, so also be sure to check out their savory breakfast sliders in addition to your cup of coffee. Slider flavors include mini-goat cheese frittata with bacon, mini bacon and onion frittata with cheddar, or mini sausage frittata with Swiss. Better come hungry!
Lula Cafe - Chicago, IL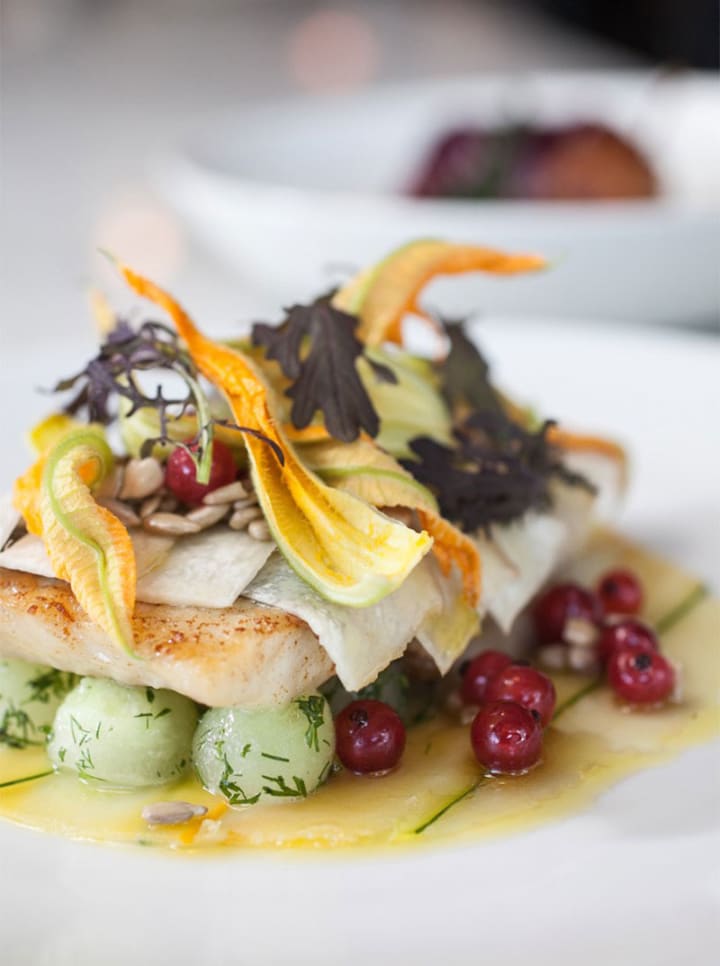 Are you into whole fresh-ingredients, you know the whole farm-to-table thing? If so, you'll likely agree that Lula Cafe in Chicago is one of the best places to brunch, because they've been living that truth since before it was cool. Jason Hammel and Amalea Tshilds' created an anchor restaurant for the Logan Square neighborhood, and if you need proof just look at their brunch lines on the weekend. In other words, when you go to try their seasonal breakfast sandwich (sunny-side egg-laden pork loin with kale, winter squash, and 'nduja vinaigrette) bring a magazine to read because the food is so worth the wait.
Sweedeedee - Portland, OR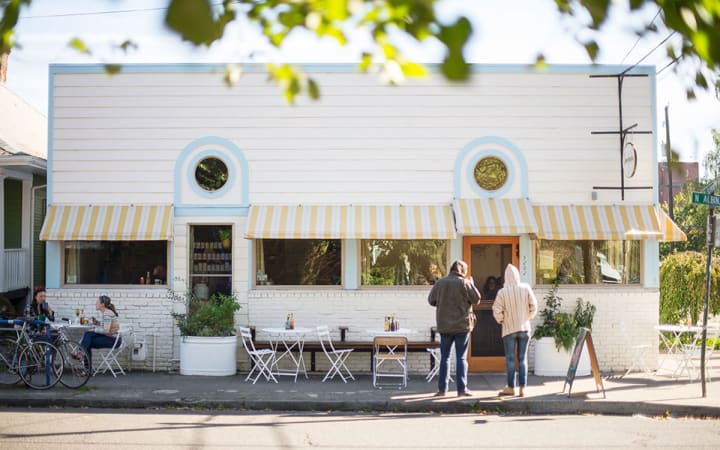 Only in Portland can you find a brunch counter between a bar and an organic grocery store, across the street from a record store. I mean, can you even make a list of the best places to brunch without giving Portland a shoutout? Sweedeedee is where you'll be able to walk up to the counter and view a beautiful arrangement of Mason jars filled with pickles, right next to a display case of pies.The theme is kind of home-made hippie, with freshly baked corn cakes and rye to complement smoked trout. If you're going here, make sure to try the honey pie, a piece of sticky heaven that even the best Southern grandmothers are envious of.
Sqirl - Los Angeles, CA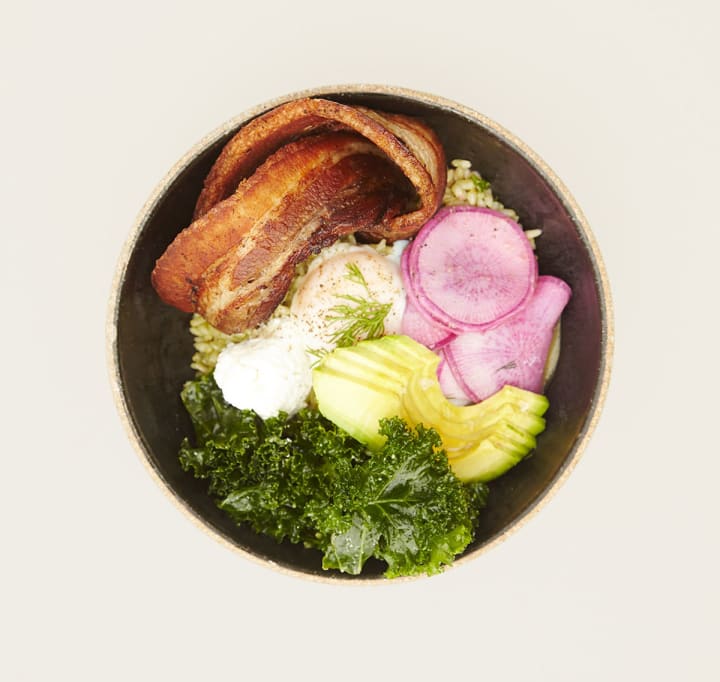 Sqirl is all about the some of the key elements of LA culture like sustainability, locally sourced, vegan-friendly, and global inspiration. Similar to another best place to brunch on this list, Sqirl focuses only on breakfast and lunch, and has a huge cult following, all built on Chef Jessica Koslow's pride and joy. In the social media world we're living in, it also helps that all the food is not only delicious but photogenic, and offers something for those looking for healthy and/or indulgent. Sqirl began as a preservative jarring company, so whatever your eyes (stomach) settles on, be sure to take some jelly to go.
Central Provisions - Portland, ME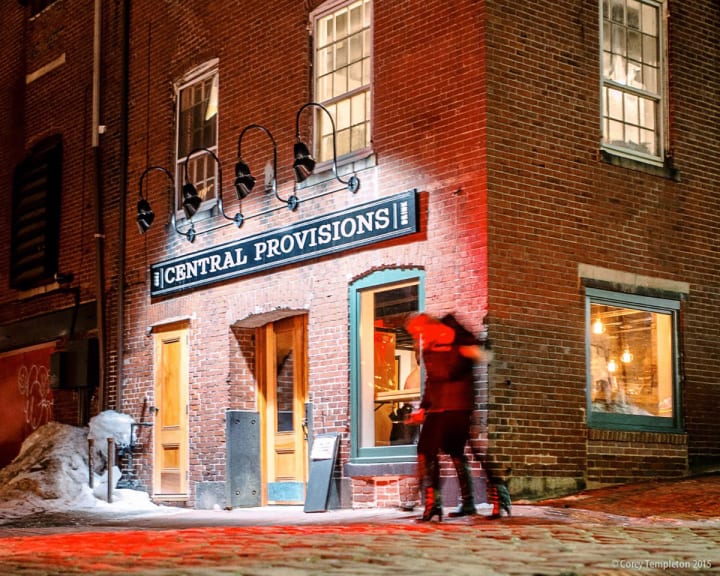 Nominated for a James Beard Award for Best New Restaurant, Central Provisions is a brunch place based in small plate dishes, so be sure to bring your friends. Loyal to the brunch name, menu options fuse together the best parts of breakfast and lunch, like the breakfast burger with miso mayo, egg, and bacon or the fontina-crapped bone-marrow toast. The food looks like art, and tastes so good you should probably not come to this place when hungover for fear of missing out on the amazing experience.
Spoon and Sable - Minneapolis, MN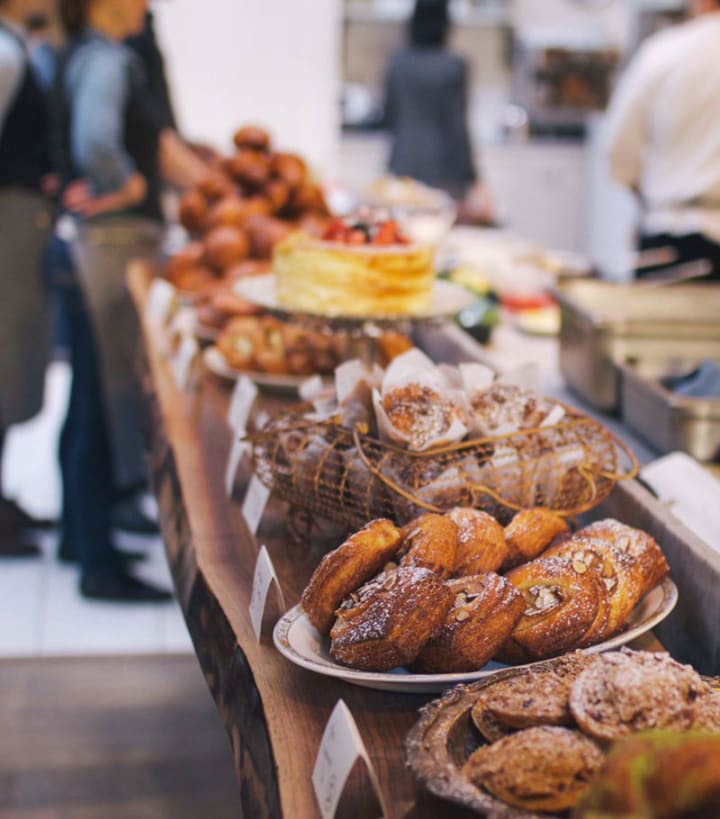 Crepe cake for $4? Yes please! Spoon and Sable might be one of the best places to brunch, but it's also one of the most affordable places to brunch. Topped with seasonal berries, almost infinite layers of thin pancakes piled high, the crepe cake is one of the yummiest, and cheapest breakfast items from Spoon and Sable, which is a steal seeing as how it's coming from award winning chef James Beard. To balance out the extensive pastry selection for the sweet-toothed out there, the brunch menu also offers red wine poached eggs on top of grilled sourdough with wild mushrooms.
The Busy Bee Cafe - Buffalo, WY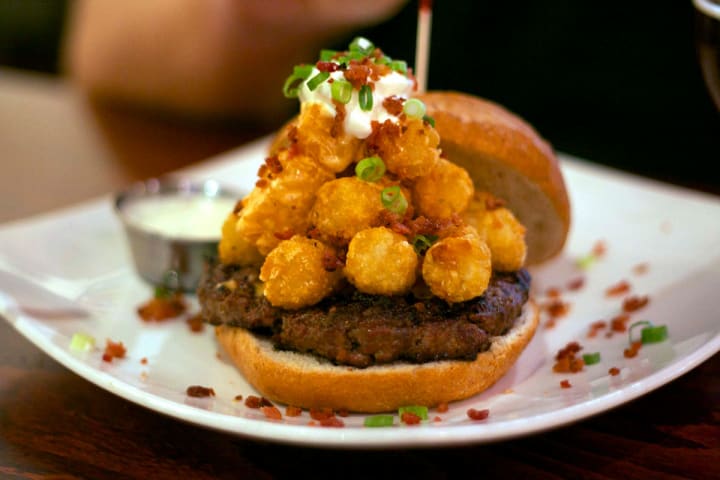 While Wyoming might not be on the top of everyone's "To Travel" list, The Busy Bee Cafe in Buffalo, Wyoming just might change that! Tacked onto the side of the Occidental Hotel, this brick-walled, antique-y brunch spot has been around since 1927. Serving up hearty platefuls of brunch, including Texas-sized chicken fried steak and Occidental French toast, which is really a giant cinnamon roll that's been deep fried and soaked in syrup. Using locally sourced ingredients, the Busy Bee Cafe's dishes don't only taste good, they'll also make your soul feel good.
With so many best places to brunch, and so little time, you should probably start saving up paid time off now. Of course, with the brunch trend being propelled into social media immortality by the millennial generation, there's likely to be a best place to brunch right in your neighborhood, so try one this weekend!