Best Donut Shops in NYC
Prepare to rave over the best donut shops in NYC, just like the locals do.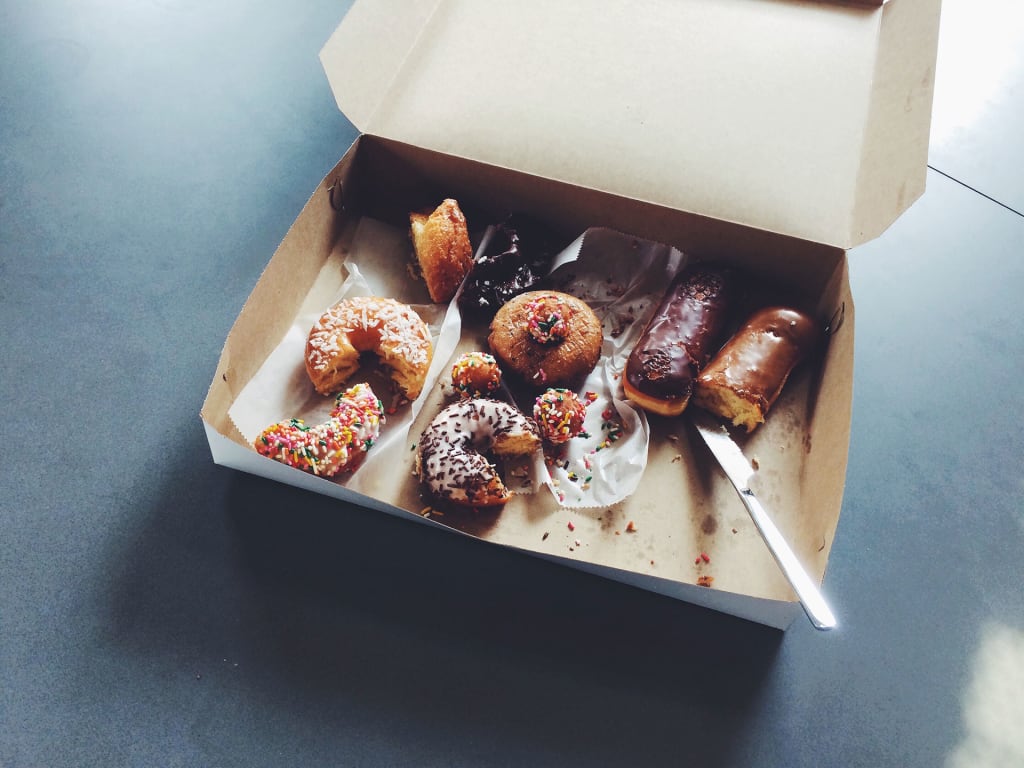 Fueling the sleepless masses is an important job, and who better to take it on than the best donut shops in NYC? From the local mom and pop shops to the most extreme donut operations in the city, these connoisseurs know exactly what New Yorkers like.
While most of NYC spends their days on the go, barely looking up from their busy lives, you'll be hard pressed to find someone who won't hit the pause button to enjoy a delicious donut. Navigating all that New York has to offer can be tricky, but you'd be mistaken not to hit up the absolute best donut shops in NYC.
Dough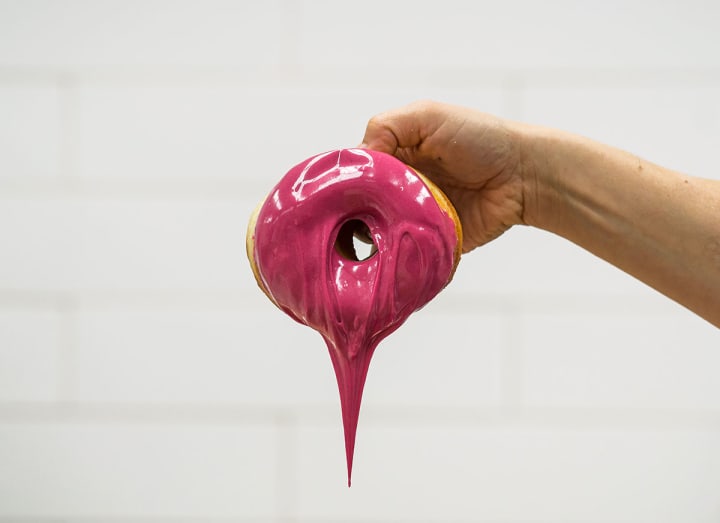 Dough earns its name fair and square. First time visitors usually walk up to see a line wrapping outside the store and down the block, but that's because Dough regulars know the wait is well worth it. Sure, this shop doesn't offer much seating, which during the winter can force customers to stand outside in the freezing cold while enjoying their donuts. The thing is, that doesn't deter people—at all. Don't be surprised when it's 17 degrees outside, and bundled New Yorkers are still chowing down on one of the best donuts New York has to offer.
These monstrous donuts have the perfect crisp outside, with an inner dough that's so soft, it almost feels like it's melting in your mouth. Choose the cinnamon sugar, chocolate with cacao nibs, or any of the other mouthwatering flavors. Watch the back-of-house prep while you wait; they'll be there all day.
Doughnut Plant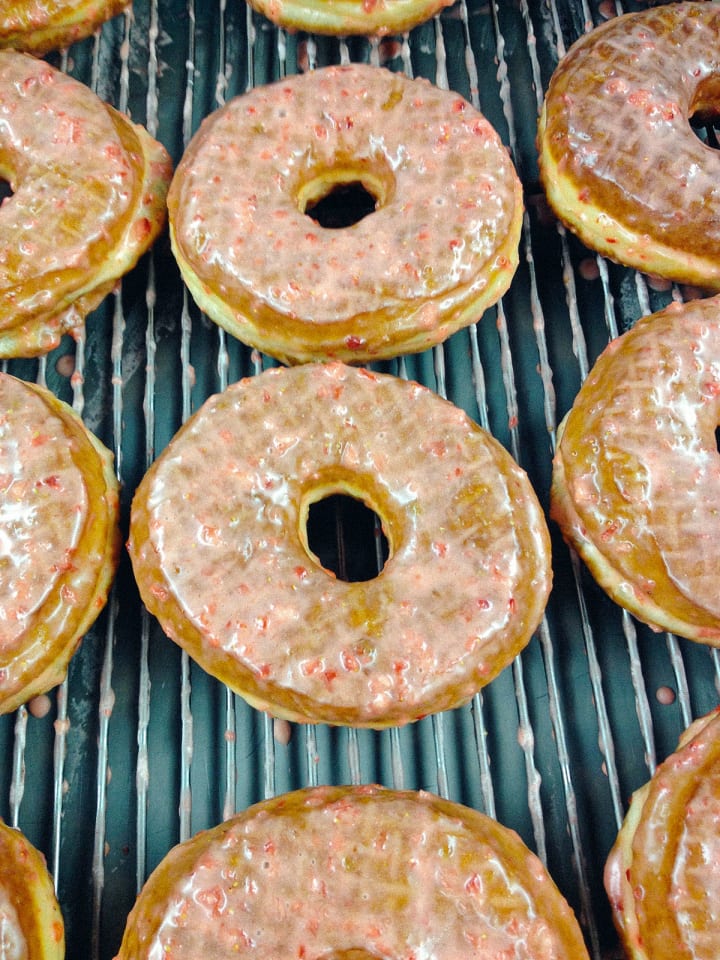 Most visitors come to NYC already aware of the uniqueness of Doughnut Plant. Even without heading to their actual brick and mortar locations, you won't have trouble finding dozens of other establishments selling their goods. Coffee shops all over Manhattan stock up every single morning, knowing exactly what their customers want.
The good news is, Doughnut Plant is a streamlined operation, meaning you won't be waiting in line too long, even when it backs all the way up to the door. Employees run the show with confidence and ease, getting you in and out—donut in hand—as quickly as possible. When it comes to donut shops in NYC, this place really has dominated the scene.
Try their peanut butter and jelly donut, which comes in a unique square shape, and couple it with a mini.
Peter Pan Donuts and Pastry Shop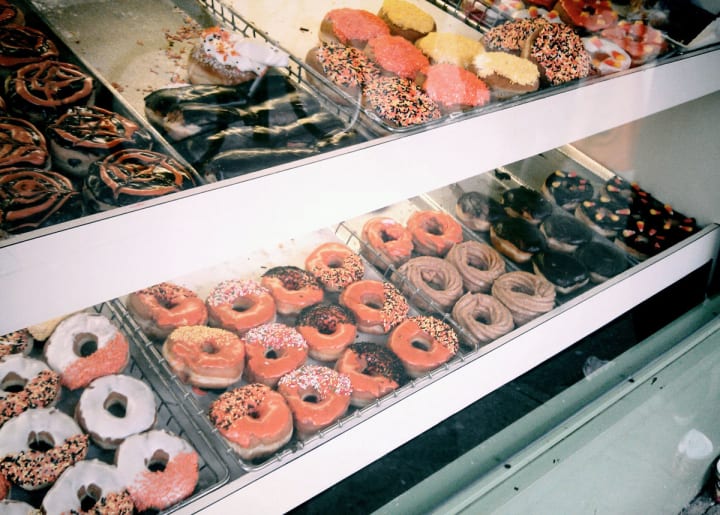 Prepare to make a trip out to the Polish neighborhood of Brooklyn for old school Peter Pan Donuts and Pastry Shop. This spot doesn't resemble the same hip vibe that a lot of New Yorkers like, but it definitely packs in some character. This diner-type shop has a wall full of donuts to pick from, so choose wisely, and then enjoy at the wrap around bar.
Be prepared to experience some true Brooklyn flair, with owners and employees wearing their hearts on their sleeves. Don't worry if you zone out while waiting on line—you'll be snapped out of it in true NYC style. It's worth it, though. Try the classic glazed cake donut, and if there's room, order some coffee at the bar and browse through the Times like the locals do.
Underwest Donuts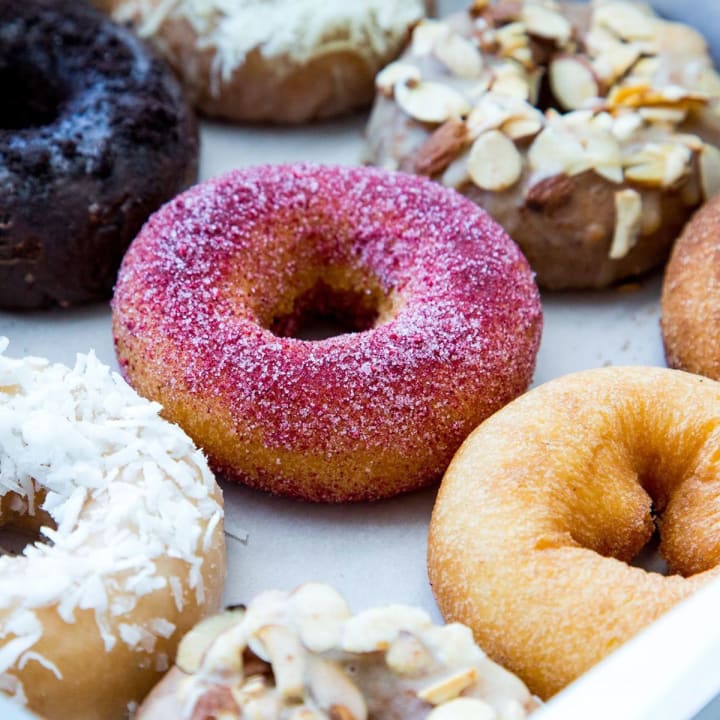 Talk to any New Yorker, and they'll gladly tell you about Underwest. This shop has an unusual location that's a bit of a hike out to the west side of Manhattan; Underwest is coupled with a car wash, of all things.
Sure, it might sound a little weird, but it's New York, right? Real estate isn't an easy thing to come by. It won't matter, anyways—you'll forget where you are once you bite into these mind-blowingly delicious treats.
Underwest created a new standard for all donut shops in NYC to live by. They didn't start pumping out new and unique flavors from the beginning, though. Instead, they opted to serve some absolutely amazing classic donuts instead. Once the base was perfected, enticing flavors like brown butter were added to the mix.
Doughnuttery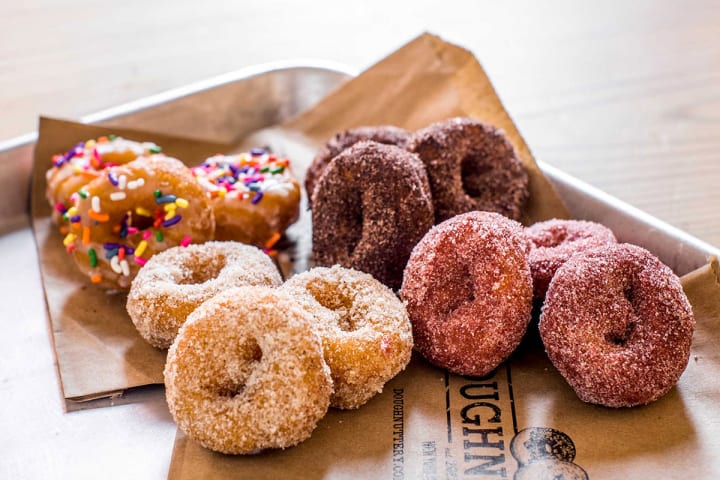 Chelsea Market is a destination all by itself, but add in Doughnuttery, and you'll be heading back every chance you get. This donut booth is just that—a stall serving mini donuts to the masses. Weave your way through the market to find them; your nose can lead the way.
It's hard to believe there's even space to create these miniature masterpieces, but expert bakers somehow work their magic to produce these bite sized wonders. On top of that, the tight squeeze of this booth ensures that only small batches of donuts are made at one time. In other words, expect warm, freshly baked mini donuts on every visit. For an even bigger explosion in your mouth, make sure to pick up a side of dipping sauce.
Donut Pub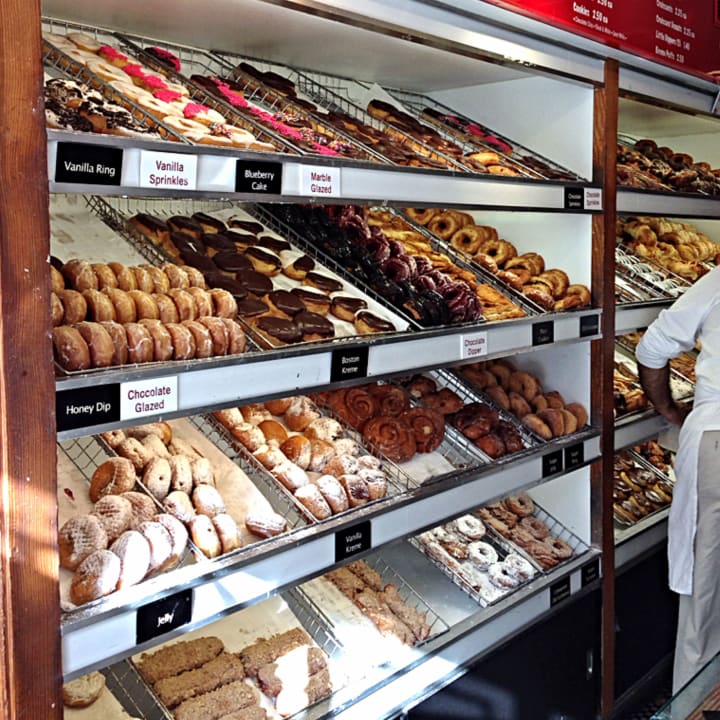 You can get donut holes at just about any bake shop. Their perfect size makes them portable, which New Yorkers love. For most, though, these little morsels are just an afterthought, with much of the focus going to the actual donut itself.
Donut Pub is different. People go here for the donut holes specifically, which come freshly baked every time. Seriously, there's so much turnaround here, you'd be hard pressed to find a time when they weren't cooking up new batches of donut hole goodness. The best donut shops in NYC all have a unique factor to them, and Donut Pub has found their niche.
Don't be fooled by the unassuming shop front; it might not seem like a big deal upon first glance, but we assure you it is. Try their honey dipped or red velvet donut holes, and make sure not to leave without a French Cruller, as well.
Erin McKenna's Bakery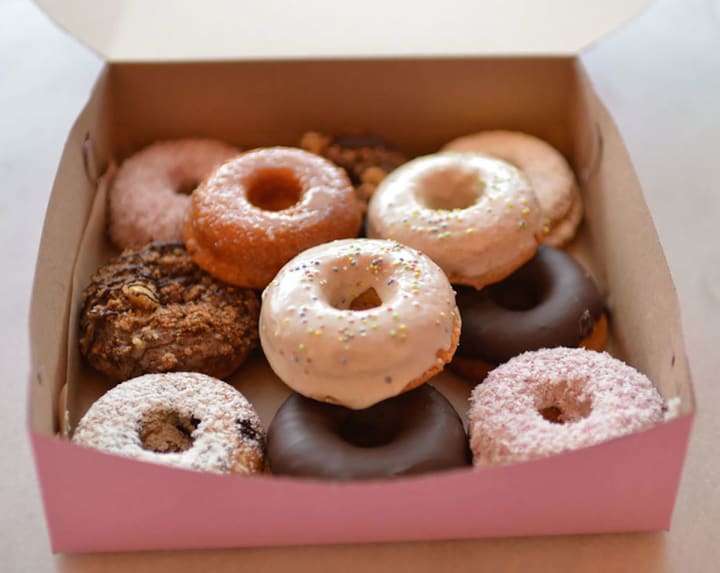 Formerly known as Babycakes, Erin McKenna's Bakery made the list for their accomplishment of creating a vegan, baked donut - one that people absolutely rave about.
Healthy eaters of the world, unite; there's finally a donut you can enjoy, guilt free. This bakery whips up donuts that come in the perfect, petite size, hence the former name. Despite the fact that this shop bakes their donuts instead of frying them, these mini bites pack in a surprising amount of doughy, moist, and sugary goodness.
This bakery gets creative with their flavors, too, offering things like chocolatey cookie crunch or lemon poppy. Better yet, try the Samoa donut, an absolute crowd favorite. Their flavors rotate on a daily basis, so stop back frequently for a new taste every time.
Pies 'n' Thighs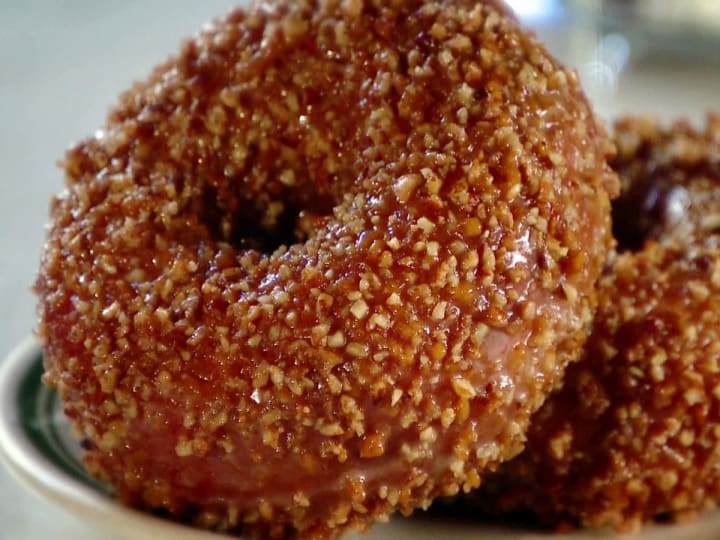 Don't be fooled by the name. Sure, this restaurant might otherwise be known for their fried chicken and pies, but they crank out a mean donut, too. This Williamsburg establishment is sometimes overrun by Brooklyn hipsters, but whether your handlebar mustache is on point or not, don't miss Pies 'n' Thighs.
The best way to tackle this version of donut shops in NYC is to come very hungry. There's no way around it; a visit to this restaurant is a full-on experience. Tuck into a plate of fried chicken and waffles, but don't make the mistake of not leaving room for a Maple Oak cake donut or raised Butter Pecan Crunch afterwards.
The concept might seem a little off at first, but as soon as you step in the door, you'll get it. Pies 'n' Thighs is the place to be when it comes to top notch donuts.
Whether you're a local to New York City, or one of its millions of visitors per day, do not miss out on these 8 best donut shops in NYC.