Best Breakfast and Brunch near Pearson Airport
Here is a list of "Best Breakfast and Brunch near Pearson Airport". This list includes a variety of breakfast serving places with the best pictures and detailed information as well as cuisines, prices, locations, features, ratings, and so on.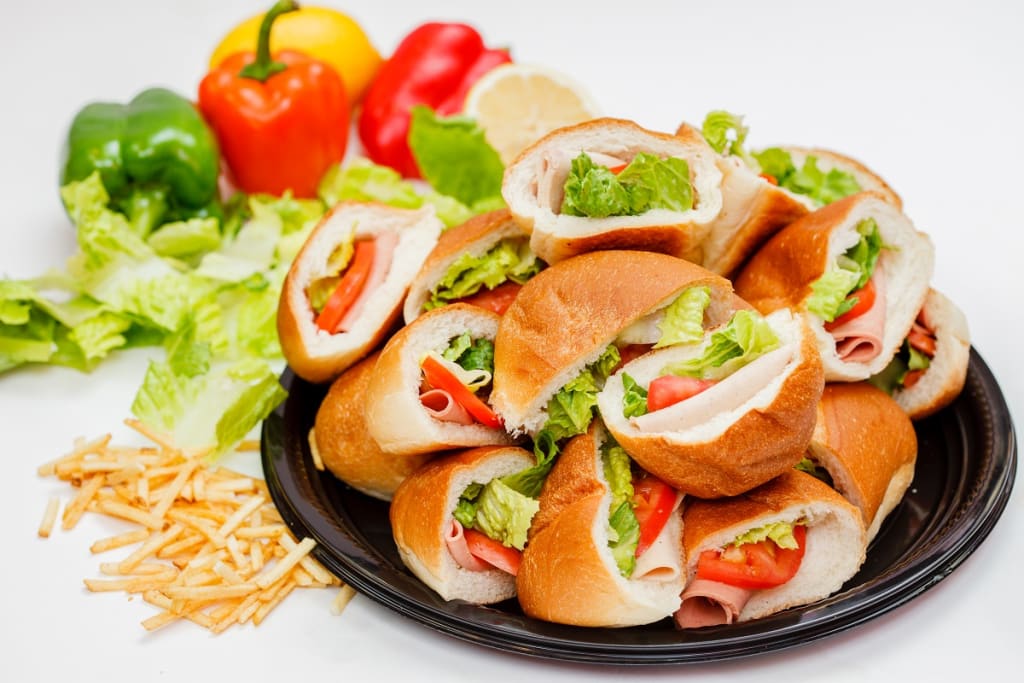 Haida Sandwich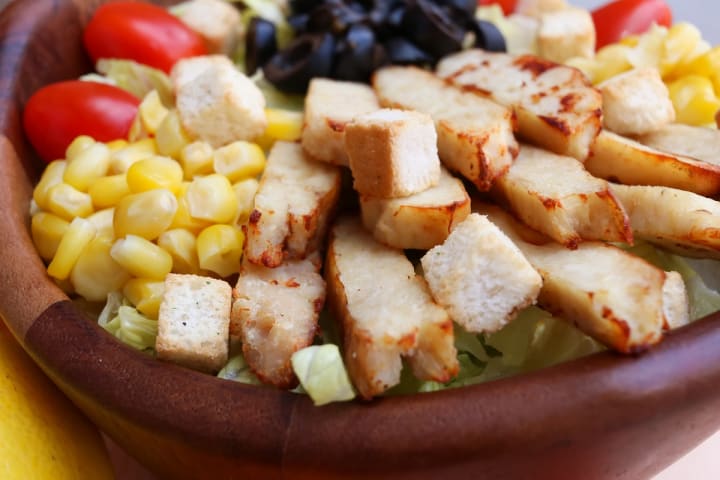 Haida restaurant is one of the restaurants near Pearson airport. If you are one of the people who like to have fast food as a meal when your plane landed, Haida is the best you can find around. Haida restaurant provides the most delicious pizzas and sandwiches near Pearson airport. Moreover, the ingredients that they use are fresh, authentic, and Halal. Besides, they provide Persian food and drink (doogh); thus, this place can never let you go! Moreover, the Haida restaurant provides cold sandwiches and appetizers. Then, if you are satisfied with their food and price, you can let them cater to your events.
Restaurant Name: Haida Sandwich
Phone Number: (647) 352–3344
Website: https://haidasandwich.ca/
Address: 15 Northtown Way #21, Toronto, ON M2N 7A2
Opening Hours: 11 AM — 12 AM
Dish Type: Pizza, Fast Food
Price: CA$30 for two people (approx.)
Delivery: Yes
Yelp Rating: 3.5
Google Rating: 4
Zomato Rating: 3.4
Foursquare Rating: 7.3
Eggsmart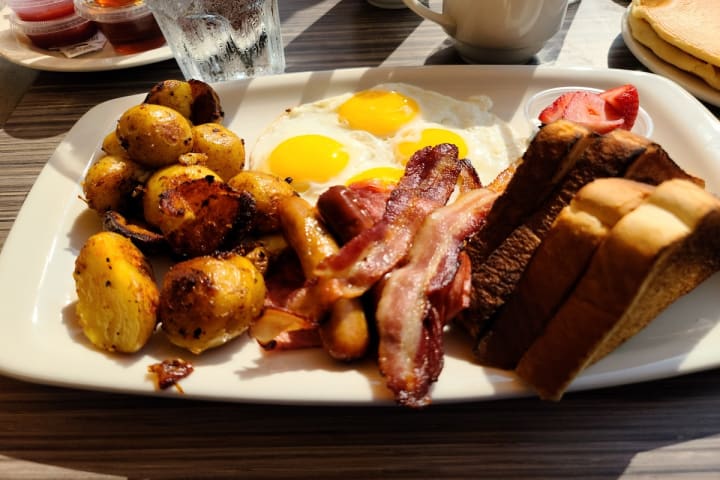 Eggsmart is a wonderful dining place near Pearson Airport. It serves classic breakfast, brunch, or lunch, whatever you desire! If your plane just landed at Pearson Airport, have your meal at Eggsmart. The inviting atmosphere and unique decoration can boot your appetite. As the name represents, this place is renowned for its delicious eggs. Besides, their signature meal is Scramble Bowls consisting of 3 eggs scrambled together with your favorite ingredients. In addition, it would be served with Texas toast and seasonal fruit garnish. Delicious ha? Well, I recommend not to check their deliciously designed website. Their website is filled with pictures of their superb food. Also, they possess a smartly designed logo which represents more what they are good at.
Furthermore, they are good at not only eggs but also burgers and poutine. Moreover, the smoothie they serve is one of the best. All their ingredients are raised without antibiotics, and eggs are cage-free.
Further, they are two things you need not be worried about: 1. Being vegetarian 2. Kid's health. Suppose you or any companion of yours is a vegetarian. In that case, the good news is this place contains various options on the menu titled "veggie." Likewise, suppose you are with the family, and a kid is in your midst. In that case, this restaurant has a particular part named "just for kids," including Kid's French toast, kid's choice pancakes, and traditional grilled cheese.
Whenever they desire to dine in Eggsmart beats you, remember that you can order online, and all their food is affordably priced.
Restaurant Name: Eggsmart
Phone Number: (905) 405-1000
Website: http://www.eggsmart.ca/
Address: 6795 Airport Rd, Mississauga, ON L4V 1E6, Canada
Opening Hours: 7AM- 3PM
Cuisines: Canadian
Yelp rate: 3
Google Business: 4.3
TripAdvisor Rate: 5
Features: Delivery
Sunset Grill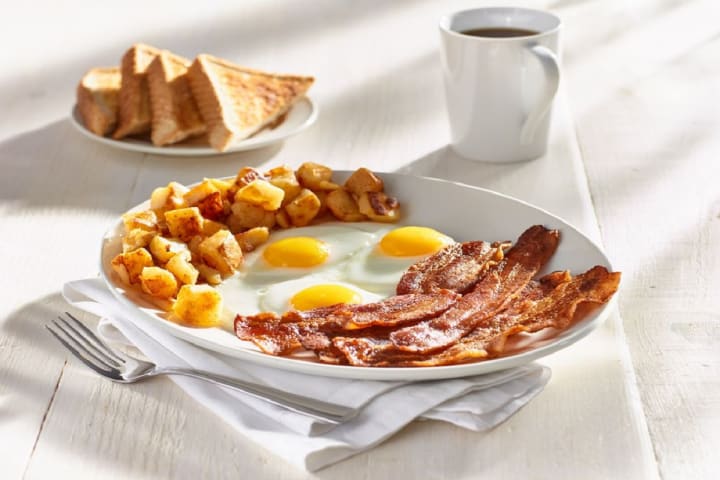 Sunset Grill is a family-owned restaurant near Pearson Airport, mostly known for its breakfast. This "Home-style" restaurant was established in 2003 by Ronnie and his family. Moreover, a cozy, clean, and friendly atmosphere with tasty foods have backed up this restaurant's reputation all these years; therefore, it certainly is a must-go-to place. Another reason for trying this place is its freshly cooked food. Ronnie's oldest daughter's dessert menu is that her baking love made her a champion with several awards in her specialty.
Furthermore, they serve various kinds of pancakes and omelets for breakfast like German omelet, Italian omelet, etc. additionally, the vegetable omelet is something hard to turn a blind eye on. Therefore, it is crystal clear that Sunset Grill has a diverse menu and a wide variety of dessert selections. Also, this place's menu for breakfast is not finished here. They provide eggs, toasts, cheese, and mushrooms- you can make your own omelets. In addition, Sunset Grill serves lunch, soup and salad, appetizer and dinner, and breakfast. Also, they can cater to your events if you want them to!
Lastly, Sunset Grill will draw you back like a boomerang to its owner!
Restaurant Name: Sunset Grill
Website: https://sunsetgrill.ca/
Phone Number: (905) 625-4881
Address: 5089 Dixie Rd, Mississauga, ON L4W 0E6, Canada
Opening Hours: 6:30am–3pm
Cuisines: Canadian, Diner
Special Diet: Vegetarian Friendly
Features: Seating, Parking Available, Wine and Beer, Accepts Credit Cards, Takeout, Outdoor Seating, Highchairs Available, Wheelchair Accessible, Serves Alcohol, Table Service
Yelp Rate: 4
Google Business: 4.4
TripAdvisor Rate: 4
Foursquare Rate: 7.5
Sami's Cafe & Diner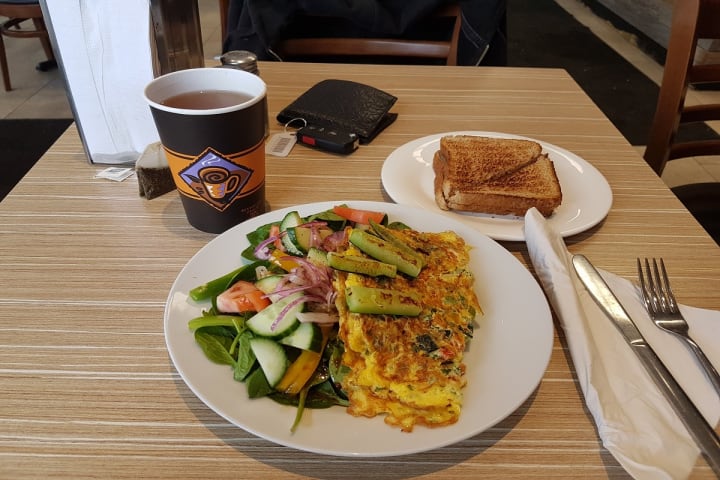 Sami's café & diner is the town's favorite breakfast and lunch spot. They serve up daily breakfast and lunch specials. Actually, they have freshly created omelets, pancakes, wraps, sandwiches, soups, and every other breakfast favorite and daily lunch specials. Moreover, they are open six days a week and closed on Sunday. In addition, their breakfast menu is packed with mouthwatering foods like French cinnamon and three blueberry pancakes. Likewise, you can check their fantastic website that is filled with pictures of their delicious foods. Further, Sami's café & diner is a neat diner and café, which is an exotic spot for friends and family gatherings, even a business colleague gathering.
Restaurant Name: Sami's Cafe & Diner
Phone Number: (905) 670-7565
Website: https://www.samiskitchen.ca/
Address: 1801 Britannia Rd E, Mississauga, ON L4W 1S6, Canada
Opening Hours: Mon-Fri : 8am – 7pm Sat : 9am – 4pm Sun : Closed
Cuisines: Middle Eastern, Canadian, Greek
Features: Takeout
Price Range: CA$30 for two people (approx.)
Yelp Rate: 4.5
Google Business: 4.7
TripAdvisor Rate: 5
Route 401 Diner
Route 401 Diner is a classic diner place near Pearson Airport and horribly renowned for its breakfast. Route 401 can give you a classic diner experience accompanied by friendly service and delicious food. In fact, it is said classic because of the nostalgic, retro-inspired vinyl booths and vintage ads that can make you feel comfortable. Besides, this place is decorated with wooden and red chairs and beautiful light bulbs. In addition, the inviting staff who welcomes you with a smile at the door are so heartwarming. They provide wonderful foods with flair.
Further, if you look at their menu, you would see traditional breakfast, different kinds of eggs, French toast, pancakes, omelets, kids' menu, and a 401 special. Another fascinating element in Route 401 Diner is pictures of Merlin Monroe and Audrey Hepburn. their logo is designed on these two actresses. They are hanged on their walls put on their tables and counter.
Furthermore, during COVID 19 situation, staff wear a mask, and entering the restaurant wearing a mask is required. Also, they have limited capacity and social distancing due to coronavirus. In addition, they also provide hand sanitizer for your safety.
Restaurant Name: Route 401 Diner
Phone Number: (416) 247-7836
Website: https://www.route401diner.com/
Address: 2 Ronson Dr, Etobicoke, ON M9W 1B2, Canada
Opening Hours: 8AM- 2PM
Yelp Rate: 4.5
Cuisines: Diner, Canadian
Special Diet: Vegetarian Friendly
Features: Seating, Table Service, Takeout
Price Range: C$8 - C$20
Google Business: 4.5
Zomato Rate: 3.2
TripAdvisor Rate: 4.5
Foursquare Rate: 7.6
New Midway Restaurant
New Midway is both a hall party and restaurant located around the Pearson Airport. Their hall party can handle all occasions, from an office party and a birthday party to a baby shower! On the other hand, the New Midway restaurant serves a fantastic breakfast and brunch. This restaurant is a house of flavors and tastes with mouthwatering foods. As a matter of fact, they develop dining experience and achieve the client's satisfaction. As a result, clients' satisfaction is their utmost priority. New midway tries to achieve its client satisfaction by providing the most delicious and authentic classic and modern dishes. Also, they use fresh, natural ingredients and exotic spices exclusively made by their chefs. Moreover, this restaurant provides a vast vegetarian menu that can satisfy any vegetarian and vegan-friendly customer. Once again, New Midway restaurant has various kinds of eggs, omelets, sandwiches, and the so-called Desi Parathas for breakfast.
Restaurant Name: New Midway Restaurant
Phone Number: (905) 564-5980
Website: http://newmidwayrestaurant.ca/
Address: 101- 1230 Mid-Way Blvd, Mississauga, ON L5T 2B8, Canada
Opening Hours: Mon-Fri : 5:30am – 4pm Sat-Sun : Closed
Cuisines: Breakfast & Brunch
Features: Delivery, Takeout
Price Range: CA$30 for two people (approx.)
Yelp Rate: 4
Google Business: 4.1
TripAdvisor Rate: 3.5