Awesome Food Products From 'Shark Tank' You Can Actually Buy
The most innovative, tasty, and helpful food products from 'Shark Tank,' the hit reality TV series.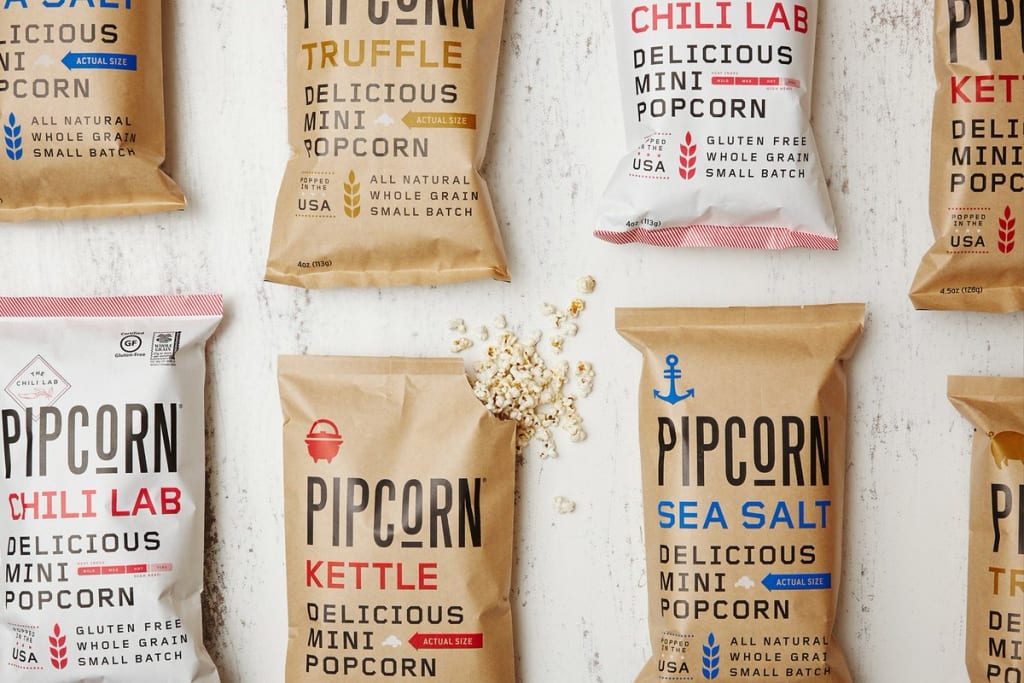 These food products from Shark Tank appeared on the ABC reality television series to grow from nothing to impressively successful businesses. What are the hottest new additions to the food industry that can become your next favorite snack, or your newest kitchen companion?
Ranging from the first Draft Beer System to be produced to chocolate hummus, these products will not only impress you, but have you thinking of your dream Shark Tank proposal.
Ever wonder how the products that made some profit off of Shark Tank are doing today? This list alone shows the success of the show, and that's only within the food category.
Created by Pipsnacks, Pipcorn is one of the most successful food products that have come out of Shark Tank. Founded by a team of a sister, brother, and wife, the company is a snack food company that alters the way snacks are produced.
For example, Pipcorn is a miniature version of popcorn that is made for easier chewing and stomach digestion. As one of the best food products from Shark Tank, this product is both tasty and healthy, and is taking the snack food business by storm. Give it a try for yourself.
Nuts 'N More is all about including much-needed protein in an alternate and tasty way. Many people go through their entire day without getting the needed protein in their diet, which is where Nuts 'N More comes in.
It's the first ever protein spread to be produced in the mass market. Plus, the spread is not chunky or hard, and is instead smooth and creamy.
With flavors like chocolate peanut, pumpkin spice, vanilla cake batter, and hazelnut, there's a product for every taste and is considered one of the best food products from Shark Tank.
With the sole purpose of creating a product that is completely preservative free, Three Jerks has made a beef jerky with no added MSG, gluten-free, artificial ingredients-free, and no sodium nitrates.
Created with all-natural ingredients and packed full with flavor and delicious high-quality spices, this makes choosing between jerky brands simple. Some options include "I Can't Believe It's Not" Hamburger Jerky, Maple Bourbon Churro Jersey, and Filet Mignon Original Jerky.
As the first Draft Beer System to be produced, Fizzics is a portable beer system with micro-foam technology. Bring the world of draft beer anywhere with the addition of this product to your drinking activities.
As one of the best food products from Shark Tank, this machine brings the experience of a bar to the comfort of your home, the beach, the park, anywhere! It works with any size can, bottle, and can even accommodate a 64 oz growler. It would certainly be a great gift for craft beer lovers.
With four different flavor options, these cricket bars are created with Chapul Cricket Flour for protein, iron, prebiotic fiber, Omega 3s, and vitamin B12.
Choose between the Aztec Bar, with flavors of dark chocolate, coffee, and cayenne, the Chaco bar, peanut butter and chocolate, the Thai Bar, made with coconut, ginger, and lime, and the Matcha Bar, made with green tea and bananas.
Fans have raved about the rich formula and healthy ingredients. As an incredibly new product to the health foods business, these Chapul bars are definitely unique. Take a step outside of your comfort zone to enjoy this one.
One of the most useful food products from Shark Tank is a food protecting tent. Designed for tailgating, RV trips, camping, picnics, outdoor parties, and really any situation you might fear bees, bugs, and weather interfering.
Never worry about setting out food for your next party with the addition of PicnicPal. Plus, it's a great size and can protect up to 30'' x 72'' tables, with all the food you need. You won't be able to plan an outdoor event without this aid again.
Most of the best food products from Shark Tank include creating an entirely new product. This Slawsa is the combination of coleslaw and salsa that you didn't know you needed.
As the first topping of its kind, this product has a new flavor you've never tasted before. Described as cool and crisp, this condiment is made for adding that needed kick to your bite. Choose from different flavors including Spicy, Garlic, Fire, and Original.
These fruit strips are made with one simple ingredient, fruit. Peaceful Fruits has produced some of the most organic, vegan, gluten-free, and delicious treats for people who are tired of putting harmful ingredients in their body. This product is made with 25 wild acai berries, plus the addition of other whole fruits, to create these fruit snacks.
Also, Peaceful Fruits employs people with disabilities to work for them in Akron, Ohio. And, the company protects the Amazon rainforest. This is a company that many people can confidently get behind.
The brand, Jackson's Honest was created by a father and his son, who suffered from a rare immune disease. As a way to try and adjust Jackson's diet in a way to combat this disorder, the key ingredient that shined through was coconut oil.
With this "magic" ingredient, they created their company that produces potato chips, in a healthier, wholesome way. Using the most natural oils, the chips are created in eight different flavors and have been a hit in the snack food industry and among the popular food products from Shark Tank.
To finish off this list of the best food products from Shark Tank, we couldn't forget about the delicious Brownie Batter Hummus. Who wouldn't want a different and new way to indulge in chocolate?
Created with the sole purpose of satisfying your chocolate cravings in mind, this treat is great for dipping pretzels, strawberries, marshmallows, brownies, gram crackers, bananas, and the list of possibilities goes on. Great for parties or just solo snacking. This is the perfect way to get your chocolate fix you didn't know you needed, until now.