Adaptation on Water Cake
Pantry Baking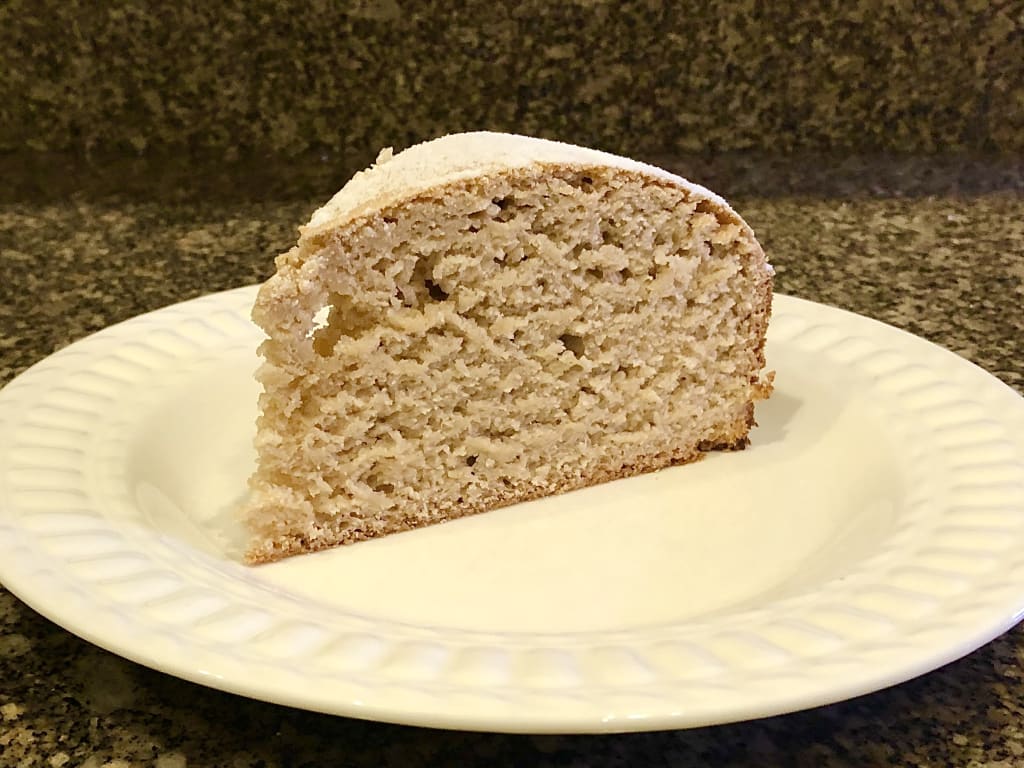 Apple Cider Cake
I happened upon a recipe for Italian Water Cake and was intrugued. I had never heard of a water cake before so I dove into the recipe and loved the idea, espcially now that we are all social distancing and trying to make use of what we have at home rather than going out on a shopping trip. I researched and read a couple different recipes before I decided to make one of my own. I really loved the simplicity of the recipes and the plus that I could keep it in my repertoire for vegan friends in the future.
The original recipe I found used double zero flour (a very fine Italian flour), baking powder, salt, sugar, lemon zest or vanilla, water, and a neutral oil - vegetable, sunflower, canola. That same recipe suggested using orange juice in place of the water. I found a second recipe that added a little cocoa powder with vanilla rather than lemon to make a chocolate cake.
Using the inspiration of the orange juice I turned to my fridge to see what I had in there. I make a line of jams which I sell at farmers markets in Florida and had a bowl of whiskey infused apple butter that I had made along with some spiced apple cider - EUREKA! I also decided to use self-rising flour which I had in the pantry with some additional baking powder to get a higher rise out of my cake.
*As a side note - I have eggs, butter, and milk in my fridge as well so I could easily have made a conventional cake but I really wanted to see what I could come up with using some basic ingredients.
The end product is a dense crumbly cake with great flavor. You can make a frosting for it or, as I did, just dust it with powdered sugar. Serve it a little warm with some whipped cream or ice cream - use coconut whipping cream to make a vegan whipped cream if you prefer. Or it is delicious just as is with cup of coffee or tea.
Ingredients:
3 1/2 cups self-rising flour (or all purpose flour if you don't have self-rising)
2 teaspoons baking powder (2 tablespoons if you are using AP flour)
1 cup sugar
1/2 teaspoon salt - only if using AP flour
1 1/2 cups apple cider (or other fruit juice or water)
2 tablespoons olive oil
1/2 cup apple butter (or apple sauce with cinnamon added)
Directions:
Preheat the oven to 350 degrees.
Prepare a 9 in round cake pan or spring form pan by greasing or spraying it with cooking spray and lining the bottom with parchment paper.
Combine the flour, baking powder, sugar, and salt (if using) in a large bowl and whisk together to thouroughly distribute all ingredients. Combine the apple or other juice, apple sauce or apple butter, and olive oil in a small bowl and whisk together.
Make a well in the center of the flour mixture and pour the liquid mixture into the center. Stir with a whisk to combine making sure there are no lumps of flour.
Once everything is well mixed pour the batter into the prepared pan and smooth the top with a rubber spatula. Bake in the preheated oven for 45-55 minutes or until a toothpick inserted in the center comes out clean.
Remove from the oven and allow to cool in the pan on a rack for 10 minutes. If the cake doesn't seperate from the sides of the pan run a knife around it and then remove it from the pan. Peel the parchment off the bottom of the cake and allow it to cool completely on the rack. Once cool you can dust it with powdered sugar, frost it, or glaze it if you like.
To make a glaze mix a cup of powdered sugar with a teaspoon of the apple cider or whatever juice you used to make the cake. If the glaze is too thick with just a teaspoon add a little more until it is the desired consistency. Drizzle over the cake - you can also poke some small holes in the cake with a toothpick or skewer to allow some of the glaze to seep into the cake.