Kale & Artichoke Dip
A Play on a Classic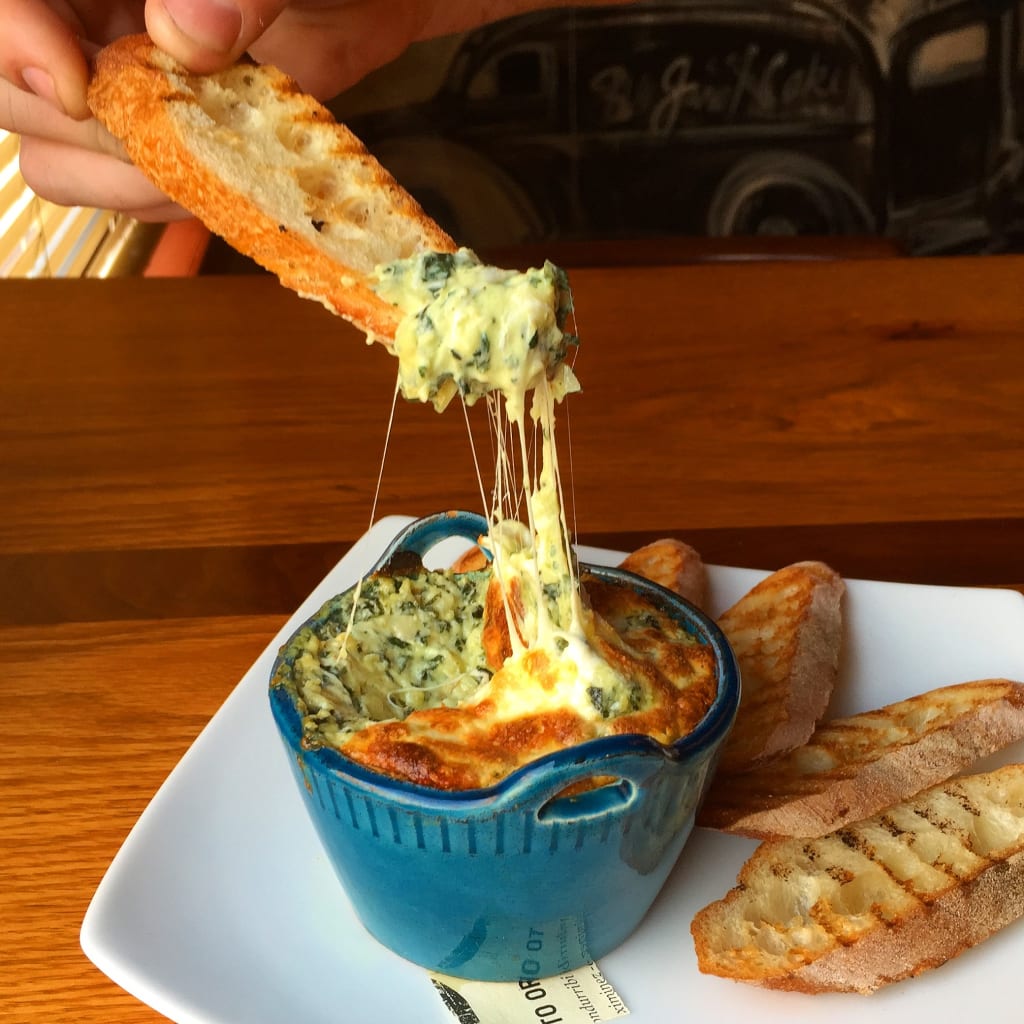 Kale & Artichoke Dip
It's been a couple years since my last post—actually, this one has been sitting and waiting for me to finish it, but the world and work can really get in the way. I developed this recipe for a special at one of the restaurants where I was the executive chef—Third & Vine in Jersey City. I have since left the restaurant and the Northeast all together for the warmth of sunny Florida.
I learned a lot about cooking from my mother and grandmother growing up in rural Ohio, and the love of food they taught me brought me to being a chef. Though my mother never made an artichoke dip—to be honest, I doubt my mother knew what an artichoke was before she was in her 40s.
A classic since the 50s, spinach artichoke dip is one of my favorite things to eat. It is perfect for a party, or even just a night at home in front of the TV. It is great served hot, cold, or room temperature, which makes is super versatile.
As I said, I love the classic spinach artichoke dip, but for this recipe I've decided to change it up by using kale instead. It makes the dip a little heartier, and although your guests may not immediately know it is kale rather than spinach, I think they'll notice a subtle difference.
I hope you enjoy!
Ingredients
1 8-ounce package of cream cheese, softened
1/4 cup mayonnaise
1/4 cup grated Parmesan cheese
1/4 cup grated Romano cheese
2 to 3 cloves garlic, peeled and minced
1 pound frozen artichoke hearts, thawed
1 pound kale
Pinch nutmeg (optional)
1/4 cup shredded mozzarella cheese
Salt and pepper to taste
Preheat oven to 350 degrees.
Lightly butter a small baking dish or individual ramekins. Remove the kale from the ribs and chop roughly. Sauté the kale in olive oil with minced garlic, salt, pepper, and nutmeg until wilted and tender, for about 12 to 15 minutes. Remove the kale to a plate and allow it to cool. Place the sautéed kale and artichoke hearts in the bowl of a food processor and pulse to chop.
In a medium bowl, blend together cream cheese, mayonnaise, Parmesan cheese, and Romano cheese using an electric mixer until well combined and creamy. Fold in the chopped kale and artichoke mixture. Taste and adjust seasoning with salt and pepper as needed.
Transfer the mixture to the prepared baking dish or ramekins and top with the shredded mozzarella cheese. Bake in the preheated oven for 15 to 20 minutes, until bubbly and golden brown. Serve with grilled bread and/or assorted crackers.
This kale artichoke dip holds well in a warm crockpot on a buffet for a cocktail party—or in a chaffing dish. I definitely prefer to serve it hot so the mozzarella on top is stringy and brown—I would suggest leaving off the mozzarella if you intend to serve it cold.
As another fun and delicious way to enjoy this recipe, you can make it into a mac and cheese. Before you blend the cheeses and mayo, add the mozzarella and an additional 1/4 cup of grated cheddar cheese, blend everything well with an electric mixer, fold in the kale and artichoke mixture, and fold into one pound of cooked pasta. Place in a buttered baking dish, top with a mixture of breadcrumbs and butter, and bake until golden brown and bubbly, for about 20 to 30 minutes.
recipe
Self taught chef with a over 25 years experience in the restaurant business.
Grew up in rural Ohio & moved to NYC in 1998.
Executive Chef Third & Vine in Jersey City 2014-2017.
Moved to Florida in 2017 and opened Duck Truck Gourmet in 2019.