300 Vegan/Plant Based Recipe Cook Book
read this article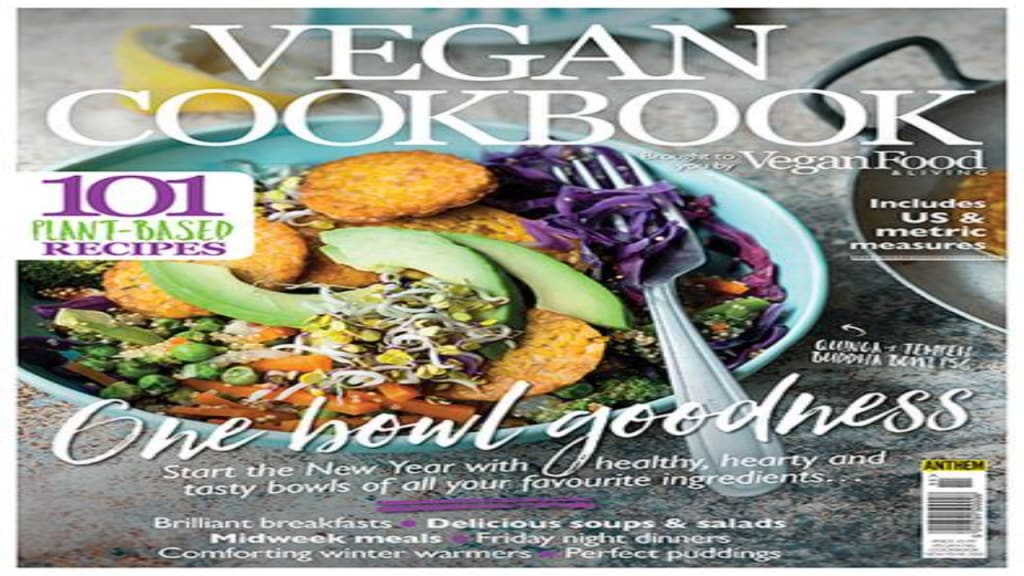 300 Vegan/Plant Based Recipe Cook Book
As more and more people adopt vegan and plant-based diets, the demand for delicious and varied recipes has never been higher. Thankfully, there are now many cookbooks available that cater to this growing trend. One such book is the 300 Vegan/Plant-Based Recipe Cookbook, which provides a wide range of recipes to suit every taste and preference.
The book starts with an introduction to vegan and plant-based cooking, explaining the health benefits of this type of diet, and highlighting the importance of using fresh, whole ingredients. It then goes on to provide 300 recipes that are organized into different categories such as breakfast, snacks, soups, salads, main courses, and desserts.
One of the things that makes this book stand out is the sheer variety of recipes it contains. From classic dishes like lasagne and shepherd's pie to more exotic options like tofu tikka masala and Thai green curry, there's something for everyone in this book. There are also plenty of vegan versions of traditional meat-based dishes, such as vegan burgers, meatballs, and even vegan bacon!
Feature of this book
Another great feature of this book is the emphasis on using seasonal, local ingredients wherever possible. This not only makes the recipes more eco-friendly, but it also ensures that the dishes are at their freshest and most nutritious.
Of course, no cookbook would be complete without mouth-watering photos, and the 300 Vegan/Plant-Based Recipe Cookbook certainly delivers in that department. Every recipe is accompanied by a beautiful full-color photograph, which not only makes the book more visually appealing but also helps readers to visualize what the finished dish should look like.
But perhaps the most important aspect of any cookbook is how easy the recipes are to follow, and in this regard, the 300 Vegan/Plant-Based Recipe Cookbook certainly doesn't disappoint. Each recipe is clearly laid out, with detailed instructions and a list of all the ingredients needed. There are also helpful tips and tricks throughout the book, such as how to make vegan substitutes for eggs and dairy products.
Recipes in the book
Overall, the 300 Vegan/Plant-Based Recipe Cookbook is an excellent resource for anyone who is looking to embrace a vegan or plant-based lifestyle. With its wide range of delicious and nutritious recipes, beautiful photography, and helpful tips and advice, this book is sure to become a well-loved addition to any cookbook collection.
Absolutely! One of the great things about the 300 Vegan/Plant-Based Recipe Cookbook is that it doesn't just provide recipes for main meals - there are also plenty of options for snacks, sides, and desserts. This means that no matter what you're in the mood for, you're sure to find a tasty and healthy vegan option.
Some of the standout recipes in the book include the vegan mac and cheese, which uses cashews and nutritional yeast to create a creamy, cheesy sauce, and the chickpea and vegetable tagine, which is full of flavorful spices and tender vegetables. For dessert, there are plenty of options, including a vegan chocolate cake that is so rich and decadent, you won't even miss the eggs and butter.
Another great feature of this book is that it caters to a wide range of dietary needs and preferences. Many of the recipes are gluten-free, and there are also plenty of options for those who follow a low-carb or high-protein diet. Additionally, the book includes a handy index at the back, which makes it easy to find recipes that are suitable for specific dietary requirements.
Conclusion
But perhaps the best thing about the 300 Vegan/Plant-Based Recipe Cookbook is that it proves that vegan food can be just as delicious and satisfying as traditional meat-based dishes. Whether you're a lifelong vegan or someone who is just starting to explore plant-based cooking, this book is sure to inspire you to try new ingredients and flavors, and to create healthy and delicious meals that are good for both your body and the planet.
If you want this Click here now
Reader insights
Be the first to share your insights about this piece.
Add your insights