10 Lamb Recipes You Need to Try
Lamb is too tasty to remain overshadowed by beef and pork. Here are 10 delicious lamb recipes that will convince you how wonderful this meat really is!
Lamb has a long and storied history in many parts of the world, but in North America, it remains vastly underrated and underutilized. If you've never tried lamb before, or if you just want to expand your culinary knowledge of this delicious animal, I encourage you to experiment with these delicious lamb recipes.
Simple Roasted Lamb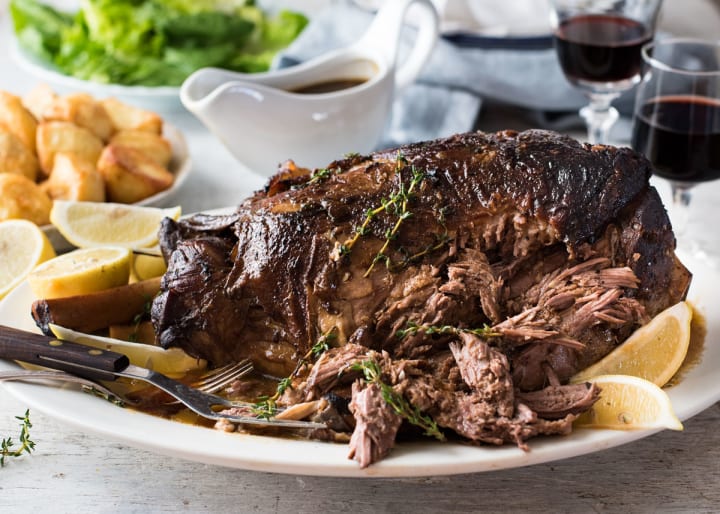 There will be plenty of complex lamb recipes on this list, but I have to share one of the simplest and most delicious lamb dishes before we get to those. Simple lamb roasts are perfect for any occasion, but they make especially grand dishes to serve as the centerpiece of a fancy Christmas feast or other large family dinner. All you need is a high quality lamb roast, some gold potatoes, and a few basic herbs.
While your oven is heating to 450ºF, mix eight to ten minced garlic cloves with two tablespoons each of freshly chopped rosemary and thyme in a bowl. Add enough olive oil to cover the herbs, season generously with salt and pepper, then mix it all up. Rub this mixture generously over every inch of the lamb roast. Toss some gold potatoes in olive oil, season with salt and pepper, then add them to the bottom of a large roasting pan. Carefully place the lamb on top of the potatoes and roast for about 70-75 minutes. You'll want to take the lamb out when its internal temperature registers about 140ºF.
Grilled Lamb Chops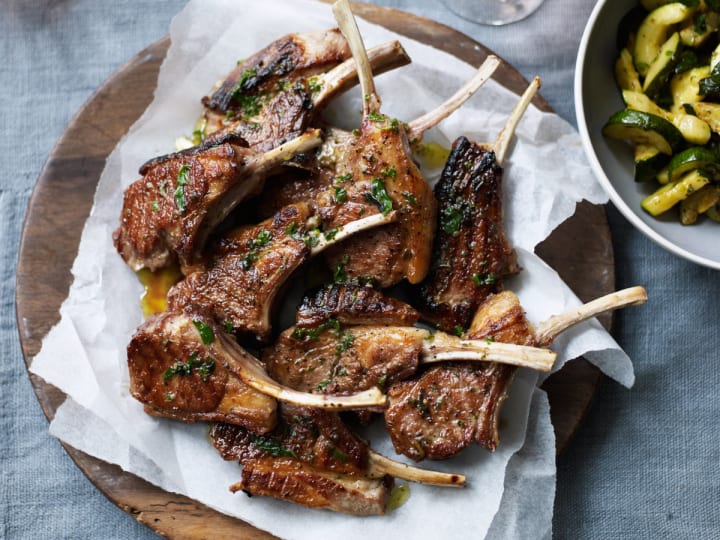 Lamb chops are probably even more iconic than lamb roasts, and with good reason! A well-prepared lamb chop is one of the most delicious meats you'll ever taste. This recipe is for perfect lamb chops prepared on a grill and served with a fresh chimichurri. You'll need two or three trimmed lamb racks (talk to your local butcher) as well as garlic and some simple herbs for the chimichurri.
To make the chimichurri, finely chop fresh parsley, rosemary, and thyme, and add to a good-sized bowl. You'll want maybe three tablespoons of the parsley and one or two tablespoons each of the rosemary and thyme, but don't stress about making exact measurements. Add a generous dash of olive oil and some finely minced garlic, mixing well. (If you don't like raw garlic, feel free to roast it, or even use store-bought roasted garlic.) Add plenty of salt and pepper to the chimichurri. I like to spice it up with some red pepper flakes, but feel free to skip that step if you're not into spice. Rub this chimichurri all over the lamb racks before putting them on the grill.
With the grill set to medium-high heat, grill the lamb racks for about four minutes on either side. Take them off the heat and let them rest for maybe 10 minutes before slicing and serving alongside any of the best side dishes for lamb.
Lamb Stuffed Peppers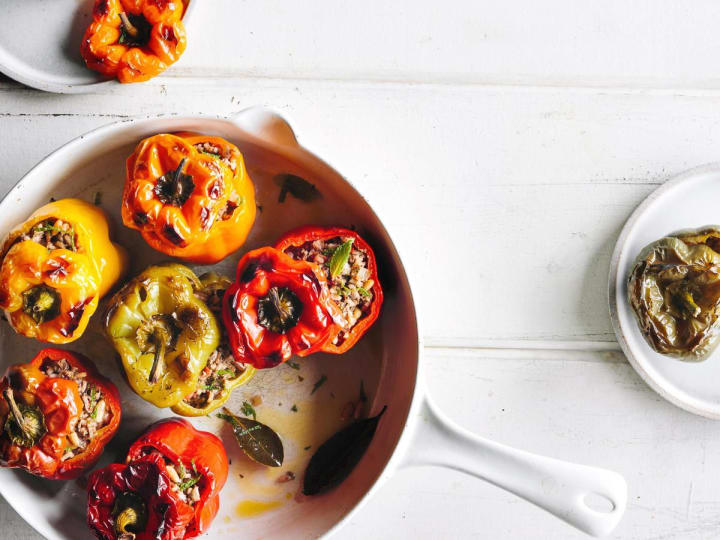 Many folks shy away from lamb because they think it's too difficult to work with. This recipe should eliminate any sort of worry from your mind, as it uses ground lamb. This is a great way to get that distinct lamb flavor without having to worry about perfectly cooking through a huge leg of lamb.
To begin, slice off the tops of four red bell peppers and empty out their contents. Brush with olive oil and roast in a 375ºF oven for seven-eight minutes. Take them out and stand them upright in a baking dish.
Prepare a cup of jasmine rice per the manufacturer's recommended method, adding a tablespoon of butter and a bayleaf to the water after you add the rice in. Set aside and let cool.
Add a pound of ground lamb to a large bowl and season with salt and pepper. Add in a finely diced white onion and two or three cloves of minced garlic. Add in a tablespoon each of freshly chopped parsley and oregano (dried is also fine). Finally, add in the cooled rice and mix everything together.
Scoop the filling into the bell peppers, ensuring that each pepper is as filled as possible. Drizzle a bit of olive oil over each pepper and put the baking dish into the 375ºF oven for 45 minutes to an hour. The peppers should be crispy on the edges and the meat cooked all the way through. Serve and enjoy!
Lamb Gyros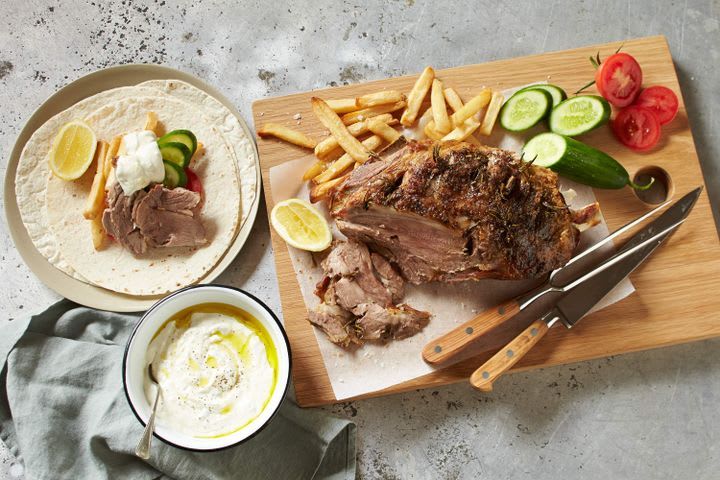 Gyros are a widely popular Greek dish, and many people's first introduction to lamb meat. Beef, pork, and chicken gyros are becoming more commonplace, but nothing beats the classic recipe with lamb.
Get yourself a leg of lamb or a lamb shoulder (about two pounds), trim any excess fat, and dice into one-inch cubes. Toss with a mixture of three tablespoons of olive oil, the juice of half a lemon, three cloves of crushed garlic, and a teaspoon each of dried oregano, rosemary, and thyme. Season with salt and freshly ground pepper, and let marinate for about an hour. Cook the lamb over medium heat in a large skillet until browned on all sides.
To assemble your gyros, start with a warm pita and top it with a few pieces of lamb, thinly sliced tomato, shredded lettuce, feta cheese, and a spoonful of Tzatziki sauce. (To make your own Tzatziki, simply mix Greek yogurt with grated cucumber, lemon zest, and finally chopped mint and dill.) Serve and enjoy!
Baked Lamb, Pork, and Beef Meatballs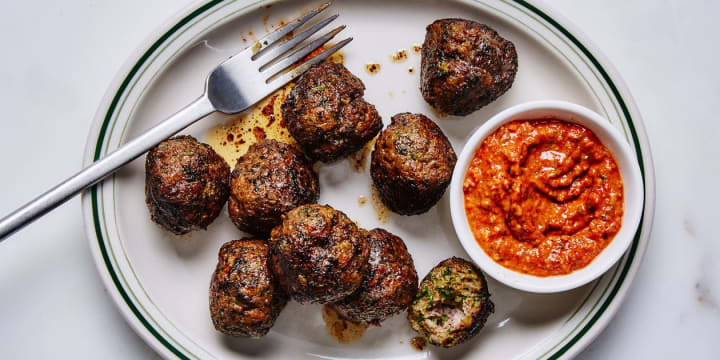 Another tasty and easy (and surprisingly healthy!) way to use ground lamb is to incorporate it into a meatball. The best meatballs are made of a combination of meats, and this is no exception. You'll need a half pound each of ground lamb, ground pork, and ground beef, as well five ounces of frozen spinach (thawed and drained), half a cup of freshly grated Parmesan, half a cup of bread crumbs, one whole egg, and about a teaspoon each of dried oregano, dried basil, garlic powder, and red pepper flakes.
Put all the ingredients except for a quarter cup of the breadcrumbs into a large bowl, season with salt and pepper, and mix thoroughly. The best way to do this is with your hands, so get in there! Once everything is well-combined, form it into small meatballs, about an ounce and a half each. Put that last quarter cup of bread crumbs into a bowl and roll each meatball in the crumbs before placing onto a baking sheet. If you have a muffin baking sheet, it works perfectly as a way to keep the meatballs separated! Bake for 20 minutes at 400ºF, and serve alongside your favorite pasta.
Lamb Navarin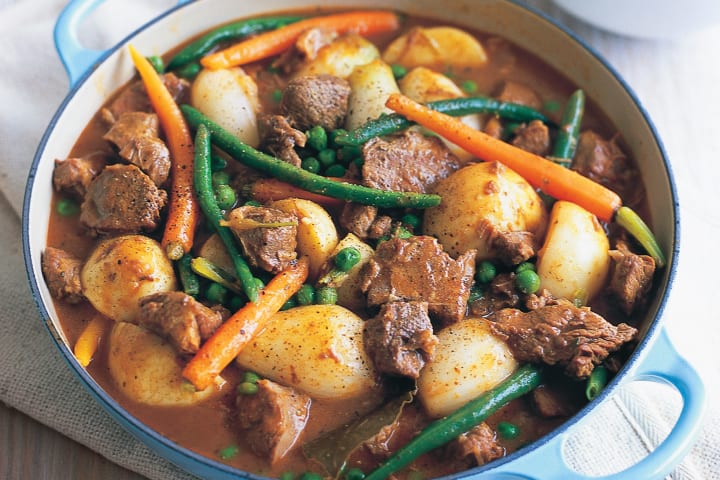 Lamb Navarin, also known as "Navarin of Lamb," is a tasty French stew that is deceptively light, while also being positively scrumptious and surprisingly easy to make!
Take about a pound of trimmed lamb shoulder or belly and dice into one-inch cubes. Brown over medium heat in a large pot with a little bit of olive oil, seasoning lightly with salt and pepper. Remove from pot and add in a chopped carrot and a diced yellow onion, cooking until the onion is translucent. Add two cloves of crushed garlic along with a tablespoon of tomato paste and two tablespoons of flour. Stir for about two minutes before adding a dash of white wine, the browned lamb, and six cups of water.
Let this simmer for an hour or two until the stock is reduced and the lamb is tender, then add in fresh vegetables: Fingerling potatoes, carrots, and turnips are all traditional and delicious, but this fall-inspired roasted potato dish will be sure to please as well. Cook for an additional half hour or until the veggies are tender, then add in a quarter cup of peas. The peas will cook in just about five minutes, then it's time to serve! Just before serving, add a generous handful of fresh chopped flat-leaf parsley and check the broth for seasoning, adding salt and pepper as needed.
Lamb Burgers
It shouldn't come as a shock to you that ground lamb works just as well as ground beef when it comes to making burgers. With the right flavor combinations, a nice lamb burger can hold its own against a beef burger any day of the week!
For a tasty burger that complements the flavor of lamb, mix two tablespoons of finely diced red onions, two minced cloves of garlic, a tablespoon each of fresh mint and parsley, a dash of Worcestershire sauce, a teaspoon of cumin, and a lightly beaten egg. Mix all these ingredients in a bowl with a pound of ground lamb, seasoning with salt and pepper. Form into patties and grill or panfry. Serve with your preferred burger toppings.
Honey Balsamic Lamb Chops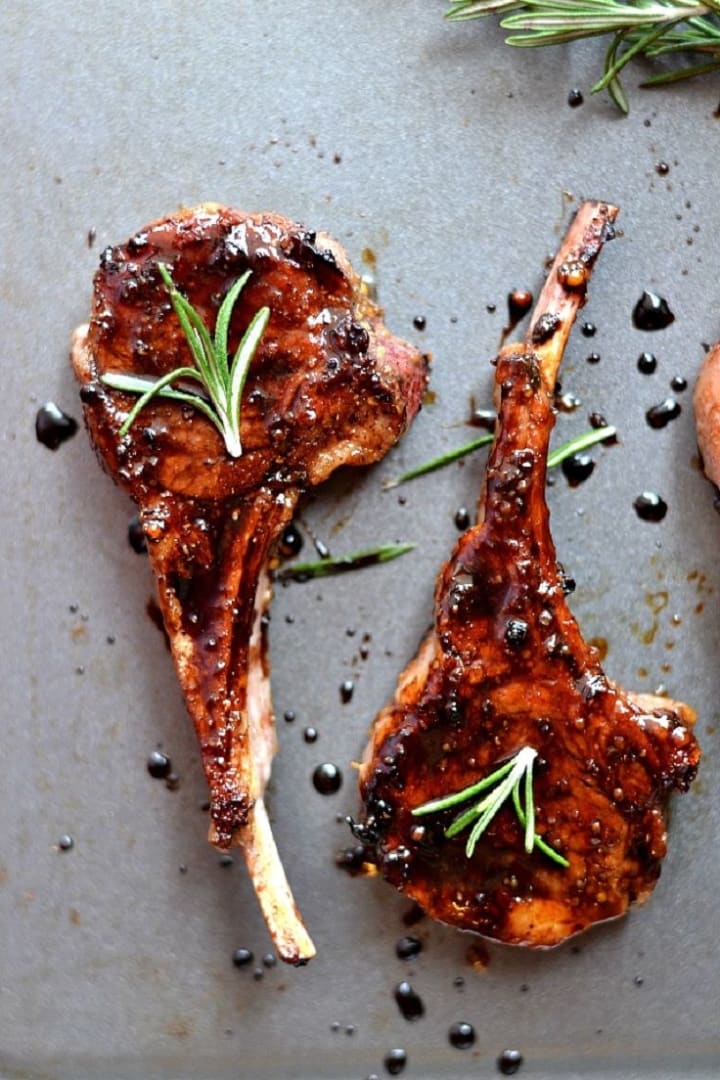 Another one of my favorite lamb recipes is deceptively simple, and wonderfully tasty. These Honey Balsamic Lamb Chops can be made within a half hour, making them perfect for a weeknight meal.
Combine a third of a cup of balsamic vinegar with two tablespoons of honey and one clove of garlic in a food processor. Pulse until well blended, then slowly drizzle in some canola oil. Keep the processor running at a low speed as you add the oil, stopping when it develops a smooth, thick sauce. Season with salt and pepper.
Grill or sear the lamb chops however you like. I prefer to drizzle them with olive oil, add salt and pepper, and grill over medium high heat for two-three minutes on each side for a nice medium rare meat. Simply serve the chops with the honey balsamic sauce on the side or spooned directly onto the meat.
Moroccan-Rubbed Lamb Champs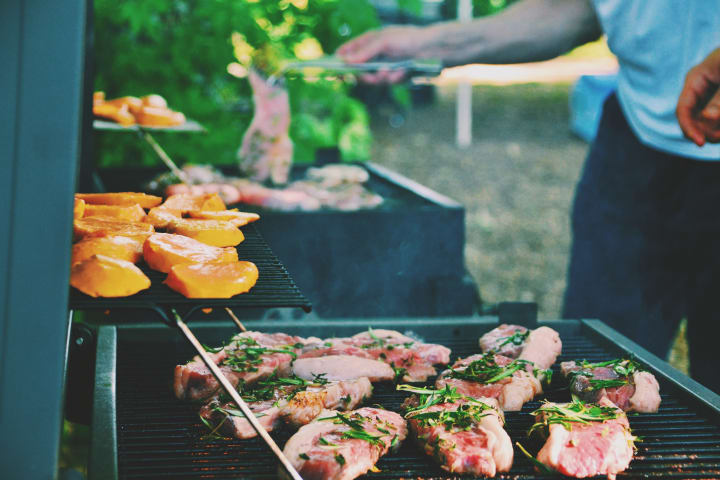 Another simple, fast, and delicious recipe with lamb chops is to make a quick and easy rub with Moroccan-style spices to flavor the lamb.
In a bowl, add approximately equal amounts of cumin, turmeric, paprika, coriander seeds, garlic salt, and red pepper flakes. Feel free to adjust the ratios of your good mood spices based on your personal tastes! Mix well to combine.
Lightly brush the lamb chops with olive oil, then coat with the spice rub. Grill over medium-high heat to desired doneness and serve! I like to serve this dish with some aromatic rice and a lemon wedge, which can be squeezed over the lamb chops to add that perfect amount of acidity and zest.
Grilled Lamb Sandwiches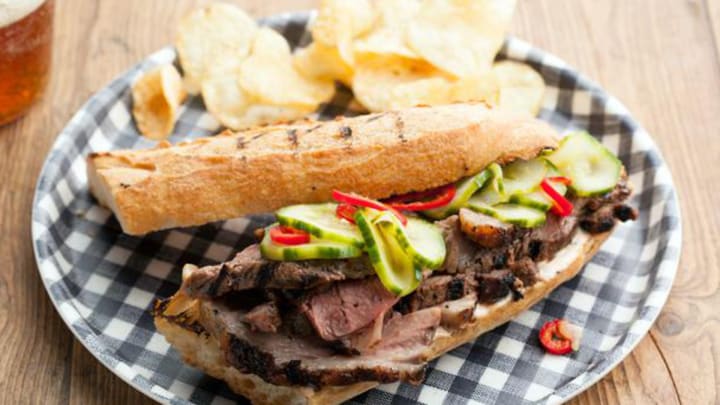 This recipe combines traditional lamb flavors with classic American sandwich sensibilities to create a delicious dish for a weekend lunch.
Start by marinating slices of lamb leg or shoulder meat. To make the marinade, finely mince four cloves of garlic and a tablespoon of fresh oregano. Add salt and pepper, then combine with two cups of Greek yogurt, a healthy dash of olive oil, and the juice of a whole lemon. Mix it well and add to a large, resealable bag with the lamb. Make sure the lamb is well-coated and leave it in the fridge overnight.
Quickly grill these slices until cooked through, then build your sandwiches! Take a fresh baguette and slice it to create two long halves. Toast it on the grill if you'd like! Use whatever toppings your heart desires. I recommend making a spicy mayo by mixing mayonnaise with sriracha sauce, harissa paste, or your favorite hot sauce.
list
About the author
Reader insights
Be the first to share your insights about this piece.
Add your insights