To The Family I Rarely Get To Celebrate With
Years-full of holidays and birthdays celebrated on my own
~Birthdays, New Years, Baby Showers, Graduations, Weddings~
When your whole family lives on the other side of the world, you learn two things:
1. Making friends is really important
2. Sometimes you've got to make it happen, or it just won't 
~
My parents immigrated to Canada from Israel in the early 90s, giving birth to me in '96. As an only child, my parents made sure I had lots of playdates and tried to expose me to the Jewish community in Toronto as much as possible. Though we weren't religious, I did attend one of the rare Jewish private schools, and attended synagogue a few times a year. My parents tried to make up for my lack of family around me by providing the Jewish bubble. 
Ironically, I stopped believing in G-d in high school, and by the end of it, didn't really identify religiously as Jewish at all. Culturally, I am raised Jewish, but spiritually and religiously- naw.
But let's go back to the main point of this article here:
The holidays were composed of my parents and family friends
Family friends were my second family growing up. They weren't blood relatives but all the adults were my uncles and aunts, their kids- my cousins. I grew up defining family differently because my biological family lived so far away, and it was kind of tough.
My parents couldn't afford to fly to Israel every year that's for sure. So sometimes four years would go by before I'd see my family again. 
I missed birthdays, holidays, weddings, baby showers, graduations, and even funerals. I saw family in a series of snapshots and each photo looked too different.
Often times we'd fly for 2 weeks during the winter break, and my dad would join us for a week due to his work schedule. The holidays felt fractured and rarely restful. We'd try to see as many family members in the short time as we could; which meant limited time with each one. 
As I got older though, I found ways to visit more often. 
In university, I went on a school trip to Israel and got to stay a little longer. Two years after, I flew for my great grandma's 90th birthday. The year after that, I broke up with an ex and booked a last minute trip to Israel as I felt I needed my real family (and to get the hell outta Canada for a bit). Then the following year, I flew from arctic Canada to Israel (like 7 different flights) because my great grandma had an aneurysm and I really wanted to be there with her. 
That was the last time I saw her in person. 
She passed last year in October. I still haven't been able to visit her.
Holidays are hard when your family lives on the other side of the world.
Making friends is really important
I'm really lucky and grateful that I've been able to make good friends along the way. I've met wonderful people, and some friends have stayed longer than others. But they've definitely been the ones there for me during holidays, birthdays, and even my wedding last year.
Speaking of weddings, my first anniversary is coming up on January 3rd! 
And this year I'm finally spending all the holidays in one place with my own lil family: my wife, dog, and cat. 
But back to friends-
Even though I live very far away and in the middle of nowhere, I've been able to find a few good friends. They're the ones who are there for me on the sunny and sad days, and on holidays.
Just this past Sunday I invited my colleagues and friends over for a Hanukkah party, and it was really fun! It was everyone's first Hanukkah, but it was really nice to have a fun-packed home for the holiday. 
It was also kind of extra cool too because my wife and I are doing a legit Christmukkah as she's raised Catholic and I'm raised Jewish. Our home is decorated for both, and our Christmas trees has dreidel ornaments!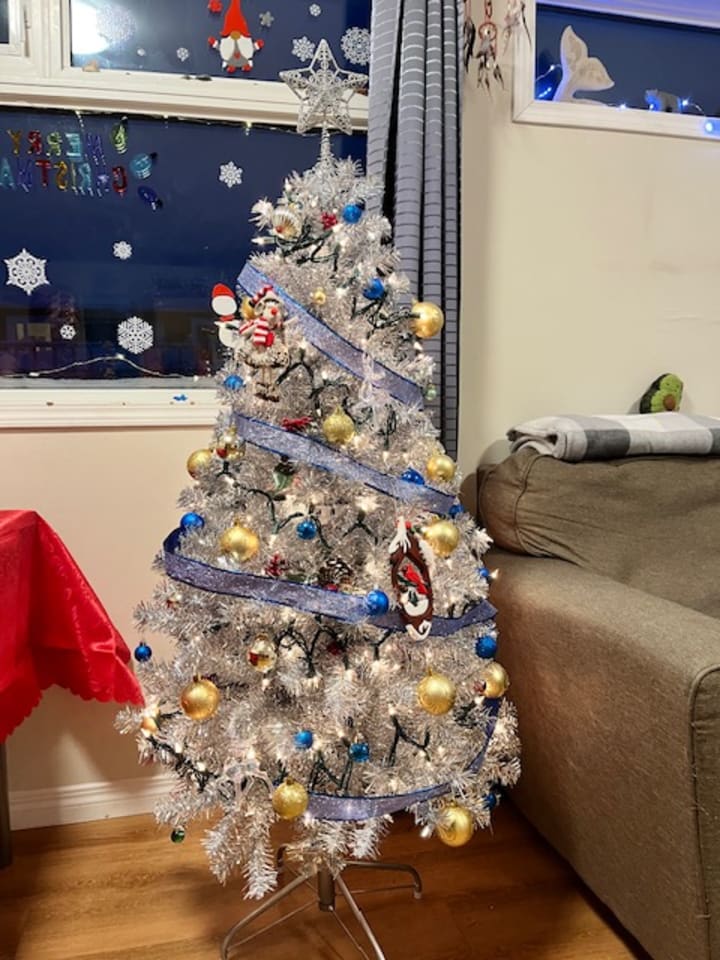 But how do I honor those who couldn't be there?
My parents Facetime'd us last night to light the Hanukkah candles together. Seeing my mom's dreidel collection all over the house for the holiday really cheered me up.
Every holiday, my family and I send memes and pictures of food to one another. Food is a great tool for connection.
Sometimes I wish we would call each other more, but it's been four years since I've seen most of them. The 9 hour time difference also doesn't help. Are those just excuses? Probably…
I honor my heritage in my heart, in my food, in the songs I sing
For example, on Hanukkah you make sufganiyot which are jelly doughnuts and absolutely delicious. When I first moved out of my parents' house, I tired to recreate my grandma's recipe. They turned out DENSE and a bit over-fried. It was great- because it was authentic.
I lost the recipe since, but have been using one from the internet the last two years. They've turned out way better.
Regardless of me not using a family recipe, during the whole baking process I feel my family with me. 
I don't have to make them, I don't have to put in all the work and effort, but I want to.
I honor my family through these traditions. Because traditions are delicious. And traditions matter.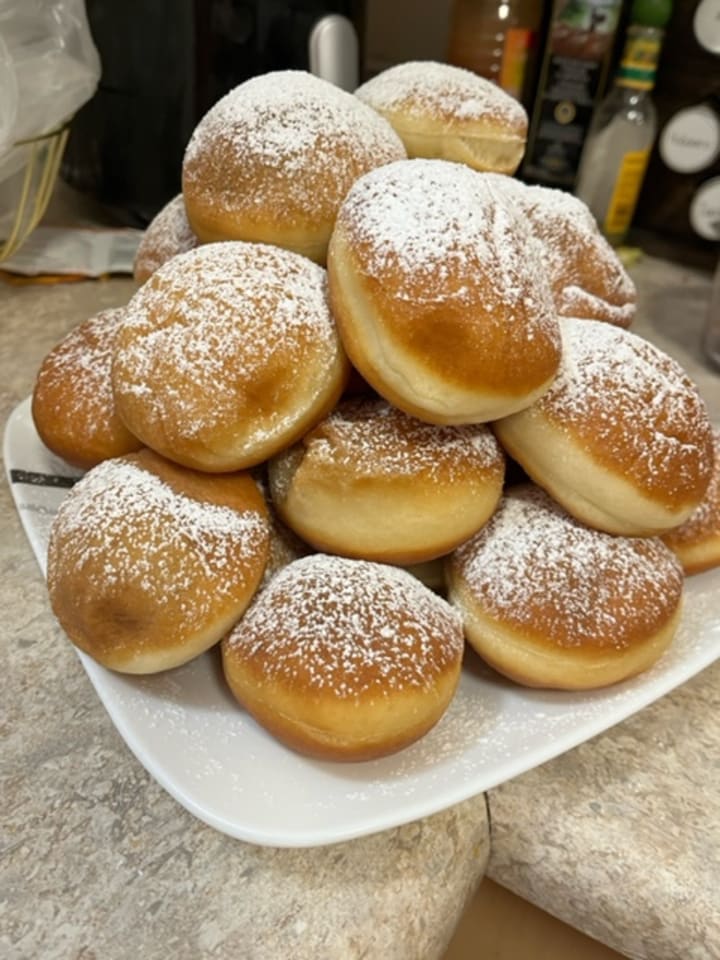 So whichever holiday you are celebrating, with whomever you have the chance to celebrate with- have fun. Eat good food. Reminisce in the good times. Give thanks to the traditions that helped form you. Share the love and light.
Make it your own, and make it count. 
And if you're on your own or missing someone dear this holiday season, these lights are for you too.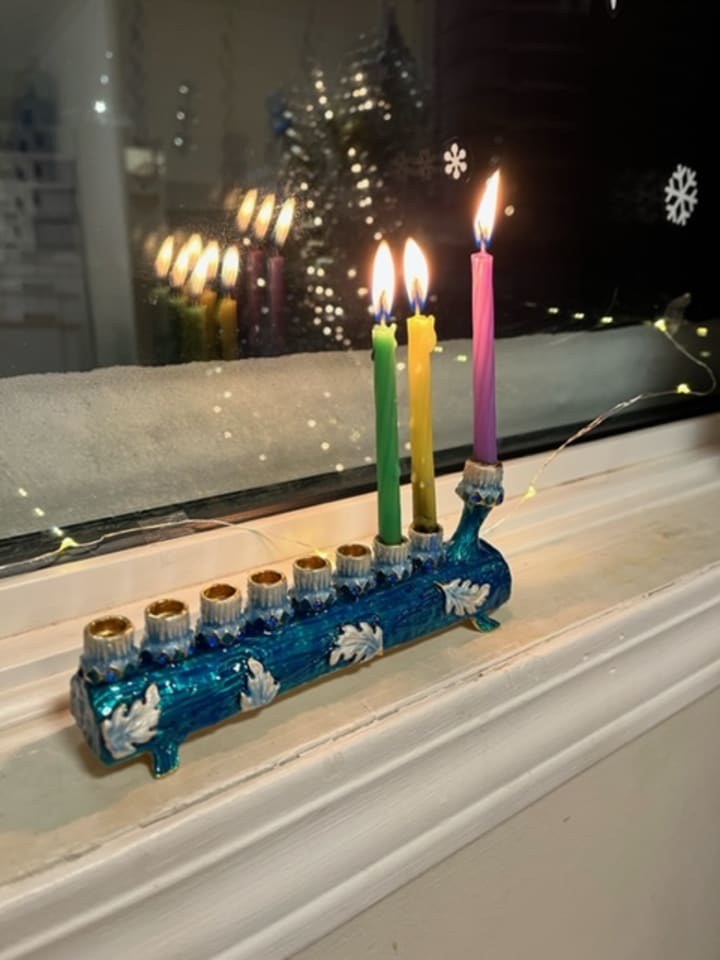 Happy Hanukkah~
Reader insights
Outstanding
Excellent work. Looking forward to reading more!
Top insight
Heartfelt and relatable

The story invoked strong personal emotions
Add your insights