Byram Hills Security Guard Clarence Hewins Is Ready at the Gate
Safety and Positive Energy Are Foremost in Mainstay's Mind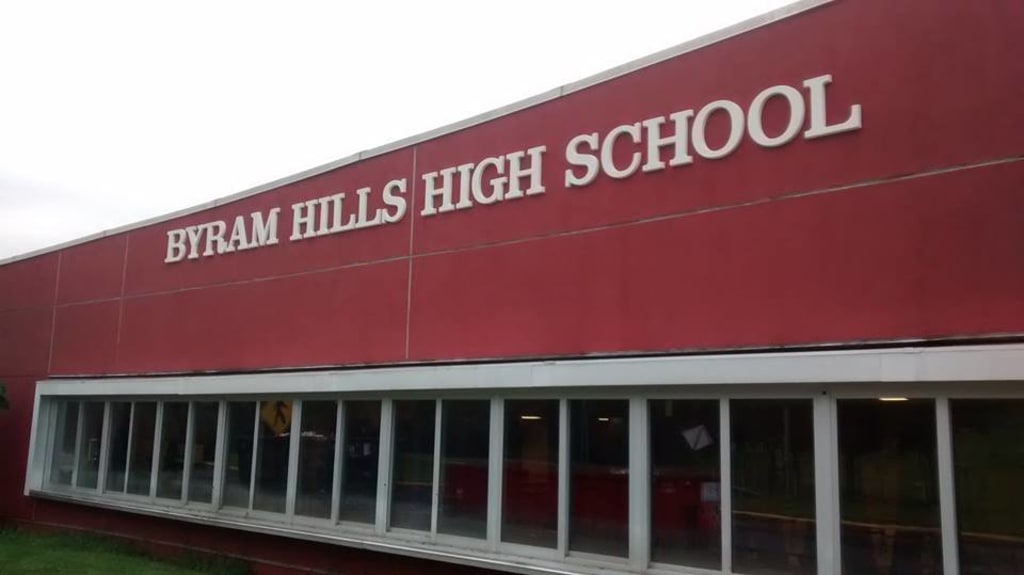 If you're a parent, student, teacher or administrator at Byram Hills High School, you can't miss Clarence Hewins. He is the school's security guard and occupies the booth at the entrance of the parking lot. An imposing and resolute figure, he's pretty hard to overlook. But his perch has become a conversation starter that no one at the school wants to avoid anyway.
"He's always talking to students and teachers. He's never sitting alone," said Byram Hills Sophomore and Editor of the school newspaper, Alexandra Brocato.
Back in the Day…
On the other hand, his ability to talk a good game didn't primarily provide the impetus to feature him as the monthly spotlight in The Oracle, revealed Alexandra. "There were rumors that Clarence had a pretty fascinating life, and so we decided to see how much of it was true," she said by phone.
These included stories that he was a bodyguard for Jay-Z, Victor Cruz and a number of other celebrities and athletes. "Sure enough he's lived a pretty interesting life," said the 15-year-old student.
Clarence highlighted an incident in her interview with the wife of former New York Knick Toney Douglass. A drama that definitely rose above that of a simple cat fight. "There was this time where a bunch of girls wanted to jump her, and Clarence had to step in," said the aspiring journalist.
Nonetheless, Clarence can definitely handle more involved scraps, according to Brocato's piece. He was in the military for 17 years, went to French Commando School, has been trained in advanced weaponry, and studied Tai chi and Jiu Jitsu.
The Long Rode to Security
There was a time, though, when he was ill equipped and always seemed on the run. "As a kid, Clarence was jumped by bullies and later ostracized by classmates," she said.
The impact has been obvious. "He wanted to give back and pursue a career in ensuring the safety of others," she Alexandra.
The most basic of those necessities are always at the top of his daily agenda. "He does not and will not accept any type of bullying," said Alexandra.
Even so, Hewins still does the occasional high profile body guard duty, but he knows exactly where his heart is at this point in his life. "He really loves the job at Byram Hills High School and loves to surround himself with kids," asserted Alexandra.
Having four of his own, the need for safety seems to have rubbed off. And that goes in both directions. His father was in security for 49 years and now too is one of his sons. "I guess it runs in the family," Alexandra revealed the family history.
A Member of the Family
Byram Hills parents—who are also not immune to Clarence's inclination to chatter—are just glad he's part of the family. "All the parents love Clarence. They see that he really cares about their kids and puts other people's needs before his own," said Alexandra.
Thankfully, Clarence has never had to show his true colors in the type of crisis that has tragically befallen many other communities. But Clarence at the gate gives Alexandra a sense of security that would make it easy to follow his lead in an emergency. "I'd feel safe in his more than capable hands," she said.
Certainly not alone, she probably doesn't need to contemplate the possibility of Clarence going Hollywood as a bodyguard. This especially after he has found his home here. But she knows what that would mean for Byram Hills and the entire Armonk community. "It would be such a major loss because he brings such positive energy," she concluded.
If you are looking for game or photography coverage of Byram Hills sports at any level, please contact me at 914 318-0997, [email protected] or on Facebook
Please Like Westchester Photography