Graduates Should Be Encouraged to Do Not Dream
Lofty dreams should be deferred.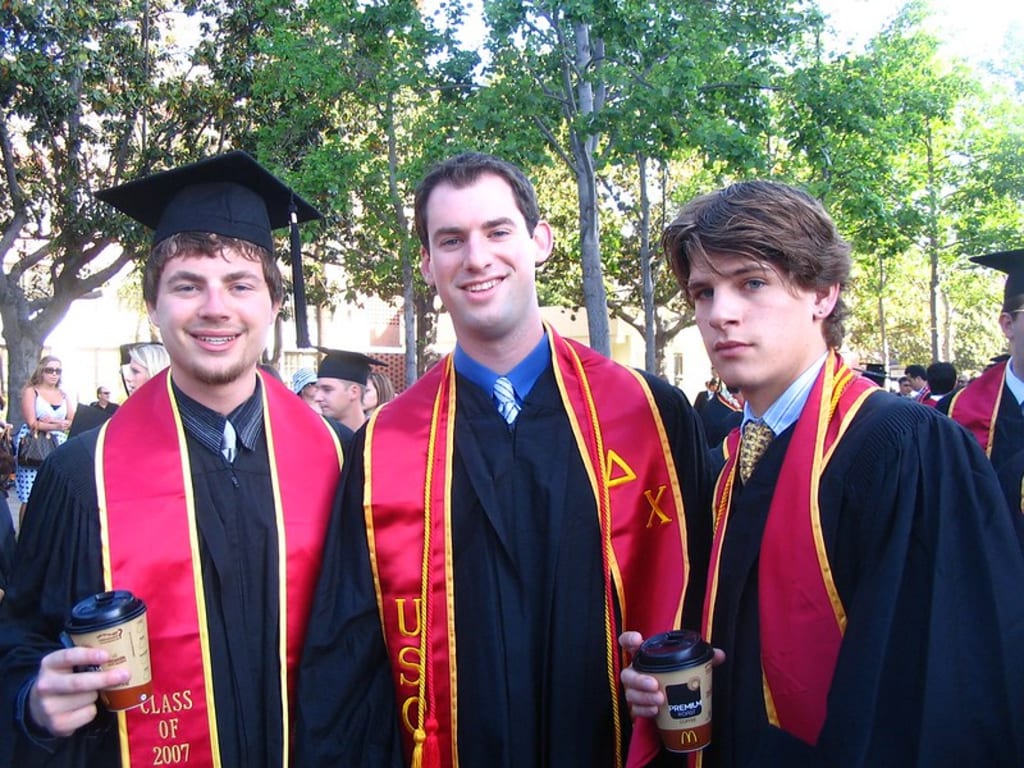 Photo by Keith Parker
On Facebook, parents are encouraging their kids to follow their dreams. Come on, you are a parent and should have good advice. So I just want to gag. Rote clichés with no basis means I must comment.
Early on, Star Trek made me dream. A better world emerged because math, science and technology were mastered. So I followed suit. But by high school, dreams played no part.
For as much as high school descended into a place of social isolation, I was happy to prolong it as long as possible. So as others envisioned getting out, I recognized its ease and saw no reason to rush the unknown.
I did my work and figured I'd be a businessman because my father was. No dreams, I was present, but he provided the next step. I was going into computers, and I remember my thoughts exactly. "That's a damn good idea."
The fateful day arrives.
Of course, I didn't know what that meant, and any attempt to understand was more akin to a nightmare. Unable to hold back graduation, I was quite unnerved as I learned my first language at Plattsburgh State. Would I be able to apply what I was learning? But once I got that first program working, I knew I would graduate.
So, did I dream? I left that to others. Many majored in computer science because of the potential earnings at stake.
I had no such inclination. Computer Science provided me an intellectual challenge, while the dreamers came up well short.
Either way, I was back on familiar ground. I didn't know what real world programming was, but college was fun. So, I did everything to keep coming back.
And everything was a lot - too much
I had a dream—sort of.
I realized my love of history could provide a career that wouldn't kill me. Yes, I now had a dream. Someday I'd mold young minds, and do it like a "Dead Poet"—a dream I later learned to be unfounded.
Nonetheless, I was completing my field, and when the time came, I would ride off into the sunset as a teacher. You know, before computers gave me an aneurysm.
I had a plan (or at least a narrative) that could quiet the people picking up the tab. But the dream was still before me, and again, I was in no rush.
I finally had real friends, and every moment of every day you got a plate appearance. Forget that I usually struck-out looking with the ample supply of beautiful girls, what more could you ask?
I guess being happily married. I see married people. They report difficulty, challenges, monotony and a 50 percent divorce rate. Of course, companionship, joy, and reassuring familiarity are included, but that's no dream. It's the best we've been able to come up with.
Not Bad for a Non-Dreamer
Nonetheless, graduation yielded a job as a Tech Support Analyst, and I lived with three college buddies in the greatest city in the world. Not so bad for a non-dreamer, but despite success at work, the stress had me seeking an early sunset.
Unfortunately, I was "Boy, Interrupted." I was hit with a mental illness that completely eviscerated my life.
I did not lose my sense of humor, though, and as all encompassing as it was, a thought emerged. "This is really funny, and when I get better, I want to write about this."
The writer was born. (Actually, he was born long before, but the vocation never occurred to me).
Now, that's a dream.
However, career change always takes time, and the interim placed me as a daycare teacher's aide. This was not a dream. In fact, I found it quite emasculating. I felt like a purposeless failure whose education yielded nothing more than a marginally effective Jeopardy contestant.
The same was true as I attended Lehman College and heard the travails of novice teachers. The revelation did put my focus on writing, but I still endured the uncertainty of getting published. In 2003, "by Rich Monetti" appeared for the first time, and I had finally come home.
Much success followed, but the unsettled state of the industry has extended to me. There's less work and far less money, but I do what I've always done (and what my parents always encouraged in me). I take care of what's in front of me and persist.
That means I write every day and feel good doing it. Now, that's a dream and you know what to do, Mom and Dad, when the next kid goes off to college.