Two Ohio GOP Leaders Finally Managed to Make Dark Money Look Like the Corruption It Is
A former speaker and state party chair were convicted of racketeering in an energy bailout scheme.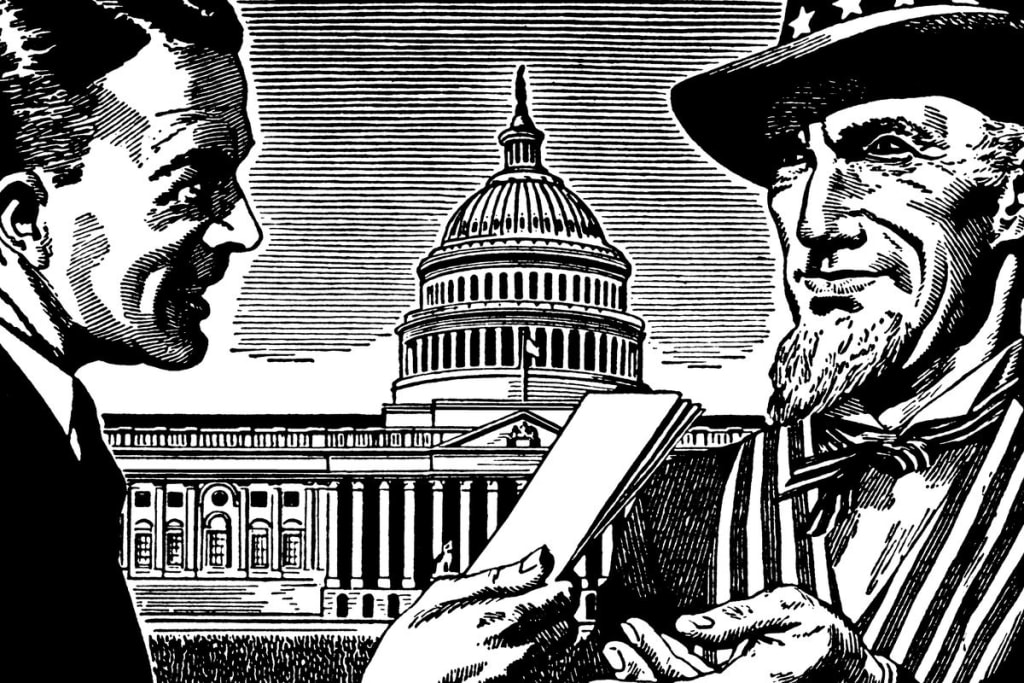 (Permanent Musical Accompaniment To The Last Post Of The Week From The Blog's Favourite Living Canadian)
Are there any hot stoves left in Ohio or did these people steal them all? From the Ohio Capital Journal:As part of the racketeering scheme, Akron-based FirstEnergy and other utilities paid tens of millions into an effort to elect friendly lawmakers in 2018 who would vote to make [Larry] Householder speaker the following year. Immediately after taking the speaker's gavel, Householder worked furiously to pass a $1.3 billion bailout, the vast majority of which benefited FirstEnergy subsidiary FirstEnergy Services. The company was being dragged down by losses from its nuclear and coal plants and executives were seeking a bailout. While it got more than $1 billion out of the deal, Householder got political power as well as more than $500,000 personally, jurors found. Borges played a smaller role, but he paid a $15,000 bribe to help defeat an attempt to repeal the bailout and he received more than $100,000 in funds that originated with FirstEnergy, prosecutors said.
It appears that this was merely two friends in trouble who agreed to help each other out.
FirstEnergy's top executives were seeking a bailout at the same time a financially strapped Householder was seeking a return to the Ohio speakership. Their relationship grew in luxurious settings that belied the financial problems besetting both. Householder attended a World Series game in November 2016 in the FirstEnergy box in Cleveland with CEO Chuck Jones. Two months later, Householder flew to Donald Trump's inauguration aboard FirstEnergy's private jet and stayed in the same $500-a-night hotel as Jones. Prosecutors showed the jury photos of Householder's son and a FirstEnergy executive in the back of a limousine just outside a fancy steakhouse dinner.
I am not easily staggered by the avarice of politicians, but I have to admit, even to someone like myself who grew up watching politics in the commonwealth (God save it!), I am in something like awe of these Ohio guys. They went for it all in a system that (thanks to the blessing of the Supreme Court of the United States) has legalized bribery and influence peddling, albeit not typically on the grand scale we see here.
When opponents started gathering signatures to repeal the bailout law, House Bill 6, FirstEnergy poured $36 million into an effort to block it. Householder took control of the push to block the repeal, while Borges assisted — both by pressuring Attorney General Dave Yost and by paying $15,000 for inside information about the petition campaign. That money was used to finance a torrent of misleading, anti-China ads and a petition-blocking effort that in some cases devolved into outright battery, witnesses testified. And because it was dark money, the public couldn't know that it was FirstEnergy that was financing the gargantuan fight to pass and protect a much larger bailout from which it benefited — until federal law enforcement stepped in. During the trial, investigators from the FBI described how they used accountants, informants, subpoenas and wiretaps to unravel the tangle of dark money groups and political-action committees that were used to obscure the origins of the funds that were used in the scheme.
Let us pause once again to reflect on the wisdom of Supreme Court Justice Anthony Kennedy, who wrote in 2010, in his transformational majority opinion in Citizens United v. FEC:We now conclude that independent expenditures, including those made by corporations, do not give rise to corruption or the appearance of corruption[…]The fact that speakers [i.e., donors] may have influence over or access to elected officials does not mean that these officials are corrupt[… ]The appearance of influence or access, furthermore, will not cause the electorate to lose faith in our democracy.
I am no justice of the U.S. Supreme Court, but this entire gang of Ohio bloodsuckers appears to be very corrupt. While some black part of my soul admires their ambition and audacity, I also realize that Kennedy and his fellow justices blew a hole in the credibility of our political system that cannot be closed. Because of that realization, I seek the wisdom attributed to another statesman of historical note—someone to whom the Ohio grifters would have been wise to listen: "When you are skinning your customers, you should leave some skin on to heal, so that you can skin them again."
Nikita Khrushchev still has so much to teach us.
It appears that Sen. Joe Manchin (D-Bituminous), the famous yachtsman from West Virginia, is feeling his oats again. He's even yipping quietly about maybe running for president; if it comes to that, I will cut the soles off my shoes, sit in a tree, and learn to play the flute. From Politico:
Manchin summed up his pugnacious approach to Biden nominees on Friday morning, declaring that "going forward, each and every proposed nominee I will review will be judged through one prism: Are they political partisans first or Americans first?" in a Houston Chronicle op-ed. It seems not a day goes by without Manchin tweaking the Biden administration over something. He thrashed the president's team Wednesday for "putting their radical climate agenda ahead of our nation's energy security" then on Thursday said White House advisor John Podesta was "irresponsible" in comments about Chinese energy production.
I can't think of anything that would make me dread the 2024 presidential campaign more than the possibility of a "Manchin for President" run. The inevitable onslaught of 'Manchin, The Sensible Centrist' profiles that would ensue are guaranteed to make me reach for the growler of antifreeze I keep handy for such occasions. To wit:
Amid the political intrigue, House Republicans are downright buoyant about their chances of reaching a Manchin-blessed deal on energy permitting that would help speed the way for construction of major fossil-fuel and other projects. It helps that the genial West Virginian has personally spoken with nearly every major House player on the issue, from Speaker Kevin McCarthy to GOP panel chairs to the Democrats who are quietly supportive of his push.
The "genial West Virginian" is not only a swell-headed pain in the ass, but one of the biggest obstacles to confronting the climate crisis. He's genial to his donors, god knows, but I'm damned if I want to spend 10 minutes in the room with the man.
Weekly WWOZ Pick To Click: "Broke And I Ain't Got A Dime" (Precious Bryant): Yeah, I pretty much still love New Orleans.Weekly Visit To The Pathé Archives: Here, from 1929, is the blessing of the French fishing fleet at Saint-Malo. I like the brief shot of the bishop on the boat. St. Malo was a Welsh monk who set up shop in Brittany in France. He was said to be a protege of St. Brendan the Navigator and to have taken part in the Irish explorer's legendary voyages. He also is the patron saint of pig-keepers. Even they need a friend on high. History is so cool.
Discovery Corner: The shebeen has always been fascinated by scientists who take on as their life's work the study of something that's otherwise been ignored by the mainstream of their chosen field. So there's something genuinely compelling about an archaeologist named William Fitzhugh as presented in Smithsonian.
The Mongolian deer stones, named for the striking deer carvings that cover their narrow frames, were first described by Russian researchers in the late 1800s. Created by an ancient people during Mongolia's Bronze Age between 1400-700 BC, most early archaeologists did not know what to make of the mysterious monuments. That is, until William Fitzhugh, the director of the Arctic Studies Center at the National Museum of Natural History, and his Mongolian partner, Jamsranjav Bayarsaikhan, began applying new archaeological methods to an old problem. For the past two decades, Fitzhugh and Bayarsaikhan have been diligently searching the Mongolian countryside for clues to help them understand this ancient culture and connect it to the traditions of living populations today. Their research on the stones has helped create a visual biography of the people who created them so long ago.
This is something about which I knew absolutely nothing until Thursday of this week. Mongolian pre-history was as far off my radar as any subject I could possibly imagine. But now I hope to see Fitzhugh go on a lecture tour so I can learn more about the deer stones. Hey, look what we found!
On Sunday, the Oscars and the annual NCAA tournament brackets (men and women) both will be revealed, which means Twitter may well explode and take out the neighborhood around its headquarters. Me? I think "The Banshees of Inisherin" has a real chance to beat Kansas in the second round.
Hey, Daily Express. Is it a good day for dinosaur news? It's always a good day for dinosaur news!
The 31.5-inch-long, 16-inch-wide fossil print was discovered on the underside of a slab of silty sandstone which had fallen onto the shore from the cliff face above. Rocks deposited in the bed from which it originated were formed in the Bathonian — a subdivision of the Middle Jurassic Period — which spanned from 168.3–166.1 million years ago.
Following footprints is still the most basic way to go forward into the past. And this place was the Klondike of dino prints.
Paper co-author and paleontologist Dr Mike Romano of the University of Sheffield said: "The east coast of Yorkshire is known as the Dinosaur Coast for very good reasons. "A huge number of dinosaur tracks, ranging in the thousands, have been discovered. As a result, this stretch of coastline is considered one of the best places in the world for dinosaur footprints. Although first documents way back in 1907, it was not until the 1980s that finds were being reported on a regular basis — by amateurs as well as professional geologists." To date, he noted, around 25 different types of footprint have been discovered.
Maybe the east coast of Yorkshire was the Cancun of the Jurassic Era? Everybody can use a few days at the seashore to rest up in order to live then to make us happy now.I'll be back on Monday to see what new stuff will come out about George Santos and the writhing ball of snakes that is Fox News. Be well and play nice, ya bastions. Stay above the snake-line and wear the damn masks, and take the damn shots—especially the damn boosters—and spare a moment for the people of Ukraine, and of the earthquake zone in Syria and Iraq, and for some Jehovah's Witnesses in Germany, too.
Reader insights
Be the first to share your insights about this piece.
Add your insights